SCOTTSDALE, Arizona – Damon Arnette's mouth widened on Thursday morning with a smile. It was as if he were about to let somebody else in on a secret, just like when he told reporters 11 days before the season even began that the Silver Bullets were back. Or when spring practice ended and he realized that along with Jeff Okudah and Shaun Wade, the cornerbacks were about to put together a special season after a disappointment last fall.
With a much-anticipated matchup against Clemson's fearsome passing attack in the Fiesta Bowl nearing, Arnette feels as though he again knows something about his team that everybody else doesn't. 
"And that's how I feel about the game, too," Arnette told Eleven Warriors on Thursday. "Everybody is just counting us out low-key. They're living in the past on the 2016 score. But I don't know what good that does for the future. We've had a chip on our shoulder all year, and this is what we expected, just to be the underdogs and things like that, so it's nothing different. We still have something to prove, obviously."
That mentality isn't one that typically permeates from a group of cornerbacks that includes two former five-star prospects (Okudah, Wade) and the team's most experienced defensive player (Arnette). But based on what happened a year ago, it starts to make sense.
Ohio State put together one of its worst season-long defensive performances in program history in 2018, which included allowing the 245.2 passing yards per game, the 86th-best mark in the country. Wade said he saw too many completions, too many long passes and too many touchdowns. Jeff Okudah remembers hearing people call the secondary the "weak link" in the defense. Throughout the season, Arnette heard from former cornerbacks now in the NFL, including Denzel Ward, Gareon Conley and Marshon Lattimore, inquiring about what was going wrong in a room they knew didn't lack talent. Arnette didn't have any answers that made sense. 
Well before the Rose Bowl, he felt as though the unit's moniker as "Best In America" no longer fit the cornerbacks, and Wade and Okudah agreed.
"I feel like we just had to fix what we broke, really," Okudah said. "When I got here, Ohio State's secondary was considered one of the best secondaries in the country. Coming off of Marshon and Gareon and Malik Hooker, and then at the end of my second year, we weren't considered one of the best secondaries in the country anymore. We weren't even considered that good."
After the season, once Arnette changed his mind about declaring for the NFL draft – partially to return the cornerbacks room to "Best In America" status – the work began to correct what had happened.
"More so for them, I feel like we're their best test. So I feel like the game is going to come down to what they can get on us, and I don't think we're going to be giving up too many things."– Damon Arnette on facing Clemson
Ryan Day, a first-year head coach, brought in Jeff Hafley from the NFL as a co-defensive coordinator to fix the secondary. He implemented a variety of new coverages, planning to avoid always relying on press-man coverage in favor of varied looks. Arnette renewed his focus, and Wade and Okudah continued their steady development.
The goal was set nearly a year ago: return Ohio State's cornerbacks to the "Best In America." 
"First, we wanted to show it during spring," Okudah said. "Then we're showing it during Saturdays in the fall. So I think it's kind of like a little process that we had. As we get over every single stage, we just gained more confidence."
Through its 12 regular-season games and the Big Ten Championship Game, Ohio State's secondary has largely shut down every quarterback it has faced.
The Buckeyes are tied for first place with Clemson for fewest passing yards per attempt allowed this season. Opponents have completed just 50.6 percent of their passes and thrown seven touchdown passes compared to 15 interceptions. Not a single team Ohio State faced in the first 13 games completed more than one touchdown pass in a game, and only one has thrown a touchdown pass without also throwing an interception in the same game. 
To Wade, Okudah and Arnette, all of whom earned placements on All-Big Ten teams, Ohio State's "Best In America" status is back, and it'll show against Clemson's high-powered offense in the College Football Playoff.
"In my opinion, I feel like we're there," Wade said. "But at the end of the day, we've still got a ways to go. We all can get better at something. This matchup is going to show what we can do and show the world that we're BIA."
Arnette added: "They want to talk about best cornerbacks in the country, this, that and the third, but statistically showing, we've had the best corners and still have the best corners in the country. But for some reason, our statistics don't mean anything to everybody else. This game is definitely going to be needed for us, not to prove anything, just to certify it."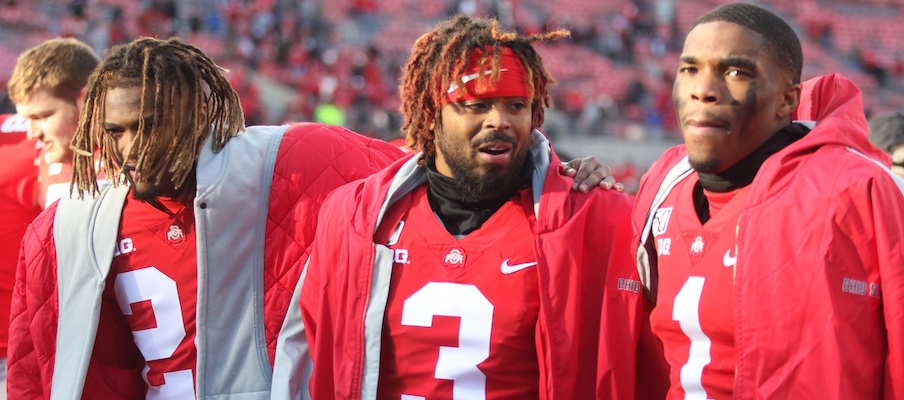 The certification will certainly come if Ohio State's cornerbacks who have stymied every passing attack they have faced can slow down Clemson's aerial offense that has so rarely hit a snag, especially recently.
Trevor Lawrence, who has 34 touchdown passes and eight interceptions this season, has completed at least 72 percent of his passes, thrown for at least 215 passing yards and hasn't thrown a pick in each of his past six games. The 6-foot-6, 220-pound quarterback, who also has 407 rushing yards, targets a trio of future NFL receivers – Tee Higgins (6-foot-4, 215 pounds), Justyn Ross (6-foot-4, 205 pounds) and Amari Rodgers (5-foot-10, 210 pounds) – down the field and Travis Etienne out of the backfield.
All three of Ohio State's starting cornerbacks said Lawrence offers a skill set they haven't yet faced, and each also said they believe this will be the best corps of wide receivers they've covered this season. 
Arnette, though he believes that to be true, put the onus on the Tigers to prove themselves versus Ohio State, rather than the other way around.
"I feel like the amount of work we've done this season should've already proven it," Arnette said. "More so for them, I feel like we're their best test. So I feel like the game is going to come down to what they can get on us, and I don't think we're going to be giving up too many things. It's definitely going to be a great game because they're great competitors, they're great receivers, got great talent, the quarterback is good and these are going to be the best receivers that we've played. I'm looking forward to it."
To Okudah, it's not lost that only a year after a disappointing season, he's seeing people describe Saturday's game as having the nation's best wideouts facing the nation's best cornerbacks.
The rebound, in his mind, is complete. Ohio State's cornerbacks are, well, back.
"I feel like looking at the numbers, look at what we've been able to accomplish, I feel like we're there," Okudah said. "It's just now about every challenge from now just further validates what we believe to be true."
And what does Okudah believe to be true?
"That we're the Best In America," Okudah said. "BIA."
He, along with Wade and Arnette, has a chance to prove that in Saturday's College Football Playoff semifinal.