Ohio State defeated Alabama by a score of 42-35 on Jan. 1 of 2015.
The 2014 college football season featured the first edition of the new playoff format. Urban Meyer's Buckeyes used a 59-0 destruction of Wisconsin to earn the No. 4 seed in the final rankings and a Sugar Bowl berth to face off against Nick Saban and No. 1 Alabama.
The Buckeyes outdueled the Tide in New Orleans thanks in part to Cardale Jones, Ezekiel Elliott, and one of the most iconic plays in recent memory. It was the second playoff game on that New Year's Day, and it took place after a real laugher at the Rose Bowl. The other semifinal game featured Jameis Winston getting trucked by Marcus Mariota's Ducks by a score of 59-20. 
We're now in the midst of year six of the playoff era, which means we've seen 10 semifinal games already take place. Some folks love the format, some want to see it expanded to eight teams, and a handful may even want to see the return of the BCS. 
Regardless of your thoughts on the playoff, it's tough to deny that the majority of the semifinal games just haven't lived up to the hype. Most of these contests haven't even been close, and five of them saw victories of 20+ points. 
Seminal Matchups of the Playoff Era

| DATE | SEMIFINAL | MATCHUP | WINNER |
| --- | --- | --- | --- |
| Jan. 1, 2015 | Sugar Bowl | No. 1 Alabama vs. No. 4 Ohio State | Bucks 42-35 |
| Jan. 1, 2015 | Rose Bowl | No. 2 Oregon vs. No. 3 Florida State | Ducks 59-20 |
| Dec. 31, 2015 | Orange Bowl | No. 1 Clemson vs. No. 4 Oklahoma | Tigers 37-17 |
| Dec. 31, 2015 | Cotton Bowl | No. 2 Alabama vs. No. 3 Michigan State | Bama 38-0 |
| Dec. 31, 2016 | Peach Bowl | No. 1 Alabama vs. No. 4 Washington | Bama 24-7 |
| Dec. 31, 2016 | Fiesta Bowl | No. 2 Clemson vs. No. 3 Ohio State | Tigers 31-0 |
| Jan. 1, 2018 | Sugar Bowl | No. 1 Clemson vs. No. 4 Alabama | Bama 24-6 |
| Jan. 1, 2018 | Rose Bowl | No. 2 Oklahoma vs. No. 3 Georgia | Dawgs 54-48 |
| Dec. 29, 2018 | Orange Bowl | No. 1 Alabama vs. No. 4 Oklahoma | Bama 45-34 |
| Dec. 29, 2018 | Cotton Bowl | No. 2 Clemson vs. No. 3 Notre Dame | Tigers 30-3 |
Remember that time Michigan State made it to the playoff? I had nearly forgotten about that considering the Spartans didn't even put up a fight against the Crimson Tide. Chris Petersen and the Huskies met a similar fate the following year, but at least the Pac-12 champs managed to put some points on the board.
Alabama handled Clemson in the 2017 semifinal before topping Georgia and winning another national title. Last year the Tide got up 28-0 against Oklahoma before ultimately winning 45-34 in a game that wasn't as close as the score would indicate. And the Irish were absolutely no match for Clemson in the Cotton Bowl.
The good news? Whether you're an Ohio State fan, Clemson fan, or just a lover of college football in general, most pundits are expecting this semifinal matchup to have a lot more intrigue.
The Tigers are currently favored by 2.5 points and the over/under is set at 64. That's an implied point total of around 33-31 from the experts in Vegas. While the gambling sharks don't always know what's about to transpire, I think most would agree that this is a fairly even matchup; and certainly more so than its counterpart semifinal game in Atlanta.
Ohio State's last playoff meeting against Clemson didn't go so well, and neither did the one prior to that when Tajh Boyd and Sammie Watkins torched the Buckeyes in the Orange Bowl. But Justin Fields brings a passing element that neither J.T. Barrett nor Braxton Miller had in the previous matchups.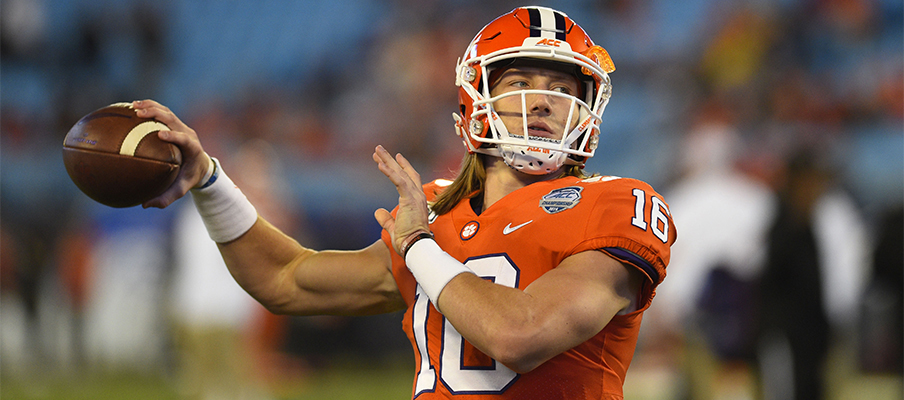 The Buckeye defense has been superb this season, but next Saturday's test is going to be unlike anything it has seen this year. After a bit of a sluggish start, Trevor Lawrence and his all-world wideouts have been putting up some ridiculous numbers of late. Clemson's schedule has been mostly laughable, so Ohio State will also present a challenge that Dabo Swinney hasn't faced thus far in 2019.
If the likes of Lawrence, Tee Higgins, and Justyn Ross weren't enough, the Tigers also have one of the country's top big-play running backs in Travis Etienne. Ohio State did a tremendous job against Jonathan Taylor in Columbus, but the Badgers' bell cow bounced back for 148 yards when the two teams met in Indy. Can the Buckeyes at least contain Clemson's star tailback?
Etienne is leading the nation with 8.24 yards per attempt. Ohio State's linebackers will need to be at their best next Saturday. Allowing too many explosive plays would be a recipe for disaster even though the Buckeye offense has proven to be more than capable of putting up points. 
The Tigers have the country's No. 1 pass defense and they're also top-10 against the run. Dabo's defensive line has been solid, but it's understandably taken a step back after losing three starters in the first 17 picks of the 2019 NFL Draft. Isaiah Simmons is the best linebacker in the country and cornerback A.J. Terrell will likely be taken in the first two rounds of next year's draft. 
Both teams will bring a ton of firepower to the desert next Saturday, and a lot of points are expected to be lighting up the scoreboard. The NFL scouts will be salivating with an absurd amount of talent on the field, including what is likely to be the top quarterback prospects for the 2021 NFL Draft.
The College Football Playoff has had its share of great games, but many of them seem to come in the championship rather than the semifinals. We've seen a number of semifinal duds over the years, but this season's Fiesta Bowl matchup certainly has the potential to be one of the better ones we've seen over the playoff's six-year run.