By now, you've probably already heard ad nauseam about how Ohio State and Clemson are arguably the two most complete and talented teams in college football. Unless you've watched Clemson closely, though, you may have only heard about their most prominent star players.
Clemson quarterback Trevor Lawrence has been a household name since he led the Tigers to a national championship last year. Running back Travis Etienne and wide receivers Tee Higgins and Justyn Ross are also well-known stars in the national spotlight on Clemson's offense. 
Isaiah Simmons, the winner of this year's Butkus Award as college football's best linebacker, gets most of the headlines on defense. If you follow Ohio State recruiting, you also know all too well about Clemson left tackle Jackson Carman – an Ohio native who was also recruited heavily by the Buckeyes – while defensive end Xavier Thomas might also be a name you remember from his days as a recruit (he was the No. 3 overall prospect in the class of 2018 behind only Lawrence and Justin Fields).
Much like Ohio State, though, Clemson isn't 13-0 this season and participating in the College Football Playoff solely because of its stars. The Tigers are loaded with quality players on both sides of the ball, and while the Buckeyes will certainly be well-aware of what all the players listed above can do, it's sometimes the less heralded players who break through and make the difference in games between star-studded teams.
Given that, we take a look at five Clemson players whose names you might not know yet, but that Ohio State needs to know as it goes into its final week of preparation for next weekend's Fiesta Bowl.
Amari Rodgers, WR
While Higgins and Ross get most of the spotlight among Clemson's wide receivers, Rodgers is another playmaker who can do real damage in the Tigers' passing offense. He's not as tall as Higgins and Ross, measuring in at 5-foot-10 and 210 pounds, but he's a smooth route runner with great speed, quick feet and good hands, and he's also a dangerous punt returner, averaging 10.6 yards per return this year.
In 2018, Rodgers had Clemson's second-most receptions with 55 catches for 575 yards and four touchdowns. He hasn't been quite as productive this year, catching 28 passes for 380 yards and four touchdowns, but that drop-off is understandable; he tore his ACL this spring, yet missed only one game before returning to the field this fall.
Now that he will have had three weeks between games, Rodgers should be as healthy as he's been all year. He lines up primarily in the slot, which should make for a great battle between he and Ohio State slot cornerback Shaun Wade.
John Simpson, LG
You might not know Simpson's name because of the position he plays, but he's been one of the most dominant offensive linemen in the country this year.
His excellent play has been recognized by award voters, who named him as a consensus first-team All-American, and he stands out when watching Clemson's offensive line on film. The 6-foot-4, 330-pound left guard is strong and powerful but also very agile for his size, and he does an excellent job of both opening holes in the running game and keeping pass-rushers at bay.
One of three seniors on Clemson's starting interior offensive line, along with center Sean Pollard and right guard Gage Cervenka, Simpson will pose one of the stoutest opponents that Ohio State's defensive tackles have faced all season.
Tyler Davis, DT
If you follow Ohio State recruiting closely, Davis' name is another you might remember from the trail, as the Buckeyes were among the teams who Davis considered before choosing Clemson. Ohio State defensive line coach Larry Johnson was among those who believed in Davis' potential, so the Buckeyes should certainly be well-aware of who he is, but he's been even better than expected in his first year with the Tigers.
While he isn't yet the household name that Christian Wilkins and Dexter Lawrence were on Clemson's interior defensive line last year before they became first-round picks in the NFL draft, Davis made an immediate impression on his coaches upon arriving at Clemson in January – enough to become the first true freshman to start at defensive tackle for the Tigers since 1974 – and has been their most productive defensive lineman this season, recording 37 total tackles with eight tackles for loss and 5.5 sacks.
At 6-foot-2 and 295 pounds, Davis is Clemson's quickest and most explosive interior defensive lineman, and a player who will put what has been a dominant Ohio State interior offensive line to the test.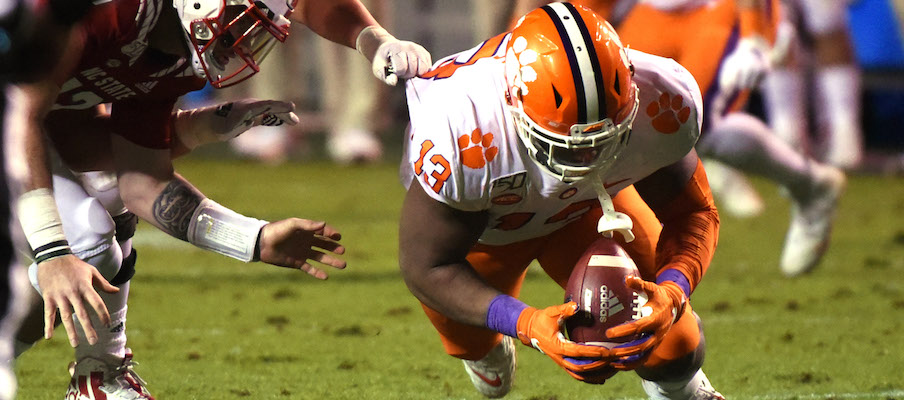 James Skalski, LB
Simmons snags nearly all of the spotlight among Clemson's linebackers, and deservedly so, as he's by far the most versatile defender and biggest game-changer on the Tigers' defense. But the Tigers' other linebackers, particularly Skalski, have also played pivotal roles in leading a Clemson defense that currently leads the nation in both points and yards allowed per game.
While Skalski doesn't jump off the screen the way Simmons did, he's a strong tackler who ranks second on the Tigers with 76 total tackles this year. He can line up both inside and outside, is an instinctive player who sheds blocks effectively and demonstrates the athleticism, at 6-0 and 235 pounds, to pick up running backs and tight ends in coverage and make plays going out to the sideline.
Clemson coach Dabo Swinney personally singled out Skalski as a player who he felt was snubbed from All-ACC honors this year – meaning he's flying under the radar even in his own conference – but he's one of the leaders who Clemson will need to be at his best in the middle of its defense to have a chance to slow down J.K. Dobbins, Justin Fields and the Buckeyes.

A.J. Terrell, CB
This list could really include just about any of Clemson's starting defensive backs, as they've all played a key role in the Tigers leading the nation in passing yards allowed per game (138.5) and opposing completion percentage (50.3), yet none of them are household names. 
Starting safeties K'Von Wallace and Tanner Muse have been both playmakers on the back end of the Tigers' defense, Derion Kendrick has performed well in his first season as a starting cornerback after switching over from wide receiver and even backup safeties Nolan Turner and Denzel Johnson have been regular contributors who have made their share of plays in the Tigers' secondary.
The star of the Tigers' secondary, though, is A.J. Terrell, their No. 1 cornerback. Much like Jeff Okudah for Ohio State, Terrell routinely lines up against and shuts down opponents' top wide receivers in coverage, and the 6-foot-1, 190-pound junior will likely also be an early-round selection in next year's NFL draft.
Terrell has a history of making big plays in big games – he returned an interception for a touchdown in Clemson's national championship game win against Alabama last year – and he's arguably the best defensive back that Ohio State has gone up against all season.