Ohio State has played so well this season, it might not even need to beat Michigan to make the College Football Playoff. The Buckeyes are 11-0 and have already clinched their berth in the Big Ten Championship Game, and given that they are currently No. 1 in the playoff rankings, they would presumably make the four-team field as a 12-1 conference champion.
That changes nothing this week.
From the clocks inside the Woody Hayes Athletic Center counting down to "The Game" to the portions of practices and offseason conditioning workouts dedicated to beating "that team up north," Ohio State thinks about going to war with its rivals all year long, which means Saturday's game in Ann Arbor remains as important and as season-defining as ever.
"This game means everything to us," Ohio State head coach Ryan Day said this week. "Nothing matters if we don't win this game."
For the past seven years, Ohio State's hyper-focus on beating Michigan has paid off. The Buckeyes never lost to the Wolverines during Urban Meyer's tenure as head coach. Now, it's up to Day to extend that winning streak to eight games.
Dating back to Meyer's final season last year, Ohio State has won 17 straight games – the second-longest streak in the Football Bowl Subdivision, behind only Clemson (26) – including a 62-39 win over Michigan last season. The Buckeyes have dominated their competition all season, and are favored to win again this week.
Even so, they know that winning on the road against their most hated adversary probably isn't going to come easily.
"They have the ability to be as good as anybody in the country when they're playing well," Day said about Michigan. "I think they're playing their best football now, and certainly we're going to get their best shot on Saturday."
Ohio State has prided itself all season on its preparation leading up to each week's game, which it believes has been the key to its success both this year and against Michigan for seven consecutive years. 
That emphasis has only been elevated this week.
"You have to prepare harder than that team, you have to work harder than that team," Ohio State linebacker Pete Werner said. "That all starts in practice. Preparation, there are just so many things to take into account to win this game. We've beaten them with preparation in the past, and that's what showed in the outcome of the game … That just means we have to prepare harder than we ever have."
Michigan Breakdown
Through the first half of Michigan's seventh game of the season against Penn State, things were not going well for the Wolverines. They had already suffered a 35-14 loss to Wisconsin in their biggest game of the season to date, and they appeared to be on the verge of another blowout loss against the Nittany Lions, who they allowed to score the first 21 points in the game.
Michigan didn't end up winning that game, but its comeback effort came close; if Ronnie Bell hadn't dropped what would have been a game-tying touchdown late in the fourth quarter, the Wolverines would have had a chance. And that second half against Penn State has consistently been referenced as a turning point of the season for the Wolverines, who have played their best football of the season ever since.
The Wolverines have won each of their last four games by at least 25 points, including a 45-14 win over Notre Dame, a 44-10 win over Michigan State and a 39-14 win over Indiana. Their offense has found a groove, while their defense has been among the best in the country, and Day and the Buckeyes have taken notice.
"I thought that since the halftime of the Penn State game, they've really played good football," Day said. "They kind of found a rhythm in the second half of the season here, so it'll probably be our biggest challenge again. As we've gone on in the season, I think we've been challenged more and more, and this will be the most talented group we've seen by far."
"They have the ability to be as good as anybody in the country when they're playing well. I think they're playing their best football now, and certainly we're going to get their best shot on Saturday."– Ryan Day on Michigan
Michigan's improved play down the stretch of the season has been led by quarterback Shea Patterson, who never threw for 300 yards in any of the first 22 games of his Wolverines career but passed for 384 yards and four touchdowns and 366 yards and five touchdowns in their last two games against Michigan State and Indiana. He has a talented stable of wide receivers to throw to, including Bell, Nico Collins, Donovan Peoples-Jones and Tarik Black, which could make Michigan's passing offense the most dangerous Ohio State has faced all season.
"I see a group that feels like they've found an identity," Day said. "Those receivers are talented, and the offensive line's giving them time."
2019 Statistical Comparison
 
OFFENSE
49.4
1st
POINTS FOR
33.5
34th
282.1
4th
RUSHING OFFENSE
155.1
76th
248.3
49th
PASSING OFFENSE
247.5
50th
530.4
6th
TOTAL OFFENSE
402.6
69th
.581
1st
3rd DOWNS
.406
61st
.883
40th
RED ZONE
.815
78th
DEFENSE
10.5
1st
POINTS ALLOWED
16.2
10th
91.2
5th
RUSH DEFENSE
105.9
13th
126.2
1st
PASS DEFENSE
161.1
4th
90.2
2nd
PASS EFFICIENCY DEFENSE
111.8
14th
217.4
1st
TOTAL DEFENSE
267.0
4th
.280
6th
3rd DOWNS
.293
11th
.667
4th
RED ZONE
.731
17th
SPECIAL TEAMS
8.3
58th
PUNT RETURN
8.0
63rd
21.8
49th
KICKOFF RETURN
25.7
10th
39.4
39th
NET PUNTING
39.0
44th
MISCELLANEOUS
+1.0
6th
TURNOVER MARGIN
+0.3
44th
5.6
38th
PENALTIES
6.2
65th
17
EDGE
1
The Wolverines' biggest weakness this season has been their rushing offense. They've averaged only 4.0 yards per carry this season, which ranks 85th in the FBS, and rank just 82nd nationally with 90 first downs achieved on the ground. They had one of their most productive running games of the season against Notre Dame, in which they leaned heavily on the ground game and had 302 rushing yards and three touchdowns on 57 carries, but have been held under 100 rushing yards in each of their last two contests.
Defensively, Michigan comes into this game with one of the nation's top-ranked units once again. The Wolverines rank third nationally in yards allowed per play (4.11), fourth in yards allowed per game (267.0) and tied for 10th in points allowed per game (16.2).
Michigan had the nation's No. 1 defense in yards allowed per game entering last year's rivalry game at Ohio Stadium, where the Buckeyes put up a whopping 62 points on the Wolverines, so Don Brown's group will need to have a much better game-plan for slowing down another top-ranked Ohio State offense this year. Day, who worked with Brown at Boston College and still holds him in high regard, anticipates that Brown – who made some waves earlier this month when he said Ohio State "better be careful" in preparing for Michigan's defense – will have his defense more prepared this year.
"I'll say this: nobody gives more looks than Don Brown when it comes to different looks," Day said. "What he does a great job of is he puts his guys in a position to be successful."
On film, the Buckeyes see what Ohio State right tackle Branden Bowen described as a "tenacious defense."
"They fly around, they run to the ball," Bowen said. "They play hard."
Neither Jim Harbaugh nor any of Michigan's current players have ever won a game against Ohio State, and this year's Ohio State team just might be the best that any of them have faced, which means it certainly won't be easy for the Wolverines to turn the tables. They've been looking forward to the opportunity to make up for last year's 62-39 loss since last November, though, and they're going into Saturday's game with confidence and a similar attitude to Ohio State; if they want to beat the Buckeyes this year, they have to prepare harder and want it more.
Michigan left guard Ben Bredeson said this week that "if you're going into this game thinking you're going to lose, there's no worth going out there." Collins offered a similar sentiment.
"We know Ohio State is a great team. We're a great team also," Collins said. "We'll see how it is on Saturday. Our goal is to end our season with a win."
Michigan will have home-field advantage on its side this year, and the Wolverines have not lost a game in Michigan Stadium since 2017. Of course, that means their last home loss came at the hands of Ohio State, when then-backup quarterback Dwayne Haskins relieved an injured J.T. Barrett and led the Buckeyes to a second-half comeback and a 31-20 win over their rivals.
Ohio State Breakdown
In a season in which Ohio State has won all 11 of its games by double digits and has been the most complete team in the country statistically, its focus and intensity week in and week out have never been in question. The Buckeyes have dominated their competition in just about every game – even last week, when they only beat Penn State by 11 points, they could have won by a substantially higher margin if not for costly turnovers – and have avoided the trap of playing down to their competition that had plagued them in some recent seasons.
Ohio State has already played as well as anyone could have realistically expected this season, but if there's an even higher level the Buckeyes can tap into, they'll certainly try to get there this week against the team they look forward to playing all season.
"Next weekend is just a different level of everything," Ohio State center Josh Myers said after last week's win over Penn State. "I don't know how to explain it. It's just different. It's just different."
The Buckeyes finally had to grind out a win over four quarters last week after allowing Penn State to make a 17-point run in the third quarter, but that challenge might have come at the perfect time for the Buckeyes, as they faced some adversity going into what could be an even bigger test as they play a ranked team away from home for the first time this year.
Day said Ohio State would spend time preparing to play in the Big House this week by pumping in crowd noise at practice, and acknowledged that could be an additional challenge that will test the Buckeyes' composure, but ultimately, whether they win their 12th game of the year and eighth straight game against the Wolverines will come down to whether they can perform at the same level they have all season.
"When you're talking about the game itself, it goes back to the fundamentals: taking care of the football, executing the game plan, giving them a good plan they can execute," Day said.
Even though last week's performance against Penn State was far from perfect – Day described the two fumbles by Justin Fields and one by J.K. Dobbins as "completely inexcusable" – it was still enough to convince the College Football Playoff selection committee that Ohio State is the best team in the country. It was the Buckeyes' biggest win of the season to date in terms of their opponent's ranking, and proved that they could beat a top-10 opponent even when they're not playing at their absolute best.
Harbaugh and the Wolverines have certainly been impressed by what they've seen from the Buckeyes on film.
"They're one heck of a good football team," Harbaugh said this week. "Ryan Day and his entire staff have done an outstanding job coaching the team. One of the best defenses in the country. One of the best offenses in the country. They play really well on special teams. Position-by-position, they've done an extraordinary job developing this team."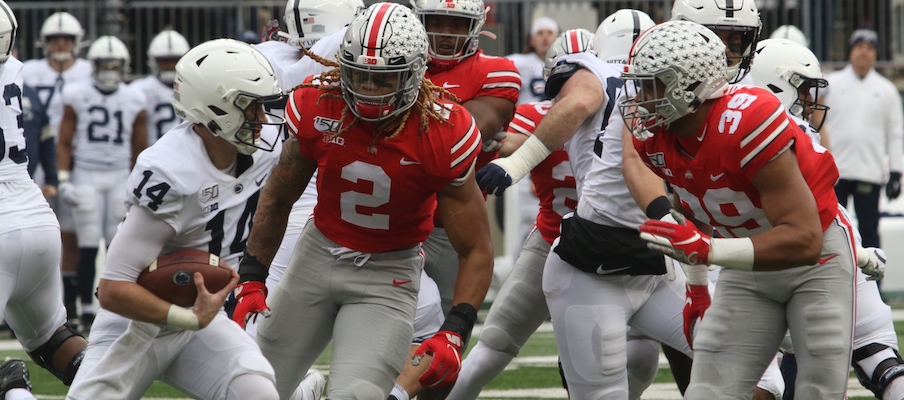 The Buckeyes will need to be prepared to potentially have to grind out another tough win this week, and that could mean another heavy dose of running the ball by Fields and Dobbins, who combined for a whopping 57 rushing attempts against the Nittany Lions. With weather forecasts calling for potential rain and snow for Saturday's game, that could force both teams to lean on their ground games.
Considering that the Buckeyes are ranked fourth nationally in rushing yards per game (282.1) and yards per carry (5.88) and are fifth in rushing yards allowed per game (91.2) and tied for third in yards allowed per carry (2.53), that could play into their strengths, though they also currently lead the nation in passing yards allowed per game (126.2) and per attempt (4.9) and Fields and Ohio State's receivers have shown plenty of ability to make plays through the air.
Regardless of the weather, the Buckeyes are expecting the game to be a physical slugfest, which will put their toughness – one of the key qualities that Day has sought to instill in his team all year – to the test.
"We all know the most physical team is going to win this game," Werner said. "We've won that battle the past few years, and that's going to be a big game plan this week, running the ball and being as physical as possible."
Although Ohio State typically talks about preparing for one game at a time, the Buckeyes are never shy in talking about their year-round emphasis on beating the Wolverines. They believe that's one reason why they've been so successful in the rivalry game for the past seven years, and they believe it will be crucial to their success once again on Saturday.
"It's going to be another great challenge for us, but this is something that we've been preparing for even before football season, during the offseason," said Ohio State right guard Wyatt Davis. "All the hard work and preparation that we did even before the season started, it all comes down to this game now."
"We've beaten them with preparation in the past, and that's what showed in the outcome of the game."– Ohio State linebacker Pete Werner
The Buckeyes' goals for this season also include winning a Big Ten championship, which they'll have a chance to do for the third straight time next week, and competing for a national championship, which they're close to earning the opportunity to do, as well.
On the line this week, though, is the chance for Ohio State to complete its first 12-0 regular season since Meyer's first two seasons as head coach in 2012 and 2013; to achieve Ohio State's first-ever eight-game winning streak against Michigan; and to propel Ohio State past Michigan for the second-best all-time winning percentage among FBS teams (behind only Boise State).
Ohio State's Last Seven Games Against Michigan

| YEAR | LOCATION | RESULT |
| --- | --- | --- |
| 2018 | Columbus | Ohio State 62, Michigan 39 |
| 2017 | Ann Arbor | Ohio State 31, Michigan 20 |
| 2016 | Columbus | Ohio State 30, Michigan 27 |
| 2015 | Ann Arbor | Ohio State 42, Michigan 13  |
| 2014 | Columbus | Ohio State 42, Michigan 28 |
| 2013 | Ann Arbor | Ohio State 42, Michigan 41 |
| 2012 | Columbus | Ohio State 26, Michigan 21 |
"We don't have to talk about how big of a week this is," Myers said. "There's always so much on the line when we play them. And this is a year-round thing for us. This is something we've been talking about since January. So we're ready."
Count superstar defensive end Chase Young, who has risen to the occasion in the Buckeyes' biggest games so far this season with dominant performances against both Wisconsin and Penn State, among those who are eager to go Wolverine hunting this weekend.
"If you can't get hyped for this, then you're just not that type of dude," Young said.
If there's any concern about the Buckeyes' energy level going into Saturday's game, it's that they could be so fired up that it distracts them from the fundamentals that have guided their success this season. Recent history, of course, suggests that the extra energy Ohio State brings into the rivalry game has only benefited the Buckeyes, and it's up to their team leaders like two-time captain and starting middle linebacker Tuf Borland to ensure they channel that energy in the right way once again this week.
"I think that controlling your emotions is important throughout the whole week," Borland said. "The urgency and everything, you can't help it, it happens and emotions happen, but you have got to do your best to play under control and execute at a high level.
"It is no secret that it is going to be a tough game," Borland added. "It doesn't matter how good or bad the season is going, you are going to get that team's best. So we're going to play our best."
Game Forecast
There's an oft-repeated adage that anything can happen in a rivalry game, and that feels as true as ever this year.
Considering how well Ohio State has played this season, the Buckeyes should win and are capable of winning big if they play up to their ability. Even with Michigan's improvement over the past month, Ohio State is still better on paper in just about every phase of the game, and the Buckeyes are known for playing at their best against their rivals. Even without Meyer leading the way, this game has been circled on the calendar all year, so it would be a surprise to see anything but the Buckeyes' best effort in Ann Arbor.
Yet because the Wolverines seem to be peaking at the right time, this game seems more likely to be competitive than a lopsided blowout, and if the Buckeyes turn the ball over like they did last week against Penn State or allow the maize and blue to make a couple game-changing plays, they could open the door for Michigan to push for a script-flipping upset in front of its home crowd.
Ohio State shouldn't be looking ahead this week – especially since it hasn't even been determined yet whether it will face Minnesota or Wisconsin in the Big Ten Championship Game – and if it plays as well as it has all season, the Wolverines should ultimately be overmatched on both sides of the ball. A big win over the Wolverines, who are currently ranked 13th by the playoff committee, could make another big statement and strengthen the Buckeyes' standing as the best team in the country.
In a game like this, the Buckeyes need to be prepared for a 60-minute war and to face some adversity in a hostile road environment. Their mettle as a team could be tested once again. If the first 11 games of this season have been any indication, though, the Buckeyes should be ready to put their best foot forward and give everything they have in their quest to cap off an undefeated regular season and keep rivalry bragging rights for another year.
"It's going to come down to winning the one-on-one battles in the end," Day said.
---
ELEVEN WARRIORS STAFF PREDICTION: Ohio State 38, Michigan 21