Saturdays this year are different for Urban Meyer. He doesn't wear a headset on the sidelines and lead a team as a head coach as he did for most of the past two decades. Instead, he takes a seat alongside Rob Stone, Reggie Bush, Matt Leinart and Brady Quinn as an analyst on Fox's Big Noon Kickoff show.
Before every show, Meyer takes a photo of the ring he plans to wear on set. With a 187–32 record at four schools, he has worn plenty of them. Florida's 2008 national championship ring. Ohio State's 2018 Big Ten title and Rose Bowl ring. Utah's 2003 Mountain West championship ring. Ohio State's 2012 undefeated season ring. 
In his mind, though, none of those rings or the accomplishments that landed them in his possession define him. To the former head coach of 17 seasons, Meyer's 7-0 record against Michigan and subsequent seven pairs of gold pants he received matter more than any of his many, many rings. 
"Oh, it's No. 1," Meyer told 10TV's Dom Tiberi this week. "I was raised that you could lose all games but never lose that game. Now, obviously that's not true anymore, that's really never been true. But I was brainwashed."
Consider Ryan Day brainwashed, too, then.
"It's no secret that part of your evaluation as the head coach at Ohio State is how you do in this game," Day said. "We all know that. When you take this job, you understand it. You can win them all, not win this game, feel like it's a disappointment. I get that, embrace it. That's why we're working so hard this week."
Without that attitude, Day never would have become Ohio State's next head coach. Meyer never would have given him his blessing, and Gene Smith couldn't have hired him. Not with a fan base that expects so much from the Buckeyes in their rivalry with Michigan, a word that neither Meyer nor Day dares to utter in public.
It's times like these that make that mindset so important.
For a second, allow yourself to entertain a scenario in which Ohio State heads to Ann Arbor to face the Wolverines on Saturday and heads back to Columbus later that night having suffered its first loss to its bitter rival since 2011. The Buckeyes' record would fall to 11-1, ending a chance at their first undefeated regular season in seven years. Yet a defeat wouldn't knock them out of contention for either the Big Ten championship or the College Football Playoff. Ohio State already has a spot in the conference title game clinched, and it probably only needs to win one of its remaining two games to lock up a spot in the playoff.
To Day, that doesn't matter.
"I know that this game means everything to us," Day said on Tuesday afternoon. "Nothing matters if we don't win this game, so we've got to win the game. That's the only way I look at it."
He's right, because in a decade or two or three, whenever it's time for everybody to look back at Day's tenure and evaluate him, his performance in the annual game against Michigan will matter as much as anything else to most people. That'll remain true even in the changing landscape of college football with more focus than ever before on winning national titles. To some, like Meyer, not even national championships will stack up to beating the Wolverines consistently. 
Meyer learned that attitude from Woody Hayes, and Day learned it from Meyer. Naturally, Day took most of what his predecessor implemented to prepare to face Michigan and continued it as head coach.
Every single day throughout the year, Ohio State's players and coaches have the Wolverines on their minds in some way. Screens throughout the Woody Hayes Athletic Center play videos from past games featuring the two teams. In the offseason, they have drills specifically designed with Michigan in mind, and the coaches continue to hold periods during in-season practices with the Wolverines as their chief focus.
That hasn't changed, and it won't under the new head coach. Such an intentional focus on Michigan, Meyer taught Day, is a key to success in The Game.
"If you're working on it all year, then you're prepared, whether you've worked on it the spring, the pre-season, certain periods that you set aside just to work on the team up north," Day said. "You talk to guys all the time about what it means, so they understand coming into the game what to expect. It's always on the schedule that way. We have the countdown in the building. I think everyone understands the importance of it, that's the first thing."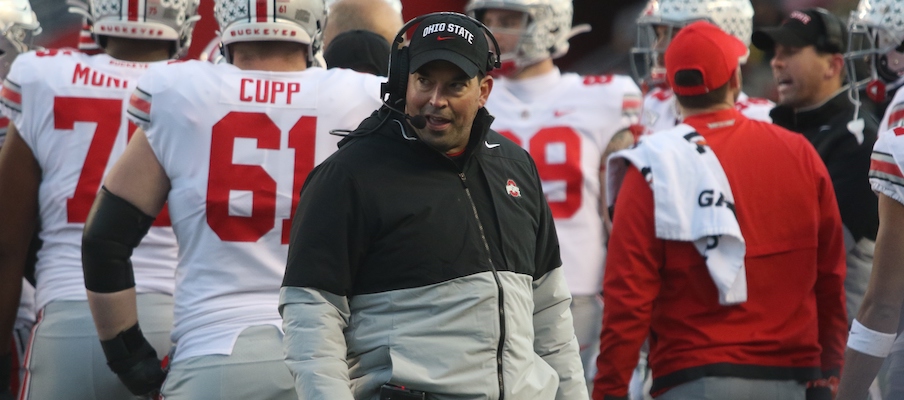 Everything else – the game-week preparation, winning one-on-one battles and whatnot – comes afterward, Day said.
Who's he to argue? Meyer went 7-0 against Michigan, beating Jim Harbaugh five times and Brady Hoke twice. And before him, Jim Tressel had an unprecedented level of success in the rivalry at the time, holding a  9-1 record. They went down in history for what they did versus the Wolverines in the way Day desires to.
When Meyer gave Day his whistle after the Rose Bowl, signifying the change atop the program, he didn't offer any last words about Michigan. There wasn't any need to do so.
"Because I think we talked about it all the time during those two years," Day said. "It was just how important it was. We were coming off the heels of the rivalry game last year. We played very well on offense. The time that we had put into that game plan, I think he understood how much I appreciated what he did to build this rivalry up in his seven years here, what his record was. To think he's 7-0 is completely overwhelming sometimes.
"All you do is put one foot in front of the other, keep working. That's all we've done, our coaching staff, what I've done. We're going to do the same thing this week."
Whatever happens on Saturday won't singularly define Day's legacy – Woody Hayes lost his first game to Michigan and has the entire football facility named after him.
That wouldn't take the sting out of a loss, though. Having spent two years coaching under Meyer who put his life into the rivalry, Day doesn't need a reminder.