Rivalry week has arrived.
Ohio State has already clinched its berth in the Big Ten Championship Game after winning its first 11 games of the season, but this week's game is about more than just playoff positioning. Bragging rights in one of sports' most bitter rivalries will be on the line Saturday when the Buckeyes take on the Wolverines at Michigan Stadium in Ann Arbor.
It should also be one of the Buckeyes' toughest tests of the year.
Michigan hasn't defeated Ohio State in the annual regular-season finale since 2011, but the Wolverines are currently riding a four-game streak of wins by at least 25 points. For the season, they're 9-2, and they'll be the first ranked opponent that Ohio State has played on the road all year.
As a result, Ohio State opened as only a nine-point favorite for Saturday's game, less points than the Buckeyes have won each of their first 11 games of the year by. That's a big difference from when the Wolverines were a 6.5-point favorite back in March, but the maize and blue have looked in recent weeks like a team that is capable of giving the scarlet and gray a challenge.
We take a closer look at how the Wolverines stack up entering this year's game and what else you should know about Ohio State's northern rivals in our final Five Things to Know of the regular season.
One of the Nation's Top-Ranked Defenses, Again
As has been the case every year since Don Brown became Michigan's defensive coordinator, the Wolverines rank statistically as one of the nation's best defenses.
Overall, Michigan ranks fourth in yards allowed per game (267.0) and third in yards allowed per play (4.11). The Wolverines are tied for 10th nationally with only 16.2 points allowed per game. They also rank fourth nationally with only 161.1 passing yards allowed per game and 13th with 105.9 rushing yards allowed per game; they are eighth in yards allowed per carry (2.77) and 13th in yards allowed per pass (6.05).
Michigan ranks 11th in third-down conversion percentage allowed (29.3) and 17th in red-zone conversion percentage allowed (73.1).
The Wolverines' top players on defense include "viper" linebacker Khaleke Hudson, who leads them with 88 tackles; cornerback Lavert Hill, who has a team-high 10 passes defended including three interceptions; and pass-rushers Josh Uche and Kwity Paye, who have combined for 21.5 tackles for loss and 15 sacks.
Of course, Ohio State fans will remember that Michigan had the nation's No. 1-ranked defense last year when the Buckeyes proceeded to put up 62 points and 567 yards on the Wolverines, so the rankings only mean so much. Against an Ohio State offense that leads the nation with 49.4 points per game this year, Michigan's defense will need to play substantially better than last year for the Wolverines to have a chance.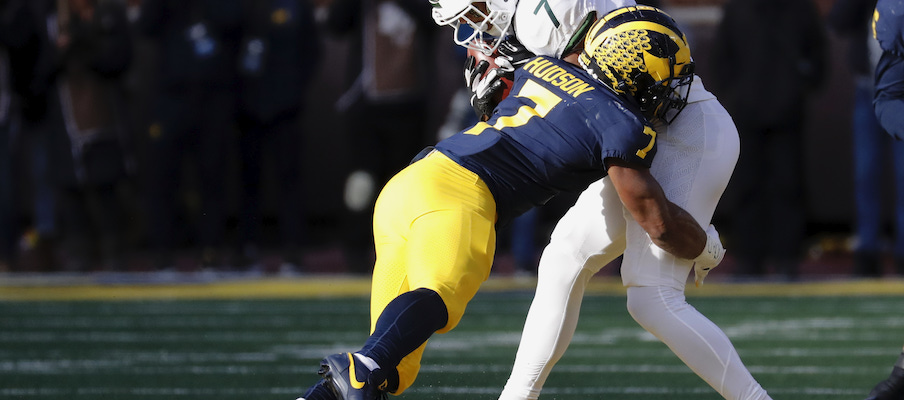 A Scoring Surge
Michigan's offense was expected to take a big step forward this season with the arrival of Josh Gattis as offensive coordinator, but that didn't happen right away. The Wolverines were held to 24 points or less in four of their first seven games of the season, including losses to Wisconsin and Penn State and one-score wins over Army and Iowa.
Since the Penn State game, though, Michigan has seemingly found its groove, scoring at least 38 points in each of its last four games, including three games against defenses who have held their opponents to less than 24 points per game on average (Notre Dame, Michigan State and Indiana).
A big reason for that recent success has been improved play by Michigan quarterback Shea Patterson, who has strung together his two best games of the season in back-to-back weeks, throwing for 384 yards and four touchdowns in the Wolverines' 44-10 win over Michigan State and 366 yards and five touchdowns in their 39-14 win against Indiana.
For the season as a whole, Michigan ranks 34th nationally in points per game (33.5), 69th in yards per game (402.6) and 66th in yards per play (5.86). The Wolverines have struggled in the running game, ranking just 76th in rushing yards per game (155.1) and 85th in yards per carry (4.00). Ohio State's defense, which leads the nation in points allowed per game, total yards allowed per game and per play and passing yards allowed per game and per play, should have the advantage in this matchup.
Michigan's improved passing performance over the past two weeks and scoring surge over the past month, though, means the Wolverines offense could be peaking at the right time, and the Buckeyes can't afford to take them lightly.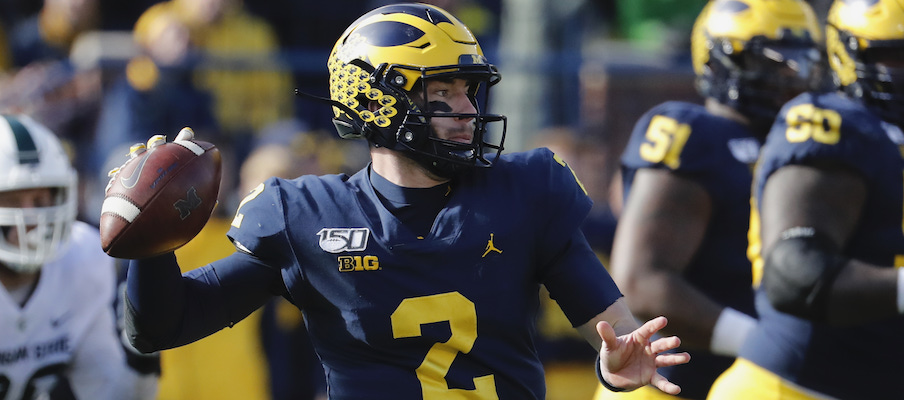 Coaching Ties Across Rivalry Lines
In an unusual twist, both coaching staffs in this year's rivalry game include assistant coaches who were previously assistant coaches at the other school. Ohio State co-defensive coordinator Greg Mattison and linebackers coach Al Washington both came directly from Michigan to join Ryan Day's coaching staff this past offseason, while Michigan offensive line coach Ed Warinner – who is in his second year with the Wolverines – was previously one of Urban Meyer's assistant coaches at Ohio State from 2012-16.
Those aren't the only ties between the two coaching staffs. Day and Brown worked together at Boston College in 2013 and 2014. Michigan quarterbacks coach Ben McDaniels and Ohio State co-defensive coordinator and secondary coach Jeff Hafley worked together with the NFL's Tampa Bay Buccaneers in 2012 and 2013. Ohio State special teams coordinator and assistant secondary coach Matt Barnes was a defensive analyst for Michigan in 2015, Jim Harbaugh's first season in Ann Arbor.
In a game of this magnitude, both coaching staffs will certainly use any intel they have gathered from their time working with coaches on the opposing sideline that they believe can give their team any advantage in Saturday's contest.
No Home Losses Since 2017
While Michigan's last two seasons certainly haven't been perfect, they have been unblemished at the Big House. The Wolverines have lost five times since the beginning of the 2018 season, but all five of those losses have either been in road games (Notre Dame and Ohio State in 2018, Wisconsin and Penn State in 2019) or neutral locations (2018 Peach Bowl against Florida).
They've had a couple close calls at home this year, as they needed overtime to earn a 24-21 win over Army and only scraped by Iowa in a 10-3 slugfest, but they are riding a 13-game home winning streak into this week's rivalry game.
Of course, Michigan has lost three straight home games against Ohio State, so that's a streak the Wolverines will be looking to end while keeping their current winning streak at Michigan Stadium going. 
The Buckeyes haven't had any trouble on the road this season, winning each of its first four games away from home by at least 35 points. Going to the Big House is a different beast, however, than going to Indiana, Nebraska, Northwestern or Rutgers.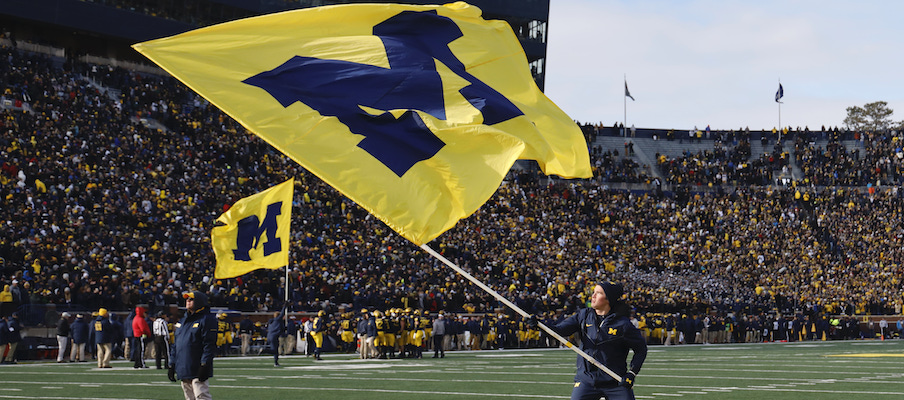 Seven Years of Dominance
If you're an Ohio State fan reading this, you surely already know that the Buckeyes have won their last seven games against the Wolverines, but you surely don't mind the reminder.
To be more exact, that means it's been 2,921 days since Michigan has beat Ohio State, and will be 2,926 days as of Saturday.
Harbaugh is still seeking his first win against Ohio State as Michigan's head coach – he did lead the Wolverines to wins over the Buckeyes as their starting quarterback in 1985 and 1986, but is 0-4 coaching against them – and no Michigan players have ever tasted victory against Ohio State. Michigan's last win against Ohio State came in 2011, when Brady Hoke was coaching the Wolverines and Luke Fickell was the interim head coach at Ohio State.
Urban Meyer's Seven Wins Against Michigan

| YEAR | LOCATION | RESULT |
| --- | --- | --- |
| 2018 | Columbus | Ohio State 62, Michigan 39 |
| 2017 | Ann Arbor | Ohio State 31, Michigan 20 |
| 2016 | Columbus | Ohio State 30, Michigan 27 |
| 2015 | Ann Arbor | Ohio State 42, Michigan 13  |
| 2014 | Columbus | Ohio State 42, Michigan 28 |
| 2013 | Ann Arbor | Ohio State 42, Michigan 41 |
| 2012 | Columbus | Ohio State 26, Michigan 21 |
Ohio State's last seven wins against Michigan all came under the direction of former head coach Urban Meyer, who will return to enemy territory on Saturday as an analyst for Fox's Big Noon Kickoff, but will not be on the Buckeyes' sideline for the first time since that 2011 loss.
That said, Day was Ohio State's offensive coordinator and quarterbacks coach for each of its last two wins over Michigan – including last year's 62-39 game, in which the Buckeyes scored the second-most points the Wolverines have ever allowed in a game – so he understands the significance of the rivalry to Ohio State and its fans, and has learned what it takes to succeed in the rivalry from Meyer himself.
Several other key staffers from the Meyer era who have had a hand in the Buckeyes' seven-game winning streak over "that team up north" also remain at Ohio State and have helped maintain the emphasis they place on the rivalry game – perhaps most importantly for this week, director of sports performance Mickey Marotti, who played a huge role in developing the culture that Meyer always credited for his teams' successes against the Wolverines.
Ohio State's current seven-year winning streak is tied with the Buckeyes' winning streak from 2004-10, under the leadership of Jim Tressel, for the longest winning streak against Michigan in Ohio State history. The Buckeyes' current streak would stand alone in program history if Day can lead them to another victory over the Wolverines on Saturday.