Before each week's Ohio State game, Eleven Warriors catches up with a media member who covers the opposing team to get his or her perspective on the Buckeyes' upcoming opponent.
Ahead of The Game, we bring in Isaiah Hole, the publisher of Wolverines Wire, to get his insight on the Buckeyes' northern rivals ahead of Saturday's game in Ann Arbor.
Michigan enters this game with a 9-2 record for the season, but has won each of its last four games by at least 25 points. What's come together to allow the Wolverines, who suffered a 35-14 loss to Wisconsin and a 28-21 loss to Penn State, to play their best football of the year in November?
Going into the season, many Michigan fans and national analysts believed this could be the year for the Wolverines to break through thanks to the retirement of Urban Meyer, but Ohio State has already clinched the Big Ten East title and is now looking to complete an undefeated regular season and win its eighth straight rivalry game. Are Michigan fans still confident the Wolverines can turn the tables against Ryan Day's Buckeyes, and if they don't, will Jim Harbaugh's 0-5 record against Ohio State put him on the hot seat?
Hole answers those questions and also gives us his thoughts on how Michigan players will react to seeing Greg Mattison and Al Washington on Saturday, who the Wolverines' players to watch are and how he sees this year's edition of The Game playing out.
Q: It seems like Michigan has found its groove since its loss to Penn State, winning each of its last four games by at least 25 points after doing that just once in its first seven games. What's clicked for the Wolverines down the stretch of the season?
Hole: Many people will tell you various things that have gone right — be it Michigan finding a rhythm in the passing game, the offensive line being more cohesive (particularly in the run game) or the commitment to keep defenses off-balance. However, I think it's much simpler than that: Michigan stopped turning the ball over like that was its primary function.
At the halfway point of the season, the Wolverines were among the worst in the country in turnover margin, but since ranking in the 100's (out of 130 teams), the Wolverines have worked all the way up to 44th coming into The Game. The offense strung together three games — Notre Dame, Maryland and Michigan State (the latter had a special teams turnover) — together without coughing the ball up, and that played a giant difference.
Additionally, Michigan found that it could either run or pass the ball at will. From my conversations with those close to the program, passing the ball — despite what the most ardent maize and blue fans will tell you — wasn't much of a concern. There had been significant trust in Shea Patterson and his capabilities. But before the Illinois game, there was an unsurety about being able to run the ball.
Hence, in that game, the offense opened with a five-play, all-rushing drive that resulted in a touchdown before running again three more times to start the next drive. It's not setting the world on fire, but Penn State didn't allow anyone to run on it — save for Buffalo, inexplicably — and Michigan got 140 yards despite a terribly sluggish first half. 105 of those yards came once the offense woke up, seemingly for good.
Lastly, yes, Patterson has been electric, as has the receiving corps. Gone seem the days of Nico Collins, Donovan Peoples-Jones and Tarik Black only getting 8 catches between the three — some games, they weren't even targeted that often. Now, Michigan and Patterson are pushing the envelope, spreading the ball around, but getting it to the playmakers a lot more often than earlier in the season. He's making smart decisions with the football to boot. These aren't arm-punts or 50/50 balls, either. He's becoming more accurate and delivering with purpose, seemingly going through his progressions more, as well.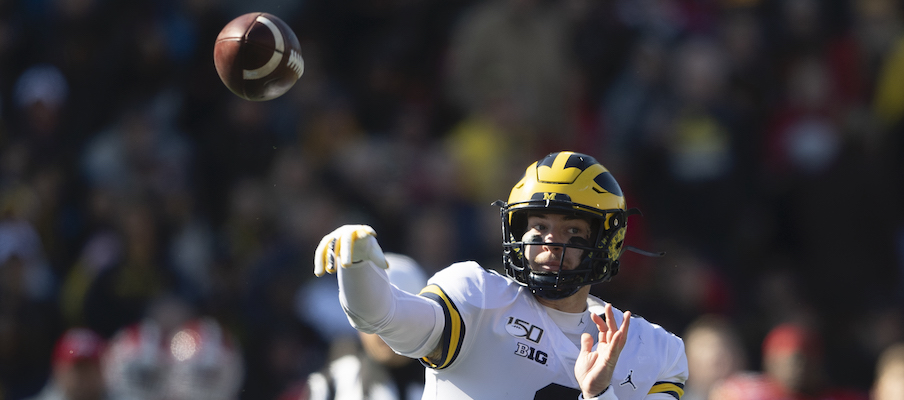 The offensive line has given him all day, starting with that second half against Penn State. The past few games, Patterson has found 9 different targets, often in a position to make a play after the catch. It really has been the 'speed in space' that everyone talked about before the season.
So, yes, everything has really come together, seemingly, even against some quality defenses. But we'll see if it'll be enough against the No. 1 defense on Saturday.
Q: Going into the season, there seemed to be a lot of confidence in Ann Arbor that Urban Meyer's retirement opened a window of opportunity for Michigan to get back on the winning side of the rivalry. Now that Ohio State is 11-0, how do Michigan and its fans feel about playing Ryan Day's Buckeyes now?
Hole: There's some current optimism, more because of how Michigan is playing, although I would say the majority of Wolverines fans don't feel great about their chances this weekend.
I don't think it's exclusive to Michigan fans that they're surprised that Ohio State looks to be the best, most complete team in the country at the moment. Actually, I'd suggest anyone who thought it would take a step forward with Meyer stepping down, they would have been the crazy one. Yes, the roster is incredibly stacked with talent, and Day had proven to be an excellent, bright offensive coordinator who manned the ship quite well in his interim, three-game stewardship. But Urban Meyer is, at worst in my opinion, the second-best coach in the modern era of college football. To say that he'd leave and the team wouldn't at least take a slight step back would have been lunacy. For some, like me, I thought a proverbial step back didn't equate to any changes in the yearly record, but perhaps the team looked a little more vulnerable from time to time. That clearly hasn't happened.
As far as Michigan itself is concerned, I don't think there's any change in its approach. OSU is the same monolith it's been, and honestly, the team cares little – for better or worse – for a hyper-focus on Ohio State than it is internally on itself. From what I can tell, the program sees the same challenge it had a year ago, or the year before that. Any mention of 'Ohio State looks unbeatable' gets a reminder that any team can be beat with the caveat, 'They're a good team, but we're a good team, too.'
Q: Jim Harbaugh is still seeking his first win against Ohio State, and Michigan needs to win this game to finish the regular season with double-digit wins. If the Wolverines lose this game, will Harbaugh's seat start to get hot?
Hole: No, though some in the local media and many in the national media and a vocal minority in the fanbase will certainly say that's the case.
The athletic department recognizes reality in Ann Arbor, and that's that while Michigan was floundering, Ohio State was getting historically good. It didn't take time off to have a multi-year decline. As a matter of fact, it won a national championship while the Wolverines were messing around and losing to Rutgers and Maryland.
Harbaugh has now beat every team in the conference, except Ohio State, at least once. For those who say that Purdue and Iowa can do it, why can't Michigan? Well, because Michigan will always have Ohio State's full attention. The Game isn't going to be some surprise to the Buckeyes, not with the maniacal, Manchurian Candidate-like, Pavlovian response-by training that OSU players have when it comes to all-things Michigan. The vocal part of the media and the fanbase that proclaims a hot seat insists you have to walk before you can crawl, and that just defies logic.
The honest truth of it all is that Ohio State is just superior at this point, and there's no debating it. Michigan might not be able to get over the hurdle anytime soon, and I think many in power in Ann Arbor recognize that.
But, additionally, I think they also recognize that in 2016, he was a questionable spot (literally calling it questionable, not debating the merits of 'the spot') away from winning The Game on the road, and a quarterback injury away in 2017. He's had his program closer than anticipated, in my mind. But getting over this final hurdle and actually beating an Ohio State team that isn't just not slowing down, but getting better and better — it's a difficult proposition to overcome.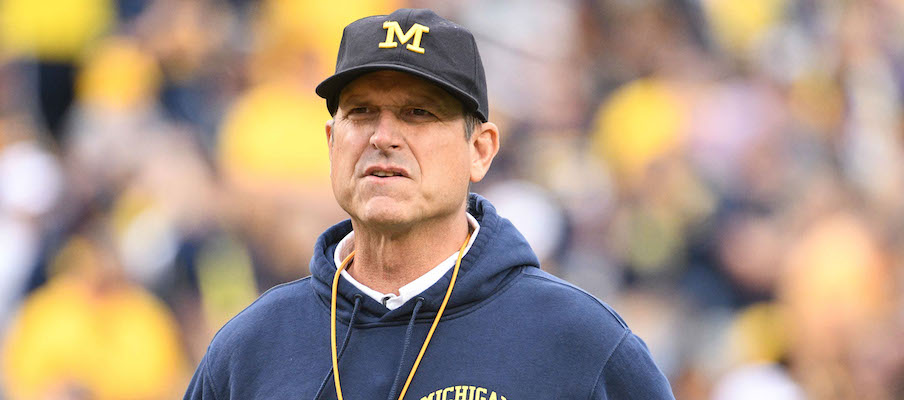 Q: Not that anyone needs any extra motivation for this game, but this will be the first time Michigan faces off with Greg Mattison and Al Washington since they left to join Ryan Day's staff. How do you think their former players will react to seeing them on the other side of the rivalry on Saturday? Will they be happy to see their former coaches, or are the wounds still too fresh?
Hole: They've said all the right things this week, and I never thought there was much animus towards Washington. I think they all anticipated that could and maybe would happen given his lineage.
In regards to Mattison, I don't think they'll be happy, save for a few. Some, like left guard Ben Bredeson or VIPER Khaleke Hudson, say they have no ill will, with the former noting that he wouldn't be a Wolverine or the man he is without Mattison, who recruited him out of Arrowhead, Wisconsin. 
Others? Like those in the defensive line room? Yeah, I don't think there will be a lot of hugs given. As one person told me back when it happened: "You spent years telling me how everything Ohio State does is terrible and teaching me to hate them, and then you leave us and join them?" I think that about says it all.
Q: What does this Michigan team do best, and who are the players that Ohio State and its fans need to be aware of?
Hole: Right now, I have a hard time picking one thing it actually does best, because this team has been such an incredible work-in-progress, and honestly, we've seen every position group struggle at some point this season — yet, we've seen them all playing elite football the past 4 weeks.
If I had to pick one thing it's excellent at, I'd say the defense as a whole, still. It's still prone to big plays, and has had times this year where it's looked out of sorts, but Don Brown has done an incredible job of implementing (and significantly disguising) more zone coverage this year than he has in previous years. He's still bringing a rush, and the defensive line has been more than a pleasant surprise, in my opinion.
Josh Uche is technically a SAM linebacker, but he's become a nearly every-down player, and leads the team in sacks. He's close to unstoppable when rushing the QB, and also has the speed to drop into coverage and catch up to a player like Penn State's KJ Hamler.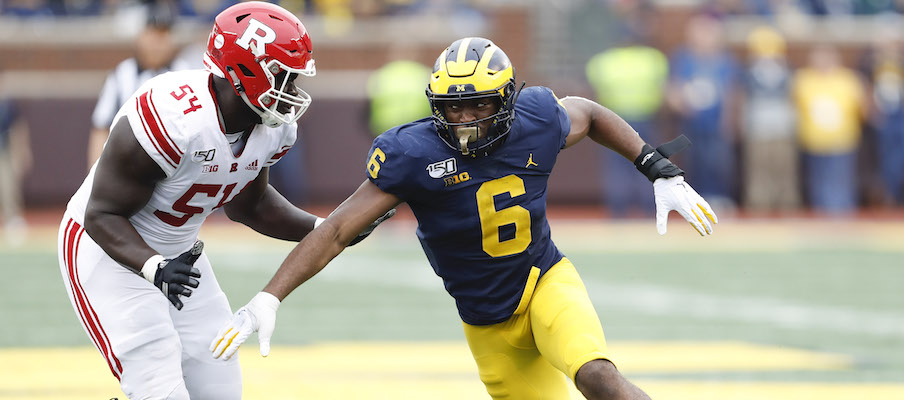 While I wasn't personally surprised having followed him as a recruit, redshirt freshman linebacker Cam McGrone has been looking like Devin Bush 2.0 since entering the starting lineup nearly halfway through the season. Khaleke Hudson has rebounded from a very mediocre junior season. Aidan Hutchinson and Kwity Paye have been more productive this year than Chase Winovich and Rashan Gary were last year. Josh Metellus might be one of the best safeties in the country that no one is talking about. The secondary is still solid beyond that.
Offensively, while the aforementioned Collins/Peoples-Jones/Black trio will get the most talk, Ronnie Bell has been the standout at wide receiver. I expect him and Collins to get the most targets. Hassan Haskins and Zach Charbonnet seem to be trading back and forth who has the better game at running back, so I'd keep my eye on those two. Nick Eubanks is the primary target at TE as Sean McKeon missed a lot of time with the injury he sustained at Wisconsin. But who I'd really keep my eye on? Freshman returner Giles Jackson, who's starting to get more time on offense. I feel like there's a reason for that to which we'll find out more on Saturday.
Q: What does Michigan need to do to have a chance to win this game, and how do you see it playing out?
Hole: Honestly, despite the fact that I'm still predicting an Ohio State victory, and still wouldn't be surprised if it was an emphatic one at that, I have a weird feeling about this one, the opposite of last year.
Last year, I predicted a Michigan win but privately (and a little on my podcast) was pretty sure that it was going to lose. But, a lot has to go right on Saturday. A ton, really.
First, it can't turn the ball over. I feel like if Michigan does, just once, that could be it. It also has to force Ohio State into at least one.
Secondly, it has to neutralize J.K. Dobbins and Master Teague in the running game and take its chances with Justin Fields. The front seven has to get to Fields early and often to make him hesitate, both if deciding to keep, or even when dropping back. That's when Michigan's at its best — and kind of what the defense is designed to do, make quarterbacks feel pressure coming when it's still a few steps away. It would have to establish that early.
Last, the offense has to take what it's given, no matter how little. Find a way to get both the run game and pass game going, and by that, I don't mean in a prolific sense. Get to about 400 yards of total offense with some relative balance. Basically, it has to put itself in a position to win, and if it does that, there's a chance.
I really don't know how I see it playing out, to be honest. I have less of a beat on this that I usually would, because Ohio State has rolled everyone, and I include Penn State in that despite the score. But Michigan is weirdly and quietly confident in what it's bringing to the table. If you were going to ask me to put money on it, I would say that I think Ohio State will look a little more human in this game than it has in any other, but will still leave Ann Arbor with a win.