PISCATAWAY, N.J. – As the underthrown ball fluttered in the air above the SHI Stadium field, Chris Olave decelerated in a hurry. 
Up until that point, while racing down the sideline on a deep route with a step on Rutgers cornerback Damon Hayes, he had thought that he might have a chance to score. Suddenly, Olave found himself in the uncomfortable spot of needing to reposition to give him a chance to snag Justin Fields' toss that was about to land a few yards shorter than he anticipated.
"I was just taught to keep my eyes on the ball," Olave said.
As Olave slowed down and turned his body, the cornerback ran into him, almost giving him a mid-play hug. The referee reached into his pocket to call defensive pass interference. The yellow flag hit the ground, but the ball didn't. As Olave fell backward, he got both hands on the pass, holding the ball with his left arm against his left leg to secure it.
A catch. An indisputable catch.
The 42-yard reception for Olave in the third quarter of Ohio State's 56-21 win would have been the longest play of his career had he not caught a 56-yard pass earlier in the game.
"Me and Justin, we kind of struggled earlier in the year with the deep ball," Olave said. "He was kind of overthrowing me. We finally got connected today. I think we're going to need that in the next couple weeks."
CHRIS OLAVE GIVES NO DAMNS ABOUT YOUR PASS INTERFERENCE. pic.twitter.com/BjZNuTACJC

— Eleven Warriors (@11W) November 16, 2019
He's got that right. Nobody needs to remind Olave of the impact that a couple big plays can have in important games down the stretch.
As a freshman last year, he had his end-of-season breakout with a pair of touchdowns and a punt block against Michigan, followed by a five-catch, 79-yard, one-touchdown performance while helping the Buckeyes beat Northwestern in the Big Ten title game. Up to that point, he had been a relatively anonymous freshman whom the Buckeyes added late in the 2018 cycle as the third-lowest ranked recruit in his class. 
By the end of Urban Meyer's last game beating the Wolverines as a head coach, everybody knew his name. And now? Nobody needs a refresher these days. Given his production in the past month, he has become a go-to target for Fields in an offense not built to have a No. 1 wide receiver.
On Saturday, he caught four passes for 139 yards, crushing his prior career-high of 93 receiving yards in what he believes could be a momentum-building game for him as his team nears the season's last stretch.
"I believe so," Olave said. "Us all receivers, we just try to get open and we can't control where the ball goes. Luckily the balls come to me today, and we all make plays."
Olave's plays, given his skillset, have a tendency to look a bit different than those made by his fellow wide receivers.
The 6-foot-1, 185-pound athlete once ran track in high school, and it shows on the football field. Among the five wide receivers who play the most – Olave, K.J. Hill, Binjimen Victor, Garrett Wilson and Austin Mack – he's likely the fastest. Combining that speed with better-than-average ball skills, he has turned himself into one of the few true deep threats on a team with a high-level offense but one that has taken relatively few downfield shots. 
Before Saturday's game, the Buckeyes had just three completions for 40 or more yards, which ranked just 109th in the country. Olave caught passes for 42 and 58 yards against Rutgers, coming close to doubling his team's total.
"He's really good at tracking the ball downfield," Ryan Day said. "He's got good speed, and he can really track a ball well. Great depth perception and timing."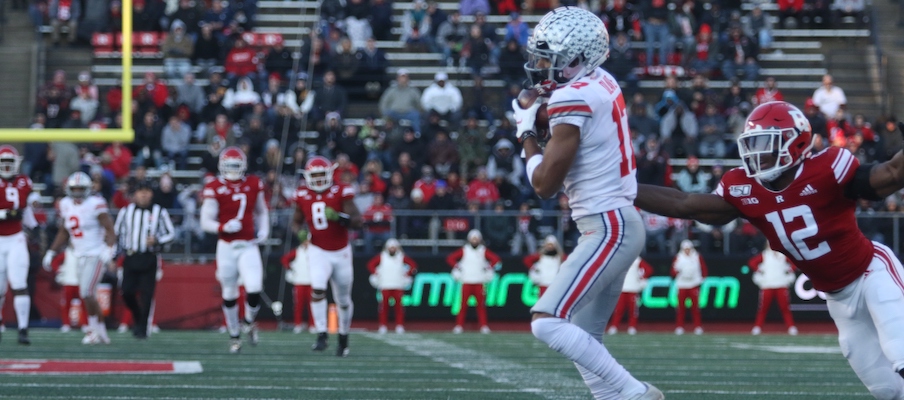 Ohio State, with its current coaching staff, has eschewed the need for a No. 1 wide receiver. By rotating wideouts constantly, it doesn't believe it has to have a go-to option down the field. And given that Olave only caught four of Fields' 15 completions on Saturday, he's not the linchpin that holds the offense together by any means.
But in recent weeks, accentuated by Mack missing the last three games with an injury, Fields has leaned a bit more on Olave.
After not catching a pass against Michigan State on Oct. 5, the last game before the first of two off weeks, he has rattled off four impressive performances in a row.
Against Northwestern on Oct. 18: five catches, 60 yards, two touchdowns (ties career high)
Against Wisconsin on Oct. 26: seven catches (career high), 93 yards, two touchdowns (ties career high)
Against Maryland on Nov. 9: 10 targets, five catches, 43 yards, one touchdown
Against Rutgers on Saturday: four catches, 139 yards (career high)
Olave now has 37 catches, the second-most on the team, and leads the Buckeyes with 593 receiving yards and nine touchdowns.
"It was tough against Michigan State," Olave said. "But going into that bye week, I kind of wanted to just get better every week, every day. So that's what I did, and coach (Hartline) was with me. He pulled me to the side and we had a long talk about it. Ever since then, I (have) kind of just (been) taking that step forward."
He'll attempt to take another step forward the next two weeks against Penn State and Michigan, arguably Ohio State's toughest opponents of the season.
And this time, as the Buckeyes near their final stretch, Olave is anything but unknown. He's the receiver the Nittany Lions and Wolverines will have to game-plan against in attempts to limit Ohio State's aerial attack.
"It's all a different mindset for next week," Olave said. "We've been cruising these past few weeks, but we've got to lock in, and we know what we're getting in Penn State, one of the best teams in the nation. So we've got to lock in and prepare like no other."
Few players know that better than him.