Zach Harrison hadn't yet taken a single snap as a Buckeye and he had only attended about a month's worth of classes when Ohio State made him and the rest of this year's early enrollees available for interviews on Feb. 6, the day the football program wrapped up its 2019 recruiting class.
Throughout his entire recruitment, Harrison lived a closed-off life from the public eye, doing so with definite intention and remarkable success. Not only was it nearly impossible for reporters to get information from him on the record – if they could even get an interview – but even the schools competing for him had to figure out what he wanted to do. At different points, it seemed like he'd end up at either Penn State or Michigan. 
On Dec. 19, in auditorium filled with his teachers and Olentangy Orange classmates and with tens of thousands of viewers watching a student broadcast on Periscope on Dec. 19, he revealed that he'd be heading down the road to play football with the Buckeyes. Harrison didn't explain his decision that day, and he didn't allow media to attend his announcement. He preferred it that way. The as-understated-as-possible way.
But Harrison has another side to him. One that he hadn't shown publicly yet. A confident side that doesn't shy away from his potential. Seated on a folding chair on the indoor practice field at the Woody Hayes Athletic Center only a month-and-a half later after his commitment and signing, Harrison candidly laid out what might be in store for him in Columbus.
"I want to leave a legacy here," Harrison said. "I want people to be like, 'Oh, Zach Harrison, he was one of the greatest to come through Ohio State.' That's going to mean a lot more to me because, coming from home, I'll be able to take my kids here and grow up in a community where they know my name and stuff like that."
Zach Harrison: "I want to leave a legacy here. I want people to be like, 'Oh, Zach Harrison, he's one of the greatest to come through Ohio State.'" pic.twitter.com/3yWw9GtokA

— Colin Hass-Hill (@chasshill) February 6, 2019
From there, Larry Johnson began leading Harrison down on the same path he took Nick Bosa, Tyquan Lewis, Sam Hubbard, Jalyn Holmes and Joey Bosa. Guiding him toward that goal of becoming a legendary figure. Harrison proceeded to shine in spring practices and flash in the first eight games with 10 tackles and 1.5 sacks.
Everything was going as planned.
News that broke on Friday about Chase Young's suspension for Ohio State's game against Maryland, though, has a chance to speed up that timeline. In a worst-case scenario, it could throw Harrison's career into warp speed.
No true freshman has started a game at defensive end for Johnson since Joey Bosa in 2013. Harrison might end that streak on Saturday. In a depth chart released on Friday morning, he's suddenly listed as a co-starter at defensive end along with Tyreke Smith, Tyler Friday and Javontae Jean-Baptiste. Young's suspension and Jonathon Cooper's unavailability means Johnson doesn't have his two starting ends.
If Harrison opens this weekend's game as the starter, and even if Young remains suspended for the following game versus Rutgers, the Buckeyes will have no worry. Both upcoming opponents will match up with them as underdogs by six touchdowns or more. If either game remains remotely close in the second half, it would be a shock. 
Ohio State, though, is merely 15 days from facing Penn State and 22 days from driving up to Ann Arbor, Michigan, to do battle with the Wolverines. If Young's suspension drags on longer than Ryan Day's team hopes, Harrison could find himself in an unexpected – or at least earlier than expected – pressure-packed position.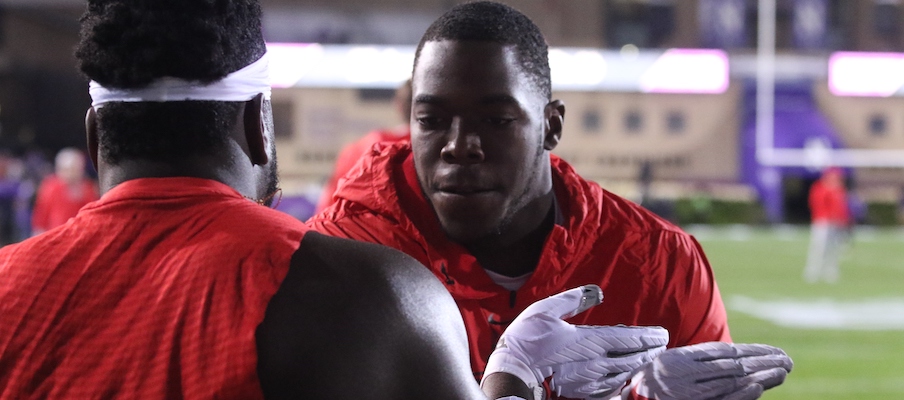 Harrison's currently on the same path the Bosas took. The same path Young's taking. 
Typically, under Johnson, that path for defensive linemen hasn't included true freshmen playing such a large role.
If he wants to alter his defensive line to avoid thrusting Harrison into a major role, it's doable. Johnson did just that for the season opener when Cooper, Smith and Friday all missed the game against Florida Atlantic. Instead of starting Harrison or Jean-Baptiste opposite Young, he opted to shift Jashon Cornell outside to defensive end, moving Davon Hamilton from nose tackle to 3-technique and starting Robert Landers at 1-technique.
"We felt going into the game the first time we didn't want a freshman to start at that position because they were a running team," Johnson said on Sept. 4, days after the win.
Maryland has been more successful on the ground than through the air, making it a real chance that Cornell again gets moved to defensive end. The difference then, though? Ohio State had Young on one side. That meant that no matter who was on the other side, the Buckeyes didn't have to worry about a major drop-off in pass rush. Without both Young and Cooper, it's less certain – but still entirely possible – that Cornell moves outside on Saturday. 
Regardless of whether Harrison starts, he'll absolutely have an increased role this weekend and possibly beyond then. His name being atop Friday's depth chart ensures that.
Ironically enough, the Buckeyes went through the exercise of having a former five-star recruit help replace a star defensive end last year when Nick Bosa suffered a season-ending injury. Young was among the players who had to step up. Since he had a larger role as a sophomore than Harrison does now as a freshman, it wasn't a completely congruent situation. But until then, Young had never started a game.
"A big-time player like Nick goes down, I think it's time to step up even bigger than I have when Nick was here," Young said last year after beating Tulane in his first start following Bosa's injury. "I think that's in every player's mind at my position that you've just got to step up."
It's not too difficult to envision him making a similar comment about the rest of the position group taking ownership of increased roles.
The expectations won't be for Harrison in his first year what they were for Young in his second season. But at 6-foot-6 and 255 pounds and a top-15 overall prospect out of high school, he's the type of freakishly athletic prospect who could end up as a first-round NFL draft pick if developed properly. That makes Harrison an enticing fill-in edge rusher, even if he's in the nascent stages as a college defensive end.
Just ask Young about him.
"You see him. He's strong, big, fast," Young said a month ago after Ohio State beat Michigan State. "I knew it's just going to be a matter of time until he finds out what he is."
We might all find out more about the freshman shortly.