We finally have our answer.
No, Cincinnati wasn't Ryan Day's first significant test as a head coach, and nor was a trip to Nebraska in the first road Big Ten game of the season. Games against Michigan State and Wisconsin didn't end up being anything other than multi-touchdown victories for Ohio State.
The first major test of the season for Day and the Buckeyes has come in the form of a suspension for Chase Young, who was in the midst of arguably the most dominant season by a defensive end in program history. Somebody who's widely viewed as the top prospect for next year's NFL draft. Somebody who's coming off a four-sack performance in the national limelight that put him a half-sack away from Vernon Gholston's single-season Ohio State record of 14 sacks. Somebody who did the impossible by putting himself in the Heisman Trophy race as a defensive end.
The suspension stems from a possible NCAA violation purportedly committed at some point in 2018, the year that included a season of Ohio State football embroiled in controversy. It's only fitting.
In a statement on Twitter, Young said he "made a mistake last year by accepting a loan from a family friend" that he had known since the summer before his freshman year. Yahoo Sports, though, reported the controversy involves an agent. Ohio State announced that he'd be suspended for Saturday's game against Maryland, noting that the athletic department is looking into a "possible NCAA issue," which leaves the door open for a longer suspension.
November 8, 2019
The loss of Young cannot be overstated. At his peak this season, those watching him rush quarterbacks off the edge have struggled to put into words what he's doing on the field, and now everybody's forced to figure out just how to express the gravity of his loss without underselling it.
And it's big. Really big. As big as any injury could be to an Ohio State player not named Justin Fields.
College Football Playoff committee chairman Rob Mullens only said the name of one player on any team when explaining the initial rankings on Tuesday night, and it was Young. Mullens described him "probably as disruptive a defensive player as there is in the country," and nobody would disagree, including his head coach. Last week, Day called him "obviously the most dominant player in college football right now."
"Having a player like Chase play the way he has clearly changes the game and makes everybody on that defense better because you have to account for him on every play," Day said on Oct. 29. "But that's only good if he plays that way, and he is."
As we've now learned, it's also only good if he actually plays, which he won't do against Maryland on Saturday.
All of a sudden, a quartet of underclassmen – Tyreke Smith, Tyler Friday, Javontae Jean-Baptiste and Zach Harrison – will be hoisted into the spotlight at defensive end. With Young suspended and Jonathon Cooper also unavailable due to injury, the Buckeyes won't have a single junior or senior defensive end on the field Saturday. The four underclassmen listed as co-starters for the matchup with Maryland have a combined 34 tackles, 7.5 tackles for loss and five sacks. By himself, Young has 29 tackles, 15.5 tackles for loss and 13.5 sacks.
Up to this point, Ohio State had been going through a nearly flawless season.
The Buckeyes, riding the top-performing defense in the country and a well-rounded offense, have rattled off eight straight wins by a nation-best average of 40.4 points per game, the second-largest margin in the past 15 years. Their largest deficit has come in the fourth game of the year when they trailed Miami (Ohio), 5-0, then proceeded to score 76 unanswered points. On the recruiting trail, they've been thriving with top-five classes in both 2020 and 2021.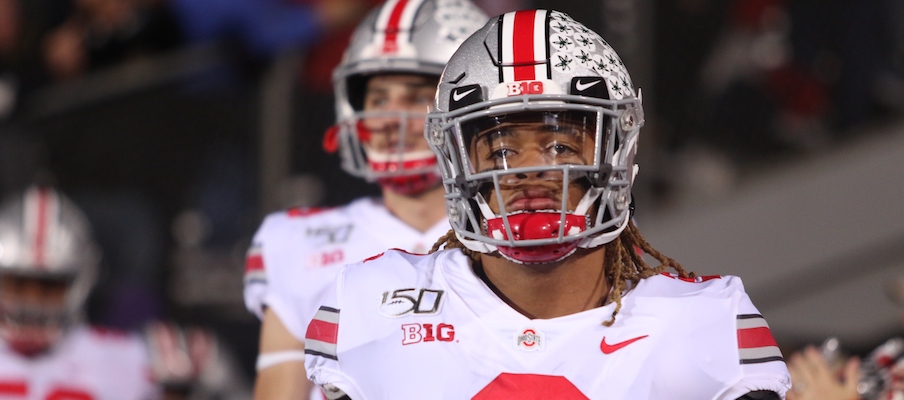 After an unstable 2018 season, the program had been essentially drama-free this year under Day. That, of course, changed on Friday morning when the Young news dropped.
What happens next has the potential to be turbulent, especially since the Young situation revolves around a possible NCAA violation. It's never easy to predict how those are handled, adding a degree of uncertainty. 
With the future of Young's junior season currently hanging in the balance, Ohio State is entering its easiest two-game stretch of this season. The Buckeyes remain six-touchdown favorites against Maryland and could be favored by more than 50 points next week on the road versus Rutgers. Even without their star defensive end, they're still expected to crush both opponents, so him sitting out either or both of those games shouldn't ultimately affect the results.
The danger of Young's suspension comes when considering that stretch will be followed the team's most difficult two-game stretch – or three-game stretch, if Ohio State makes the Big Ten title game. The Buckeyes will end the regular season facing Penn State at home and Michigan on the road.
Even before Young's suspension, the back-to-back stretch was daunting.
Now? With Young's status uncertain, it's especially dangerous.
If the Buckeyes lose to Penn State, they'd likely miss the Big Ten championship game and suddenly be on the bubble of the College Football Playoff. And nobody needs an explanation of the emotions that would arise in Columbus if they dropped a game to the Wolverines the following week in Ann Arbor.
Ohio State has executed at a level that allowed the College Football Playoff committee to rank the team at No. 1 on Tuesday, but the absence of Young – the nation's sack leader – begs the question of whether the Buckeyes can continue to perform at the rate they have thus far. 
"Now we're into the teeth of this thing, and (Young is) going to have to continue to play that way because now he's got the biggest bull's eye he's ever had on his chest, and that's going to be tough going down the stretch," Day said on Oct. 29.
It just got tougher.
As a full-time head coach, Day has yet to navigate a situation like this. All he's known this fall is winning. Eight victories in a row, all by at least 24 points.
There's no winning this. Only surviving – and, in the meantime, learning to play without Young – as the Buckeyes wait in NCAA limbo for a decision that can't come soon enough.