Try to find something wrong. Figure out some way to nitpick Ohio State's on-field performance, recruiting, off-field standing, coaching or program trajectory.
Sure, that can always be done if you look hard enough. But it's as challenging to find flaws in the Buckeyes as it has been at any point in recent years. 
Ohio State fans are living on easy mode. It'll end eventually – it never lasts forever. But with the Buckeyes currently holding an 8-0 record with eight blowout wins, thriving recruiting and no off-field drama, Ryan Day has flipped that switch on right now.
It's an especially stark juxtaposition to what was happening last season when Ohio State entered November.
At its bye week at this point last year, Ohio State was trying to figure out how to recover from a devastating 49-20 loss to Purdue. It was the second shocking road loss to an unranked Big Ten West opponent in as many years. The Buckeyes still had a 7-1 record, but the fan base was far from content. The defense had innumerable issues, and Ohio State could not run the ball or score in the red zone consistently. Even the momentum on the recruiting trail had slowed, with only one player – Jameson Williams – committing to the Buckeyes between the end of July and beginning of November. 
Off the field, things weren't going much better. Exactly one year and two days ago, Urban Meyer summoned a small group of reporters to his office at the Woody Hayes Athletic Center and called Yahoo Sports' Pete Thamel to explain the severe headaches caused by an enlarged cyst in his brain. The program also was only a couple months removed from the Zach Smith saga.
Nobody needed to nitpick. The only challenge was to keep up with the deluge of issues plaguing the program.
A year later, the only deluge has come in the form of so much positive press that Ryan Day is in the position of feeling the need to position his team to deal with it.
"I think all it means is that you have a lot more to lose if you let it get away from you. That's it," Day said on Tuesday. "And the more this builds, the more we have to lose. So we're not going to get anxious about that or anything like that. But at the same time, we also know that we've got a bigger bull's eye on our chest week in and week out."
However large the bull's eye is right now, nobody has come close to hitting it.
The largest deficit the Buckeyes have faced this season came when they trailed Miami (Ohio), 5-0, in the first quarter of the fourth game of the season, and they went on to win that game, 76-5. All eight games have ended in blowout victory fashion, with Ohio State winning each of them by at least 24 points and averaging a margin of victory of 40.3 points, which only one team in the past 15 years – Florida State in 2013 – has topped. 
When the first College Football Playoff rankings of the season drop on Tuesday night, the Buckeyes have a legitimate chance to see their name appear in the No. 1 spot.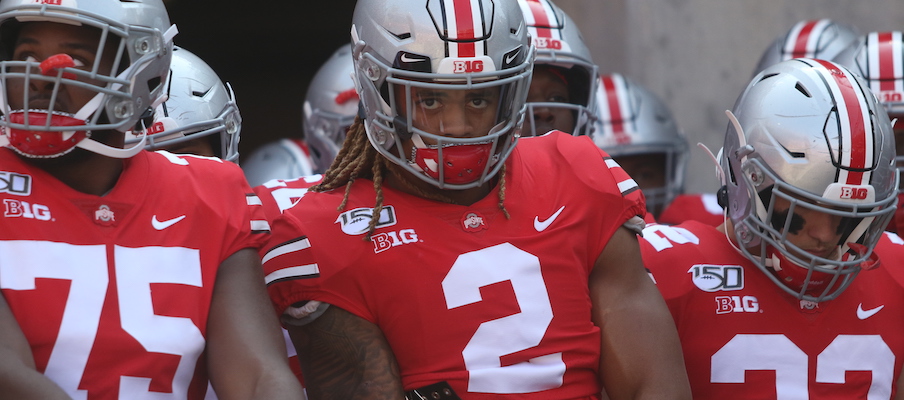 With only one month remaining in the regular season, Ohio State has three Heisman Trophy candidates. That trio consists of the program's top-ranked prospect in the modern recruiting era (Justin Fields), the first player in Ohio State history to rush for 1,000 yards in his first three seasons (J.K. Dobbins) and the most dominant player at any position in college football (Chase Young). Day said it is – and should always be – the "norm" for the Buckeyes' quarterback and running back to find themselves in the Heisman mix, but that doesn't always happen.
Ohio State returned nine starters from last year's sieve of a defense, replaced four of the five assistant coaches on that side of the ball and has turned the unit into one producing the best numbers in the country in most major statistical categories. It's led by a pair of future top-15 NFL draft picks – Young and Jeff Okudah – and features no shortage of other future pros. Young might be having the greatest season by a defensive player in team history.
Remember how rushing and red-zone conversions were down last year for the Buckeyes? This season, they rank fourth in the country in rushing yards per attempt (6.2) and have scored touchdowns on 33-of-39 red-zone chances. They also have the top-ranked third-down offense and fourth-ranked third-down defense in the nation.
Off the field, no notable issues involving the football program have cropped up. 
On the recruiting trail, Day has managed to somehow maintain the ridiculously high level at which Urban Meyer recruited during his tenure. The 2020 class is ranked fourth in the nation, and the six-player 2021 class that just added Marvin Harrison Jr. on Thursday has the top average player rating in the country of any team with more than one commit.
With Harrison's commitment, Ohio State has landed six top-100 wide receivers in the next two classes. To put Brian Hartline's unprecedented run of success on the recruiting trail into perspective, the rest of the Big Ten combined has landed only five top-100 wide receivers from 2013 to 2021.
"I think in recruiting, it's going as good as it could possibly go," Day said. "I think that the culture that we've created since January is off the charts, and people are very, very excited about that."
And they should be. This doesn't happen all the time. Not even at Ohio State.
Nothing's ever perfect in college football. The Buckeyes still lack a backup quarterback and a consistent pass-rusher opposite Young. Running back recruiting isn't where it needs to be, and they don't have as many game-breaking wide receivers as they did a year ago.
But when those are the biggest issues – rather than a head coach getting debilitating headaches, losing by 29 points to a 6-7 team or relying on one of the shakiest defenses in program history – things are going pretty well.
Welcome to easy mode. It doesn't get any better for Ohio State fans, and it doesn't last forever. But it's on right now.