Zach Harrison couldn't have acted more nonchalant. He might have been nervous or anxious, but he didn't show either emotion.
 Sitting on the Olentangy Orange High School auditorium stage beside his parents and sister, he was in total control. The five-star prospect with scholarship offers from every football powerhouse across the country wore a zipped-all-the-way-up U.S. Army All-American Bowl jacket to hide the t-shirt that would soon reveal his eventual college choice of Michigan, Penn State or Ohio State.
Looking into the hundreds of classmates, teammates, teachers and alumnus that packed every seat, Harrison knew his decision, which he would soon reveal to the world. Only a small amount of people knew which college he had chosen. Three of Harrison's fellow seniors – Jacob Lipperman, Max Brunke and Tyler Ross – were among those select few, and they were much less calm.
The notoriously tight-lipped Harrison only allowed one media outlet – Orange Sports Live, a student-run property created two years ago by Lipperman and Brunke, and soon after joined by Ross – inside the school to broadcast his announcement. By the time the commitment ceremony began last Wednesday, their work of preparing to live stream the event for tens of thousands of people was already complete. No more running around. No more adjusting camera positions. No more hooking up the live stream.
When Lipperman, whose legs were "dead," plopped into his seat up front behind Harrison's family, he had one thought: "'Damn, I hope we have audio." He quickly got his answer when he pulled up the live stream on Periscope with the event about to begin and the sound blasted from his phone.
"It was an embarrassing moment trying to turn it down real quick," Lipperman said. "But yeah, I was like, 'Thank God. We have audio. We're good.'"
Relief set in. The major question had been answered. Still, though, having hatched the idea just 24 hours before going live, the trio of Olentangy Orange seniors remained stressed.
They were still concerned about audio and had to hope the thousands of viewers didn't crash the stream, but they finally began to see the results of what they had tirelessly prepared for.
"For me, I think the moment was when Zach walked up and I was like, 'Holy shit, we're going to be on SportsCenter,'" Brunke said. "That was like, 'Oh, my God. This is going to be amazing.'"
As the ceremony began, the Orange Sports Live crew was partially focused on what was happening on stage, while remaining locked in to the Periscope stream that was being directed by a fellow classmate, Brooke Little.
"All I see is 62-39 running through the comments," said Lipperman, referencing Ohio State's win against Michigan.
"Over and over again," Brunke said.
Zachary Harrison - College Announcement https://t.co/e7KHdDUHcK

— Orange Sports Live (@OOHSSportsLive) December 19, 2018
First, Olentangy Orange athletic director Buck Weaver spoke, running down the itinerary. Harrison, the No. 4-ranked recruit in the country, took the podium next to thank everyone involved in his recruitment.
"I had a speech written in my pocket, but I think I'm just going to wing it," Harrison said, generating laughter from the onlookers.
Zebb Schroeder, Olentangy Orange's football coach, followed Harrison, congratulating his star player and offering words of wisdom pertaining to his future. Once he finished, Harrison stepped up to the stage again, first pulling down his jacket as he stood up to ensure no one saw the color of his t-shirt.
Decision time.
"It was kind of weird, though, sitting in a theatre full of former players from Orange, staff, students, and we're one of maybe five, six people that know where he's going," Ross said. "Even as he walks up the second time and he's, 'I'm proud to continue my academic and football career,' and he paused, you're still thinking, 'Oh, where's it going to be?'"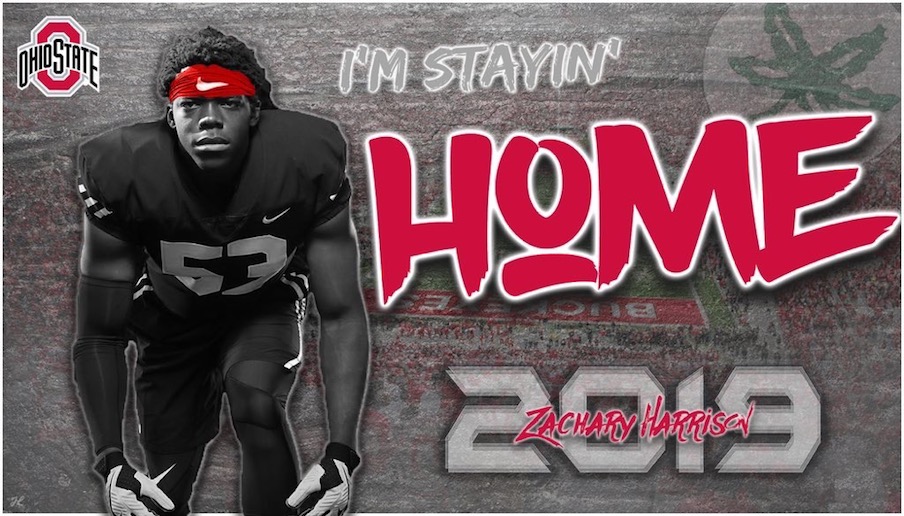 Once Harrison stepped up to talk a second time, he didn't waste his time. He took his hands off the podium to prepare to unzip his jacket and announced he decided to continue his "academic and football career at The Ohio State University," showing off a scarlet-colored shirt emblazoned with "Buckeye fast."
The packed crowd's eruption nearly blew out the boom mic, Orange Sports Live's backup audio option that it had to go to midway through the live stream.
"I'm going to be completely honest, as soon as 'The' came out of his mouth, I was trying to hold back tears," Lipperman said.
Brunke admitted he "freaked out a little bit, too."
"It means so much to be able to be a part of this and be able to actually get it rolling and get it going within 24 hours," Lipperman said. "I didn't say a word. As soon as the live stream ended, everyone got off stage, we kind of went over to Zach to say congratulations and stuff, get a picture. I still couldn't speak. I was trying to hold back tears. Like, wow, this is crazy."
---
Lipperman and Brunke started Orange Sports Live in October of 2016 with no intentions other than tweeting scores of their high school's games. They simply wanted to solve a problem that they didn't think should exist.
Brunke remembers exactly where he was when he realized what was missing from the digital ecosystem. Though he didn't attend the Pioneers football game against Westerville North on Sept. 30, 2016, he was interested in the result. However, he couldn't get any of his friends to text him the score, which "frustrated" him.
"There was no updates during games," Lipperman said. "Everybody wanted to know live scores. It's pretty easy. Put two and two together. Created a (Twitter) page. Didn't really expect much of it. Didn't really want to do any work in journalism class, so that's kind of what we wanted to do, and that's what it turned in to. But now, I guess, we're probably doing more work than everyone else. But that's what we wanted."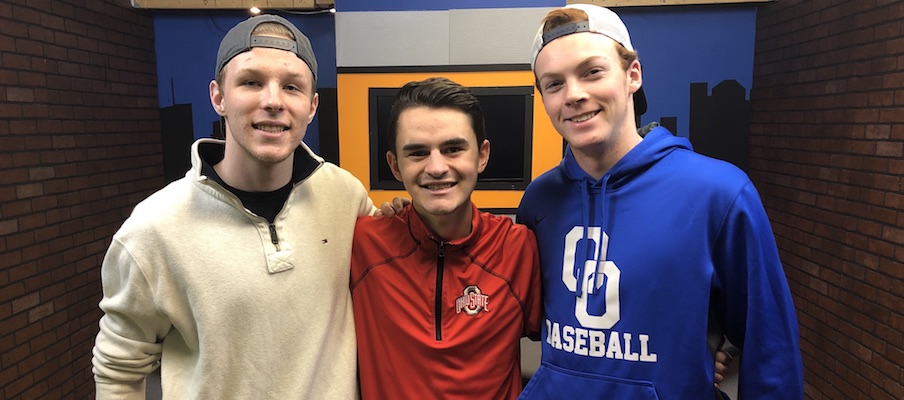 Following the creation of the Orange Sports Live Twitter account on Oct. 10, 2016, the two students printed off about 100 fliers that Brunke calls "stupid advertisements." The marketing plan proved successful, though, with the startup account gaining 300 followers shortly after they posted the advertisements around the school, causing them to "freak out."
The account began a slow, gradual growth without any grandiose plans.
"Literally all we wanted to do was tweet scores," Lipperman said. "We didn't have any experience in anything. I mean, we started journalism freshman year. I didn't think we were going to make it to senior year with journalism. I almost quit before this year, and I ended up quitting hockey just to do this. We started with tweeting games. No followers. No support. Nothing like that."
Eventually, Orange Sports Live morphed into much, much more for Lipperman, Brunke and Ross.
The three who run the media venture enjoy using creativity, so that naturally led to them dabbling with graphic design and video editing. They hosted a "media day" earlier this year where they invited athletes from each sport to pose in front of a green screen to use in GIFs and videos during their respective seasons.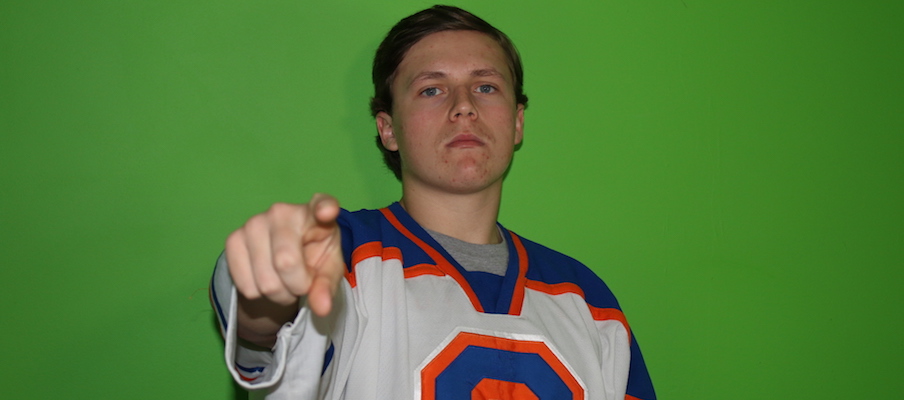 "The creative part of it, there's no limits," Lipperman said. "There's nobody telling you what to do. Just go and make whatever."
They cover "every" sport at the high school, though each of them admitted that covering football has been their favorite.
One last time, ITS GAMEDAY! Hockey travels to Dublin to take on Jerome @ Dublin Chiller Check out the video for all the #NeersNation @OOHShockey pic.twitter.com/egdI7GnMjt

— Orange Sports Live (@OOHSSportsLive) December 7, 2018
On Fridays during the football season, Orange Sports Live's day began at 7:20 a.m. in Kari Phillips' journalism class. By the end of the period, the graphic for the game was complete and videos highlighting each player were done. Then, the painstaking process of waiting for the night's game began.
Nearly 12 hours after its day began, Orange Sports Live's coverage would begin with tweet after tweet updating the account's followers on each play. If the games were far away, such as the playoff game this fall at Toledo Whitmer, their importance only grew.
Some people unaffiliated with the school followed just to see updates on Harrison, but the crew learned quickly it couldn't focus on him.
"Honestly, we have a lot of friends on the football team, and they didn't appreciate us just covering Zach," Lipperman said. "Like, we can't just take the opportunity to cover just him. He is the player that he is, but we have to cover the rest of the team, too. So, on Fridays, it didn't get to my head a lot. I was just doing my job."
Ross added: "But then you'd have that rare play where you're like, 'All right, that's why he's ranked."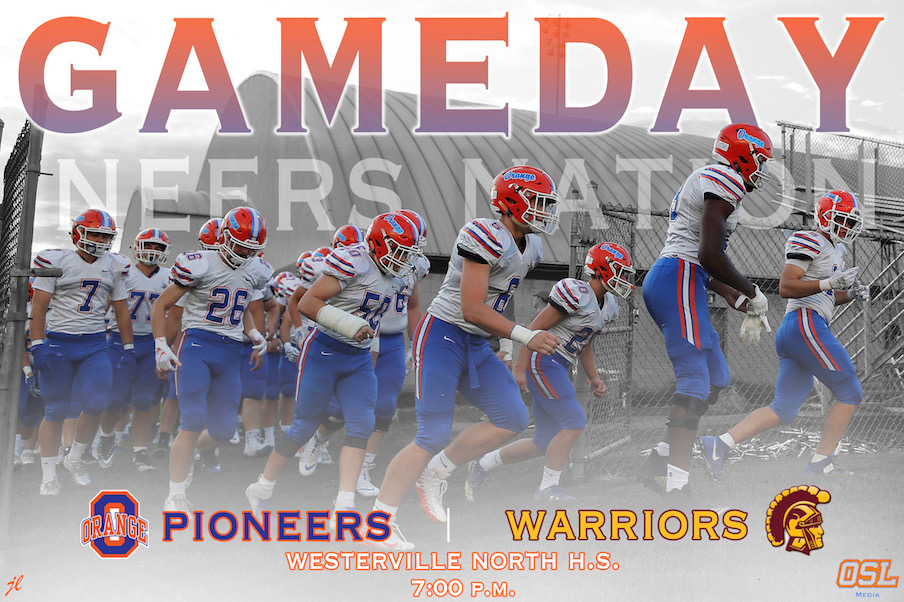 It was hard not to hone in on the player they called "the big man" in capital letters on the Orange Sports Live account, especially considering how well they know him.
Brunke grew up down the street from Harrison. Ross met the Ohio State signee when they played together on a flag-football team in second grade. Lipperman became friends with him in sixth grade.
Brunke admits it might be "a little creepy," but he still remembers where he was, sitting in his car at a stoplight on Old State Road, when opened Twitter and saw Harrison had received his first of many scholarship offers.
"I refreshed it and I saw that he got an offer from Cincinnati," Brunke said. "I was like, 'That's cool. That's great. Great for him.' Because at the time, I was like, 'Good old buddy pal.' I didn't think of him as 'Five-star defensive end.'"
Harrison's recruitment began to blow up during his sophomore year with the Pioneers, then continued to get bigger, along with Orange Sports Live.
"It's kind of crazy," Ross said. "As we grew, it seemed like he grew, too."
---
Despite having seen the fervor with which fans followed Harrison's recruitment, Lipperman somehow didn't realize what he was doing when he sent out a tweet announcing Orange Sports Live would be broadcasting the commitment the following day.
Lipperman didn't even confer with either Brunke or Ross. Neither of them – nor Lipperman, until a few minutes prior – had any idea this would happen.
"I was just like, 'Oh, let's tweet like we're going to live stream it tomorrow. Nobody's going to be there. It'll be a good idea. I'll just do it on my phone,'" Lipperman said. "Didn't think anything of it."
With five minutes left in his math class, Lipperman discretely typed up a tweet and fired it off before flipping his phone face-down on his desk.
The tweet said: "Catch our livestream tomorrow at 12:30 for @Zacharrison88's college signing event! Zach will be announcing his commitment to either Michigan, Ohio State, or Penn State. @Jacoblipperman @MaxBrunkeTweets @tross120."
Catch our livestream tomorrow at 12:30 for @Zacharrison88s college signing event! Zach will be announcing his commitment to either Michigan, Ohio State, or Penn State. @Jacoblipperman @MaxBrunkeTweets @tross120

— Orange Sports Live (@OOHSSportsLive) December 18, 2018
Almost immediately, his phone started buzzing. And buzzing. And buzzing some more. Lipperman didn't say a word to his teacher. He bee-lined out the door to call Brunke.
Brunke, unbeknownst to Lipperman, was in the shower preparing for his shift at Old Navy. He picked up the call anyway.
"I was like, 'This man's calling me. It must be important,'" Brunke said. "So, I answered. He's like, 'Check Twitter right now.' I was like, 'What's going on, man?' He didn't explain it, so I just went and checked Twitter, and I saw this tweet. When I looked at it, it had been posted for five minutes. It had 32 retweets and like 70-something likes."
Brian Nicola, a broadcasting teacher at Olentangy Orange, saw the tweet blowing up and got in contact with Brunke who, still at work, passed him off to Lipperman. Ideas percolated. When Lipperman sent the tweet, he imagined himself sitting in the front row using his phone to stream on Periscope.
Nicola had a different thought. He told Lipperman that the plans were in his control, but he believed his students who run "The Juice," a news broadcast at the school, could help live broadcast the commitment with cameras and microphones.
"He texted me that night and was like, 'Hey, let's blow this thing up." Lipperman said. "Let's do it. I don't want to use my phone for something that's going to be nationally recognized."
Lipperman, Brunke and Ross, who checked his phone after his government class and saw about 20 texts detailing what he missed, began planning. Lipperman's night soon got even busier.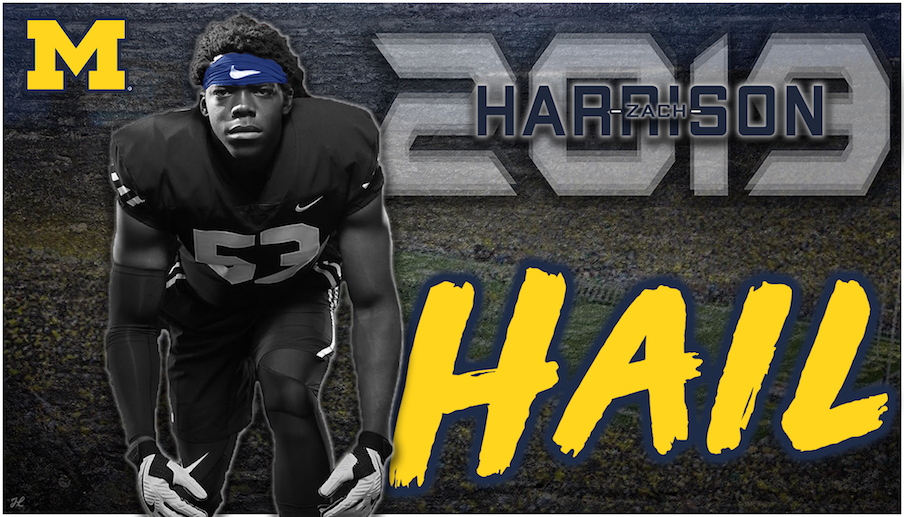 At about 7:30 p.m., Harrison texted him about redoing a graphic. Harrison had entrusted Lipperman with creating an image to tweet featuring his selected school, but none of the three graphics were definitive in his choice enough for him.
So, in order for Lipperman to create just one new graphic instead of three, Harrison let it slip. He told his friends that he would be a Buckeye, which shocked Lipperman who had seen him wearing a Michigan shirt when the Wolverines played Ohio State and saw him in Michigan gear the following weekend, as well.
"I was like, 'Well, with that information, I got you.' So, I just went to work," Lipperman said. "I had a bunch of different sayings. From 'Mama, I'm home' to 'There's no place like home.' Then, we finished with 'I'm staying home.' Just simple."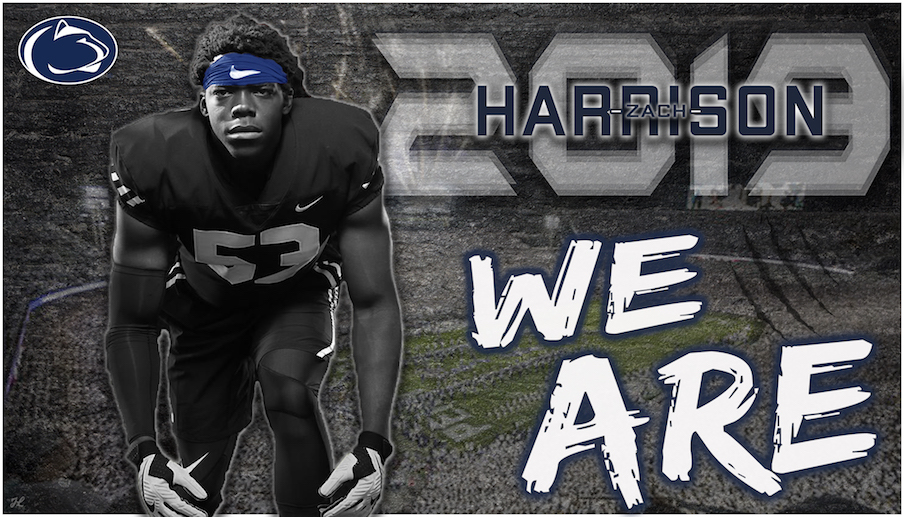 With the graphic out of the way, the trio turned its focus back to the ceremony. So many things to do, such little time.
Lipperman, Brunke and Ross just tried to stay as calm as they could while considering how best to set up the following day's operation.
"I've always thought about these situations," Lipperman said. "I'm like, 'All right, if this ever happens, it's time to work. It's not time to freak out and be all proud of this stuff.' So, I saw all these things. There's Michigan and Ohio State fans going at it in our comments. I'm just like, 'This is it right here. We can't mess up tomorrow.' So, we really tried to do our thing."
---
Lipperman could "barely" sleep last Tuesday night. Brunke managed just two hours of shut-eye. Nicola suggested coming into the school the night before the ceremony to prepare, but Lipperman shut down the idea, realizing no one would get any sleep, and even the nominal amount mattered.
With the commitment ceremony scheduled to begin at 12:30 p.m., Lipperman got to school around 7 a.m. and began talking to Nicola, who told him they didn't have to go through such a set-up if he didn't want to. Lipperman and the others, though, were set on making the quality as pristine as possible. With the confirmation, Nicola told him he didn't think it would be possible to have everything set up until there were about 20 minutes remaining until the ceremony beginning, so the group got right to work.
"Long story short, that was the most stressful five hours before an event I've ever had," Brunke said.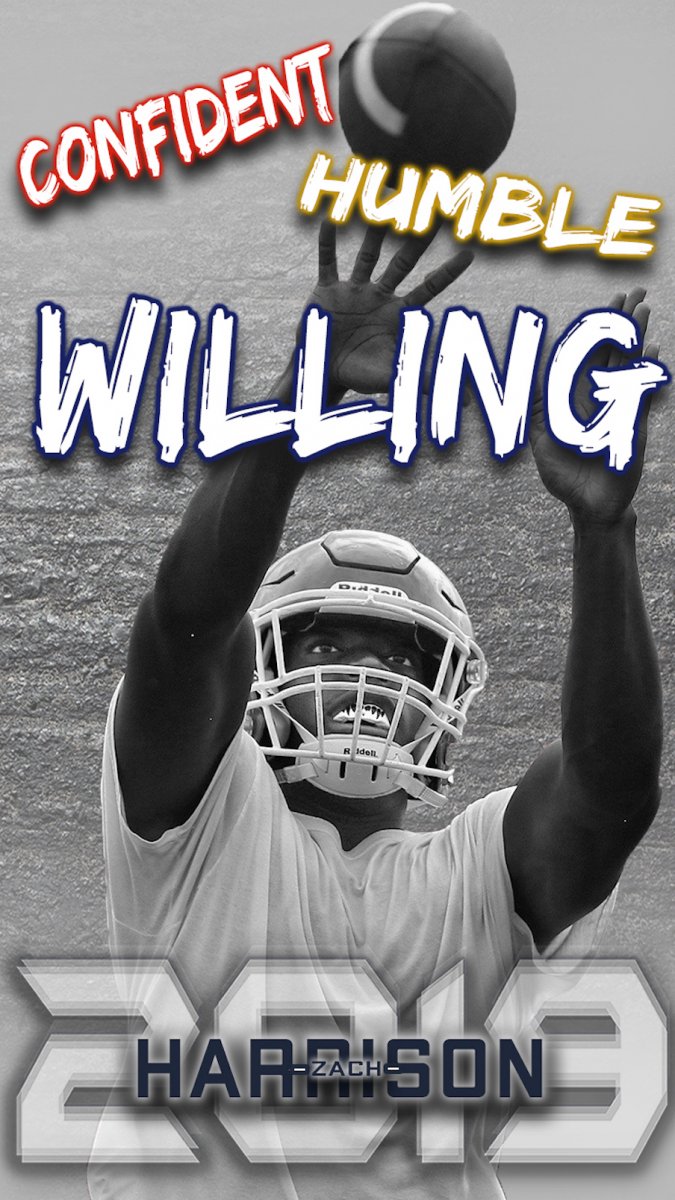 Lipperman said he doesn't really remember what happened next. Too much running around to recollect many specifics of the morning.
"(Nicola) took me down to the studio about 2 1/2 hours before we could even get the live stream to set up to Periscope or Twitter," Lipperman said. "We had no idea what we were doing at that point."
Nicola had to leave to teach a second-period class. While he was gone, Lipperman "somehow" hooked up Periscope. Then came the cameras, which had to be brought into the auditorium and aligned to the group's liking. Two hours before the stream began, they realized they needed a "live stream will start soon" graphic, which Lipperman quickly whipped up.
No one stopped moving. There wasn't any time to squander. Three technical workers from the school helped Orange Sports Live's crew set everything up, as well. But everyone forgot one crucial aspect: audio.
Time began dwindling.
"I'm trying to figure out this," Lipperman said. "We have every Olentangy tech guy here trying to figure out audio. Mr. Nicola, our broadcast teacher, he's running around crazy, trying to figure stuff out. We've got people up in the studio to run the wirecast, and then I'm down running on the phone just trying to figure stuff out."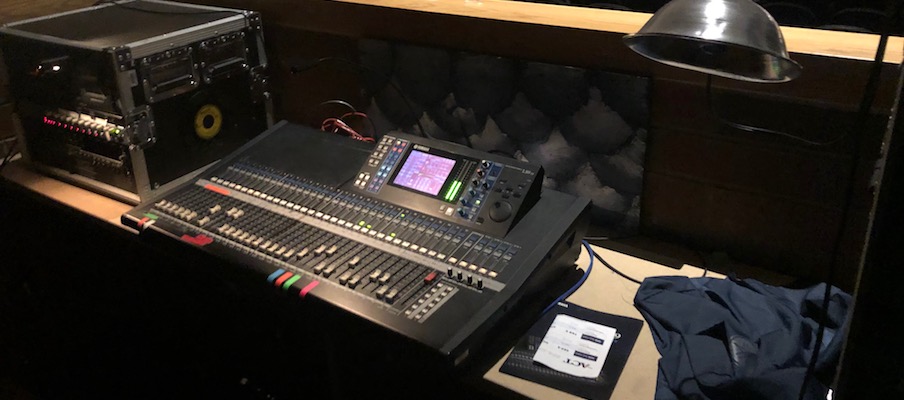 They decided to start the live stream on Periscope, showing only the "live stream will start soon" graphic, before audio even worked. Without a fix seeming imminent, they set up a boom microphone as a backup. Then, miraculously, someone the theatre teacher called to help made the necessary adjustments on the audio board to get the feed working correctly.
"Turned out to be really crucial because he came in with five minutes left and turned a few things and switched a few, and it turned out that we got the main audio that we needed for a while, and then we had the backup plan," Ross said.
Midway through the stream, the primary audio cut out and the boom microphone became the only option. But at least for the time being, audio was no longer an issue.
Instead, they could revel in the ever-increasing viewership as they finalized preparations.
"Literally the five minutes before, I'm pretty sure every 30 seconds, we were just shouting out numbers," Brunke said. "The number that we would shout out was how many thousands of people were watching. I remember when we started, we were at 15,000. Probably a minute later, Tyler goes, 'We're at 30,000.' I'm like, 'Whoa, what? What's going on?' It's just one of those things that I think it was so surreal that I honestly don't remember."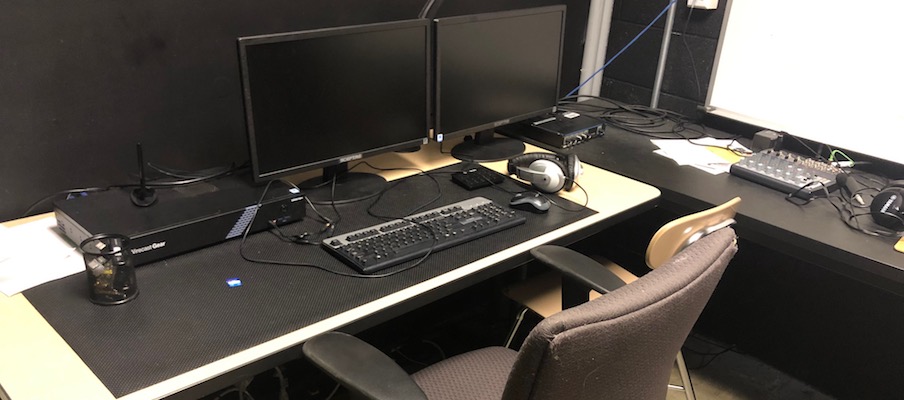 By the end of the stream, 42,000 people had tuned in. As of Wednesday morning, 72,800 people had watched the video of Harrison's announcement.
"We had teachers and alumni and other students coming up and telling us congratulations on this day was unreal," Lipperman said. "I was like, 'Are you really telling me congratulations right now?' Like, this kid is doing what he's doing and I'm, like, it's crazy."
---
At about 6 p.m. last Wednesday, hours after the operation was complete, Brunke and Lipperman tuned their television to NBC4, where they saw Harrison's commitment video with the Orange Sports Live logo in the bottom right hand corner.
Brunke remembers turning to Lipperman to tell him, "This is the best day of my life."
Lipperman agreed with Brunke.
"To have something like that happen to us, we're just in high school," Brunke said. "I think what people have got to realize is that we're just high schoolers. It might not seem that big, but for us it's pretty important."

Athletes such as Harrison don't come along too often. In Olentangy Orange's case, an athlete like Harrison had never come along — and is already gone. Harrison graduated and will enroll at Ohio State in January.
Not too much later, everyone who runs Orange Sports Live will be gone, as well.
Lipperman, Ross and Brunke each will graduate this spring. Lipperman expects to join Storied Rivals after graduation. Ross will head to Bowling Green State to play baseball and study business. Brunke will enroll at Ohio University, where he intends to pursue media in some form in the heralded Scripps School of Communication.
There'll be no Lipperman, Ross or Brunke next year, but Orange Sports Live will live on in the hands of a group of students yet to be determined. They admitted it will be "weird" to watch from afar, but they got their day in the spotlight.
"The stress paid off," Brunke said.