Another week, another win by at least 24 points for Ohio State.
This Saturday, the Buckeyes trounced Wisconsin, beating the Badgers 38-7 at Ohio Stadium to defeat their highest-ranked opponent yet with relative ease. 
Let's get into this week's stock report.
Stock Up
J.K. Dobbins
Dobbins called last year a failure in August, and he proved himself right in the first eight games. He's much, much more than the 1,000-yard back who averaged 4.6 yards per carry that he was in 2018.
This season, Dobbins has already eclipsed last year's total of 1,029 yards with 1,110 yards, and the production has come at an average of 7.2 yards per carry. 
He's running with more power, more explosion and more speed than we've seen in the past, and that has put him in the conversation as arguably the top running back in the nation. Dobbins could even play his way to New York City as a Heisman Trophy finalist if he maintains this level of production.
J.K. Dobbins has 221 total yards and two touchdowns today.

Against the nations top defense. pic.twitter.com/MSE1L30vSO

— Eleven Warriors (@11W) October 26, 2019
Chase Young's Heisman Trophy Campaign
This is starting to feel real.
Nobody needs a refresher on just how difficult it is for a defensive player to win the Heisman Trophy. It's nearly impossible. And in order to position himself to even be a finalist, Young needs to continue his ridiculous reign of terror in backfields down the stretch. But after his four-sack game against Wisconsin, there might finally appear to be a path.
As our own Kevin Harrish pointed out in Monday morning's Skull Session, the national media has taken notice in a way it hadn't previously. On The Athletic's Heisman Trophy straw poll, Young jumped to second place, behind only LSU's Joe Burrow. What happens in Alabama holds Burrow in check in two weeks? Could Young leap him? It's possible.
This just aint fair. pic.twitter.com/rmKPXdqMOD

— Eleven Warriors (@11W) October 26, 2019
In order to even have a chance to actually win the trophy, Young would likely need to reach 20 sacks and have the Buckeyes remain undefeated. But after what we've seen in the first eight games, who's going to doubt him or Ohio State?
One last note: Did anybody watch Nick Bosa's three sack, one-interception performance on Sunday and wonder what it would have been like had he and Young paired up for the entire 2018 season? I'll always wonder how that defense would have played if it had both Bosa and Young for a full season.
Chris Olave
Some performances go overlooked when a player has four sacks and someone else cracks open what had been the top-ranked defense in the country for 163 rushing yards. Olave's seven catch, 93-yard, two-touchdown game fits into that category.
With Austin Mack not playing due to an injury, Olave got the first start of his career and made the most of it. He caught more than half of Justin Fields' 12 passes, more than half of Fields' 167 passing yards and both of Fields' passing touchdowns. He looked like a No. 1 receiver.
Because of Mack's seniority and the way Brian Hartline has rotated his receivers, Olave will likely again come off the bench in two weeks when Ohio State returns to action. Regardless ow whether he starts or not, Olave deserves to play starter-level snaps going forward this season.
Justin Fields Chris Olave@OhioStateFB gets the first touchdown of the day! pic.twitter.com/f4oR81ZNGC

— FOX College Football (@CFBONFOX) October 26, 2019
Damon Arnette
Jeff Okudah is the future top-10 draft pick. Shaun Wade earned loads of NFL draft helium the past few weeks.
But don't overlook an improved version of Arnette on the outside this year.
When the Buckeyes subbed out a cornerback to open the game with Justin Hilliard as a fourth linebacker in a 4-4-3 defense, they took Wade – a possible first-round cornerback – and stuck with Arnette and Okudah on the outside. Why? Because Arnette has become an eminently trustworthy cornerback despite playing with a cast on his on his right hand for the entire season.
The past two years, Arnette had his struggles. But eight games into this season, he has rarely been beat in coverage and showed with a team-high seven tackles against Wisconsin that he can be impactful against the run, too.
Three Consecutive Off Weeks
Technically, the Buckeyes have one week to rest before starting to prepare for a game. But given the two opponents waiting for them after the off week, it might as well be viewed as three weeks of rest.
An off week, then a home game against Maryland (3-5, 1-4 Big Ten) followed by a road matchup with Rutgers (2-6, 0-5 Big Ten). Three-week stretches in the middle of the Big Ten schedule don't get any easier. The Terrapins have lost three games in a row, including Minnesota's 51-10 beatdown of them on Saturday, and the Scarlet Knights have lost by multiple touchdowns to every opponent not named Massachusetts and Liberty.
Ohio State already possesses the statistically most dominant defense in the country. Imagine what the numbers will look like after those couple games.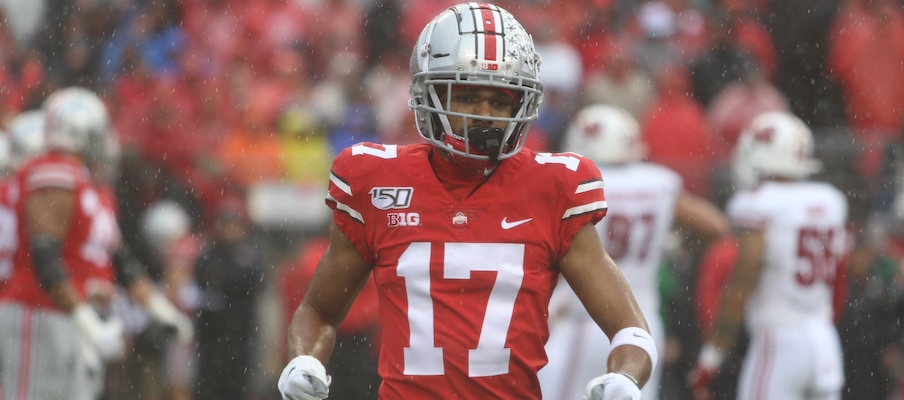 Stock Down
Demario McCall, Punt Returner
An already diminished role might become even smaller.
McCall has been relegated to return duties this season, only touching the ball 13 times on offense (11 rushes, 2 catches) through eight games, yet he's in danger of losing his spot as the team's top punt returner. In Saturday's game, he nearly made a costly error by deciding to try to make an outstretched catch on a punt rather than let it hit the ground. McCall caught the ball but made it significantly more dangerous than necessary.
The next time Wisconsin punted, Garrett Wilson was in the game, and he responded with a 23-yard return. Going forward, Ohio State has to decide whether it wants to continue to rely on McCall or hand over the duties to Wilson, who also had a 52-yard return earlier this season.
Folks, hes a freshman. pic.twitter.com/aFtZbuKQYO

— Eleven Warriors (@11W) October 26, 2019
Wisconsin's Identity
The Badgers have an identity that's been passed down for decades. Run the ball and stop the run.
On Saturday, they did neither.
Ohio State averaged 5.3 yards per carry on 50 rushes, with J.K. Dobbins picking up 163 yards on 20 carries. Conversely, Wisconsin, managed just 2.4 yards per carry on 34 carries. Jonathan Taylor had 20 rushes for 52 yards.
A couple days before the game, Pete Werner said if the Buckeyes stop Taylor, they'll win. They did, and he was right.
The injury bug
Through eight games, Ohio State doesn't have a major weakness. Nothing that has bothered the team the entire season or looks like it could get exposed when facing a team of equal talent.
Injuries might be what have hindered the Buckeyes the most thus far.
Jonathon Cooper and Austin Mack missed Saturday's game, along with Tyler Friday and Joshua Alabi. Taron Vincent, Kamryn Babb, C.J. Saunders and Ronnie Hickman have all missed the first eight games while recovering from long-term injuries. Plenty of other key contributors have missed at least one game, too, this season: Tyreke Smith, Thayer Munford, Branden Bowen, Baron Browning, Robert Landers, Rashod Berry, Teradja Mitchell, Demario McCall, Justin Hilliard, Jahsen Wint and Josh Proctor.
The Buckeyes haven't been hit with a blow to one of its All-American candidates, but they've dealt with a number of players missing games. They surely hope the off week followed by a pair of likely blowout victories will help everybody heal.