The first time Dawand Jones stepped onto the field as a Buckeye, special teams coach Matt Barnes had no care in the world about his future as an offensive lineman. All Barnes wanted from the 6-foot-8, 360-pound first-year offensive tackle was to help Ohio State block a field goal.
It happened against Cincinnati in the second week of the season, though Jones wasn't the one to get his hand on the football. Chase Young blocked a kick for the first time in his career. Yet that was almost less interesting than the mere presence of Jones.
A similar situation played out on Friday, when Master Teague scampered for a career-long 73-yard touchdown that got overshadowed by Jones, who made a key block by using all of his weight to move a Northwestern defensive lineman and open up a running lane.
Master Teague ripped off a 73-yard run for another @OhioStateFB score. pic.twitter.com/Tknq8Ajl8n

— Ohio State on BTN (@OhioStateOnBTN) October 19, 2019
"I think once we saw him go in the game, everyone was just excited to see him get in there and try to do something like he did on that play," Tommy Togiai said on Tuesday. "He opened up a big hole for Teague to score a touchdown. I think everyone was just really excited for him, and everyone was going crazy on the sideline."
It's hard to avoid noticing Jones, one of the largest players in the Big Ten with an equal-sized personality – Big Thanos, anyone? – and the attention on him is just beginning. 
Jones has now played in three games – two on special teams and one on the offensive line – and per Ryan Day, he'll likely play in at least two more, making him ineligible for a redshirt.
"He'll probably go more than four (games) just because he is very talented," Day said on Tuesday. "We want to get him in some of these games when we can. His ceiling is very high. We want his development to continue. I really think it's important for these guys to play. Again, we won't be foolish with this and waste the year."
To call Jones likely not redshirting as a freshman a surprise would be a gross understatement. In an article published on Eleven Warriors in June, he was one of five freshmen classified as a near lock to redshirt.
Jones had several factors working against him playing right away:
His size. The average scholarship offensive lineman at Ohio State stands 6-foot-5 and weighs 307 pounds. Listed at 6-foot-8 and 360 pounds, Jones scoffs at those numbers. Size doesn't make a lineman – though it sure helps – so the thought was he'd need to lose weight and get into better shape before getting onto the field. Jones entered the program around 380 pounds and has already dropped about 20 pounds. 
His position and year. Typically, even at a school such as Ohio State that frequently lands highly ranked prospects, offensive linemen don't play much, if at all, as freshmen. They usually need more time than first-year players at other positions to develop the proper physique and enough muscle to compete in the physical battles between 300-pound men in the trenches.
His recruiting ranking. Coaches and players like to talk about how recruiting stars and rankings don't matter, but that's only partially true. Offensive line coach Greg Studrawa isn't playing anybody solely because of their evaluation as a high-school prospect. However, there's a strong correlation between those ranked higher as recruits becoming better players than those ranked lower. Jones, as the No. 1,043 overall player in the class of 2019, was a lower-rated prospect than any non-kicker who signed with the Buckeyes during the Urban Meyer era.
The depth. Ohio State didn't enter the season hurting for offensive tackles in the two-deep depth chart. With Thayer Munford returning and Branden Bowen back from injury, it had two players it could rely on with starting experience. Studrawa also had redshirt senior Joshua Alabi and former top-ranked offensive tackle recruit Nicholas Petit-Frere to work with as backups. 
If the Buckeyes wanted to stash Jones on the bench and redshirt him, they could have – and Day can still do so if he changes his mind soon. 
"We're going to play him, if it makes sense," Day said. "We also don't want to be foolish."
At the moment, though, those natural hurdles seemingly won't force him to redshirt.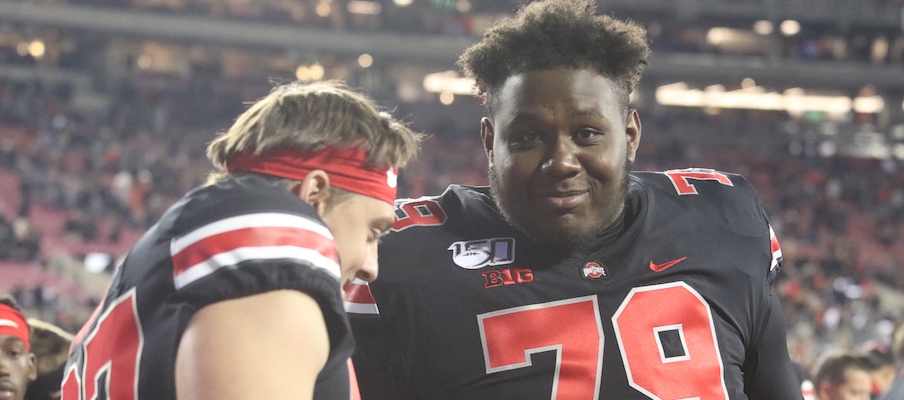 To put it into context, six offensive linemen that Ohio State landed during Meyer's reign as head coach – Jacoby Boren, Taylor Decker, Jamarco Jones, Isaiah Prince, Michael Jordan and Thayer Munford – did not redshirt as freshmen. All six of them were multi-year starters for the Buckeyes, signaling what could eventually be in store for Jones.
Day and Studrawa opting not to redshirt him signals a couple possibilities, either or both of which could be true.
Having spent a few months around him, they might now view Jones as a player who won't be in Columbus for five years even if he redshirts. Therefore, they could view the possibility of him helping both as a backup lineman and as a field-goal blocker as greater value to the team than a possible fifth year at Ohio State.
The coaches might also see Jones as the next-in-line starting left tackle on next year's team. 
Bowen and Alabi will graduate following this season, putting Petit-Frere in a prime spot to start at right tackle in 2020. There's a chance Munford opts to leave, too; he'll have a decision of whether or not he wants to leave for the NFL after a pair of seasons as a starter. If he decides to forgo his senior season, Ohio State would be forced to find his replacement, and the team isn't exactly teeming with depth at offensive tackle. Beyond Jones, Max Wray and 2020 commit Paris Johnson Jr. would be the two most likely other options.
However the coaches currently view Jones' short-term and long-term future, it already appears to be notably different than the developmental project he was widely thought to be when he arrived in Columbus.
A little over a year ago, he thought he might be playing basketball for Kent State. Instead, Jones is carving out a role as a reserve offensive lineman – and kick blocker – as a true freshman football player at Ohio State.