Ohio State's midseason break between games ends one day early.
With both teams coming off a bye week, Ohio State is set to play Northwestern tonight in its first regular-season Friday night game since a 1959 game at USC.
The Big Ten's decision to begin scheduling games on Friday nights is one that has been met with criticism throughout the Midwest, where Friday nights are typically reserved for high school football. Ohio State, though, isn't allowing the nontraditional scheduling to affect its preparation.
"When the schedule comes out, we're going to go play wherever they tell us to play," Ryan Day said this week. "I don't spend a lot of time thinking about that, because it's not really under my control or something that I can worry about."
What Day and the Buckeyes have to worry about instead is, for the second time in three games, playing a Big Ten West team in its home stadium. That's been a dangerous formula for Ohio State in recent years, as evidenced by its unexpected blowout losses to Purdue last year and to Iowa the year before, so the Buckeyes know this isn't a game they should take lightly.
Northwestern is just 1-4 this season, with an offense that has statistically been one of the worst in the country, so the Wildcats don't look like an intimidating opponent on paper. But the Buckeyes are expecting to get Northwestern's best shot, so Day believes it's as important this week as ever that they play up to their ability on Friday night.
"We all know what happens if you start to lose focus, and we cannot do that," Day said. "So this week we've talked about having a white belt mentality, which is a mentality that you're starting right from scratch and that you don't take anything for granted, you don't make any assumptions, and if we do that, then we'll be fine. If we start to look ahead or start to let our egos get in the way, that's when we get in trouble."
Northwestern Breakdown
The Wildcats, who have already had both of their bye weeks this season, have lost each of their first four games against Power 5 opponents this season. They opened the year with a 17-7 loss to Stanford, suffered a 31-10 defeat to Michigan State and went down 24-15 and 13-10 in back-to-back road games at Wisconsin and Nebraska.
Northwestern's only win of the season to date came in its second game of the year, when it earned a 30-14 victory over UNLV.
While Northwestern's schedule ranks as the fifth-toughest that any Football Bowl Subdivision team has played so far this year, according to Jeff Sagarin, the simple reason why the Wildcats have struggled is that their offense has been terrible.
That might be a harsh way to say it, but it's true. The Wildcats rank 125th in the FBS in yards per game (292.2), 128th in points scored per game (14.4) and dead last in yards gained per play (3.95).
It's uncertain who Northwestern's starting quarterback will be on Friday – Hunter Johnson, who entered the season with high expectations after starting his career at Clemson as a five-star recruit out of high school before transferring to Northwestern, did not play in the Wildcats' last game against Nebraska after suffering an injury against Wisconsin – but it might not matter.
Johnson has completed just 48.3 percent of his passing attempts this season for 4.1 yards per attempt, while Aidan Smith – who started in Johnson's place against the Cornhuskers – has completed just 49.2 percent of his passing attempts for 4.3 yards per attempt. Both quarterbacks have thrown just one touchdown pass and four interceptions.
The Wildcats' rushing offense has also been weak, averaging just 3.65 yards per carry (104th in the FBS).
If the Wildcats are going to have any chance to upset the Buckeyes on Friday, their offense will need to demonstrate that it has taken advantage of the extra week to prepare and play its best football of the season by a long shot.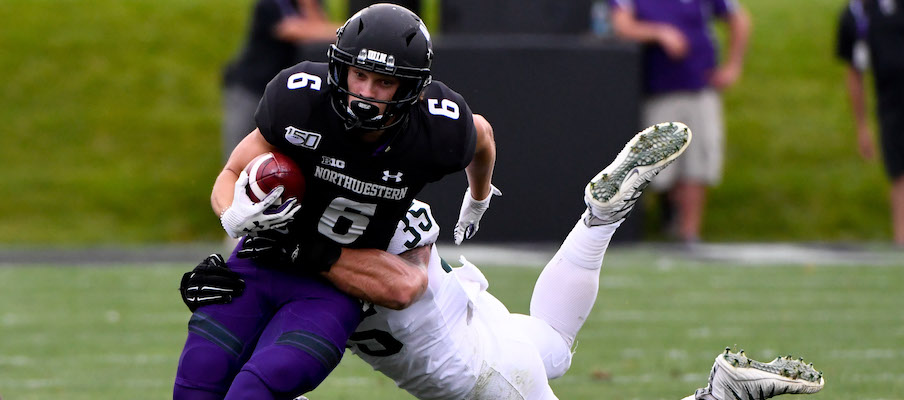 On the other side of the ball, though, Northwestern's defense could give Ohio State's offense a real test. The Wildcats rank in the top 30 nationally in yards allowed per game (318.8), yards allowed per play (4.82) and points allowed per game (19.8), and they have allowed just 15 plays of 20 yards or more – tied for the fifth-least among all FBS teams – all season. Their defense could legitimately be one of the best that Ohio State has faced this year.
"It's hard to find a yard against them," Day said. "They know exactly how you're trying to attack them. They make adjustments. It's a defense that's been around for a long time, and they know exactly what you're doing. They're sound in what they do."
Northwestern has also had long-standing stability on its coaching staff, with Pat Fitzgerald in his 14th year as the Wildcats' head coach, Mike Hankwitz in his 12th year as defensive coordinator and Mick McCall in his 12th year as offensive coordinator. Day made it clear this week that he holds Northwestern's coaches in high regard, particularly Fitzgerald, who he described as "not only one of the best coaches in America, but a true gentleman."
"After the Big Ten Championship Game (last year, when Ohio State beat Northwestern 45-24), he sent me a text, 'Congratulations on an unbelievable job,'" Day recalled. "And then when I got the job; even afterward, I got my first win, he was the first to text. And just a classy guy. A guy you'd want to play for, a guy you'd want to work with and nothing but unbelievable respect for what he's done there and who he is as a person."
Buckeye Breakdown
Ohio State's success in the first half of this season has been well-documented. The Buckeyes won each of their first six games by at least 24 points, and statistically, they've been the most dominant team in college football so far this year. Their offense and defense both rank among the best units in the country.
Now, it's time to build on that.
2019 Statistical Comparison
 
OFFENSE
49.3
4th
POINTS FOR
14.4
128th
288.5
3rd
RUSHING OFFENSE
152.4
80th
246.0
63rd
PASSING OFFENSE
140.4
123rd
543.5
7th
TOTAL OFFENSE
292.8
125th
.559
1st
3rd DOWNS
.333
111th
.867
45th
RED ZONE
.688
121st
DEFENSE
8.8
4th
POINTS ALLOWED
19.8
30th
82.0
8th
RUSH DEFENSE
142.8
53rd
152.0
3rd
PASS DEFENSE
176.0
14th
95.1
4th
PASS EFFICIENCY DEFENSE
121.5
44th
234.0
2nd
TOTAL DEFENSE
318.8
26th
.256
3rd
3rd DOWNS
.350
47th
.533
3rd
RED ZONE
.714
19th
SPECIAL TEAMS
11.1
38th
PUNT RETURN
8.8
52nd
21.3
64th
KICKOFF RETURN
28.0
9th
43.0
11th
NET PUNTING
36.5
94th
MISCELLANEOUS
+1.2
8th
TURNOVER MARGIN
-0.8
115th
5.3
23rd
PENALTIES
5.8
39th
17
EDGE
1
Given how well things have gone so far, Ohio State has reason to be confident and have championship aspirations entering the second half of its regular season. To have a chance to actually win a championship, though, the Buckeyes can't simply be satisfied with what they've accomplished so far; they must continue to work just as hard as they have to get to this point in order to achieve the same kind of results.
That's why Day introduced "white belt mentality," a martial arts metaphor, as a new mantra for his team this week. Coming off a bye week and going into a game in which it is favored to win by 28 points – with a highly anticipated game against Wisconsin looming next week – Day wanted to remind his players to maintain the same attitude and focus that they have had all year instead of letting success get to their heads.
"In the martial arts world, the white belt is the first step of the journey to a black belt, and you have to always have that same mentality of looking to prove yourself every day," Day said. "As time goes on, your ego can get in the way, different things can slip. And having that mentality that it's still like the first day of preseason camp and we have something to prove every day is something that I just wanted to introduce to the team this week so that we keep them locked in."
During the bye week last week, Ohio State's coaches gave all of their players three things to work on that they still can get better at regardless of how well they've played. They wanted to remind everyone that they can still improve even though they've gotten off to a great start.
The off week was also an opportunity for players to get some rest and recovery time and get their bodies healthy after playing games in six consecutive weeks to start the year. The Buckeyes are still going into Friday's game with a few key injuries – linebacker Baron Browning is unavailable to play, left tackle Thayer Munford is a game-time decision and his backup, Joshua Alabi, is also unavailable – but players like Justin Fields, Chase Young and Damon Arnette who were hurting after the team's most recent game against Michigan State have now had time to heal up.
Because of the Friday night game, Ohio State reconvened its players one day earlier than it typically would after a bye week; the first practice of the week was held on Sunday, and everything the Buckeyes do during a typical game week was moved up one day so that they can maintain their usual routine of preparation.
While this might not seem like a big game for Ohio State compared to some, it's certainly a big game for Northwestern, who will be wearing alternate uniforms on Friday night at Ryan Field and will be looking to turn its season around in a big way. But the Buckeyes are used to having a target on their backs.
"I feel like when we go and play anywhere, it's kind of that atmosphere anyways," Day said. "So it's something that we've become kinda quite used to."
The Buckeyes will also have to adapt to playing on natural grass – grass at Ryan Field that has a reputation for not being cut short enough – for the first time this season on Friday. Day acknowledged that the Buckeyes spent the week practicing on grass that was kept a little longer than usual, but he is confident Ohio State's equipment staff will have the proper footwear ready for the players to perform at their best in the conditions.
"We all have to play with it, so whatever the conditions are, they are. We'll worry about what we can control," Day said. "But certainly can't worry about those kind of things. Both teams have to deal with all the conditions, and we'll handle whatever they are."
"We all know what happens if you start to lose focus, and we cannot do that."– Ryan Day
Game Forecast
Northwestern's defense is capable of making things more difficult than most defenses have for Fields, J.K. Dobbins and Ohio State's offense this year, and the Wildcats have a history of bouncing back even when they've started the season poorly – they started 1-3 last year before making it all the way to the Big Ten Championship Game, and started 2-3 before winning eight straight games to finish with a 10-win season the year before.
Offensively, the Wildcats will likely have a few tricks up their sleeves from their two weeks of preparation to try to catch Ohio State off-guard, and if their defense can play at their best, they'll have a chance to keep the game competitive.
Unless Ohio State has a complete letdown like it did in West Lafayette in 2018 or in Iowa City in 2017, however, it's hard to envision the Buckeyes being in any real danger of losing Friday night's game – and easy to see the game becoming a blowout.
Ohio State's Last Five Games Against Northwestern

| YEAR | LOCATION | RESULT |
| --- | --- | --- |
| 2018 | Indianapolis | Ohio State 45, Northwestern 24 |
| 2016 | Columbus | Ohio State 24, Northwestern 20 |
| 2013 | Evanston | Ohio State 40, Northwestern 30 |
| 2008 | Evanston | Ohio State 45, Northwestern 10  |
| 2007 | Columbus | Ohio State 58, Northwestern 7 |
No one has found a way to consistently slow down Ohio State's offense yet this season, and no one has been able to consistently move the ball on the Buckeyes' defense, either. 
The Wildcats should provide some resistance against the Ohio State offense on Friday, but Michigan State did too, and the Buckeyes still scored 34 points on 529 yards. And on the other side of the ball, it's hard to envision a Northwestern offense that has scored 15 points or fewer in four of its first five games scoring any more than that against an Ohio State defense that has held its last five opponents to 10 points or fewer.
A Friday night game against a Big Ten West team that typically ranks in the middle of the divisional pack is the type of game that can get weird for Ohio State, and there could be some moments where that happens tonight, but this year's Ohio State team is performing at a more consistently high level than the Ohio State teams that lost to Purdue and Iowa teams that are better than this Northwestern team.
Ultimately, the Buckeyes should have a great chance to not only win, but win big, and improve to 7-0 before this weekend's slate of college football games even truly begins.
---
ELEVEN WARRIORS STAFF PREDICTION: Ohio State 42, Northwestern 7