On the 136th passing attempt of his Ohio State career and the 175th passing attempt of his collegiate career as a whole, it finally happened.
After throwing no interceptions in his 39 passing attempts off the bench at Georgia last year and no interceptions in his first five-and-a-half games as the Buckeyes' starting quarterback, Fields was finally picked off for the first time since high school in the third quarter of Saturday's game against Michigan State.
With pressure coming at him, Fields attempted to throw a pass to K.J. Hill about 25 yards downfield near the left sideline between two defenders, and his passes sailed into the hands of Spartans cornerback Josiah Scott, who returned the ball back to midfield.
Justin Fields just threw his first interception for Ohio State. It's October 5th.

And @MSU_Football is responsible: pic.twitter.com/XLZSDa6xIY

— Big Ten Network (@BigTenNetwork) October 6, 2019
That mistake was ultimately inconsequential to the game, as Ohio State won 34-10, but it did end an interception-less run for Fields that had received more and more publicity with each passing week.
In his postgame press conference following Saturday's win, Fields jokingly blamed the media for bringing his streak to an end.
"I think y'all jinxed me a little bit talking about it so much last week," Fields said with a laugh.
Ohio State head coach Ryan Day actually put the blame for Fields' interception on himself, though, because he felt his play call put his quarterback in a bad position.
"The look (from Michigan State's defense) was not the one that we wanted," said Day, who also serves as the Buckeyes' primary offensive play caller. "And the thing I told him is I'm not always going to be right; you got to make me right sometimes. When the look isn't right, you got to throw that ball in the stands and we got to live to see another down. But that's my fault. That's not his fault. That was not the look we wanted on that play. And so I'll take the blame for that one."
Fields recognizes, though, that he was bound to throw an interception sooner or later, so he didn't dwell on it too much.
"I had really mixed emotions about it because I was like, 'Aww, that's my first pick,' but it's also like, it's football, so it happens. So I wasn't really frustrated from it," Fields said. "Just got to move on to the next game."
Mick gets the game ball
While there were several players who had performances worthy of receiving the game ball from Saturday's 34-10 win – J.K. Dobbins, who rushed for 172 yards and a touchdown, comes to mind – Ryan Day instead awarded the game ball to someone who helped every Buckeye get ready to take care of business in their most competitive game of the season yet: director of sports performance Mickey Marotti.
Day believes that playing with toughness has been key to Ohio State's 6-0 start to the year, and no one plays a bigger role in instilling that toughness in the Buckeyes than Marotti, who leads the players through their strength and conditioning workouts throughout the season.
"We gave the game ball to Coach Mick, because he's the guy that this whole thing is built upon," Day said. "He's the backbone, and he's the blood that runs through this whole program. And to say we're tough, it's because of him and the strength staff, and all the work that they put in with these guys."
Ohio State's players felt that Marotti was more than deserving of that honor.
"It's awesome," said middle linebacker Tuf Borland. "Coach Mick means everything to this program, everything that we want this program to be … toughness, his attitude and we all love him."
Tight end Luke Farrell said there are "very few people that do more for this program than Coach Mick." 
"He has us ready every year to play as tough as we can for as long as we can," Farrell said. 
A man that defines toughness @MickeyMarotti #GoBucks #ToughLove pic.twitter.com/6bpzETlytg

— Ohio State Football (@OhioStateFB) October 6, 2019
Bowen returns at right tackle – after two series
After filling in for Branden Bowen and earning offensive player of the game honors for his performance in Ohio State's 48-7 win over Nebraska last week, Joshua Alabi started in Bowen's place at right tackle again on Saturday night against the Spartans.
That lasted just two series, however, before Bowen returned to the lineup.
Ohio State's offense went three-and-out on both possessions that Alabi was in the game, and the entire offensive line struggled to handle Michigan State's defensive front early in the contest. Eventually, though, the Buckeyes found their groove on offense with Bowen, the starting right tackle for the first four games of the season, back in that role.
Bowen said offensive line coach Greg Studrawa felt that Alabi deserved the opportunity to start after his performance against the Cornhuskers in Lincoln last week, and Bowen said he "completely agreed" with that decision. But Bowen was told to "be ready" to play, and he was glad to get back on the field on Saturday after missing last week's game at Nebraska – a feeling he knows all too well after breaking his leg in 2017, which forced him to miss the rest of that season and all of last season.
"I mean, even that hurt," Bowen said of being sidelined at Nebraska, which he said was due to back spasms, after the Michigan State game. "I was very, very happy for my brothers, but at the same time, I was like, 'Man, I miss being out there.'"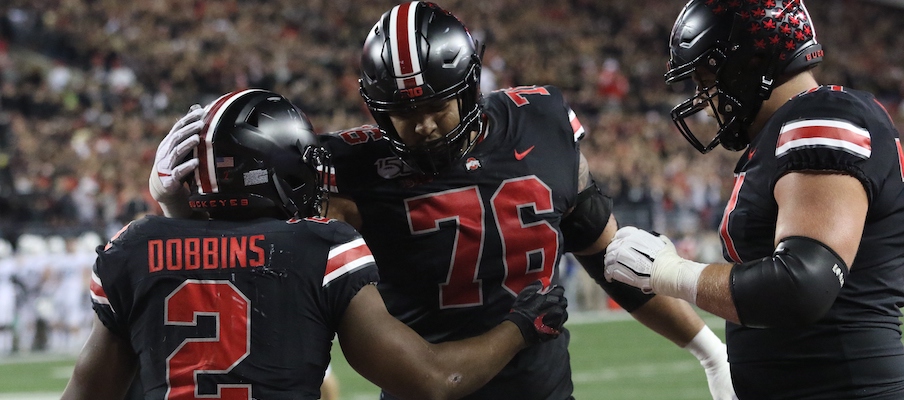 While Bowen was happy to get back into the lineup on Saturday, however, he wasn't satisfied with how he played, giving him plenty to work on going into the Buckeyes' upcoming bye week.
"I don't think I played very well, like at all, so there's a lot to improve on," Bowen said. "Definitely think my pass blocking was not anywhere near where I know I can be. I think I just need to really get my strength back from missing last week. I didn't really get to do a lot. So I guess just getting my strength back this next week."
Bowen wasn't the only player to return from injury for the Buckeyes against the Spartans; Tyreke Smith, who missed the previous two games with an undisclosed injury, rejoined the defensive end rotation on Saturday and recorded a tackle.
Wide receiver C.J. Saunders, who was unavailable for the first five games of the season due to a leg injury, went through warmups before Saturday's game and appeared to be healthy enough to return, but did not end up seeing any playing time.
Injuries to key players not serious
In a game that was perhaps the most physical game Ohio State had played this season, some of the Buckeyes' most important players suffered injury scares on Saturday night.
Fields took a big hit on his 1-yard touchdown run in the fourth quarter and was slow to get up as a result, but he did not end up missing any playing time and was back in at quarterback on the Buckeyes' final three offensive series of the game. He did say after the game, though, that he was "definitely the most banged up" he has been after a game this year.
Left tackle Thayer Munford limped off the field slowly after being rolled up on during a third-down stop by Michigan State in the first quarter, but he too was able to return to the game for the Buckeyes' next offensive possession and the rest of the contest.
Defensive end Chase Young received some medical attention on his shoulder after a collision with Brendon White on Ohio State's final defensive series of the game, but he said after the game that it was "just a little bruise" and he would be fine.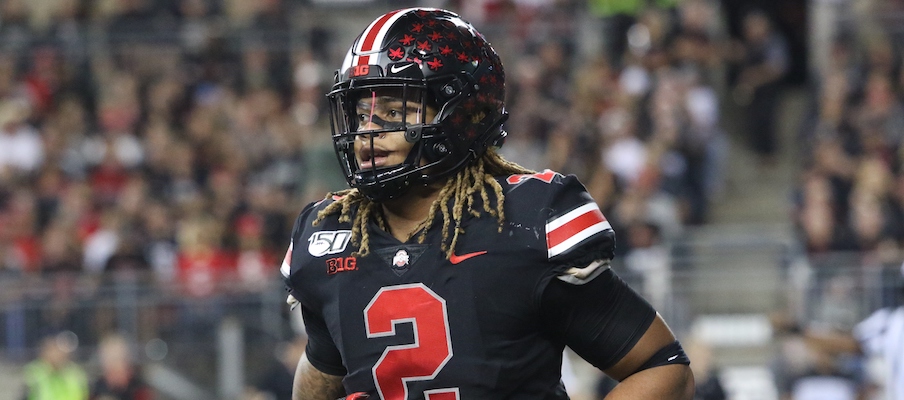 One player who was not able to return to the field after suffering an injury on Saturday night was cornerback Damon Arnette, who was not in uniform for the second half. Cameron Brown took his place in the lineup at cornerback, and Arnette was seen with a cast on his wrist on the sidelines.
Arnette had played with a cast earlier this season, though, and Day said after the game that Arnette was "going to be fine," though he was going to be evaluated by the medical staff on Saturday night.
The good news for all of those players: They will have six extra days to recover from their aches and pains before the Buckeyes' next game on Friday, Oct. 18 at Northwestern.
K.J. climbing toward history
David Boston is now the only player in Ohio State history with more career catches than K.J. Hill.
With seven catches for 57 yards in Saturday's game, Hill now has 171 receptions in his Buckeyes career, surpassing Cris Carter (168) for the second-most in school history.
Hill has now caught a team-high 27 passes through the first six games of this season, and is just 20 receptions from matching Boston's school record of 191 catches.
The fifth-year senior has also now caught a pass in 40 straight games for the Buckeyes, leaving him eight games shy of matching Gary Williams' school record of 48 consecutive games with a reception.
Now up to 1,971 receiving yards for his Ohio State career, Hill is just 29 yards away from becoming the ninth 2,000-yard receiver in school history.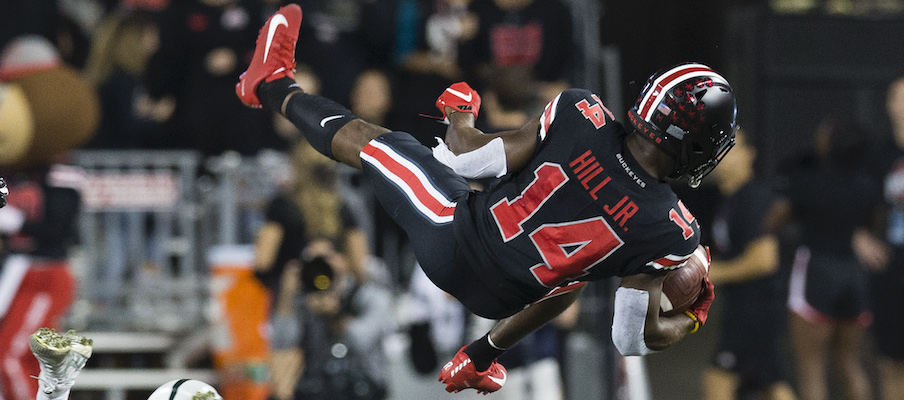 It was Carter who actually convinced Hill to stay at Ohio State for his senior year after he considered declaring for the NFL draft after last season, so Hill said it was "really crazy" to hear that he had moved ahead of Carter in the school record books.
As for potentially breaking Boston's record by the end of the season, Hill said "that would mean a lot."
"I'd have to thank my teammates, my quarterback just for getting me in that position to make those plays to get the catches, but yeah, that's a goal to shoot for," Hill said. "And it would definitely feel great if I do it while we're winning."