Justin Fields was honest when he asked for his thoughts on the city of Columbus on Tuesday. And when he was asked about Ohio State's campus, the starting quarterback gave a similar answer.
It might not be what everybody who attended the school or lived in the city wanted to hear, but it's just reality for him. Fields hasn't really explored the city, and he hasn't spent much time walking around from classroom to classroom, either.
On Columbus: "I haven't really been around much. I usually just go back and just watch Netflix or something like that."
On Ohio State: "I don't really have any in-class classes. Most of my classes are online just because of time and I can probably spend more time on football and just studying like that. I haven't really been around campus that much."
Fields also had diplomatic answers for both questions, of course. He called Columbus a "great city" with "a lot to do here" and said Ohio State has a "beautiful" campus with "great" people.
But as the starting quarterback for arguably the largest college football program in the country, Fields simply doesn't live like the average college student, and that doesn't bother him one bit.
"I'm fine with the way my life is right now," Fields said on Tuesday. "I wish nothing happened differently in my life. Just kind of embracing all the stuff that I do right now, I think you can't really hope to be somebody else or hope to have a different lifestyle that you have. You can only have what you have right now and just make the best out of it. So I definitely enjoy my life right now and just hope to make the best out of it."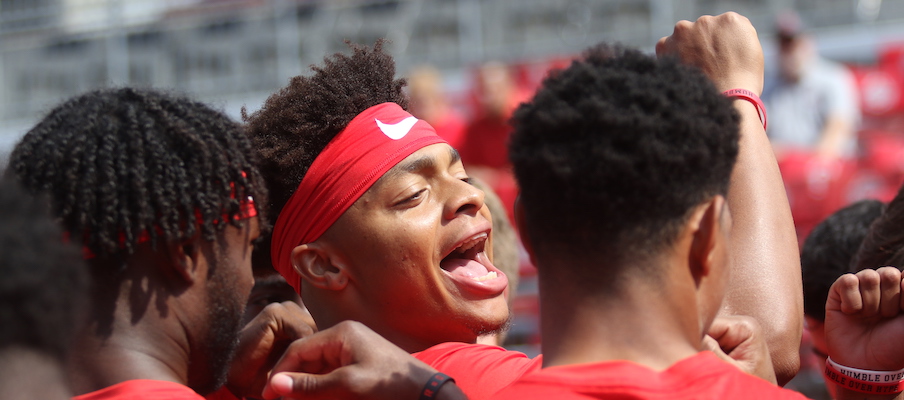 Though the city and campus could've factored somewhat in his decision, Fields didn't choose to transfer to Ohio State from Georgia for the type of lifestyle provided by Columbus and the school. He made that decision in order to have Ryan Day coach him and develop him into an NFL quarterback.
If Fields wanted to live like a normal college student, he could make that happen. Plenty of his teammates take in-person classes along with the rest of the student body, eat meals at the same restaurants as everybody else on campus and live fairly similar lifestyles to their classmates – in the offseason, especially. 
With such heavy time commitments as the starting quarterback, though, Fields has found comfort in approaching his football-school balance his way.
"I think people have some sort of idea, but they don't know all the little details we actually do, whether it's coming in on the off day, coming in and getting extra work in," Fields said. "I think they have kind of a slim idea, but they don't know everything that they do."
Some people, he says, have given him the idea that they think football players spend every hour of every day engrossed in all angles of the sport, focusing on solely on football. Others see him and his teammates just as students who happen to play a sport.
"So it's kind of a mix-and-matched thing," Fields said. "Just kind of balancing those things out. I'm not sure what people think, but people just have different opinions on what we do and kind of how our every-day life goes."
What everybody else thinks doesn't really matter to Fields, though.
He just does what he does and lives how he lives. With the way he's been winning in the first month of the season, nobody at Ohio State has any reason to doubt his process.