Before each week's Ohio State game, Eleven Warriors catches up with a media member who covers the opposing team to get his or her perspective on the Buckeyes' upcoming opponent.
Ahead of the Buckeyes' final non-conference game of the regular season against Miami (Ohio), we bring in Chris Vinel, the sports editor of the Miami Student, to get his insight on the RedHawks, their 1-2 start and what the perception of the team is like around the university's Oxford campus.
Is Chuck Martin on the hot seat after Miami's losses to Iowa and Cincinnati, who are the RedHawks' players to watch and do they have any chance of keeping Saturday's game competitive? Vinel gives us his thoughts on those questions and more in this week's Across The Field.
Q: What's the mood like around the Miami football program and around campus after the 1-2 start to the season?
Vinel: Miami head coach Chuck Martin kind of expected his team's 1-2 start. Aside from their blowout win over Tennessee Tech two weeks ago, the RedHawks have faced a murderer's row this season. He's talked about being physically overmatched in three of his team's first four weeks. Martin has also emphasized taking the season one game at a time and treating every one the same way. He has made sure his team doesn't get too high or too low, so the RedHawks aren't freaked out by the 'Shoe.
On campus, the story is much different. The average Miami student isn't a Miami football fan. Students are casual fans who tune in for big games against teams like Cincinnati and Ohio State. When Miami loses those matchups, the team becomes the target of many jokes. There isn't a lot of support for the team right now, and it'll only get worse if the RedHawks get walloped on Saturday.
Q: Chuck Martin is now in his sixth season as Miami's head coach and has yet to deliver a winning season. Is his seat getting hot?
Vinel: Martin's seat is getting warmer. In the eyes of Miami's fans, it's scalding, but that's been the case each of the last three Septembers. His teams are 3-20 in non-conference play the last six seasons, and they have never beaten the rival Cincinnati Bearcats. The three wins have come against Presbyterian in 2015, Austin Peay in 2017 and Tennessee Tech. The first month has never been kind to Martin.
Luckily, his RedHawks have rebounded in the Mid-American Conference. They've posted a combined 16-8 record against conference foes since the start of 2016. A 6-2 MAC record probably saved Martin's job last season after Miami lost all four of its non-conference contests.
His contract runs through the end of the 2020 season. If the RedHawks post another above-.500 record in conference play and make a run at the MAC title this season, Martin will stay for 2020. If not, he's going to have some tough postseason conversations with athletic director David Sayler.
Q: Who are some of the Miami players that Ohio State and its fans should be paying attention to entering Saturday's game?
Vinel: Brett Gabbert has been the team's hottest topic.
The younger brother of Blaine Gabbert, Brett became the first true freshman quarterback in Miami program history to start Week One, ending a three-player fall camp battle for the role. He wasn't told he was getting the nod until just hours before taking the field. Gabbert's stats won't wow people, but he's displayed rare poise for a player who just turned 19 last month. He has completed 59 percent of his passes for 481 yards and two touchdowns. He's added two more scores on the ground.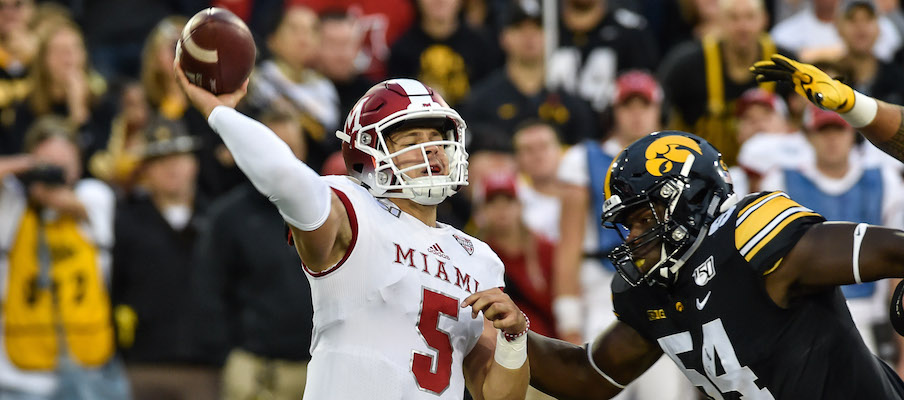 On defense, watch Bart Baratti, the No. 49-wearing defensive back, for a few consecutive plays. He'll be in on the action almost every snap.
The senior is not an athletic freak, but he's intense. Last season, he broke his hand and didn't miss a snap. None of his coaches found out he hurt himself until 24 hours after the game. He's also been known to hit himself in the face to get hyped up. Due to a myriad of secondary injuries, Baratti became a starter in 2018 and took full advantage of his opportunities. He recorded 40 tackles and already has 17 this season. He's added a sack and a pick-six.
Miami moves Baratti around, playing him at free safety, strong safety and nickel corner.
Q: What have been the RedHawks' biggest downfalls in their losses to Iowa and Cincinnati, and what do you think are the biggest things they're working on improving this week?
Vinel: If the RedHawks want to have any chance against Ohio State this weekend, they'll have to capitalize on opportunities – something they haven't done against Iowa and Cincinnati. Martin wasn't happy with his offense's 4-of-14 performance on third down last Saturday. Gabbert fumbled away a red zone possession that, had Miami scored, would've put it up 17-7 in the second quarter. The RedHawk defense also allowed the Bearcats to go 2-for-3 on fourth-down conversions.
If those trends continue Saturday, Miami will fall under an unsurmountable deficit.
Miami is working on simply being mentally disciplined. The RedHawks need to prepare for the biggest stadium they've ever played in, the most crowd noise they've ever heard and the toughest competition they've ever faced. After adding those up, Miami can't afford any self-inflicted wounds.
Q: Given that Ohio State is a massive favorite to win Saturday's game, what do you think needs to happen for Miami to come out of Columbus with at least some reason to feel good about its performance, and how do you see it playing out?
Vinel: Like Martin says, taking on the Buckeyes at Ohio Stadium is a learning experience. The best-case scenario would be for Gabbert to lead two or three long RedHawk scoring drives, and for the team as a whole to keep the game close in the first half. It just needs some confidence heading into MAC play.
Nevertheless, I think it will get ugly early. Miami just doesn't have the offensive firepower to keep up with Justin Fields, J.K. Dobbins and Co.
Final score: Ohio State 56, Miami 7