Ohio State will host an in-state opponent for the second time in three weeks when it plays its final non-conference game of the regular season at Ohio Stadium on Saturday.
For the first time since 2012 and the sixth time ever, Miami (Ohio) comes to Columbus this week to play the Buckeyes in what will be the fourth game of the season for both teams.
The RedHawks of Miami University have never defeated Ohio State in any of the previous five meetings between the two schools, and that's almost certainly not going to change this year. The Buckeyes opened as 37-point favorites for Saturday's game in the Shoe, and barring a complete lack of focus this week, Ohio State should cruise to a comfortable victory. 
Miami is just 1-2 this season, with its only win coming against a Football Championship Subdivision team (Tennessee Tech); on Saturday, the RedHawks were defeated 35-13 by Cincinnati, which was defeated 42-0 by Ohio State two weekends ago.
Given that, we won't try to hype up Miami as an opponent who could pose any real threat to Ohio State on Saturday. We will take a look at some fun facts you should know about the Buckeyes' next opponent, though, in this week's edition of Five Things to Know.
Familiar Last Names
When Miami's offense takes the field for the first time on Saturday, one of the first questions people who haven't read this article will probably ask about Miami's starting quarterback is "Any relation to Blaine?"
Miami starting quarterback Brett Gabbert is, in fact, the younger brother of former Missouri star and current Tampa Bay Buccaneers backup quarterback Blaine Gabbert, the No. 10 overall pick in the 2011 NFL draft.
The younger Gabbert wasn't nearly as highly touted a recruit as his brother, who was ranked as the No. 35 overall prospect in the recruiting class of 2008, but Brett Gabbert was the highest-ranked signee in Miami's 2019 recruiting class and beat out redshirt sophomore Jackson Williamson and redshirt freshman AJ Mayer to become the first true freshman ever to start a season opener at quarterback for the RedHawks.
In his first three games as Miami's starting quarterback, Gabbert has completed 37 of 62 passing attempts for 481 yards and two touchdowns with one interception. He has also rushed for two touchdowns.
Gabbert isn't the only key player for the RedHawks who has NFL ties that you might recognize by his last name. Luke Mayock, one of Miami's top wide receivers, is the nephew of Oakland Raiders general manager Mike Mayock. 
True freshman defensive back Deland McCullough is the son of Kansas City Chiefs running backs coach Deland McCullough, the second-leading rusher in Miami history.
Two Iowa Transfers in Secondary
Another name you might recognize on Miami's roster even if you've never watched the RedHawks is that of Emmanuel Rugamba. 
While he is now a starting cornerback for Miami, Rugamba was previously a regular in Iowa's cornerback rotation in 2016 and 2017 – starting games in both seasons – before opting to transfer to the RedHawks. In two seasons with the Hawkeyes, Rugamba recorded 55 total tackles, two interceptions and eight additional pass breakups. He was one of the Hawkeyes' starting cornerbacks for their 55-24 win over Ohio State two years ago.
Rugamba has started each of Miami's first three games this season and has recorded 14 total tackles with a pass breakup.
He isn't the only former Hawkeye in Miami's secondary. Backup cornerback Cedric Boswell also played for the Hawkeyes in 2016 and 2017 before taking his talents to Oxford. He's come off the bench to record eight total tackles, including 1.5 tackles for loss, in the RedHawks' first three games.
Both players returned to Kinnick Stadium for Miami (Ohio)'s season-opening game at Iowa. Rugamba recorded five tackles and Boswell recorded one in the RedHawks' 38-14 loss to the Hawkeyes. 
27 Ohio Natives
For a low-end Football Bowl Subdivision program, Miami's roster isn't as heavy on in-state prospects as you might expect, but the RedHawks' roster does include 27 players who grew up in the state of Ohio.
Notable players among them include Oxford native Maurice Thomas, who earned first-team All-MAC honors as a kickoff returner last season; starting tight end Andrew Homer, a product of Cincinnati's St. Xavier High School; and starting defensive end Dean Lemon, a product of Archbishop Alter High School in Kettering.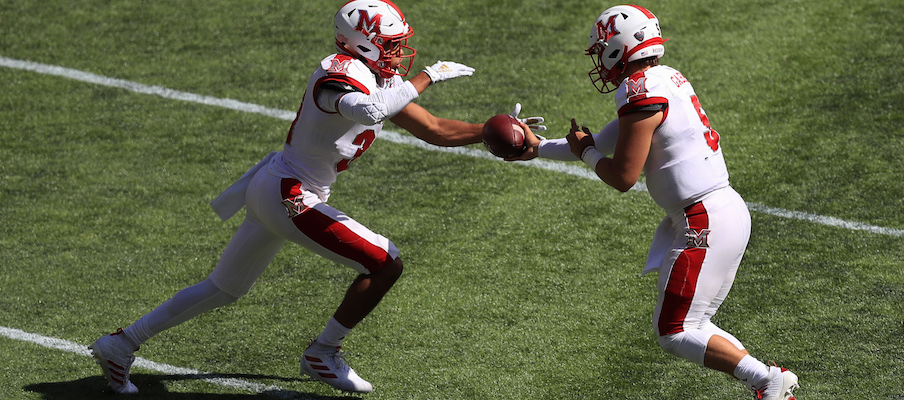 Ivan Pace Jr., who was the state of Ohio's Division I defensive player of the year for Cincinnati's Colerain High School in 2018, is a backup linebacker for the RedHawks. 
Cradle of Coaches
Miami hasn't produced a ton of NFL players – with Ben Roethlisberger being a very notable exception – but the RedHawks do have an illustrious history of developing coaches who have gone to succeed in the NFL or at major college football programs, including three of Ohio State's all-time greats.
Paul Brown was a quarterback at Miami before beginning his coaching career. Woody Hayes was the head coach at Miami for two years before taking over as Ohio State's head coach in 1951. And Jim Tressel spent two seasons at Miami coaching quarterbacks and wide receivers before climbing his way up the coaching ladder to ultimately become head coach of the Buckeyes.
With a list of former players that also includes Bo Schembechler, John Harbaugh, John and Sean McVay, Weeb Ewbank and Ara Parseghian, among others who have gone on to success as NFL or college football coaches, Miami has become known as the "Cradle of Coaches."
Miami's current head coach, Chuck Martin, is in his sixth season at the helm in Oxford. He was previously an assistant coach at Notre Dame, where he spent four years on a Fighting Irish coaching staff that also included current Ohio State running backs coach Tony Alford.
Lengthy Drought Against Power 5 Opponents
Miami hasn't won a game against a team from one of college football's power conferences in 2007, when the RedHawks earned a 17-14 win over Syracuse (then in the Big East).
Ohio State's Previous Five Games Against Miami

| YEAR | LOCATION | RESULT |
| --- | --- | --- |
| 2012 | Columbus | Ohio State 56, Miami 10 |
| 2005 | Columbus | Ohio State 34, Miami 14 |
| 2000 | Columbus | Ohio State 27, Miami 16 |
| 1911 | Columbus | Ohio State 3, Miami 0 |
| 1904 | Columbus | Ohio State 80, Miami 0 |
Since then, Miami has lost 16 straight games against teams who are currently in Power 5 conferences (plus a game against Notre Dame in 2017), and all but four of those losses – including a 56-10 loss to Ohio State in 2012 – have been by more than 20 points. The RedHawks have also lost their annual Victory Bell rivalry game against Cincinnati for 14 consecutive years.
The RedHawks haven't even been competitive in the Mid-American Conference in most recent years – they have one just double-digit win season in the past 15 years – and against Power 5 teams, they've mostly suffered blowout losses, a trend that is likely to continue when they play the Buckeyes on Saturday.