The stakes get a little higher for Ohio State this week.
After starting the season with wins over a pair of non-conference opponents in Florida Atlantic and Cincinnati, the Buckeyes are set to play their first Big Ten game of the year – in fact, the first intraconference game among any two Big Ten schools this season – as they hit the road for the first time this year to play Indiana at Memorial Stadium in Bloomington, Indiana.
The Hoosiers aren't one of the more intimidating conference opponents on Ohio State's schedule – after all, they haven't won a game against the Buckeyes since 1988 and have had only one winning season (2007) in the last 24 years – but there's still a difference between playing a Group of 5 team at home and a Big Ten team on the road, which has ratcheted up the intensity for the Buckeyes in their preparation for this week's game.
"As we get into conference play, it gets tighter, and the margin for error is a lot smaller," Ohio State coach Ryan Day said this week. "So going in for a noon kick at Indiana, the first (Big Ten) game of the year, we're going to have to bring it right from the jump and have another fast start."
While the Hoosiers haven't won any of their last 26 meetings with the Buckeyes, they have played Ohio State close in each of the last three games between the two schools at Memorial Stadium; Indiana had a halftime lead before losing 49-21 in 2017, and lost by just seven points (34-27) in 2015 and three points (52-49) in 2012. So while the Buckeyes might look like clear favorites to win Saturday's game on paper, they've surely been reminded of those close calls in the days leading up to their trip to Bloomington.
"Every time we play Indiana, it's a tough game," Day said. "Those guys always come ready to play. So we've got our hands full."
Indiana Breakdown
Like Ohio State, the Hoosiers have opened their season with two non-conference games against non-Power 5 opponents. They earned a 34-24 win in their season opener against Ball State, then cruised to a 52-0 victory over Eastern Illinois last Saturday.
The top story of their season so far has been the emergence of redshirt freshman Michael Penix Jr. as their new starting quarterback. A talented dual-threat with a strong arm and the athleticism to make plays with his legs, Penix earned Big Ten Freshman of the Week honors for his performance in the season opener and has captured the attention of Ohio State's defense in preparing for this week's game.
"I've heard a lot of good things about the quarterback," said Ohio State defender Brendon White. "He can run. He's a great thrower."
The biggest question surrounding Indiana entering Saturday's game, however, is whether Penix will be able to play against the Buckeyes. Indiana coach Tom Allen said Thursday that Penix will be a game-time decision due to an undisclosed injury, which could force the Hoosiers to turn to Peyton Ramsey, who Penix beat out for the starting job in preseason camp after Ramsey started at quarterback for the Hoosiers last season.
Ramsey doesn't have the arm strength or athleticism that Penix does, but he threw for 322 yards and three touchdowns against Ohio State last year. Day said Thursday that the Buckeyes were already preparing for the possibility of playing Ramsey in addition to Penix, and that they won't take him lightly.
"Ramsey and Penix are both really good players, and they bring different things to the table," Day said. "So we've been preparing for both of those guys here all along."
Whether Penix or Ramsey starts for the Hoosiers on Saturday, they have the potential to test Ohio State's defense in the passing game with a talented and experienced crop of pass-catchers. Nick Westbrook, Donavan Hale and Whop Philyor give the Hoosiers a skilled an established trio of starting wide receivers, while Peyton Hendershot has emerged as an improved receiving threat at the tight end position.
The Hoosiers' weakness on offense so far this season has been their running game, which has averaged just 3.9 yards per carry despite playing two inferior opponents. Their issues in that phase of their offense could be exacerbated if Penix is sidelined or limited in any way, so they'll need better play from their running backs – namely Stevie Scott – and offensive line to effectively move the ball against an Ohio State defense that has held its first two opponents to just 1.9 average yards per carry.
On the other side of the ball, the player who draws the most attention for Indiana's defense is Marcelino Ball, a redshirt junior defensive back who plays the husky position – Indiana's version of the bullet position – and has been one of the Hoosiers' most productive defensive players while lining up all over the field throughout his career.
Day described Ball as one of the best defensive backs in the entire Big Ten.
"Ball is really good at what he does," Day said. "He does a lot of things for them."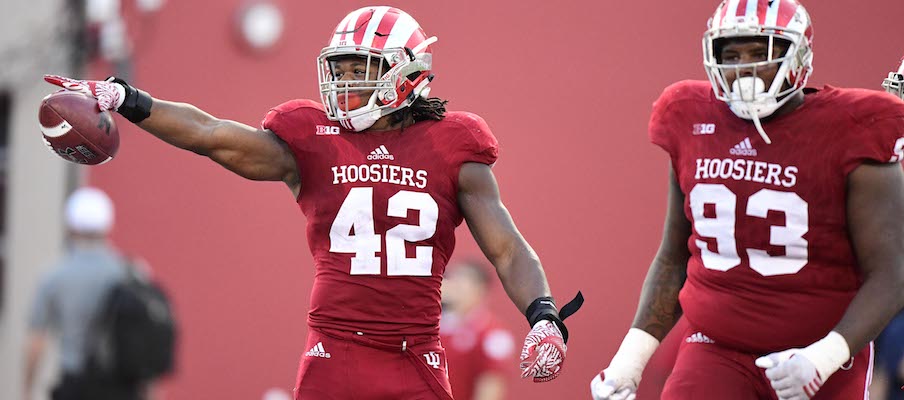 Other key players on Indiana's defense including a pair of returning starters at cornerback in Raheem Layne and Andre Brown Jr. and senior linebacker Reakwon Jones, the Hoosiers' leading tackler with 15 total tackles so far this season. Altogether, Day said he was impressed by what he has seen from the Hoosiers' defense on film in their first two games.
"Their secondary is really, really strong," Day said of Indiana's defense. "Some good, strong guys up front. The linebackers played really hard the last couple weeks."
After shutting out Eastern Illinois and holding the Panthers to just 116 yards last week, Indiana will unquestionably face a much tougher test this week against Justin Fields, J.K. Dobbins and the rest of the Ohio State offense. Hoosiers defensive coordinator Kane Wommack indicated this week, though, that he and his squad don't plan to back down from a challenge.
"From our perspective, we feel like there are some things we are probably going to be able to take advantage of," Wommack said according to former Eleven Warriors recruiting analyst Taylor Lehman, who now covers Indiana for Rivals. "Frankly, every time that guy has his hands on the ball, we're going to try to get some pretty good shots on him."
Buckeye Breakdown
After a dominant performance on both sides of the ball last Saturday in a 42-0 win over Cincinnati, there isn't much to critique about the Ohio State football team right now. Fields has been excellent in his first two starts as the Buckeyes' quarterback, Dobbins and the running game got going against the Bearcats after some struggles in the season opener and the defense looks substantially improved from 2018.
2019 Statistical Comparison
 
OFFENSE
43.5
22nd
POINTS FOR
43.0
23rd
253.5
18th
RUSHING OFFENSE
131.0
95th
235.0
63rd
PASSING OFFENSE
383.5
8th
488.5
33rd
TOTAL OFFENSE
514.5
27th
.560
14th
3rd DOWNS
.571
10th
.875
56th
RED ZONE
.889
51st
DEFENSE
10.5
16th
POINTS ALLOWED
12.0
18th
64.5
11th
RUSH DEFENSE
76.0
20th
186.0
48th
PASS DEFENSE
181.0
41st
110.4
30th
PASS EFFICIENCY DEFENSE
109.1
28th
250.5
20th
TOTAL DEFENSE
257.0
23rd
.258
20th
3rd DOWNS
.281
31st
.571
13th
RED ZONE
1.000
90th
SPECIAL TEAMS
10.1
43rd
PUNT RETURN
6.0
73rd
23.0
39th
KICKOFF RETURN
23.2
38th
39.9
51st
NET PUNTING
46.5
6th
MISCELLANEOUS
+0.5
39th
TURNOVER MARGIN
-0.5
77th
4.5
23rd
PENALTIES
5.5
37th
10
EDGE
8
Ohio State's coaches, though, know they can't allow their players to get complacent. It's their job to nitpick and determine what the Buckeyes still can and need to do better, and Day was among the coaches who said this week that there are still many improvements they need to make as they begin the Big Ten portion of the schedule.
"We want to be the best in the country, and the message to the team is that the issues are still in the film, whether you win, you lose, whatever it is," Day said. "The facts of the matter are that the issues are on film, and as the level of play increases through conference play, as the season goes on, those issues aren't going to go away."
There haven't been any obvious issues so far for Fields, who has accounted for 561 total yards and nine total touchdowns and has yet to throw an interception in his first two starts. Day still wants to see Fields continue to progress each week, though, particularly with getting rid of the ball in order to avoid taking hits.
"Still took a couple hits in there that we didn't like," Day said in reference to Fields' performance against Cincinnati. "He's got to learn that way. Couple things in protection as well. Took one bad sack. But overall, I thought it was a pretty clean game. 
"There's going to be things that show up. He got away with a couple throws that maybe as the competition increases, he won't. But overall, it was solid, and we got to keep building on it."
The Buckeyes' running backs and offensive line were inconsistent in the season opener against FAU, but both were excellent last week against the Bearcats. Dobbins ran for 141 yards and two touchdowns on 17 carries, while the offensive line did a nice job opening holes in the run game and keeping the pocket clean for Fields in the passing game against a Cincinnati defense that blitzed on what Day estimated as 85 percent of its defensive plays.
"I thought that the line really blocked well," Day said.
For Dobbins, Saturday will be an opportunity to return to the stadium where he kicked off his Ohio State career in spectacular fashion. As a true freshman in 2017, Dobbins ran for 181 yards in the Buckeyes' season opener against Indiana, cementing his place in Ohio State's running back rotation ever since.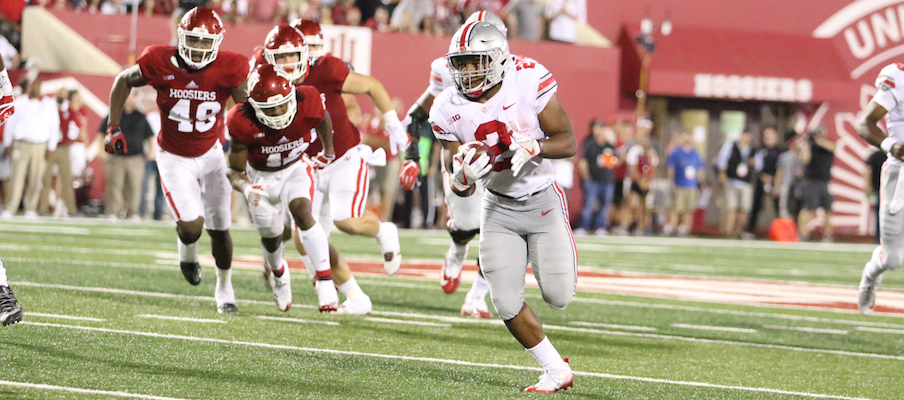 Defensively, the Buckeyes are coming off their first shutout since 2017 and their first pair of back-to-back games holding opponents under 300 yards since 2017. Led by new co-defensive coordinators Greg Mattison and Jeff Hafley, Ohio State's revamped defense has been excellent through its first two games of the season. Larry Johnson's defensive line has been bringing pressure up front, Al Washington's linebackers have been getting to the football much faster than Bill Davis' did last year and Hafley's secondary has allowed few big plays on the back end.
Even after the shutout, though, the Buckeyes are still chasing improvement on that side of the ball too, as they know they face tougher competition in the weeks to come – potentially including this week.
"We need to do a lot of things better," said Ohio State linebacker Pete Werner. "We need to just improve on the things that we have done, just at a different level. Our defense right now is not good enough to do what we have in mind to do. So we need to look at our keys a little better, eliminate our MA's (missed assignments), in order to have the best defense in the country."
Altogether, the Buckeyes have spent this week preparing for the increased challenges that come with not only playing a Big Ten game for the first time this year, but also playing away from home for the first time this season. Before the Buckeyes get to Memorial Stadium on Saturday, Friday will also be an important day, as it's the first time Ohio State will take 74 of its best players on the road and go through its travel routine before playing in an opponent's home stadium.
Those variables make it increasingly important for Ohio State to execute in key fundamental areas to ensure bringing home a win on Saturday.
"You got to run the ball, you got to stop the run and you got to bring toughness," Day said. "Those are the three things that we talk about when we go on the road. And with a noon kick, we got to make sure we get to bed, get up early and have some energy right from the first play."
Game Forecast
Ohio State opened the week as a 14-point favorite for Saturday's game. With the uncertainty of Penix's health going into Saturday, the Buckeyes had moved all the way up to an 18-point favorite as of Friday morning, according to Bovada.
Ohio State's Last Five Games Against Indiana

| YEAR | LOCATION | RESULT |
| --- | --- | --- |
| 2018 | Columbus | Ohio State 49, Indiana 26 |
| 2017 | Bloomington | Ohio State 49, Indiana 21 |
| 2016 | Columbus | Ohio State 38, Indiana 17 |
| 2015 | Bloomington | Ohio State 34, Indiana 27 |
| 2014 | Columbus | Ohio State 42, Indiana 27 |
There has been some chatter that this week's game could be a 'trap game' for Ohio State, and the Hoosiers' history of playing the Buckeyes competitive in Bloomington certainly increases the impetus for Ohio State to travel with its A-game.
If the Buckeyes can play up to the ability they have shown they can play at in all three phases of the game, though, they should ultimately be able to beat the Hoosiers by a significant margin. Ohio State is significantly more talented than Indiana on both sides of the ball, and if Penix is sidelined, this year's Ohio State defense should be much more prepared to shut down a Ramsey-led Indiana offense.
The increase of the point spread from 14 to 18 could make it risky to bet on the Buckeyes to cover, but they're certainly capable of winning big as long as they arrive ready to play and can sustain a high level of play like they did against Cincinnati last week.
---
ELEVEN WARRIORS STAFF PREDICTION: Ohio State 45, Indiana 17