Two years into Michael Thomas' Ohio State career, few would have guessed he would ultimately go on to become the highest-paid wide receiver in the NFL.
After spending a year at Fork Union Military Academy following high school, Thomas was just a three-star recruit and one of the lowest-ranked prospects in Ohio State's recruiting class of 2012. 
Thomas quickly created buzz for himself after arriving on campus, catching 12 passes for 131 yards in Ohio State's 2012 spring game, his Ohio Stadium debut. But he caught only three passes for 22 yards in the Buckeyes' actual games that season.
Despite seeing action in 11 games as a true freshman, Thomas was redshirted by Ohio State as a true sophomore. The most noise he made that season came during the season-ending Orange Bowl, when he took to Twitter to share his opinions on the Buckeyes' 40-35 loss to Clemson, in which Corey Brown was the only Ohio State wide receiver to have more than two catches or five receiving yards.
Even though his Ohio State career got off to a quiet start on the field, Thomas never lacked for confidence, and he stepped up in a big way in 2014, leading the Buckeyes with 54 receptions for 799 yards and nine touchdowns en route to a national championship.
He posted similar numbers in 2015, catching 56 passes for 781 yards and nine touchdowns to lead Ohio State in all three categories.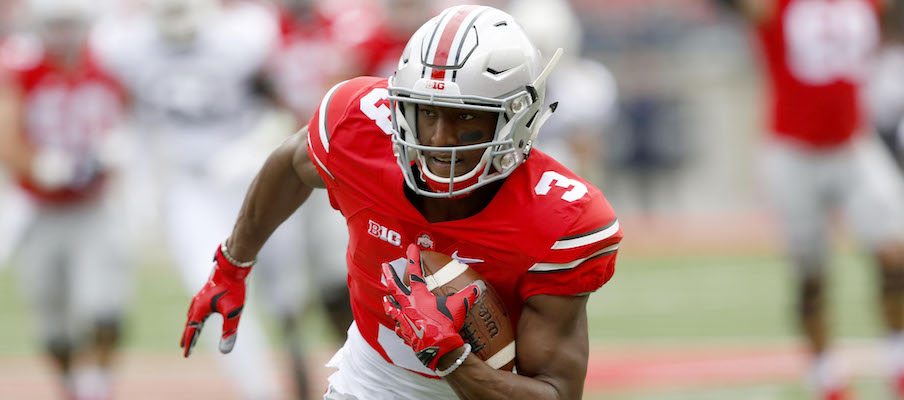 Thomas might not have ever been utilized to his full potential within Ohio State's offense, and his statistics were never gaudy enough for him to earn more than third-team All-Big Ten honors, but his NFL talent was evident. After he opted to forgo his final year of eligibility in Columbus and enter the 2016 NFL draft, the New Orleans Saints selected him with the 47th overall pick in the second round.
In his first three seasons in New Orleans, Thomas has shown just how elite he can be. He's caught 321 passes – the most ever by any NFL player in his first three seasons in the league – for 3,787 yards and 23 touchdowns; he had his best season yet in 2018, leading the NFL with 125 receptions for 1,405 yards and nine touchdowns.
That's why the Saints rewarded Thomas with a five-year, $100 million contract extension on Wednesday, making him the first NFL wide receiver to strike a deal that averages $20 million per year; the deal also includes $61 million in guaranteed money, the largest guarantee ever for an offensive player that's not a quarterback.
@Cantguardmike pic.twitter.com/4XOGYTOXL6

— New Orleans Saints (@Saints) August 1, 2019
At this time five years ago, Thomas had caught just three career passes as a Buckeye, and wasn't even on the radar as an NFL prospect; now, his early ups and downs at Ohio State feel like a distant memory.
They're worth remembering, though, in a time where a player that struggles early in his career or doesn't see much playing time right away often gets overshadowed by the shiny new recruit – and where players have become increasingly inclined to transfer if their careers don't start out as hoped.
Thomas is now considered to be one of the best players in the entire NFL, and Ohio State certainly won't hesitate to use his success story as a recruiting pitch to potential future Buckeyes; less than half an hour after the news of Thomas' contract broke on Wednesday, Ohio State had already pumped out a graphic touting his accomplishment on social media.
Can't guard him. Can pay him.@Cantguardmike is the highest-paid receiver in the history of the @NFL #GoBucks #Shhh pic.twitter.com/o3j5gnGudy

— Ohio State Football (@OhioStateFB) July 31, 2019
Ohio State can also use Thomas' story, though, as an example to their own players – particularly those who have already been with the Buckeyes for a couple years but are still trying to find their way into the lineup – that perseverance and staying the course can pay off in a big way.
Started at the bottom and became the best. Congrats to @Cantguardmike!! pic.twitter.com/t36aGxTtz4

— Mark Pantoni (@markpantoni) July 31, 2019
Thomas is far from the only recent example of an Ohio State player blossoming into an NFL prospect after early-career adversity. Terry McLaurin, who soared up draft boards to become a third-round pick after an excellent fifth-year senior season this past fall (and is now already turning heads in training camp with the Washington Redskins), is another worthy example. Thomas' teammate in New Orleans, Marshon Lattimore, battled injuries and barely played in his first two years at Ohio State before an excellent 2016 season made him a first-round pick – and he's also emerged as one of the NFL's best players at his position in his first two years in the league.
With the incredible heights Thomas has reached as a player and the amount of money that's about to hit his bank account, though, he now stands out as the prime example of how a player can go from Ohio State to NFL stardom even if he is not a highly touted recruit and even if he does not achieve immediate success as a Buckeye.