Following two seasons as an improving contributor in both the secondary and on special teams, cornerback Jeffrey Okudah appears primed to make a tremendous leap to that of an elite cover man who could be on the verge of earning an early first round NFL Draft grade.
Respected NFL talent evaluators including Daniel Jeremiah and Matt Miller, among others, can't stop talking about Okudah's skill-set with Jeremiah suggesting the junior is already more talented than any cornerback taken in last year's draft and Miller opining the Buckeyes could have another top-5 selection in the Draft on their hands. 
To be real though, the superlatives tossed Okudah's way don't yet reflect the production of his first two seasons, instead foreshadowing what could lie ahead based on how he came on toward the end of his sophomore season and, of course, measurables and talent that jump off the page. 
Standing a sturdy 6-foot-1 and 200 pounds, Okudah arrived in Columbus as the No. 1 cornerback in the 2017 recruiting cycle and No. 8 prospect overall. 
The Grand Prairie, Texas native immediately earned time as a freshman – something more elusive than most realized during the Urban Meyer era – by proving his mettle on special teams which helped pave the way for his emergence as the team's fourth cornerback. 
On a defense relying heavily on a three-man rotation at corner, Okudah still saw action as a defensive back in 10 games and logged a then-career-high 62 snaps against USC in the Cotton Bowl as Denzel Ward opted to roam the sidelines and protect his NFL Draft status. Okudah received over 20 snaps in six games as a true freshman finishing with 17 tackles and a pass breakup. 
With Ward off to the NFL, Okudah slotted as Ohio State's third corner behind Kendall Sheffield and Damon Arnette last season. Despite missing the Nebraska game, he still tallied 570 total snaps which was just five short of Arnette's total while Sheffield was the workhorse posting 801 plays. Okudah actually saw more snaps than Arnette in five games (though Arnette did not play at Purdue).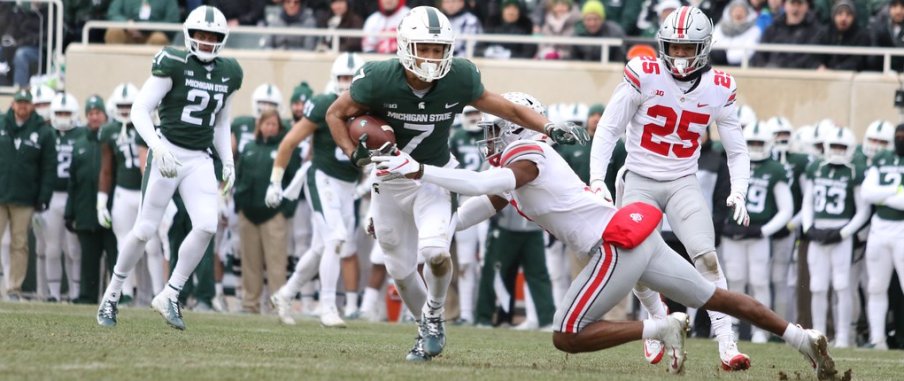 Okudah doubled his tackles output from the previous season with 34 and his eight pass breakups tied Sheffield for the team lead. Five of those stops and two of the breakups occurred in the Rose Bowl as he stymied Washington's Jake Browning and a host of receivers. 
Okudah got his hand on a 3rd-and-5 Browning toss forcing a punt with Ohio State leading 14-3 and with the Buckeyes leading 28-3 late in the third quarter, he broke up a 4th-and-4 throw from the OSU 22 forcing a turnover on downs. 
Interestingly, despite the sheer amount of playing time and his coverage skills, Okudah has yet to record an interception as a Buckeye though his 37.5% catch rate allowed last season – meaning he surrendered just 18 completions on 48 targets – is the best mark for any returning B1G performer to log legit playing time according to Pro Football Focus. 
Within that eye-catching metric, it's also worth noting Okudah was hit for a few big plays in both pass and run defense, and he did tally at least four pass interference flags and another for defensive holding though three of his penalties occurred in the first two games of the season against Oregon State and Rutgers. 
This fall, taking a leap from a consistency standpoint will be key if he is to live up to the lofty preseason accolades. 
There's little reason to believe Okudah won't do exactly that especially as many have noted, he stands to benefit greatly from the tutelage of new secondary coach Jeff Hafley who spent the previous seven seasons honing the skills of NFL defensive backs in Tampa Bay, Cleveland and San Francisco. 
This season, Ohio State doesn't project to play quite as much man defense as we've come to expect but as the primary outside corner, there will be still plenty of opportunities for Okudah to go head-to-head with some of the league's best pass catchers. 
How effectively Okudah stands up to the test will go a long way in determining whether or not last year's broken defense will indeed be a strength in 2019. And if Okudah does perform as expected, this should be his last go-round in scarlet and gray.