Ryan Day has passed another test in his first year as Ohio State's head coach.
Two weeks ago, Day and the Buckeyes' new coaching staff had their biggest recruiting weekend yet, when they hosted more than two dozen official visitors from the 2020 and 2021 recruiting classes.
In the two weeks since, Ohio State has landed nine commitments, including eight commitments from prospects who were on official visits that weekend – the final weekend before the current recruiting dead period – which Ohio State dubbed to be the "Buckeye Bash & Barbecue" weekend.
While the weekend's events were held in private settings, in contrast to the Friday Night Lights camp that served as Ohio State's annual midsummer marquee recruiting event during the Urban Meyer era, it's clear that whatever sales pitches Day and his assistant coaches made behind-the-scenes worked.
2020 four-star cornerback Clark Phillips announced his commitment to Ohio State on the day of the barbecue, June 21, before he even arrived on campus for his official visit; 2021 four-star wide receiver Jayden Ballard committed just hours after his official visit began. 
In less than two weeks since their official visits concluded, Ohio State has also landed public pledges from 2021 four-star offensive tackle Ben Christman, 2020 four-star linebacker Cody Simon, 2020 four-star defensive lineman Darrion Henry, 2020 three-star tight end Joe Royer, 2020 three-star safety/wide receiver Cameron Martinez and 2020 three-star offensive lineman Josh Fryar.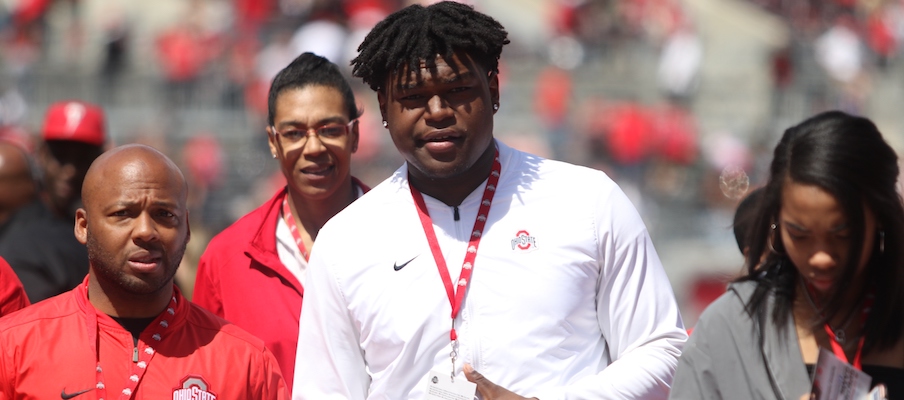 Ohio State also added a commitment on Wednesday from 2020 three-star linebacker Mitchell Melton, who made his official visit to Columbus one weekend earlier than the other recent commits – and was at Michigan the following weekend alongside a slew of official visitors who have since committed to the Wolverines – but was still convinced to become a Buckeye.
2020 five-star offensive tackle Paris Johnson Jr., who has been committed to Ohio State since last summer but considered Georgia and LSU after visiting those schools this spring, also reaffirmed his commitment to the Buckeyes after making his official visit two weekends ago.
The year got off to a relatively slow start on the recruiting trail, as Ohio State landed only three commitments for its class of 2020 between January and April (though the Buckeyes did land major commitments for 2021 in five-star defensive end Jack Sawyer and four-star quarterback Kyle McCord). 
Since five-star wide receiver Julian Fleming committed on May 31, however, the Buckeyes' recruiting efforts have kicked into high gear, as they have landed 10 more 2020 commitments since (plus Ballard and Christman for 2021).
That's what Day was hoping would happen one month ago.
"This month is a big month for us," Day said during a press conference on June 5. "Where are we going to be at at the end of June? That's when I think we'll have a better handle on the whole class."
Now, Ohio State's recruiting class of 2020 appears to be in great shape. The class is now up to 19 commits and is ranked as the fourth-best class in the country, behind only Clemson, Alabama and LSU. And the summer wave of commitments probably isn't over yet.
And there's still more coming on the way!! #GoBucks https://t.co/Sp1MaOp3bh

— Ben Christman (@bigbenchristman) July 4, 2019
Four-star wide receiver Mookie Cooper, who made an unofficial visit to Ohio State in May, told reporters at The Opening this week that he has already made a silent commitment – which many recruiting insiders believe is to the Buckeyes – and will announce his decision next week.
Four-star safety Lathan Ransom, who was among the official visitors two weekends ago, plans to announce his commitment on July 16 and has also been trending toward the Buckeyes. His teammate at Salpointe Catholic High School, five-star running back Bijan Robinson, visited one week before Ransom and appears to be a real candidate for Ohio State, too.
Other June official visitors who remain on the board as potential members of the Buckeyes' 2020 class include four-star linebacker Kourt Williams, four-star running back Jaylan Knighton and four-star defensive linemen Kedrick Bingley-Jones and Jacolbe Cowan.
If the Buckeyes can land commitments from even a few of those players this summer, they won't have many spots left to fill in the current recruiting cycle.
That's not to say that there aren't still some question marks about what will be Ryan Day's first full recruiting class. With four straight commitments and nine total commitments from players who are ranked as composite three-star prospects, some Ohio State fans have expressed concerns about whether Day and the Buckeyes are settling for too many lower-ranked recruits. Ohio State's 2020 class isn't quite as deep with top-ranked commits as Clemson and Alabama, the two teams that have dominated college football for the past four years.
Even so, Ohio State's class of 2020 currently has the fifth-highest average ranking per prospect among all schools, behind only Clemson, Alabama, Georgia and LSU. And while the three-star recruits might not be the sexiest additions on paper, the Buckeyes would not have taken commitments from them this summer – with more than five months still to go until the early signing period – if they did not firmly believe that each of those players have the talent to contribute at Ohio State.
Add in the Buckeyes' strong start in recruiting for their 2021 class – which currently includes four prospects who are all ranked within the top 110 nationally, while several other highly touted prospects from the class also made official visits to Columbus two weekends ago – and there are many reasons to feel good about what Ohio State's new Day-led coaching staff has accomplished on the recruiting trail so far, especially in the last two weeks.