When Ryan Day was asked earlier this month how he felt about Ohio State's progress on the recruiting trail for the class of 2020, the Buckeyes' head coach hinted that there would still be big developments to come before the end of the month.
"This month is a big month for us," Day said during a press conference on June 5. "Where are we going to be at at the end of June? That's when I think we'll have a better handle on the whole class."
Ohio State has added four commitments to its class of 2020 in the past three weeks: Pennsylvania wide receiver Julian Fleming (May 31), kicker Jake Seibert (June 4), offensive tackle Grant Toutant (June 9) and defensive lineman Ty Hamilton (June 16). The Buckeyes are now up to 12 commitments for the 2020 class, including six top-100 national prospects in Fleming, offensive tackle Paris Johnson Jr., center Luke Wypler, quarterback Jack Miller and wide receivers Gee Scott Jr. and Jaxon Smith-Njigba.
This upcoming weekend, however, could be the most important weekend of the entire year in determining how good Ohio State's recruiting class of 2020 will be.
Ohio State is bringing in more than 15 official visitors from the class of 2020 this weekend, including some of its top remaining uncommitted targets such as cornerback Clark Phillips III (who is set to announce his commitment on Friday), defensive end Darrion Henry, linebackers Kourt Williams and Cody Simon and safety Lathan Ransom.
Day and the rest of the Buckeyes' staff will be pushing to land commitments from all of those prospects, as they look to bolster a class that currently includes just two commits on the defensive side of the ball: Hamilton and cornerback Lejond Cavazos.
Ohio State will have some intriguing prospects from the offensive side of the ball in town this weekend, too, including wide receiver Cameron Martinez, tight ends Joe Royer and Cam Large. Five-star running back Zachary Evans, the No. 1 prospect at his position in the entire class of 2020, will also be in Columbus on an unofficial visit.
Altogether, the expectation is that this weekend's events – which begins with the Buckeye Bash & Barbeque on Friday – will lead to several #BOOMs for the Buckeyes in the coming days, which could paint a clearer picture of how Day's first full recruiting class at Ohio State will ultimately stack up.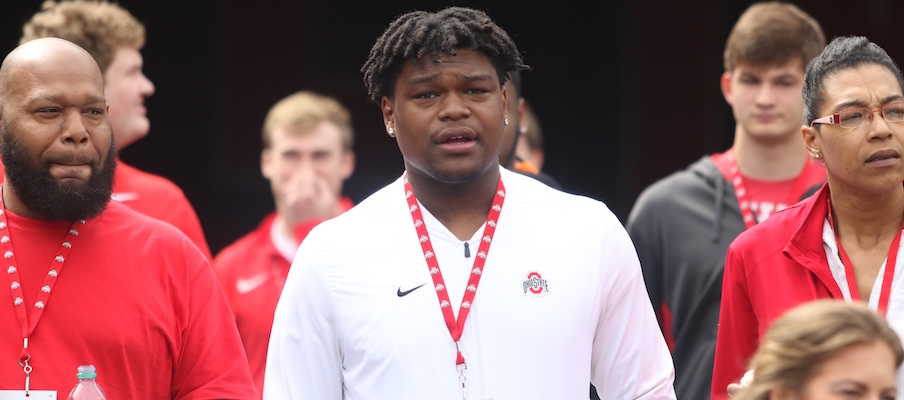 In his first six months since being named Ohio State's new head coach in December, Day and his staff have shown that they have the ability to recruit at an elite level.
Ohio State landed a commitment from five-star 2019 defensive end Zach Harrison on early signing day, just 15 days after Urban Meyer announced his retirement, following a hotly contested recruiting battle with Michigan and Penn State. Just a couple weeks later, Day landed a commitment from former Georgia quarterback Justin Fields, who was the No. 2 overall recruit in the class of 2018 and considered to be the top player on the graduate transfer marker this year.
Fleming and Scott are among the top 2020 prospects Ohio State has landed commitments from since Day took over the Buckeyes' recruiting efforts, while he's also already landed commitments from two of the top prospects in the class of 2021, defensive end Jack Sawyer and quarterback Kyle McCord.
Still, though, Day has to prove that he can pull together a full class of prospects that fills all of Ohio State's needs for 2020 – with huge shoes to fill after Meyer put together seven consecutive classes that ranked in the top seven nationally – and whether this weekend yields the expected results will be an early measure of whether or not he's on track to do so.
Although there are still nearly six months to go until any 2020 prospects can sign their National Letters of Intent, this is the final weekend before a month-long recruiting dead period, which means it's one of the last major opportunities Ohio State will have to impress recruits this summer before the coaches turn their attention to preparing for the upcoming season.
Instead of holding a Friday Night Lights camp inside Ohio Stadium, which would have been this weekend if the Buckeyes had maintained their schedule from last year, Ohio State has decided to conduct its recruiting activities this weekend behind closed doors. That might come as a disappointment if you're a recruiting junkie who enjoys having the opportunity to watch top prospects compete in person, or simply someone who enjoys spending a summer night in the Shoe. But it hasn't lowered the expectations for what the Buckeyes are expected to accomplish in their recruiting efforts this weekend.
Ohio State is also set to have some of its top targets for the class of 2021 on campus this weekend, including running back Donovan Edwards, wide receivers Jayden Ballard and Latrell Neville, offensive tackle Ben Christman and safety A.J. Kirk. If this weekend can bring about some more early commitments for Ohio State from that class, Day and the Buckeyes will have an excellent head start on the next recruiting cycle.
It's with the prospects from the 2020 class, though, where the pressure is on Day and his staff to make big impressions – the kind of positive impressions that lead to commitments – over the next three days.
A successful weekend could be a huge momentum-builder for Day and Ohio State on the recruiting trail entering the second half of the calendar year, and it's an opportunity they need to take advantage of.