The Hurry Up is your nightly dose of updates from the Ohio State football recruiting trail, keeping tabs on the latest from commits and targets from around the country.
Buckeye Bash & Barbecue, Weekend Visitors
This weekend is the biggest recruiting weekend of the year for Ohio State, and the Buckeyes have been preparing. They've installed a closed event – Buckeye Bash & Barbecue – that will feature a camp for prospects and also host several top 2020 and 2021 targets on official and unofficial visits.
A handful of Ohio State commitments, including Paris Johnson Jr., Grant Toutant, Gee Scott Jr. (unofficial), Jaxon Smith-Njigba (unofficial), Julian Fleming (unofficial), Lejond Cavazos (unofficial), Jack Sawyer and Kyle McCord will all be in town for the event, which Lettermen Row reports will be focused on providing a foundation for the 2021 class, rather than convincing 2020 targets to commit to Ohio State.
While several 2020 targets will be on official visits and commitments will likely happen this weekend outside of Clark Phillips' scheduled commitment Friday, creating an event to set a landscape for a strong 2021 class makes sense for Ryan Day and the Buckeyes.
With the premise of the barbecue event being understood, these are some top recruits that will be making visits this weekend for both the 2020 and 2021 classes.
2020 Visitors
2021 Visitors
Brady Allen throws for Yurcich, Day at 7-on-7 camp
Indiana 2022 quarterback Brady Allen was in Columbus for Ohio State's 7-on-7 camp Monday, and he drew plenty of attention from head coach Ryan Day and quarterback coach Mike Yurcich.
The Fort Branch quarterback played for the house team that featured several prospects not from the Ohio area and not belonging to their own team. The young quarterback was invited to attend the camp so that Day and Yurcich could see him throw.
The house team appeared to be one of the best teams at the camp, since it was mostly comprised of players Ohio State had mild interest in recruiting, but it only had eight players, where as other teams could have filled at least one other roster. The house team ended up losing its first game in the tournament, putting together four impressive games in pool play though, with Allen leading the majority of the way at quarterback.
"I thought I did alright," Allen told Eleven Warriors. "I had an injury (shin splints) and an illness in the spring that kind of put me behind. So I haven't been as crisp. I felt pretty good early on, but we only had eight guys so our team got worn down late. But I had a great time and lots of fun."
Allen wasn't new to the Ohio State coaching staff. He met Yurcich at Oklahoma State in the summer of 2018, saw the Minnesota game in Columbus in October and also visited during spring practice a few months ago. Regardless, Yurcich hadn't seen Allen throw in about a year.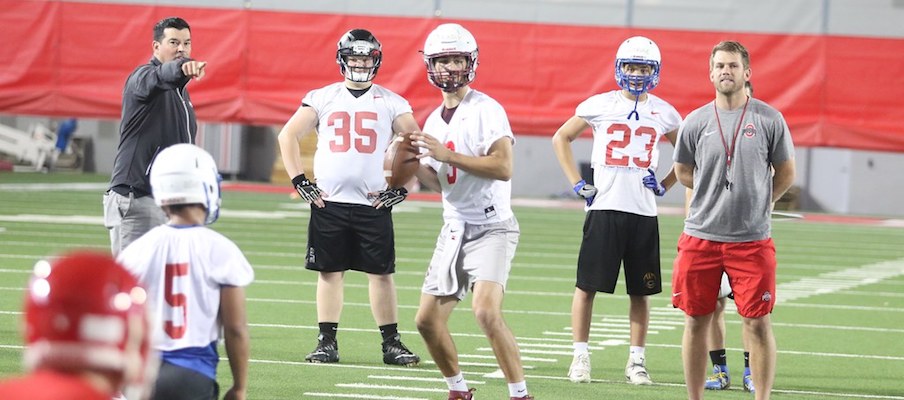 At the camp, Allen was making big throws. Near the beginning, he heaved what amounted to a 45-yard pass into the endzone, and while Day was watching, he threaded the ball into a narrow window for Hunter Wohler in the endzone.
"It's really no different than throwing in front of any other coach," Allen said about throwing in front of Day. "I've thrown in front of a lot of great coaches, and I try to be a sponge and take something from all of them."
Yurcich is who Allen has developed the deepest relationship with at this point, though.
"When I came up for spring practice, we went through some film and talked about what they look for in a quarterback," Allen said about Yurcich and Ohio State. "I've talked to him quite a bit too. Monday was the first time he's seen me throw since last year, and I talked to him some more. So I've got a good feel for him and how he coaches."
As a freshman in 2018, Allen passed for 2,438 yards, 29 touchdowns and just four interceptions. His 6-foot-5, 200-pound frame and his arm have combined with those statistics and earned him attention from schools like Notre Dame, Georgia, Indiana, Purdue, Virginia Tech and Cincinnati. He has offers from the last four teams listed.
Marcus Rosemy Commits to Georgia
Five-star St. Thomas Aquinas wideout Marcus Rosemy announced his commitment to Georgia on Thursday afternoon.
COMMITTED TO THE G !!! #GoDawgs pic.twitter.com/C51oL9ZMOX

— Marcus Rosemy (@rosemy_marcus) June 20, 2019
Rosemy was being approached by Ohio State pretty strongly, and Brian Hartline had made an effort to get Rosemy to campus in the spring, but the Florida receiver was never able to make it to campus. Even though there was a lot of mutual interest, Rosemy still never made it to Columbus, which kept the Buckeyes at an arm's length.
Once Julian Fleming committed, and once it appeared Fleming would be committing to Ohio State, a lot of the effort to schedule a visit faded on Rosemy's end, as it would have for most five-star prospects in that scenario.