The Hurry Up is your nightly dose of updates from the Ohio State football recruiting trail, keeping tabs on the latest from commits and targets from around the country.
Clark Phillips announces commitment date
The No. 4 cornerback in the 2020 class will be announcing his commitment at 3 p.m. on Friday. Clark Phillips, who has been anticipated to commit to the Buckeyes for about a month, announced via Twitter that he will be making his commitment via live stream at cbssports.com.
Tune in to https://t.co/mW6AwHQwRl friday commitment announcement 3pm (ET)

— Clark Phillips III (@ClarkPhillips28) June 18, 2019
What makes the timing interesting is that he will be flying into Columbus that day for his official visit to Ohio State. He will make his announcement live and then fly into Columbus for the visit.
The California cornerback timed his decision to come an hour after Ohio State's Buckeye Bash & Barbecue, which will kick off a weekend of huge official visits from prospects like Paris Johnson Jr., Darrion Henry, Lathan Ransom and several others.
The probability of Phillips choosing the Buckeyes is very high. He would be the second cornerback to commit to Ohio State, after Lejond Cavazos re-committed in April, to form a pair of extremely impressive corners for Jeff Halfey and Matt Barnes' secondary.
Zachary Evans sets running back scene with scheduled unofficial to OSU
No. 1 2020 running back Zachary Evans will be making an unofficial visit to Ohio State this weekend, according to BuckeyeGrove.com. In May, the top tailback released his top-five, which featured Ohio State, Alabama, Georgia, LSU and Oklahoma.
No one really has any idea where Evans is going at this point, and it seems like his recruitment will go into the 2019 football season, which works well for the Buckeyes, who are in on No. 3 running back Kendall Milton and No. 4 running back Bijan Robinson. Both are likely committing in July. While it seems like Ohio State could earn a commitment from either one of those two after their respective officials this month, if they don't, Evans could be another option moving forward.
While Evans can go essentially wherever he wants, it would be a heck of an effort if Oklahoma landed three of the top-13 running backs in the class, so the top-schools list for Milton and Evans overlaps nearly exactly – with Ohio State, LSU, Alabama and Georgia included.
The Buckeyes hit home runs with Milton and Robinson during their officials, so it wouldn't be a surprise if they did the same thing with Evans.
Ohio State will likely be signing three running backs onto the Class of 2020, and DeaMonte Trayanum, who is on his official visit now, seems to be a lock. If Trayanum is considered in the class and another spot is available outside of the five-star backs, Ohio State has a few options.
Jalen Berger visited Ohio State in April and is rated as the No. 9 running back in the country. Lawrance Toafili, the No. 14 running back, was at Ohio State's spring game in April. And two running backs making visits in June – Blake Corum last weekend and Sam Adams this weekend – are both talented running backs looking at the Buckeyes.
George Rooks visits Ohio State
New Jersey defensive tackle George Rooks was in Columbus for an unofficial visit earlier this week. It was his second visit to Ohio State, and during his visit, he was watching the defensive line work through drills outside of the Ohio State 7-on-7 camp.
"I wanted to see the defensive line in action, and they didn't disappoint," Rooks told Eleven Warriors on Monday night. "They work really hard and go 100 percent on every drill."
Rooks was initially recruited by Jeff Hafley, who has ties to New Jersey, but now, the tackle has taken a liking to defensive line coach Larry Johnson and defensive graduate assistant Kenny Anunike.
Had a great visit at Ohio State yesterday. Thanks to all the coaching staff for giving my family and I a great time. @R2X_Rushmen1 @CoachJeffHafley @TaylorRLehman #GoBucks #Buckeyes

— George Rooks (@georgerooks55) June 18, 2019
Following the defensive line work Monday and a workout of his own, Rooks was doing some walk-throughs with Johnson and Anunike to coordinate his hands and feet off the line. Rooks told Eleven Warriors after receiving his offer in March that his hands were his strength, but he believes he's grown to be stronger in that area and other areas too.
"I believe I have gotten better with my hands and feet, and I think I have gotten even better when I worked out with Coach Johnson and Coach Kenny today."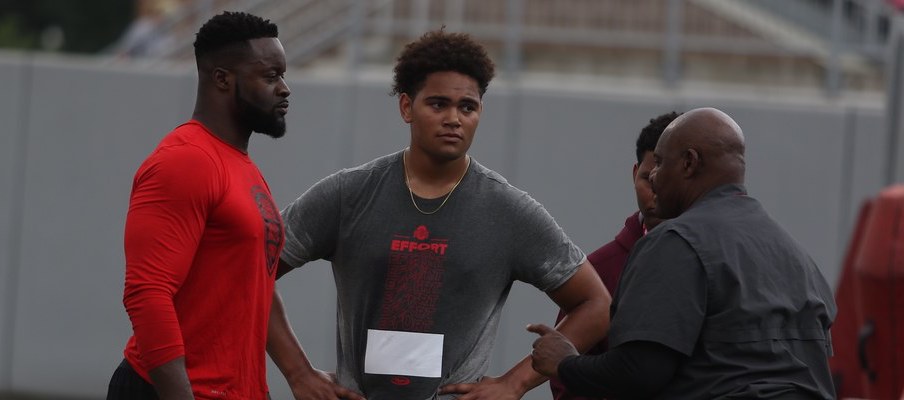 Rooks is a sought-after defensive tackle in the 2021 class. He has offers from Notre Dame, Alabama, Michigan, Auburn and others and has visited Notre Dame, Michigan, Boston College and Louisville this summer.
His visits to Ohio State have left a mark on him though.
"The visit was great. I love the "get better" atmosphere at Ohio State," Rooks said. "This mindset also translated to the field, when Coach Johnson started to teach me a few things to perfect my craft."
Gunnar Hoak throws before 7-on-7 camp
Transfer quarterback Gunnar Hoak was seen throwing to a few wideouts before Ohio State's 7-on-7 camp Monday. Austin Mack, C.J. Saunders and Elijah Gardner were all running short timing routes at the Woody Hayes Athletic Center, clearly trying to work on timing before summer kicks in gear.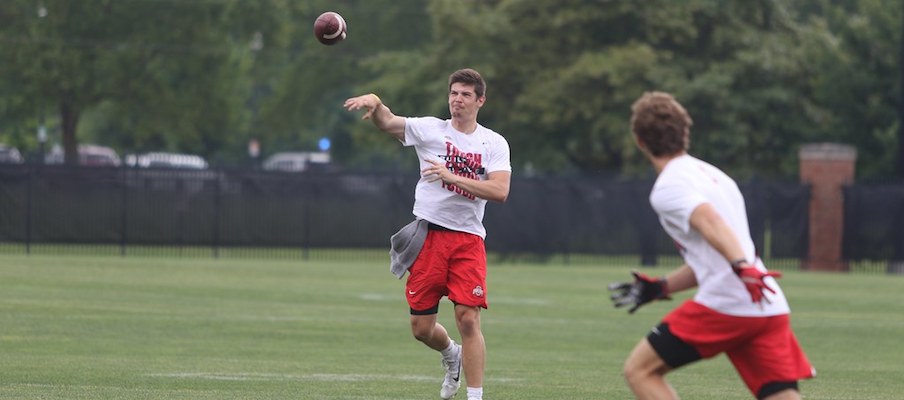 Without manically providing analysis on how he looked, Hoak made the simple throws look simple, and they all seemed to enjoy each other's presence.
The handful of Buckeyes were on the field for just a few minutes following a workout and then left the field as the 7-on-7 camp needed the grass field they were practicing on.
Hunter Washington to visit Ohio State this weekend
Texas cornerback told Eleven Warriors of his scheduled June 21 visit to Ohio State in May, and he confirmed it on Twitter on Monday afternoon.
The Katy High School standout is rated as the No. 17 cornerback by 247Sports, but his tape suggests that rating might raise as time goes by.
"I haven't visited the campus yet, so I really don't have much to say," Washington told Eleven Warriors. "I will on the 21st, but as of right now, I really like the defense and the cornerbacks that they put in pros. I don't really have any schools that stand out to me, but I am very excited about Ohio State."
That's a common attraction for cornerbacks looking at Ohio State, the resume of cornerbacks they've put into the NFL, and with Jeff Hafley having NFL coaching experience, many of the top cornerbacks are looking at Ohio State.
Washington has mostly be in contact with Hafley and linebackers coach Al Washington.
At this point, Washington has offers from Auburn,Virginia Tech, Houston, and Mississippi State, which he received Tuesday.
Lejond Cavazos could be key to big recruiting weekend
Ohio State commit Lejond Cavazos told Eleven Warriors on Sunday that he will be in Columbus this weekend for what is set up to be one of the biggest recruiting weekends in the country.
While other Ohio State commits – Gee Scott Jr., Jaxon Smith-Njigba, Julian Fleming, etc. – will be in town for the weekend too, Cavazos' visit is a significant note because he has been one of the strongest prospect-recruiters in this class since he re-committed. He developed a close relationship with Julian Fleming and has been going hard for Elias Ricks, who looks to be sticking with LSU. When asked whether he would be helping in recruiting for the Buckeyes, he replied, "Every chance I get."
With recruits like Lathan Ransom, Kourt Williams, Makari Paige, Cam Martinez and Kedrick Bingley-Jones set to be in Columbus at the same barbecue event, having Cavazos near and around some top 2020 targets could pay off for the Buckeyes.
Where Rivals rated OSU targets in latest Rivals100
Rivals released its newest Rivals100 for the 2021 class Tuesday afternoon, and the only two recruits in the top-10 that are committed – Jack Sawyer and Kyle McCord – are pledged to the Buckeyes.
Sawyer came in at No. 3, which is actually a spot below his 247Sports rating, but McCord came in at a surprising No. 9. The Philadelphia quarterback was rated as the No. 2 quarterback behind overall No. 1 Brock Vandagriff, after having been rated as the No. 8 quarterback by 247Sports. He is also two spots ahead of Michigan quarterback commit J.J. McCarthy.
Rating 2021 recruits at this point is a bit superfluous and really doesn't mean much, especially when prospects like Joe Royer can bump more than 500 spots for receiving an Ohio State offer heading into the final summer of the cycle. But when it comes to understanding how good some of the players receiving offers are, ratings can be helpful.
For example, differentiating whether Pickerington Central wideout Lorenzo Styles is on the national radar or if Ohio State's interest in him has piqued local fans' interest is clarified by his No. 5 wide receiver and No. 25 overall ratings. Yes, he is on the national radar.
I addressed some of the more well-known 2021 recruits in the individual post on the site earlier today, but there are some names that have been mentioned in The Hurry Up that were not mentioned before.
To compare to 247Sports' rating of these players, click here.
First, the well-known ones include:
Emeka Egbuka (No. 8)
Beaux Collins (No. 12)
Tony Grimes (No. 22)
Ryan Linthicum (No. 42)
Evan Pryor (No. 51)
Gavin Blackwell (No. 63)
Najee Story (No. 67)
Marvin Harrison Jr. (No. 68)
Donovan Edwards (No. 85)
Jahzion Harris (No. 87)
Ben Christman (No. 91)
Latrell Neville (No. 96)
And the lesser-known prospects:
Korey Foreman (No. 4)
James Williams (No. 12)
Monkell Goodwine (No. 24)
Damon Payne (No. 26)
Nolan Rucci (No. 28)
Micah Morris (No. 33)
Raesjon Davis (No. 35)
Donovan Jackson (No. 40)
Cody Brown (No. 53)
Jakailin Johnson (No. 54)
Will Shipley (No. 57)
Maason Smith (No. 66)
Greg Penn (No. 69)
Tunmise Adeleye (No. 71)
Rocco Spindler (No. 77)
Schadrack Banks (No. 80)
Jonathan Flowe (No. 82)
Kingsley Suamataia (No. 89)