The Hurry Up is your nightly dose of updates from the Ohio State football recruiting trail, keeping tabs on the latest from commits and targets from around the country.
Lathan Ransom to Commit July 16
Four-star Arizona safety Lathan Ransom is planning to announce his commitment on July 16 – the same day he turns 17. The Ohio State target wanted to focus on The Opening Finals before he sat down with his family to compare Notre Dame, Texas and Ohio State and decide which school he'd like to play for.
"They don't really have a preference, don't really care how far from home it is," Ransom said about his parents. "They just said to make the best decision for myself."
Ransom ended his official visits schedule with a visit to Ohio State on June 21 during Buckeye Bash & Barbecue, one week after his Salpointe Catholic teammate five-star running back Bijan Robinson was in Columbus for his official visit.
As was reported earlier in May, the two Arizona prospects planned their official visits to be separate to have their "own experiences." But Ransom said throughout the recruiting process, he and Robinson have been giving each other tip son how each program works.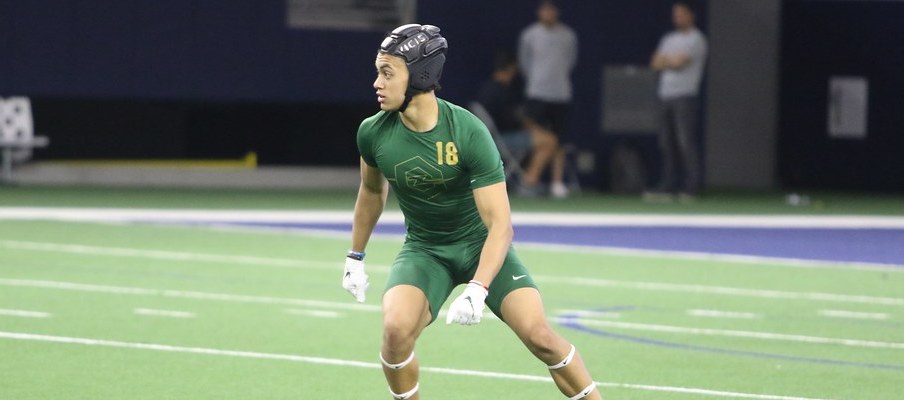 "We're not going to change one of our decisions to play with each other, but we've been playing since we were younger, and we've watched each other grow up," Ransom said. "We tell each other the good things and the bad things because we look out for each other. We're brothers."
Both Ransom and Robinson had positive experiences on their visits to Ohio State, and the buzz around the two prospects continues to suggest their leaders are Ohio State.
The Opening Finals showcase was an opportunity for Ohio State 2020 commits to further the relationship they had been growing since the weekend before. Clark Phillips warmed up with Nathan Ransom before the first day of the showcase, and Lejond Cavazos made his way over to talk to both Ransom and LSU commit Elias Ricks.
Ransom was one of the stars of the 7-on-7 tournament, as he picked off opposing quarterbacks with two impressive interceptions and was the leader of his defense. Ransom also played on the same team as Ohio State commit Jaxon Smith-Njigba.
Lathan Ransom is a true ball hawk. This is his second interception in 7-on-7 play. Its a good one. pic.twitter.com/YgMPqIdvTz

— Taylor Lehman (@TaylorRLehman) July 3, 2019
Ransom went through each school and gave his opinion and status of his relationship with them as well.
Ohio State: "I've built a really great relationship with Coach Hafley. He just came in from the NFL, so I think he really knows what the NFL is looking for. I think he would develop me in ways that some places couldn't."
Texas: "Texas is one of the schools known as DBU. They're putting out some great DBs. Their defense is ran around DBs. And Austin is a  great place. I really liked it when I was out there."
Notre Dame: "Notre Dame is just so historic. My relationship with Coach (Clark) Lea and Coach (Terry) Joseph are some of the best relationships I have with any of the other coaching staffs. I really like the dudes there. They're really goal-oriented and see school the way I see it."
Ohio State's Recent Commitment Burst
The Buckeyes have landed four commitments in the last three days in Joe Royer, Mitchell Melton, Cam Martinez and Josh Fryar, which pulled Ohio State within nine points of LSU for the third-best 2020 class in the nation.
While this short burst of commitments might be over, or likely over, it is far from the end of the July commitments that Ohio State will receive.
Targets that are leaning Ohio State or could potentially commit to Ohio State, like Lathan Ransom, Jacolbe Cowan, Kourt Williams, Kedrick Bingley-Jones, Mookie Cooper and five-star running backs Kendall Milton and Bijan Robinson. There are also other possibilities, like Cam Large, Makari Paige, Elias Ricks or even five-star defensive end Desmond Evans if the Buckeyes want to land an edge rusher in the class.
Even though the last four commitments are three-stars, they can still make an impact within the class.
Martinez should be a four-star prospect, and he is rated four stars by 247Sports, but he can play  at essentially any skilled position on the field but will likely get work at wide receiver and safety before finding his spot. He will likely end up at safety, and he told Eleven Warriors in March that that's where he would prefer to be anyway.
The Muskegon quarterback has a very high football IQ, so his learning curve shouldn't be too steep at either position, and he is good enough to contribute immediately on special teams. His first impression when he hits campus will determine whether he redshirts.
Melton is an interesting case because he has the tools to play linebacker but the body to get in work at defensive end if the staff so chooses. At 235 pounds, he can add weight and move down to be what would likely result in the class' best edge rusher if the Buckeyes don't add another end, or he could maintain or cut weight to remain at linebacker. In either case, he will be effective because of his ability to read an offense and his lateral movement and good hands.
Royer can be molded into basically any role that Kevin Wilson and Ryan Day see fit. He has flashed tools at the high school level that could translate in Columbus, like strong hands and good body control as well as a willingness to block. He probably won't force any double-takes, but he will be useful in the offense at some point.
Fryar is a really strong run blocker, and his weight distribution lends well toward being a solid interior lineman. He will definitely need to improve in pass blocking, but even under the cloud of the reactions to the several offensive linemen Ohio State has brought in in the class, Fryar would have been a take for Ohio State, despite being rated outside of the top-400.
All of the four commitments, minus Melton, were in town for the June 21 barbecue, where Cody Simon told Eleven Warriors Ryan Day said he was hoping to bring in not only good football players but good people. These additions are more than the recruits' abilities on the field – even though the are respectable too – but they're about how they contribute to the Ryan Day culture as he begins his tenure as head coach.
Korey Foreman Shines at The Opening Finals
Five-star California defensive end Korey Foreman was one of the biggest standouts of the week at The Opening Finals, as he threw around offensive linemen as if they weren't some of the best in the country. On top of that, he's also in the Class of 2021.
Because of his efforts, he was awarded the defensive line MVP award.
"They showed some love for it," Foreman said about the coaching staff at the event. "They said I worked for it."
Korey Foreman is only a junior. He'll end up the best DE in the country in 2021 class @koreyforeman54 @Cen10Football pic.twitter.com/or2pTMLWvB

— Football Recruit. (@FootballRecruit) July 2, 2019
Ohio State defensive end Chase Young was part of that coaching staff, and he coached Foreman and the other defensive linemen in one-on-one scenarios as part of only a couple collegiate defensive linemen at The Opening.
"He's a monster," Foreman told Eleven Warriors. "He has talked to me a lot. He's really a mentor I look up to. I like the way he plays. Talking to him is special and then also with Paris. They're all trying to get me to commit to Ohio State."
But Foreman isn't anywhere near ready to commit yet. The Buckeyes are simply planting the seed in his head.
It will need to take quite a bit to make a school stand out to Foreman, though. He's already reeled in at least 24 offers from programs like Oregon, USC, Alabama and others. Ohio State is part of that group as well.
To this point, no schools are standing out to him, but he's already one of the most coveted prospects in his class. Soon, schools will be rolling out red carpets for him. Fortunately for Ohio State, they've already locked in the commitment of 2021 defensive end Jack Sawyer, so missing out on Foreman wouldn't hurt the Buckeyes.