Even Urban Meyer couldn't coach speed, so he recruited it – lots of it.
At Florida, he coached Chris Rainey and Louis Murphy, and he recruited Jeff Demps and Percy Harvin to join the Gators. Once he arrived in Columbus, he wasted no time increasing the speed on the team's collective treadmill, adding Dontre Wilson, James Clark and Curtis Samuel to the mix.
One season into his Ohio State stint, he said the team wasn't "Alabama fast." By the spring of 2014, Meyer began to see the results of his emphasis on speed coming to fruition in Columbus.
"We're getting close," Meyer said at the time. "We need a couple more. But from where it was two years ago to where it is now is much different."
Meyer enamored speed, and he built an offense to best utilize those who won with their legs. Sure, he had some exceptions; Michael Thomas and Noah Brown, among them. But you could always count on a couple typically undersized players – often H-backs – who had the ability to break a long gain out of seemingly nowhere and stretch the defense as much horizontally as vertically.
He designed an offense that enabled his fastest, most elusive players to get the ball in space, and it undeniably worked. Ohio State ranked in the top 11 in yards per play in four of Meyer's seven seasons, and it finished in the top 13 in points per game in five of those seasons. His teams lost just nine games in seven seasons.
In recent years, though, the Buckeyes began to target a different type of offensive threat. No longer did they seem to prioritize speed over everything else, based on who they targeted on the recruiting trail.
Terry McLaurin, Johnnie Dixon and Parris Campbell left for the NFL after the 2018 season, and they took their 40-yard dash times of 4.41 seconds or less with them. On each of their pre-draft scouting reports on NFL.com, speed was among the first two attributes listed on the section running down their strengths.
With that trio gone, it's much more difficult to find playmakers who win primarily with their speed on the roster, and that's an intentional progression. The Buckeyes have tended to recruit receivers with size and ready-made football skills the past few years, and since Day arrived, the offense has changed to take advantage of those characteristics.
Austin Mack wins with his polish, and Binjimen Victor's standout trait is his 6-foot-4, 205-pound frame. Chris Olave ran a 10.8-second 100-meter dash in high school, but he's also a smooth route-runner.
Garrett Wilson, a five-star 2019 signee, became the second-ranked wideout in his class due to his uncommonly college-ready receiver skills.
"His skill set is off the charts," Day said in December. "His ball skills, adjusting to the balls down the field, route running ability, length, as good as I've been around."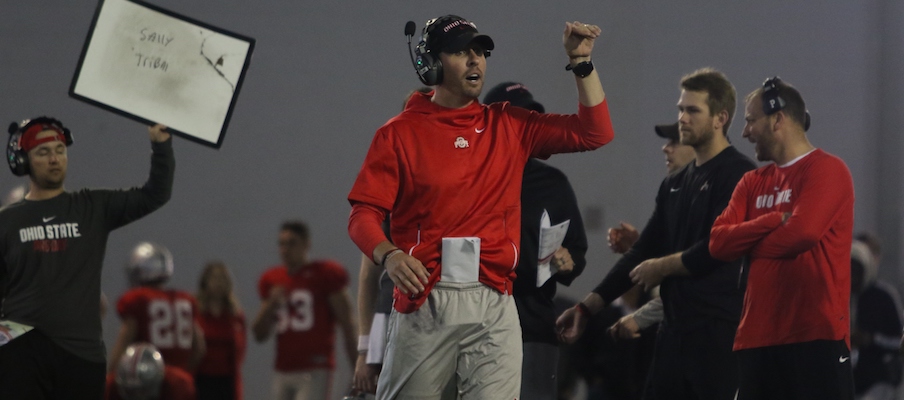 The much-hyped trio of 2020 receiver commits – five-star Julian Fleming and four-stars Gee Scott Jr. and Jaxon Smith-Njigba – each ran 40-yard dash times of 4.60 seconds or slower, per 247Sports. Speed doesn't define them; they're top-100 overall prospects for other reasons.
K.J. Hill returns as the team-leading receiver, and he'll likely become the program's all-time leader in catches at some point this fall. But he's not a former track star. His hands of glue and route-running stand out over his speed.
"To me, he's not going to be a Parris Campbell burner, but there's a lot of things he does that Parris maybe didn't do," Brian Hartline said this spring.
Hill, at H-back, plays the position once filled by Harvin in Meyer's offense. The newly retired coach preferred a speedy, shifty, often undersized game-breaking playmaker, and that certainly doesn't define Hill.
Hartline said what was once an H-back that added value in the running game, getting involved with jet sweeps and motioning into the backfield, has become more of a slot receiver. But Day doesn't even get caught up in viewing the slot as a wideout.
"That position, that H position can take on a lot of different roles," Day said. "It can be a third receiver. It could be a second running back or it could be a second tight end based on the body type. We kind of have all those. We have Jeremy (Ruckert). We have Rashod (Berry). We have Demario McCall. We have K.J., obviously. We have C.J. (Saunders), Jaelen Gill. All those guys are kind of different body types in the same role. And then having the ability to bring them into the backfield, bring them in as attached, bring them in motion, keep them split out, those type of things. Just so that defenses can't get a beat on you."
The Buckeyes aren't totally without players who win with speed over anything else.
McCall has a chance to become the backup running back and factor into the H-back picture. And Gill, who redshirted as a true freshman, will add some horizontal playmaking potential to the equation, along with a sub-4.50 40-yard dash time.
"If he gets the ball in his hands, he has a shiftiness to him that he can move side-to-side real well, make people miss," C.J. Saunders said of Gill.
Plus, Ohio State added incoming freshman Jameson Williams to the roster this summer, and he might immediately become the fastest player in the receiver room.
"Jameson Williams is a deep threat who has legitimate track speed," Day said on December. "He can really go."
Speed still wins games in college football, and it always will. There's a reason why players who run fast 40-yard dash times rise so quickly at the NFL combine.
But as Ohio State's offense has evolved, it has continued to target skilled receivers over pure athletes, and that trend doesn't appear likely to change any time soon.