Ohio State's recruiting class of 2018 arrived in Columbus with huge expectations.
The highest-rated class in Ohio State history, the class of 2018 included three five-star prospects and 20 four-star prospects, with potential impact players at virtually every single position on the field.
Despite all those stars, the class of 2018 didn't see a lot of playing time in its first year. No true freshman reached 200 snaps on offense or defense last season, and only three true freshmen – defensive end Tyreke Smith, wide receiver Chris Olave and tight end Jeremy Ruckert – played more than 100 snaps in 2018.
The freshman class had its moments. Olave emerged as a playmaker for the Buckeyes' offense down the stretch of the season, catching two touchdowns against Michigan and another touchdown in the Big Ten Championship Game one week later. He also blocked a punt against Michigan, which fellow true freshman Sevyn Banks returned for a touchdown. Ruckert, linebackers Dallas Gant and Teradja Mitchell and safety Josh Proctor were also among the true freshmen who emerged as immediate contributors on special teams.
No member of Ohio State's class of 2018, however, consistently made a substantial impact for the Buckeyes last season.
If Ohio State is going to emerge as a championship contender this season, new head coach Ryan Day says that has to change.
"They have to play," Day said. "If we're going to be good, those guys all have to step up and either become starters or be in the two-deep. If they're not, then there's something not right."
"Not everybody develops at the same pace, but you need to start feeling that class," Day continued. "If we're going to make a push at this thing, that class has to step up."
Second-year Buckeyes who could be thrust into key roles this season include Olave, who should become one of the top receivers in the rotation this year; Nicholas Petit-Frere, who is a candidate to potentially start at right tackle; and Smith, who is expected to become a regular in the defensive end rotation and one of the Buckeyes' top pass-rushers this year.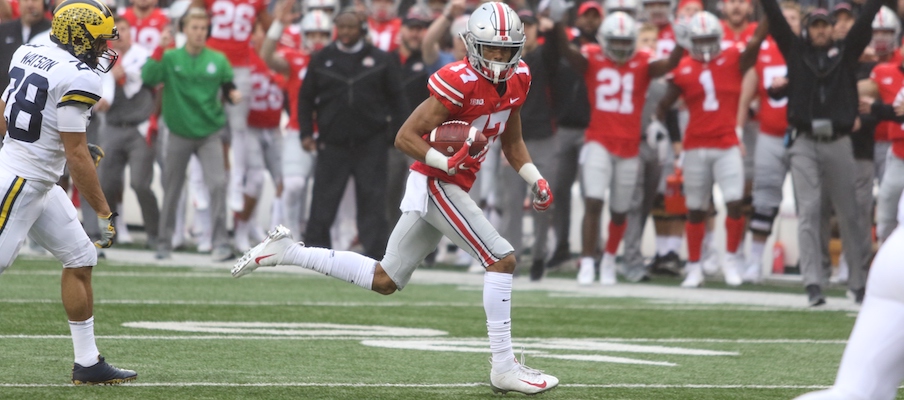 Master Teague is a leading candidate to replace Mike Weber in the running back rotation and become J.K. Dobbins' primary backup. Jaelen Gill has the potential to emerge as an impact player at the H-back spot. Ruckert could give the Buckeyes more playmaking ability in the passing game from the tight end spot. Matthew Jones and Max Wray aren't in line to start on the offensive line, but they are needed for depth on a unit that is currently thinner than ideal.
A multitude of second-year defensive linemen are expected to have roles in the rotation this year; Tyler Friday should also see playing time at defensive end, Taron Vincent will be among those replacing Dre'Mont Jones at defensive tackle and Tommy Togiai could be in line for an uptick in snaps at nose tackle. Javontae Jean-Baptiste and Alex Williams are also pushing for playing time at defensive end, and their continued development could determine how deep Larry Johnson's rotation at the position is this year.
Mitchell, Gant and K'Vaughan Pope are all competing for playing time at linebacker, where the Buckeyes have three returning starters but also have reason to mix things up this year after struggles throughout last season.
Proctor remains a candidate to start at safety, or at least to see semi-regular playing time at the position after an excellent spring in which Day named him as one of the team's most improved players.
"He's got his hands on a lot of footballs," Day said. "He's done a good job when his eyes are in the right place and he's disciplined on each play. He is showing up."
Banks, Tyreke Johnson and Cameron Brown are competing for spots on the two-deep at cornerback and are important to the Buckeyes' depth at that position.
Three members of Ohio State's class of 2018 are no longer with the program: quarterback Matthew Baldwin, running back Brian Snead and wide receiver L'Christian "Blue" Smith. Wide receiver Kamryn Babb is in jeopardy of missing his second consecutive season to start his career after re-injuring his knee this spring.
Outside of them, though, every other member of last year's recruiting class will be expected to contribute to the Buckeyes in one way or another this season.
"They're not freshmen anymore," Day said. "It's time to go."
"If we're going to make a push at this thing, that class has to step up."– Ryan Day on Ohio State's second-year players
Of course, the second-year collegiate player who is expected to play the biggest role for the Buckeyes this season is quarterback Justin Fields, who actually propelled Georgia ahead of Ohio State for the top spot in the team rankings for the recruiting class of 2018, but is now in Columbus after one year with the Bulldogs.
As the expected successor to Dwayne Haskins as Ohio State's starting quarterback this year, Fields' development could be the most crucial of any player on the roster to the Buckeyes' success in 2019.
Ohio State needs players from its own recruiting class of 2018 to emerge as impact players too, though, in order to make up for the losses of last season's seniors and other early NFL draft entrants.
When the Buckeyes have had championship-caliber teams in the past, their second-year players have made a big impact. Most famously, the Buckeyes' 1968 national championship team was led by its "Super Sophomores," including Rex Kern, Jack Tatum, Jim Stillwagon and several other second-year players who took on big roles.
More recently, the Buckeyes' 2014 national championship team was propelled by a group of second-year impact players that included J.T. Barrett, Ezekiel Elliott, Joey Bosa, Billy Price, Jalin Marshall, Darron Lee, Vonn Bell, Eli Apple and Gareon Conley.
If the Buckeyes are going to make another championship run this year, they need a similar group of breakout stars to emerge from their class of 2018.