In the farthest part of the northeast corner of the practice field at the Woody Hayes Athletic Center, Robert Landers sat on the exercise bike. He seemingly couldn't put pressure on his right leg, so he pedaled with only his left leg and used a crutch to walk around.
Alex Williams and Taron Vincent, each with undisclosed minor injuries, had their heads down as they pulled weight plates attached to them with elastic bands down the sidelines, then pulled them right back to where they started. Demario McCall stretched with the team, but eventually headed to the corner with the injured players and the training staff, and Jerron Cage and Master Teague eventually joined them.
Matthew Baldwin, more than 14 months removed from his torn ACL that he suffered in December 2017 in the high school football playoffs, no longer has to be in "the pit," the area designated for injured players to rehab during practice, and he's far from disappointed.
"It's generally not a very happy place," Baldwin said on Friday.
Consider Baldwin to be in a happy place this spring.
His leg no longer hurts, and instead of the trainers tending to him every practice, he's spending all of his time with quarterbacks coach Mike Yurcich.
What doesn't hurt, either, is that he's now competing to be Ohio State's starting quarterback.
"Now Tate leaves and Justin comes, so I guess he's kind of chasing me or we're kind of fighting each other. So it is different, but I think I have the same motivation."– Matthew Baldwin on the quarterback situation
On Wednesday, Day declared Baldwin would be engaged in a "battle" with Georgia transfer and former five-star quarterback Justin Fields to start. He watched a similar competition from the pit as an early enrollee last season, unable to thrust himself into the mix due to his injury.
"We had a QB battle last year with Dwayne, Joe (Burrow) and Tate (Martell), really Dwayne and Joe," Baldwin said. "So it's a different thing. Those were more veteran guys. We've got a younger group now. I'm technically the most veteran guy, or at least I've been here the longest. I know Chris (Chugunov) is older. It's a different dynamic for us (than) last year."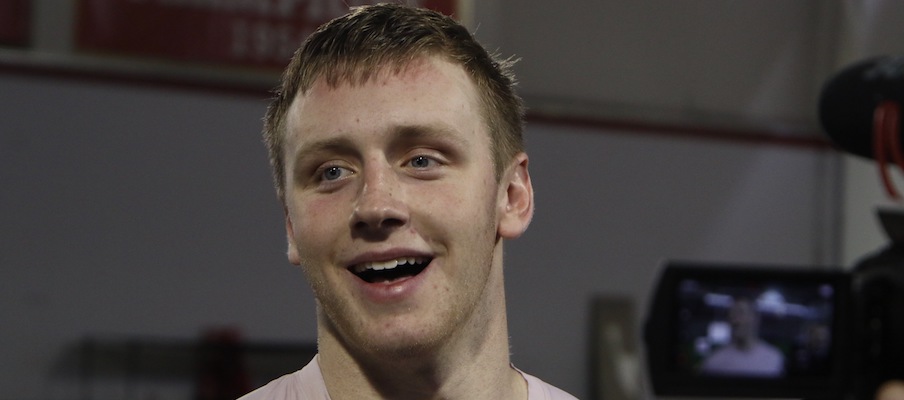 All three quarterbacks Baldwin watched compete while rehabbing have left Ohio State. Haskins headed to the NFL after a dominant 2018 season. Burrow transferred to LSU after not winning the starting spot last spring. Martell headed to Miami after Fields announced his transfer to Ohio State.
Now, the quarterback room has two players – Fields and Baldwin – battling for the job, and neither has taken a snap for the Buckeyes.
Many people believe Fields chose Ohio State because he believes he will start. In the first two spring practices, Fields and Baldwin have split snaps, but Fields has taken the first reps in every drill.
To Baldwin, that doesn't mean anything, though. He doesn't think he's chasing Fields.
"I don't think so, no," Baldwin said. "I mean, we started off equal."
Equal for now. At some point, either Baldwin or Fields will pull away.
Day and Mike Yurcich surely don't want the quarterback competition to last until the fall, but neither have placed any timeline on it, and both Fields and Baldwin deferred to the coaches when asked about when it might end on Friday. It doesn't seem to be concluding any time soon.
Baldwin has shown extreme patience in the past.
At Lake Travis High School in Texas, he didn't start until his senior year after sitting behind eventual Baylor quarterback Charlie Brewer for multiple seasons. Baldwin surely could've started at other schools, but he stuck it out and ended up at one of the top college programs in the country.
At the moment, Baldwin isn't worried about waiting. He did enough of that last year, standing on the sideline for every game despite being cleared to play by the fourth game of the season. Instead of playing, he rehabbed to where he is now – "pretty much 100 percent" – and set his sights on the 2019 season.
Baldwin wants to start "as soon as possible," for he has big dreams.
"I'd like to make a name for yourself as a college (quarterback)," Baldwin said. "Baker Mayfield, he started (for three years) at Oklahoma. He's a legend there."
Baldwin wants to be a legend, too. He referenced Haskins' single season as a starter, noting the success of the soon-to-be NFL draft pick's year, but hypothesized about what Haskins would be remembered as if he had an even longer Ohio State career.
If Baldwin doesn't start and has to sit behind Fields, he wouldn't be able to start for the Buckeyes until he is either a redshirt junior or redshirt senior. That would certainly require patience, and Baldwin had clearly given that possibility some thought.
"Mitch Trubisky is a great example," Baldwin said. "He only started one year, right, and he was, what, a top-three pick. I think patience is a very valuable thing. If you're in the right place, I think you can get to where you want to be from anywhere."
Though Baldwin admitted he has a tendency to overthink things, he doesn't need to worry about that possibility right now. He never intended to do anything in his second year at Ohio State other than compete for a starting spot.
Even back when Baldwin committed to Ohio State, he thought he'd be battling for a starting spot in his second year in college.
But a couple months ago, he thought it would come down to him and Martell.
"I think I was kind of chasing Tate," Baldwin said. "I think that was kind of my position, so I had a fire under me."
Out went Martell. In came Fields.
"Now Tate leaves and Justin comes, so I guess he's kind of chasing me or we're kind of fighting each other," Baldwin said. "So it is different, but I think I have the same motivation."