In his first official month as Ohio State's head coach, Ryan Day sent a clear message: He wasn't simply going to be satisfied with the status quo.
As I wrote about at the beginning of January, Day's first month as the leader of the program would be defined by two things: how he managed his coaching staff, and how he managed his roster.
He made significant moves in both areas that should make a big impact on the Buckeyes for the 2019 season and beyond.
On the coaching staff front, Day did exactly what many Ohio State fans thought he should do, replacing nearly the entire defensive coaching staff. With the exception of defensive line coach Larry Johnson, the rest of Ohio State's defensive coaching staff for the 2019 season is brand new.
Greg Mattison and Jeff Hafley were hired as co-defensive coordinators, with Hafley also taking over as secondary coach. Matt Barnes was as hired special teams coordinator and assistant secondary coach, while Al Washington was added as linebackers coach. Former defensive coordinator Greg Schiano, co-defensive coordinator Alex Grinch, linebackers coach Bill Davis and cornerbacks coach Taver Johnson are all gone.
Whether those coaches will ultimately be an upgrade, and what changes they will make to Ohio State's defense, remains to be seen. But coming off a 2018 season in which Ohio State gave up more points per game (25.5) and yards per game (403.4) than any previous season in school history, Day made a necessary early statement: that level of defensive performance was unacceptable, so it was time to shake things up.
"The number one thing in our plan to win is to play great defense," Day said after being named Ohio State's new head coach in December. "It's really, really important for us. It's the tip of the spear of the whole team, that and special teams, and so I think anybody in the program will tell you that that's the most important part of what we do in the plan to win is to play great defense. That's the expectations here, and that's not going to change."
While the new coaching staff – outside of Johnson, who remains one of the best defensive line coaches in college football – is unproven, there's reason to be optimistic that they can turn the Buckeyes' defense around. They bring an intriguing combination of attributes; Mattison has more than four decades of coaching experience, while Hafley, Washington and Barnes are all viewed as rising stars in the industry.
The only new coach on the offensive side of the ball also brings promising credentials to Ohio State; Mike Yurcich, who takes over Day's previous roles as passing game coordinator and quarterbacks coach, led four straight offenses that were ranked in the top-10 nationally in passing yards in his final four seasons as Oklahoma State's offensive coordinator.
On the recruiting side of things, meanwhile, Day landed perhaps the coveted transfer in all of college football this year when Georgia quarterback Justin Fields, the No. 2 overall recruit in the high school class of 2018, announced on Jan. 4 – just two days after Day officially became head coach – that he would take his talents to Ohio State.
That addressed the most important piece of roster management that Day had to take care of in his first month on the job – lining up Dwayne Haskins' potential successor at quarterback – and he did so with the best possible solution, landing a quarterback who has as much upside as any quarterback in the nation.
Tate Martell left Ohio State for Miami in the aftermath of Fields' transfer, and Fields is still awaiting a decision from the NCAA on whether he will receive a legislative relief waiver for immediate eligibility this season, so there are still questions that remain about the Buckeyes' quarterback situation for 2019. But Fields has the tools to be one of the best quarterbacks in all of college football if he is granted eligibility (which is still viewed as likely), and he should be a perfect fit for the offense Day wants to run, offering more passing ability than Martell but also outstanding athleticism.
Not including Fields, Ohio State hasn't added any other commitments to its recruiting class of 2019 since the early signing period, but the Buckeyes also haven't suffered the mass exodus of talent that often comes after a head coaching change.
Outside of Martell, the only other transfers from the program in January were Brian Snead (who was suspended from the team last year and never reinstated) and Keandre Jones. The Buckeyes lost a few players to early NFL draft entry who likely would have declared even if Urban Meyer was returning, but convinced K.J. Hill, Jordan Fuller and Damon Arnette – who were all considered candidates to also enter the 2019 NFL draft – to stay for their senior seasons.
Altogether, Ohio State fans have reason to feel good about what Day has been able to accomplish so far.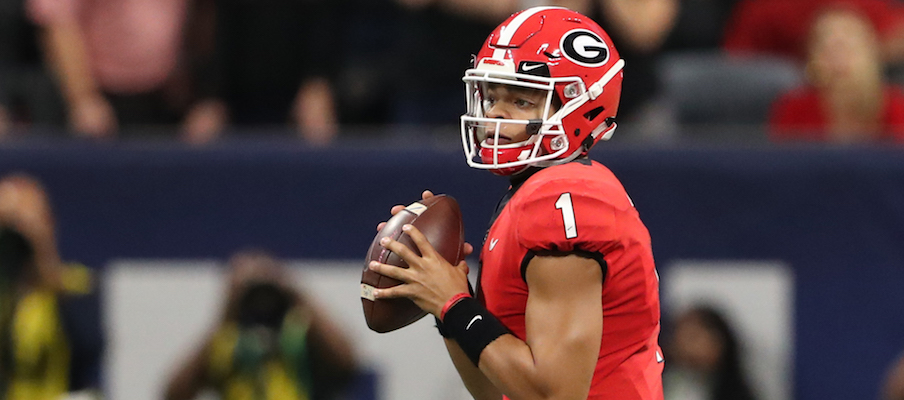 Day's work is only just beginning, of course, and February will be an important month, too – especially the first week, as Ohio State looks to finish its 2019 recruiting class strong during National Signing Day on Wednesday.
The Buckeyes won't be signing a large quantity of players on Wednesday, but they are still in the mix for three offensive linemen: Doug Nester, who has been committed to Ohio State since August 2017 but did not sign with the Buckeyes in December as originally planned, as well as Dawand Jones and Enokk Vimahi. It remains unclear what each of them will end up doing, but the Buckeyes are hoping to land at least one or two of them to address their lack of depth at the position.
Day and the Buckeyes could also look to make one or two more roster additions from the transfer market. The most likely addition appears to be Rutgers graduate transfer offensive lineman Jonah Jackson, who reportedly plans to visit Ohio State and is ranked by 247Sports as the No. 5 player on this year's transfer market, making him a candidate to come in and compete for a starting spot in 2019. There's also still the issue of quarterback depth – with only three scholarship quarterbacks on the roster in Fields, Matthew Baldwin and Chris Chugunov – making it likely the Buckeyes will look to bring in another transfer at that position, too.
The recruiting work never really stops for college football coaches, so Day and his assistant coaches have also been working toward building the Buckeyes' future by making offers and paying visits to prospects in the 2020 and 2021 classes, and they are expected to host a multitude of prospects in those classes this upcoming weekend. While the contact period for recruiting ends Saturday – meaning that coaches will no longer be out on the road making visits – their efforts to recruit players for future classes will continue from Columbus all year long.
Soon, though, it will be time for the Buckeyes' new-look coaching staff to prepare to get back on the field and start coaching football again. While spring practices don't begin until Day's third month on the job (March 4), February will be an important time for the coaches – now that they'll be back from their recruiting travels and all working together inside the Woody Hayes Athletic Center – to assemble their playbooks, take stock of their rosters and determine what they most need to accomplish in those spring practices.
From a news perspective, February will likely be a quieter month than January was now that the coaching staff is finalized and the roster is mostly set, too. But that doesn't mean it won't be an important month for the Buckeyes in their build-up for the 2019 season and beyond.