Replacing a trio of players like Parris Campbell, Terry McLaurin and Johnnie Dixon is never easy to do, especially when they all play the same position.
The three fifth-year senior wide receivers were the heart and soul of Ohio State's 2018 team, combining playmaking ability on the field with tremendous leadership off the field, and there's no question that the Buckeyes will miss having them around in 2019.
Even so, Ohio State looks like it will be in great shape at the wide receiver position once again.
Ohio State's receiving corps for next season got a huge boost on Tuesday when K.J. Hill, the Buckeyes' second-leading receiver this past season, announced that he would stay in school for his fifth-year senior season – the same decision that Campbell, Dixon and McLaurin made one year earlier – instead of declaring for the 2019 NFL draft.
Without Hill, the slot receiver/H-back position would have been a big question mark this offseason, as the Buckeyes would have lost both Hill and Campbell at that spot.
With Hill, though, the Buckeyes' receiving corps looks as though it should be deep and loaded with talent once again.
Hill makes a huge difference in that equation, even though he is just one player, because of the consistent presence he's been as a short-to-intermediate receiver in Ohio State's offense, specifically over the past two years. After leading the Buckeyes in receptions with 56 catches for 549 yards and three touchdowns in 2017, Hill caught 68 passes for 865 yards and six touchdowns in 2018.
Now, with a chance to rewrite Ohio State's record books – he needs just 50 catches next season to break David Boston's school record for career receptions (191) – Hill projects to be the Buckeyes' go-to target next season.
He's not the only returning receiver, though, who will bring experience to lead next season's group.
Like this past season, the Buckeyes return a trio of senior wide receivers to their rotation for 2019, with Austin Mack and Binjimen Victor also set to be seniors next year.
While they haven't been the consistent weapons that Hill has been, Mack and Victor have also been regulars in the rotation for the past two seasons, each showing flashes of big-play ability at the X receiver position. They're both big, athletic wideouts who can be tough downfield matchups, and if they can each take another step forward in their games in 2019, they could give Ohio State an outstanding duo at the position.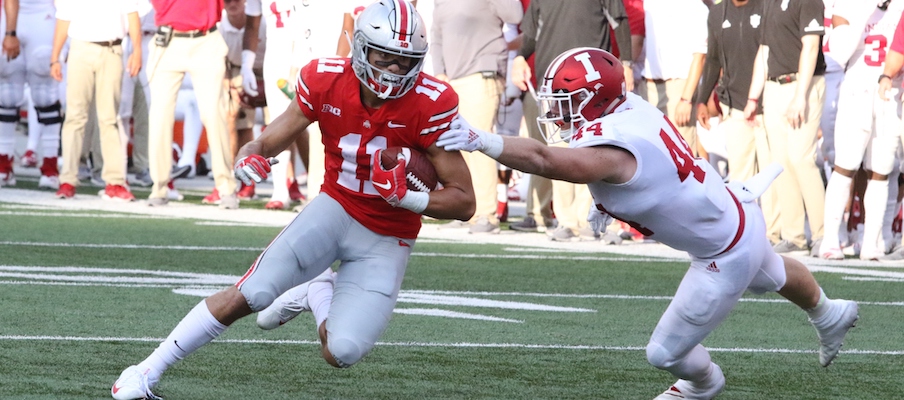 Although the Buckeyes lose their top two players at the Z receiver position from the past two seasons in McLaurin and Dixon, they already have an excellent candidate to become the new starter at that spot in Chris Olave. After joining the rotation when Mack went down with a season-ending foot injury and breaking out late in the season, catching three combined touchdown passes between the rivalry game against Michigan and the Big Ten Championship Game against Northwestern, Olave looks like a prime candidate to emerge as a star of Ohio State's offense as a true sophomore in 2019.
Another such candidate, and the receiver who might be most likely to ultimately end up rotating with Olave at the Z spot, is five-star true freshman Garrett Wilson. While Wilson has never played a collegiate snap, he's an elite talent who's already on campus as an early enrollee, and a receiver who has all the tools to be a game-changing playmaker for the Buckeyes.
It's uncertain who will end up rotating with Hill in the slot (assuming wide receivers coach Brian Hartline decides to continue with the six-man receiver rotation that Ohio State has used in recent years), but the Buckeyes have multiple promising candidates at that spot, as well.
C.J. Saunders has seen some playing time in the slot for the Buckeyes over the past two seasons, and is a shifty, sure-handed pass-catcher who will also bring experience to the group as a fifth-year senior. Jaelen Gill, meanwhile, is a dynamic athlete who could be more of a true hybrid back at the position; he only appeared in two games this past season, but arrived at Ohio State as a top-30 national recruit and is another strong candidate to explode onto the scene this season as a redshirt freshman.
Demario McCall could also be an option at H-back, having spent some time at that position during his Ohio State career, but he is expected to stay at running back – a position of greater need for the Buckeyes after Mike Weber's decision to leave for the NFL draft, with Brian Snead's future with the team still up in the air – as of now.
Altogether, a rotation of Mack and Victor at X receiver, Olave and Wilson at Z receiver and Hill with any of those three players in the slot gives the Buckeyes the potential to have one of the best receiving corps in the country once again next season. And those aren't even all the candidates to be playmakers for the Buckeyes at wide receiver in 2019.
Projected Wide Receiver Depth Chart

| X | Z | Slot |
| --- | --- | --- |
| AUSTIN MACK | CHRIS OLAVE | K.J. HILL |
| BINJIMEN VICTOR | GARRETT WILSON | C.J. SAUNDERS |
| JAYLEN HARRIS | KAMRYN BABB | JAELEN GILL |
| BLUE SMITH | ELLIJAH GARDINER | JAMESON WILLIAMS |
Jaylen Harris, a big target who was expected to earn more playing time this past season but ended up redshirting, is another talented wideout who should push for a spot in the rotation – though he's best suited for the X receiver position, where he could be stuck behind Mack and Victor.
Kamryn Babb is coming off torn ACLs in each of his knees in back-to-back years, so he has to get healthy before he can earn a spot in the rotation, but he arrived at Ohio State as the No. 73 overall recruit in the class of 2018 and has star potential if he can make a full recovery.
Third-year sophomore Ellijah Gardiner and second-year freshman L'Christian "Blue" Smith are tall receivers who could be ready to make a push for playing time in 2019 now that they have some more experience under their belts. And true freshman wide receiver Jameson Williams, a four-star talent from St. Louis, Missouri, is also skilled enough to potentially make a push for immediate playing time.
In total, that gives Ohio State 12 scholarship wide receivers who each have the potential to make an impact at the position in 2019, giving Hartline a plethora of options to work with.
We don't know yet whether Justin Fields, Tate Martell or Matthew Baldwin will be Ohio State's starting quarterback in 2019, but we do know that whoever wins that job should have no shortage of weapons who can help him make plays in the passing game, and give the Buckeyes the potential to have one of the nation's best passing offenses once again.