LOS ANGELES – Denzel Ward made the decision to sit out last year's Cotton Bowl.
He wanted to preserve his health, for an injury would have been the only deterrent from him becoming a first-round pick in the 2018 NFL Draft. His teammates supported him. His coaches supported him. His family supported him. The majority of the fan base supported him, though a certain sector did not like the decision. Everything worked out. The Buckeyes won and he became the No. 4 overall selection in the draft.
Months ago, Nick Bosa chose to rehabilitate his core muscle injury with a focus toward the NFL instead of attempting to return for the tail end of this season. Other than him, though, no Ohio State player is expected to skip the bowl game to avoid an injury.
Though Meyer said it's a "touchy situation," he said he supports the players, whether or not they decide to play in the bowl game.
"It's also the players that leave early for the NFL Draft, you know, you'd like to see everybody play, but I've been involved in those conversations and I certainly understand it," Meyer said. "Denzel Ward, who he's like a family member, Nick Bosa is certainly a family member. And then you've got Dre'Mont, Mike Weber and others that made the decision to play. I try to avoid that. I don't want to give my opinion because I don't want someone to say, 'Well, you told us to do this.' Same thing with leaving early. If you ask our opinion, then I try to talk to the general managers, etc., to try to make sure we give them good advice, not opinion. And the same thing with playing, I avoid that.
"If they ask me this, it's a family decision, we'll support you either way."
Only two players – Dre'Mont Jones and Mike Weber – have declared for the draft, but several others have decisions to make. Dwayne Haskins, K.J. Hill, Damon Arnette, Malik Harrison, Jordan Fuller, Michael Jordan and Kendall Sheffield, among others, could forgo eligibility to leave for the NFL.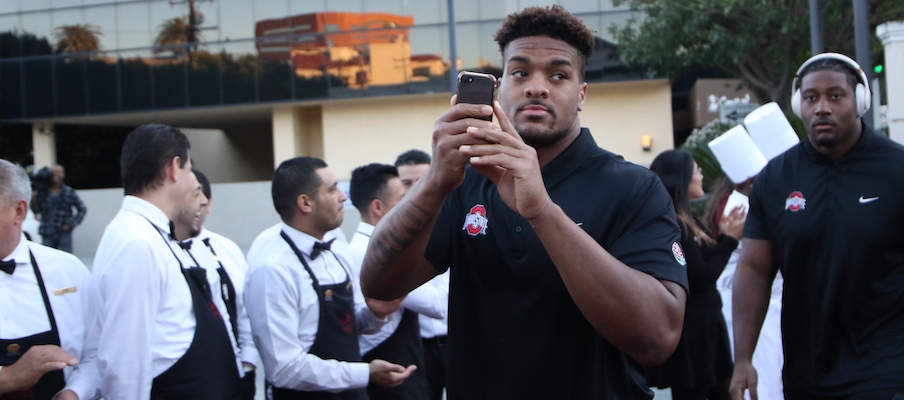 Jones said he fully understands why players sit out, though he intends to play the entire Rose Bowl game.
"I have my pros and my cons, of course, me not playing a high chance of getting hurt for the next level, but I thought to myself, I can't do what everybody else wants me to do," Jones said. "I know a lot of people in my family and corner didn't want me to play in this game. I feel like I'm a person who loves football and love playing the game, and love playing with this group of guys. I couldn't just let myself sit there and just watch. I wanted to play and finish what we started. We had a goal. I feel like if I was in the playoffs, I'd be playing, so why not play in the Rose Bowl?"
"Teaching the ropes"
When the clock runs out on Tuesday, Urban Meyer's tenure as Ohio State's head coach will be complete. In his place, Ryan Day will be promoted from quarterbacks coach and offensive coordinator.
Just days before it becomes official, Meyer said the transition "couldn't be better."
"Ryan's going to do exceptional," Meyer said. "He's an elite coach. And I think he's handled the transition – just ask our players. It's been awesome. And I can't wait to see what it does."
K.J. Hill said he has noticed Day soaking everything in from Meyer.
"You just see him kind of teaching him the ropes, almost," Hill said. "Coach Day walks around with him at practice. They're always talking. I feel like he's just showing him how it's going to be, what to do, everything like that. I feel like coach Meyer's doing a great job with that, too."
Haskins vs. Washington secondary
Washington's secondary might be the best in the country. Haskins might be the best quarterback in the country.
Not a bad matchup, eh?
The Huskies have allowed just seven passes of at least 30 yards this season, the fewest in the nation. They are the only team in the country to not have allowed a single pass for at least 40 yards. Ohio State has connected on 34 passes for at least 30 yards and 14 passes for at least 40 yards.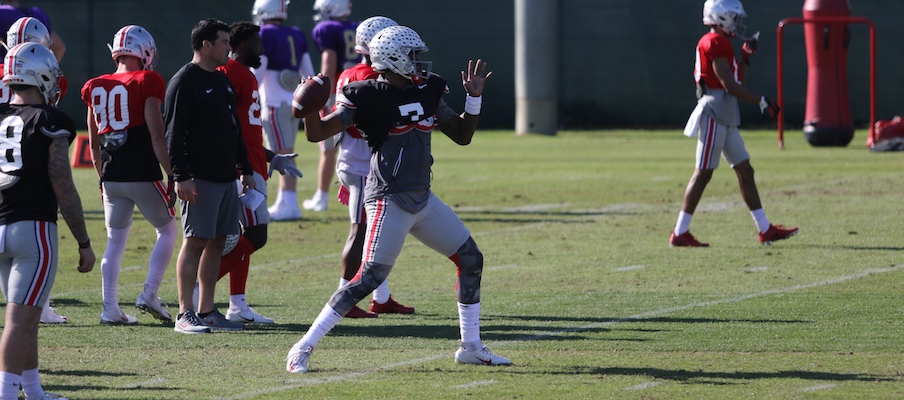 Haskins called Washington's secondary one of the five best in the country, though he's confident ahead of the matchup.
"Definitely see the All-Americans on the defense," Haskins said. "(Taylor) Rapp and (Byron) Murphy are really good players. You know, Michigan didn't really scare us and other teams didn't really scare us, so we're not worried about what the verdict is as far as who people think is the best defense in the country because we feel like we're the best offense in the country. Whoever we play, they are going to give their best shot. We know that, so we have to be ready to go play."
The Huskies play a zone defense that Haskins compared to Northwestern's. He said Washington's defensive talent reminds him of Michigan State and Michigan, two of the better defenses Ohio State faced.
Taking it out
It wasn't hard to see how Ohio State's players felt about being left out of the College Football Playoff while watching Alabama and Clemson cruise through their respective semifinal matchups to the national title.
Mike Weber, Dwayne Haskins, Tyreke Smith and Nick Bosa, among others, took to Twitter to express their displeasure in the performances of Notre Dame and Oklahoma.
The CFP would be a lot more interesting if us and Georgia was in

— Mike Weber (@mikeweberjr) December 30, 2018
Tough year for the committee...

— Nick Bosa (@nbsmallerbear) December 30, 2018
The committee has to be ashamed of themselves

— Tyreke Smith (@T_23_baller) December 30, 2018
 

— Dwayne Haskins, Jr (@dh_simba7) December 30, 2018
Haskins said he watched the first half of the Clemson-Notre Dame game and didn't watch much of the Alabama-Oklahoma game. He and his teammates are disappointed not to be playing in the playoff, though they'll do their best to make the committee wrong with a stellar performance in the Rose Bowl.
"I thought we should have been in it, but take it out on Washington," Haskins said.
Between Urban Meyer coaching his last game, Haskins likely playing in his final game and remnants of disappointment from not making the playoff field, there's a lot for Ohio State to show on Tuesday.
Trick play preparation
Meyer remembers exactly where he was when Chris Petersen dialed up the hook-and-ladder touchdown against Oklahoma in the 2007 Fiesta Bowl. He watched Jared Zabransky hit Drisan James, who then lateraled the ball to Jerard Rabb who raced for a 35-yard touchdown that tied the game at 35, sending it into overtime.
On Boise State's first possession of overtime, a wideout tossed a touchdown. Then, Petersen dialed up the "statue of liberty" play that ended with Ian Johnson running for a touchdown and proposing to his girlfriend, a cheerleader, on the sideline.
Meyer appreciated the plays, but he's not someone who often uses trick plays.
"Shelley punched me in the side and said, 'Why don't you be creative like Chris and run plays like that?' I still hold that against Chris," Meyer said.
Peterson, conversely, has a habit of calling trick plays.
So, someone asked Meyer how he prepares for tricks and asked Petersen whether he has any trickeration prepared for the Rose Bowl.
"I'll let Chris answer first because I want to hear this," Meyer said.
"No," Peterson said. "We don't."
No?
"That's all I got," Peterson said with a smile.
Washington has almost certainly worked on some trick plays, though it's yet to be seen whether Petersen will call any on Tuesday. Either way, Meyer said the Buckeyes have been preparing for what Peterson might call to try to surprise them.
"We've worked on quite a bit on special teams as well," Meyer said. "We've been good on kicking team. Whenever a team has three weeks to prepare, and it's an excellent coach and coaching staff and great players, you've got to work on it all. And we have. And I've been the thorn in the side of the defensive staff this week."