LOS ANGELES – Michigan State wasn't supposed to hang with a loaded Ohio State team on Nov. 21, 2015, but the Spartans did more than hang. Mark Dantonio's team upset the Buckeyes, handing the defending national champions their first loss of the season to end their hopes of a repeat.
Following that game, Urban Meyer delivered a speech that Isaiah Prince considers the head coach's best during his four years at Ohio State. With everyone down, someone needed to rally the team, and Meyer did just that.
"We was just all pissed," Prince said on Saturday. "It was such a talented team. Michael Thomas, Ezekiel Elliott, J.T. Barrett, Braxton Miller. We had some really good players on that offense, and we disappointed them. We came up short. We lost that game. We shouldn't have lost. We took that anger to the team up north the following week in Ann Arbor. Just watching those guys play, it was crazy."
The week after the loss to Michigan State, Ohio State headed up to Ann Arbor, Michigan, and laid a 42-13 whupping on the Wolverines, then beat Notre Dame, 44-28, in the Fiesta Bowl.
Ryan Day has never lost a game as a head coach.
Sure, he's been an assistant coach on Meyer's staff when the Buckeyes dropped games to Iowa and Purdue, and he won three games as acting head coach at the beginning of this season, but both of those are different scenarios from the one that he will face when Ohio State loses its first game.
Bouncing back from losses has been a constant, never-changing theme during Meyer's tenure.
Every time the Buckeyes have lost since Meyer became coach prior to the 2012 season, they turned to him for leadership, and he provided what they needed. After each of their six regular-season losses under Meyer, they bounced back to win five games in a row or finish the regular season unbeaten.
No one know quite how a defeated team will respond under Day. He's beloved by his players, but he simply doesn't have the necessary experience to fully answer that question.
Meyer's drive to win is only outweighed by his drive not to lose. The retiring head coach can't stand ending a game with fewer points than his opponent. He said he might not have been able to retire had Ohio State not beat Michigan in November. Headaches brought on by stress from games have only increased in recent years. It's almost unhealthy how much he despises losing, but his players feed off of his drive.
Day, who will officially become Ohio State's head coach on Wednesday, needs to get to that point, though some of his players believe he's already there.
"We see it in practice during the offensive periods, during scout," K.J. Hill said. "When the offense is not going the way it's supposed to go, he gets it back right. He's got that fire in him. He's got that dog in him during games, the way he's talking to us, the way he's calling it. I definitely know he's got it."
J.K. Dobbins learned it's best not to make a mistake around Day.
"Mess up something in practice or go the wrong way in practice, he's fired up," he said. "He's all about being great."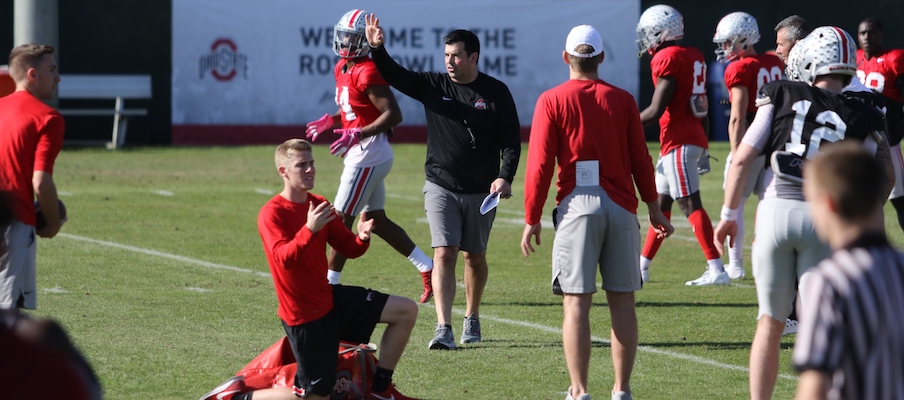 Meyer's expressions on the sidelines became punchlines this fall. He was constantly shown on television during games down the stretch with his hands on his head and with an anguished look on his face.
Day, on the other hand, might be as intense as Meyer, but just has a different way of portraying his zeal.
"They both bring a lot of energy to the field," Prince said. "Coach Meyer brings great energy to the field, especially when he talks. Before practice, when he speaks, everybody listen, like, that's coach Meyer talking. He brings a lot of energy to us. So does coach Day. Coach Day is young. He's bouncing around. He's demonstrating drills. He's in the drills. They both brings different types of energy, but the both bring a lot of energy to the team."
Multiple of Prince's teammates noted the age difference between the current head coach and soon-to-be head coach, as well.
Meyer, 54, began his coaching career in 1985, when Day, who is 39 years old, was just 6. He has been a head coach for 17 seasons, which is longer than Day's 16-season coaching career, during which he has yet to be a head coach. The 15-year age gap metastasizes itself in a different output to players.
"I feel like coach Meyer, he's kind of old-school with it," Hill said. "Coach Day, he's new-school with it. Coach Day might talk our language or something like that."
Dobbins added: "Don't want to sound weird, but I think he's younger looking. He looks great. He doesn't look as stressed."
Dwayne Haskins, who has spent the past three seasons on Meyer's team and the past two seasons working with Day as quarterbacks coach, differentiated his connections with the pair of Ohio State coaches. He said he has a "football relationship" with Day and an "emotional" and "leadership" relationship with Meyer.
As head coach, it will become hard for Day to have those intricate football-specific relationships. Considering his vast experience coaching quarterbacks, he'll surely remain involved with the position group, but he'll also be in charge of the entire program.
Those relationships with players might trend more toward the leadership and emotional bonds that Haskins referenced he has with Meyer. Still, Day doesn't intend to be a replica of his current boss.
"I think that's what the guys appreciate about me, and I am who I am, and I'm not going to try to do or try to be Urban Meyer," Day said. "I'm not going to try to be some other coach. I'm just going to be myself. And I think that's what they experienced in their first three games this season."
Those three games – wins versus Oregon State, Rutgers and TCU – were a major reason why Gene Smith felt comfortable hiring Day, but they also didn't show how he bounced back from a loss.
His youthful-feeling energy quickly earned him the respect of the Ohio State players. Will it have the same effect as Meyer's does when things go wrong?
His players believe so, but tune in next fall to find out.