ANAHEIM, Calif. – Johnnie Dixon, Parris Campbell and Terry McLaurin have seen some stuff. They've been around. Every single cliche of a veteran would be applicable.
The trio won a national championship as freshmen while redshirting, but had to work their way up the depth chart in a position group that left Urban Meyer unsatisfied. As they grew into bigger roles, the receiver room became one of Meyer's favorites at Ohio State. Both McLaurin and Campbell were team captains last season, and all three senior wideouts are captains this season.
Nearly five years after stepping foot on campus for the first time, they'll play their final game in scarlet and gray in the Rose Bowl on Tuesday. Campbell admitted he can't simply not think about playing just one final game, but he said that hasn't changed his preparation.
"I took the same approach with every other game that I played in," Campbell said during an interview session at Disneyland on Wednesday. "I'm aware that it's my last game as a Buckeye. I'm going to give it everything I have, put everything on the field, leave the game with no regrets."
A successful final game is pretty simple for each of them to describe. They just want a win.
"Just the picture that sticks in my mind is the winner gets those roses in their mouth on the podium," McLaurin said. "Hopefully that's us with the hat. As a senior, I can't think of a better way to go out."
Dixon, Campbell and McLaurin have experienced quite a few memorable victories in their nearly half-decade careers. The Buckeyes won the national championship during their true freshman seasons, and they went undefeated against Michigan in their five years on campus. They played key roles in Ohio State's one-point victories against Penn State each of the past two years, and they won multiple Big Ten titles.
But none of the wideouts, nor Meyer, has ever played in – let alone won – the Rose Bowl. They hope to make that their next – and final – win.
Regardless the result on Tuesday, though, the three wideouts have already left their legacy, which McLaurin takes great pride in.
"Well, I hope that receivers that come to Ohio State, the guys that are taking over after us know first and foremost, you want to be selfless," McLaurin said. "You want to help the team in any way possible. That's why I feel like if it's special teams, we'll do it. If it's blocking, we'll do it. No matter what the job is, you want to be unselfish and help the team win. And then at the end of the day, you want to make plays."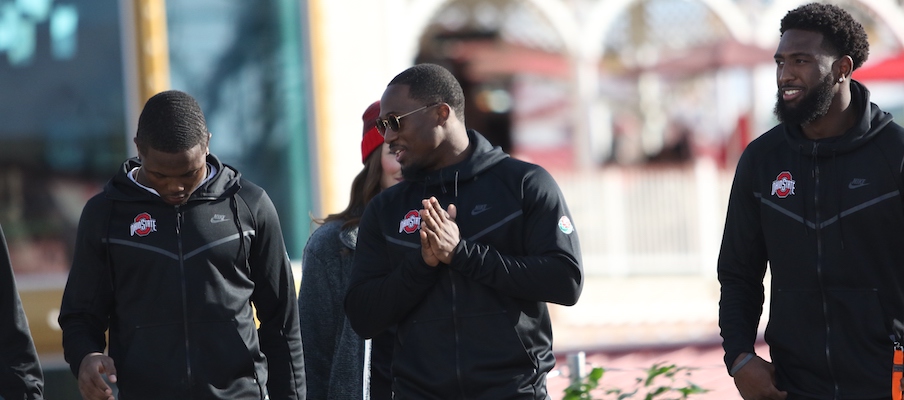 Before the trio of captains took over, the receiver room wasn't in great shape. Dixon, Campbell and McLaurin changed everything.
They led both vocally and by example, and that led to positive results for their team. Ohio State is 62-7 during their five seasons, and the Dwayne Haskins-led passing offense is the statistically most productive aerial attack in school history.
"We're really close and won't lose contact," McLaurin said. "But the last chance to play as Buckeyes together, finish what we started, we changed our group. I feel like we're leaving a legacy, so there's not going to be any sadness. It's crazy that it's going to be the last time. It's really crazy."
Each of the wideouts battled separate adversity en route to taking leadership positions.
Dixon stuck with football despite constant injuries that would've forced many people to give up playing the game. Campbell had issues earlier in his career with drops and had to adjust from running back in high school to wideout at Ohio State, then to play H-back later in his collegiate career. McLaurin was a block-first receiver who mainly ran deep routes for much of his career before developing into a well-rounded wideout.
McLaurin needed to see these results to believe them.
"If you would've told me I was in this situation where I'm a two-time captain and three-time Big Ten champ and just all the things that have happened for us, and then the fact that us three were able to change our group the way that we have, left a legacy, I wouldn't have probably said you were lying, but I would've had to see the proof first. It's just a testament to how hard we worked. We're really blessed individuals. Our coaches really pushed us. Coach Meyer, coach Hartline, coach Mick. They set a standard for us. We just wanted to uphold that and take it to new heights."