Ohio State made it look easy. It wasn't supposed to, but it did.
The Buckeyes walked all over Michigan en route to a 62-39 victory. They nearly dropped a nice 69 points on the Wolverines, though Urban Meyer might regret keeping the pedal down since Demetrius Knox suffered a season-ending injury. Even without one final touchdown, the blowout Ohio State win was the most points ever scored in the rivalry. 
Of course, this week's stock report is heavy on Ohio State. Let's get into it.
Stock Up
Ohio State
The Buckeyes put together their first complete game of the season when it desperately, desperately needed it. 
Ohio State's offense thoroughly dominated the top-ranked Michigan defense both at the line of scrimmage and down the field. Dwayne Haskins controlled the game and moved the ball upfield at will. Michigan's defense had no answers. Ohio State's defense allowed 39 points, but got key stops to give the ball to the offense, which continually made the Wolverines pay. 
Some time, the Buckeyes won't dominate the rivalry. At some point, Michigan will put together a team that consistently competes with its chief rival. But that time has not arrived.
Here's an interesting stat. Kansas has won three of its past 18 games against Texas. Michigan has won two of its past 18 games against Ohio State.
Chris Olave
Many casual Ohio State fans had no idea Chris Olave even existed before Saturday. They do now.
The freshman wideout had just seven catches in the regular season, but each time he touched the ball against Michigan, the Buckeyes scored. He was the first player to reach the end zone with a 24-yard touchdown reception just four minutes into the game. Then, after the Wolverines kicked a pair of field goals, he scored the second touchdown of the game with his second 24-yard catch that extended the lead to 14-6. Later, he got his hands on a punt, blocking the ball up in the air. Sevyn Banks snagged it and raced to the end zone for the only special teams touchdown of the game.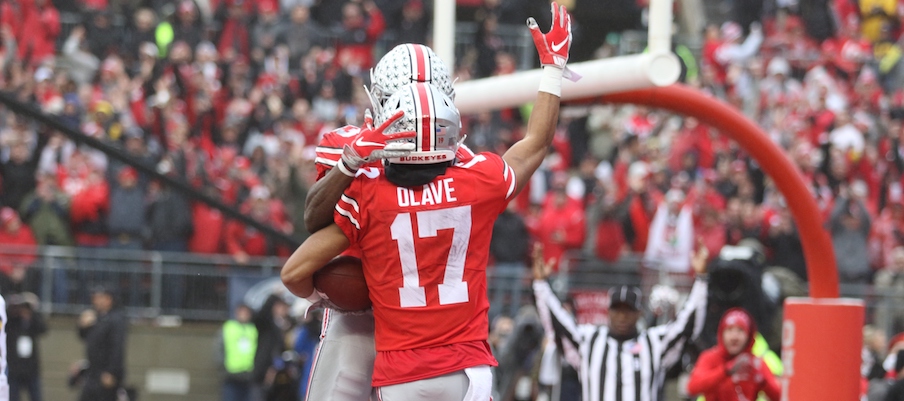 Olave's coming-out party couldn't possibly have come on a bigger stage. He won't be a featured wideout in the Big Ten championship and bowl game(s), but he has set himself up to have a major impact as a sophomore. Parris Campbell, Terry McLaurin and Johnnie Dixon will graduate, and K.J. Hill, Binjimen Victor and Austin Mack are eligible to enter the draft. Olave has set himself up to likely slide into the starting lineup next season, or at least become a large piece of the rotation.
Malik Harrison
The entire season, Malik Harrison has been arguably Ohio State's best linebacker. On Saturday, there wasn't much debate. 
Harrison had seven tackles, two tackles for loss and a sack that came on the first play of Michigan's drive and set the Wolverines up for their first three-and-out of the game. The hometown star who attended Walnut Ridge High School has developed from an athletic freak into a gifted linebacker who has figured out how to pair his physical tools with his continually developing skill. When Ohio State needed plays from Harrison on Saturday, he delivered.
The Ohio State-Oklahoma debate
This one will be fierce. Both Ohio State and Oklahoma have rabid fan bases, and if both teams win their respective conference championship games this weekend, expect some raucous debate and one not-so-happy group of fans when the selection committee makes up its mind.
It'll be less a conversation of people screaming, "My team deserves this more," and more of folks saying, "Your team doesn't deserve to get in." Oklahoma fans don't think any team with a 29-point loss to a six-win team and multiple wins by slim margins over less talented teams deserve to be in. Ohio State fans don't think a team with such a porous defense, no top-10 wins and a pair of unconvincing top-25 wins should get in.
In the meantime, Buckeye fans have become massive Texas backers, and Sooner fans are all of a sudden Northwestern supporters.
Stock Down
Michigan
Most people picked Michigan to win, many people went with Ohio State, few people picked the Buckeyes to blow out the Wolverines and not one person forecasted the Wolverines allowing more points in the rivalry game than ever before. But that's exactly what happened. And because of it, morale in Ann Arbor is as low as any prior point in Jim Harbaugh's tenure at Michigan.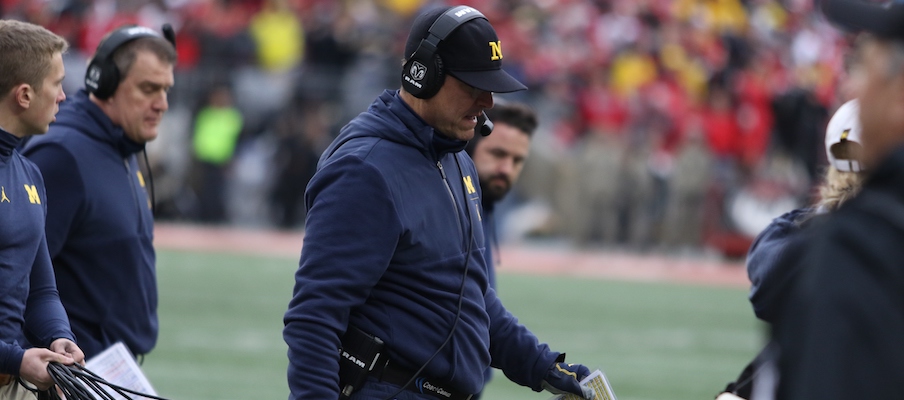 This was supposed to be the year. Harbaugh finally had his quarterback. Chase Winovich, Rashan Gary, Devin Bush and the rest of Michigan's defense had the unit ranked first in the country. But the Wolverines were not a match for the Buckeyes. Maybe (but history says probably not) next year.
Michigan's coaching staff
Bad look for Jim Harbaugh, Don Brown and Pep Hamilton. Bad look, indeed.
Harbaugh and Hamilton couldn't capitalize on a defense that allowed 51 points to Maryland, made mediocre quarterbacks look like Heisman candidates and looked lost for much of the season. They had no creativity in the play calls and didn't follow what prior Ohio State opponents had done so well. Instead, they ran the same, typical Harbaugh offense, which the Buckeyes were prepared to stop. On the other side of the ball, as Eleven Warriors' own Kyle Jones pointed out, Ryan Day, Kevin Wilson and Urban Meyer did whatever they wanted to Don Brown's defense.
Washington State
Down goes Mike Leach. Down goes the pirate.
Washington State looked to possibly be in position for a playoff berth if it got help from a couple teams, but Chris Peterson's Washington team made sure to end that possibility. Then Huskies defensive coordinator Jimmy Lake let everyone know how easy it is to stop Leach's offense. Now, I'm very much looking forward to the Leach-Lake matchup next year.