A week after it held Michigan State to a pair of field goals, Ohio State's defense returned to form giving up 535 total yards including 339 on the ground and the Buckeyes committed 10 penalties but the offense still had just enough to help Urban Meyer's outfit escape College Park with a 52-51 overtime win over Maryland. 
The one-point victory improved the Buckeyes to 10-1 on the season but probably did little to impress College Football Playoff voters ahead of Saturday's clash with Jim Harbaugh's squad in Columbus. The good news, however, is that the Buckeyes absolutely deserve credit for pulling out the victory on a day when West Virginia couldn't. 
Ohio State's offense lit up the Terps for 688 yards behind big days from Dwayne Haskins, Johnnie Dixon and Terry McLaurin in the passing game and J.K. Dobbins on ground who was forced into heavy duty thanks to what Meyer said was a quad bruise keeping Mike Weber out of action. 
With The Game on deck, here's a final look at Five Things from the nail-biter over Maryland before we turn our full attention to all things Michigan. 
---
SENIOR LEADERSHIP
On a team with 10 seniors two in particular stood out in a game when Ohio State needed them to step up. 
Redshirt senior wide receivers Terry McLaurin and Johnnie Dixon helped boost an offense forced to outscore its opponent with a combined 10 catches for 220 yards and a touchdown on 10 targets. 
McLaurin's day included a 68-yard touchdown strike after he ran about seven yards passed his defender, then coming back for the football, before outracing a trio of Terps defenders cutting the Maryland lead to 17-10 early in the second quarter. 
A few possessions later, McLaurin hauled in a 39-yard reception setting up a J.K. Dobbins one-yard plunge bringing Ohio State to within 24-17 late in the second quarter. 
This was McLaurin's second 100-yard receiving day of the year and he's now tied for the team lead with nine touchdown grabs. 
Dixon's day featured two big miscues on kickoff return – costing him that spot goingin forward – was also highlighted by a spectacular shoestring snag on a 35-yard gainer during Ohio State's drive tying the game at 38 late in the fourth quarter. 
He also earned a Thing by making back-to-back 20 and 16-yard catches along the sideline on what turned out to be an empty possession but gets mention here because each time he didn't step out of bounds and lowered his shoulder into the defender along Ohio State's sideline.
Sounds cheesy but the team needed a boost after fumbling the previous possession and trailing 31-24 and I liked the oft-injured Dixon showing all-out effort especially after his issues on kickoff return. He didn't sulk, he found another way to contribute.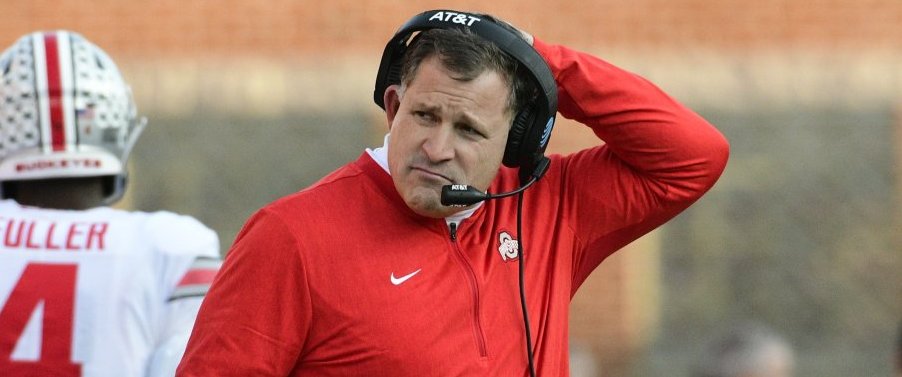 SIEVER BULLETS
Welp, I guess holding Michigan State to two field goals was mostly the result of the Spartans offense sucking versus Ohio State's defense making real progress. 
A Maryland offense that scored 14 points against Temple, zero against Iowa and three against Michigan State put up 44 against the Buckeyes, becoming the third team this season to amass at least 500 yards (535 this time) versus the Siever Bullets. 
The Terps' 99th-ranked total offense recorded 14 chunk plays including five of 50 yards or more that had fans hearkening back to the days of uhhh.. a couple weeks ago. Behold: 
81-yard Anthony McFarland TD run - Damon Arnette fails to seal the edge. Nobody else in the same zip code.  
75-yard Anthony McFarland TD run - Brendon White misses a tackle. It's then a footrace between a fast guy and a handful of not-as-fast guys. 
60-yard Darryl Jones catch to OSU 1 - Arnette again. This time through the air. 
56-yard Dontay Demus catch to OSU 22 - Kendall Sheffield had fairly decent coverage. Tear drop throw. Hat tip. 
52-yard Anthony McFarland run to OSU 17 - White swallowed up too close to the line, McFarland gashes 'em again. 
Having yielded 337 total yards and 281 on the ground in the first half alone, the defense stiffened to start the second half forcing three straight punts and then a 4th-and-8 but the punt return unit fell asleep at the wheel allowing a fake to extend the drive. Sheffield got beat for a 27-yard score three plays later giving Maryland the lead back at 38-31 midway through the fourth. 
The defense would give up another touchdown on its next series before standing tall on the Terps' final drive before overtime. 
It looked like the defense wouldn't be able to hold a 52-45 lead after Haskins scored the first touchdown in overtime but after allowing a touchdown on two plays to make it 52-51, Maryland couldn't convert a two-point try to a wide open receiver (albeit with the help of a non-call of illegal blocking downfield) and victory was secured. 
So yeah, I mean, how ya feeling about this defense holding up next weekend? 
HAVE A DAY, J.K. 
Turns out Mike Weber was nursing a quad injury suffered on Tuesday and unable to play after putting up 104 yards rushing last week against Sparty leaving J.K. Dobbins to largely go it alone. 
Dobbins responded with career highs in carries and yards churning out 203 yards on 37 carries (5.5 per) with a touchdown. 
He had 20 carries for 109 yards in the first half but it was his fumble at the 2-yard line that kept Ohio State from going into the locker room tied at 24. 
To his credit, the dude kept coming and you could see his extra focus on ball security the rest of the way. He finished with five carries of 10+ yards and two 20+ yard rumbles.
I love that kid. Not only is he a damn good player but he's a team guy and gives the staff zero drama. Just sayin', sometimes it's what doesn't get said that tells a story.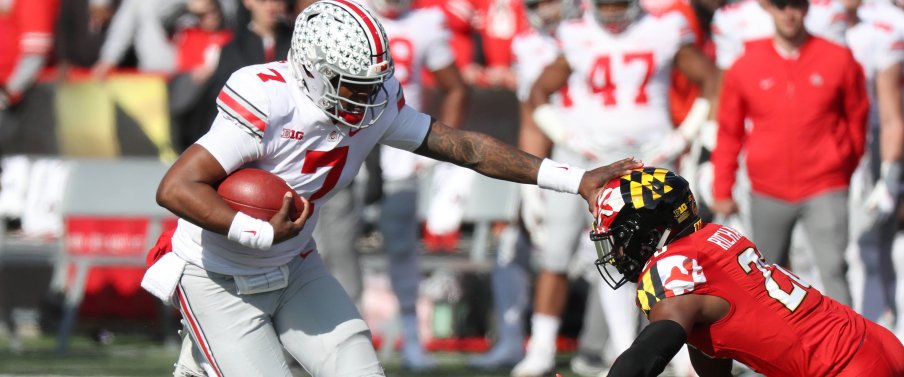 HAPPY HOMECOMING
Dwayne Haskins grew up in the shadows of College Park and did his thing in his homecoming completing 28 of 38 passes for 405 yards and three touchdowns against one interception. 
It was Haskins' fourth 400-yard game of the year and his first with at least a 74% completion rate and three touchdowns since Ohio State beat Minnesota over a month ago. 
As important as Haskins' passing day was to the team, his effort on the ground was also worth a note as he posted career highs in attempts, yards and touchdowns with a 15-carry, 59-yard, three-touchdown outing. 
With Dobbins gasping for air at various points and only little-used Demario McCall left to take carries, Haskins had two nine-yard runs (one for a first down), a 15-yarder on 3rd-and-7 and of course his three short touchdown jaunts (1, 2 and 5 yards). 
Pretty notable effort on the ground when you consider Haskins looked as smooth as C3PO on 95% of his carries before today. 
When the dust settled Haskins went for 464 total yards and six touchdowns. Hell of a day.
DERPS AGAINST TERPS
Beyond the big plays that constantly seemed to leave just one guy with a chance to deter disaster, the Buckeyes also had a rough time with special teams and, of course, yellow laundry. 
First of all, back to the big plays for a second, how does Schiano stink out loud when having a week to game plan but then when he only has 20 minutes at halftime he seems to make a couple adjustments? 
On special teams, Ohio State let Maryland recover a pooched kickoff and it didn't seem like Dixon even knew what to do. Later, the punt return unit was caught completely off guard by a fake that shouldn't have caught anybody off guard considering Maryland had nothing to lose midway through the fourth quarter facing 4th-and-8 at the OSU 46 tied at 41 apiece. 
Three turnovers included the noted Dobbins fumble near the goal line and a Haskins pick-six costing the Buckeyes 14 points even if only technically seven in the stat book. That's seven turnovers over the last three games if you're scoring at home. 
Finally, after a season-low four accepted penalties against Michigan State, the Buckeyes committed 10 penalties for 79 yards yesterday. Ohio State has now committed at least 10 penalties in five of 11 games and will rank in the 110th-nationally range in penalties per game once the stats are updated. 
Malcolm Pridgeon committed two of those pushing his team lead to nine on the season (Isaiah Prince and Rashod Berry are tied for second with seven each).