COLLEGE PARK, Md. – Ohio State needed 52 points and 688 yards – the most in program history against a Big Ten opponent – to beat Maryland 52-51 on Saturday.
It needed three rushing touchdowns from Dwayne Haskins and a career-high 37 rushes for a career-high 203 yards and a touchdown from J.K. Dobbins. The Buckeyes needed 36 first downs, 405 passing yards from Haskins and a fourth-down conversion to Rashod Berry.
Ohio State needed everything from its offense because it got nothing from its defense.
Maryland became the second team – after Iowa last season – to drop at least 50 points on the Buckeyes this millennium and accumulated 535 yards on an average of 8.6 yards per play.
"Certainly not what you set out to do," said Ohio State defensive coordinator Greg Schiano. "If anybody would have told me that this morning that that was going to happen, I would have said, 'No, that's not going to happen.' I thought we practiced very well. I thought, coming off last week, we tackled very well. I just felt like the kids had a really good grasp on what we were doing. It didn't turn out that way."
No, it certainly did not. Not in the slightest. And it didn't take long to realize what type of game it would be for the defense.
Anthony McFarland Jr. took a handoff from Tyrrell Pigrome on Maryland's second play of the game and raced for 81 yards, the longest rush by a freshman in school history. Less than five minutes later, McFarland had a 75-yard rush. Sound familiar? It should. In the season opener, Oregon State running back Artavis Pierce had rushes for 78 and 80 yards.
Pigrome took a deep shot on the first play of the Terrapins' third drive of the game and dropped in a 56-yard pass to Dontay Demus Jr. Four plays later, Maryland took a 17-3 lead with a 36-yard field goal from Joseph Petrino. On the following drive, McFarland had a 56-yard rush. The Terrapins then got into a groove and led an eight-play, 60-yard touchdown drive the next time they got the ball.
Dre'Mont Jones admitted he thought Ohio State's issues giving up big plays were behind the team, but they clearly weren't. Urban Meyer called the yardage allowed "alarming" and blamed it partially on missed tackles, a nagging issue since the loss to Purdue.
"This is a little different than other games," Schiano said. "It still came down a lot to tackling. They did a very good job with their scheme. As I said earlier in the week, they put you in a position where you have to make one-on-one tackles, sometimes in space. They hit a few big shots in the air, which we've been pretty good with that at the corner position. They got a few on us today."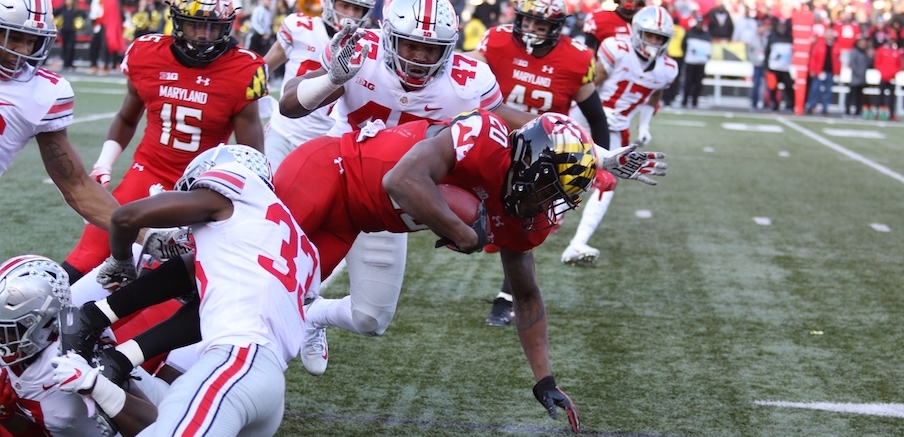 Ohio State held Maryland to just 19 yards in the third quarter, seeming to have successfully made halftime adjustments. But the defense regressed in the fourth quarter, and the Terrapins responded by putting together back-to-back nine-play, 83-yard and six-play, 61-yard drives capped off by touchdowns.
Even in the final drive of regulation that began with 36 seconds remaining in the game, Pigrome connected on a 30-yard pass, and Maryland threatened to score on its third drive in a row. On his team's first play in overtime, McFarland had a 24-yard rush to bring the ball to the 1-yard line. Tayon Fleet-Davis scored a 1-yard touchdown.
Matt Canada opted to go for the win – a decision Urban Meyer said he would have made, having seen his defense get shredded for most of the game – and it nearly worked. Pigrome's toss on the two-point conversion was just wide of Jeshaun Jones.
Even though Ohio State racked up record numbers of production of offense, the defense nearly couldn't hang on.
"I wouldn't really say it was discouraging," defensive end Chase Young said. "All of those plays are easily fixable plays. At the end of the day, you can say those plays, but if you get down to the fourth quarter, I think our defense stepped up and did what we had to do."
Schiano also took an optimistic approach.
"As I said earlier in the year, they have a talented team. That wasn't coach speak," Schiano said. "We gave up some plays that we don't normally, I don't think we would give them up, but we did. The thing that I take away from is a bunch of guys that just kept swinging, believed in each other in all three phases."
Maryland has a solid team, but it doesn't have have a top-15 recruiting class in the past few years or a $1 million assistant coach. It entered the game with the 99th-ranked offense in the nation and a 5-5 record. Its starting quarterback for its first 10 games, Kasim Hill, suffered a torn ACL the week before.
Ohio State has multiple five-stars and dozens of four-stars on both sides of the ball, along with seven-figure salaries paid to both its offensive coordinator (Ryan Day) and defensive coordinator (Day). Talent shouldn't be a problem. If it is, Ohio State has larger issues than just Saturday's loss.
Also, the Buckeyes do give up the types of plays Maryland gashed them with, unlike Schiano said. That's the entire problem. In Urban Meyer's first press conference after returning from his three-game suspension, he noted big plays were the main issue on defense. That has remained a constant.
Penn State beat the Buckeyes for some major gains, and Purdue ripped off more than a few. They had lessened in the past two games, but reappeared on Saturday.
"We've had some really good defensive play at times, but not consistent," Schiano said. "I've said that after the first quarter of the season, I said that at the midway. It's frustrating that we're not a consistent defense right now, but rest assured every waking minute we have, we're going to try to get that fixed."
Some – or many, or most, depending on one's opinion – of the problems can be attributed to coaching. But it's hard not to realize how much talent has left the program in recent years without being replaced.
The impact of attrition of NFL-caliber players has been on display this season. In the first three games of the year, the defensive line lived in opponents' backfields. Without Nick Bosa, the defensive line has had its moments, but it certainly hasn't played with similar dominance.
"Just different personnel," Jones said. "Just got to know your personnel. I mean, I'm happy with who we have, but we also do not have Marshon (Lattimore), Malik (Hooker) and Denzel (Ward) in the back end or Raekwon (McMillan) or Nick, either, or Adolphus (Washington) or Joey (Bosa) or Tommy Schutt back in the day. That's how it is. We live with what we have, and we're happy with what we have. We've still got to continue to improve, even Week 11, 12, 13."
Without Bosa, Ohio State's defense lacks game changers. Jones has come the closest, but he's not the future top-five NFL draft pick that Bosa is.
Chase Young, Jordan Fuller, Malik Harrison, Kendall Sheffield, Robert Landers and Brendon White flash at times, but none of them have consistently altered games on their own.
"You're happy with what you have," Jones said. "I mean, you don't take for granted who's there in the first place. We do understand those are once-in-a-lifetime type players. I mean, they're top-tier first round type of players. When you lose them, it has an effect. But, you know, we have potential guys that can elevate to that level, and we've got to just push them and just push through any hiccups that we have."
That falls squarely on Ohio State's staff, which coaches and recruited every player on the roster. The Buckeyes shouldn't have to rely on 688 yards of offense and 52 points for a one-point win, but that's what happened.
In order for Ohio State to even have a chance to beat Michigan next week, the defense will need to perform at a much higher level, one that it hasn't played at in weeks – or months.