As head coach Urban Meyer said after Saturday's 49-20 loss at Purdue, Ohio State's shortcomings have been exposed.
"There's other things we do very well, and then there's things that we don't. And it's glaringly obvious what the issues are," Meyer said Tuesday on the Big Ten football coaches' teleconference.
Ohio State still has one of the most talented rosters in the country, still controls its own destiny in the Big Ten and are still in the College Football Playoff hunt, but if the Buckeyes are going to win out and contend for a national championship or even a conference championship, there are four clear problem areas in which they must improve.
Defensively, the Buckeyes must find a way to stop giving up the big plays that have burned them all season. Offensively, the Buckeyes must find a way to jump-start their running game – which has trended downward all season – and finish with touchdowns more consistently in the red zone. And in all phases of the game, the Buckeyes must cut down on penalties that allow opponents to extend possessions or thwart their own.
As the Buckeyes try to work out the kinks during their off week this week, we take a closer look at their issues in each of those areas, what coaches are saying about each of those issues and how and whether the Buckeyes will be able to fix them.
Problem 1: Giving Up Big Plays
What's the problem?
This problem has been obvious since the first game of the season, when the Buckeyes gave up seven plays of 20-plus yards – including 80- and 78-yard touchdown runs – and 31 points to Oregon State, and the problem hasn't gone away.
Against TCU and Penn State, the Buckeyes gave up 93-yard touchdowns, which are now tied for the two longest plays against an Ohio State defense ever. In Saturday's loss to Purdue, the Buckeyes gave up three plays of 20-plus yards, including three touchdowns of 40-plus yards.
For the season as a whole, Ohio State is tied for 108th in the Football Bowl Subdivision in 20-plus-yard plays allowed (42), 125th in 30-plus-yard plays allowed (26) and 113th in 40-plus-yard plays allowed (13). The Buckeyes' four plays of 70-plus yards allowed are tied for the second-most in the FBS, and they're the only defense that has given up two plays of 90-plus yards.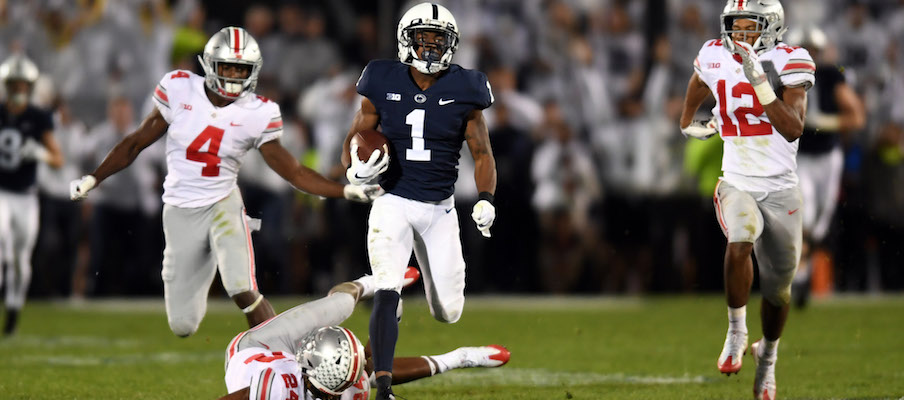 What coaches are saying
While Ohio State defensive coordinator Greg Schiano acknowledges that big plays have been a big problem for his defense all season, he believes the Buckeyes are showing in practice that they can fix those issues, and now they just need to translate it to game action.
"I'm not being naive to what's been put on tape and what we've done, but I feel really encouraged that we're getting close to playing mature defense," Schiano said this week. "And mature defense, to me, is not only making these really good plays but not allowing the bad plays. You can give up some plays; a 10-yard out and a 15-yard dig aren't going to kill you. But a 46-yard run, that's going to hurt. Or a 79-yard pass, that's going to hurt. We need to, we're close. I really do feel that way."
Schiano says the Buckeyes have held their opponents to three yards or less on 67 percent of first- and second-down plays, so if they can cut down on an allowing the big plays, he believes his defense can get the job done.
"Those plays are the ones that are killing us," Schiano said of the big plays allowed.
After his offense scored six touchdowns and put up 539 yards of the Buckeyes, Purdue coach Jeff Brohm acknowledged that he felt like his Boilermakers were able to take advantage of Ohio State's defense and make big plays about it because of its scheme.
"I thought their linebackers were good players, but they were up at the line of scrimmage quite a bit. If you could get past that first level, there was a bigger level between them and the safeties because they play up so far," Brohm said. "I think because our passing game was able to make some plays, it opened up the running game late in the game where they were able to hit some big runs, and all those things just kind of worked in our favor."
Can they fix it?
At this point, the real question might be, "Why haven't they been able to fix it already?" With the exception of games against two clearly inferior opponents in Rutgers and Tulane, the Buckeyes have had problems with giving up big plays to opposing offenses in each of their other games, and while Schiano and other defensive assistant coaches believe they have seen progress in practice, the defensive gameplay hasn't gotten much better, if at all.
Clearly, there are adjustments that need to be made to Ohio State's defensive scheme. Schiano said this week that the Buckeyes have already started moving away from playing their linebackers up at the line of scrimmage, which opponents have taken advantage of, and they have mixed in more zone coverage this season. He also said, though, that the Buckeyes won't make any "wholesale" changes to their defensive scheme, though they are looking to make small tweaks to put players in better position to make plays.
If the Buckeyes can figure out a more effective scheme, there's still the question of whether they have the personnel to execute that scheme and cut down on mistakes. Even though their defense is loaded with four- and five-star recruits, it's lacked in star power since the departure of Nick Bosa, and they've made too many mistakes – including 20 missed tackles at Purdue, according to Schiano – especially in the back seven.
Minimal improvement through eight weeks of games doesn't exactly spur confidence that Ohio State will get significantly better in this regard, but the bye week is a legitimate opportunity to work on their scheme and fundamentals and get players healthy. If they don't show substantial improvement after the bye week, though, there won't be much reason for optimism that the Buckeyes' defense will get significantly better this season.
Problem 2: Ineffective Running Game
What's the problem?
Despite having one of the nation's most talented running back tandems in J.K. Dobbins and Mike Weber, the Buckeyes' ground game has been stuck in the mud for weeks. They've averaged less than 3.3 yards per carry in each of their last four games.
Their 4.36 yards per carry this season rank 66th in the FBS, and they're tied for just 69th in the FBS with only 12 rushing touchdowns.
Both Dobbins and Weber are slightly over 500 rushing yards for the season (Dobbins has 521 yards on 120 carries, while Weber has 516 yards on 96 carries), but unlike the past four seasons with J.T. Barrett, Ohio State's starting quarterback does not offer a significant running threat this season, as Dwayne Haskins has rushed for just 56 yards and one touchdown on 35 carries.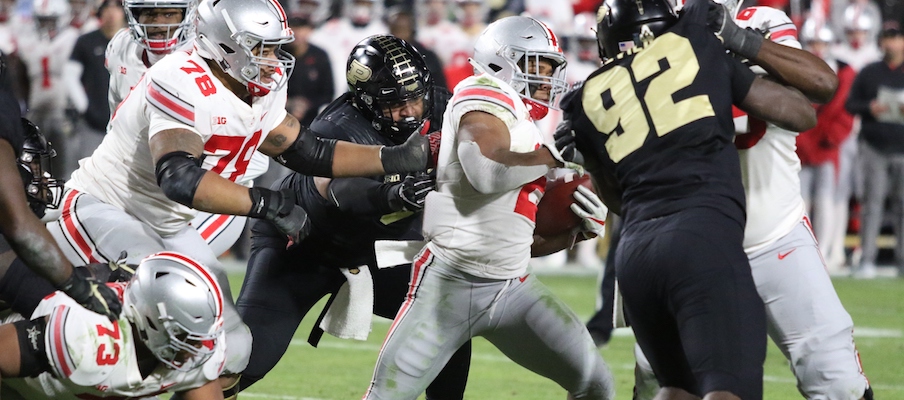 What coaches are saying
While Ohio State has passed the ball as well as any team in the country – it's currently tied for second in the Football Bowl Subdivision in passing yards per game (383.8) and completion percentage (72.0), and tied for the national lead in passing touchdowns (31) – Meyer knows that his team must be able to start running the ball more effectively to provide offensive balance.
"That has to happen," Meyer said. "Take advantage of our backs, and our backs got to run through some tackles a little more aggressively."
Ohio State offensive coordinator Ryan Day says that successful running relies on everyone doing their job correctly – not only the running backs and the offensive line blocking in front of them, but receivers blocking on the perimeter and the quarterback executing reads correctly – and that the Buckeyes are still evaluating what's gone wrong and what they need to fix.
Ohio State's other offensive coordinator, Kevin Wilson, says that while the Buckeyes are looking at possible schematic adjustments that could help the run game, he also believes a big part of what the Buckeyes need in the run game is to just be tougher and more fundamentally sound.
"My first mentor (former Northwestern coach) Randy Walker always said that running ball is a mindset and an attitude, and I think we've talked a lot about again pad level of O-linemen, pad level of running backs playing behind your pads, playing with a little bit more velocity," Wilson said.
Can they fix it?
While Haskins might be the best passer that Meyer has ever had, he's also perhaps the least mobile starting quarterback that Meyer has ever had, and the Buckeyes have clearly struggled to adjust to that in the running game so far this season. They're still using many of the same read option plays that they used with Barrett, and because defenses don't respect the threat of Haskins to run the ball, those plays aren't working.
Theoretically, Ohio State's offensive line should be able to impose its will upon opposing defenses, considering that it's one of the biggest offensive lines in the country. That hasn't happened so far this year, however, so that unit needs to step up and push more defenders around in order to open up more holes for Weber and Dobbins.
With that being said, the Buckeyes also need to implement some new running plays into their offense that don't rely on the quarterback run option creating misdirection, because Haskins simply hasn't run the ball effectively enough for that to work. If the Buckeyes can use their off week to install some more traditional, pro-style running plays that allow the offensive line and running backs to attack defenses in different ways, that could potentially be a fix. The Buckeyes could start playing Tate Martell situationally in order to bring in a running threat at the quarterback position, but although that possibility has been teased all season, they have yet to actually do it in a game.
Problem 3: Red Zone Inefficiency
What's the problem?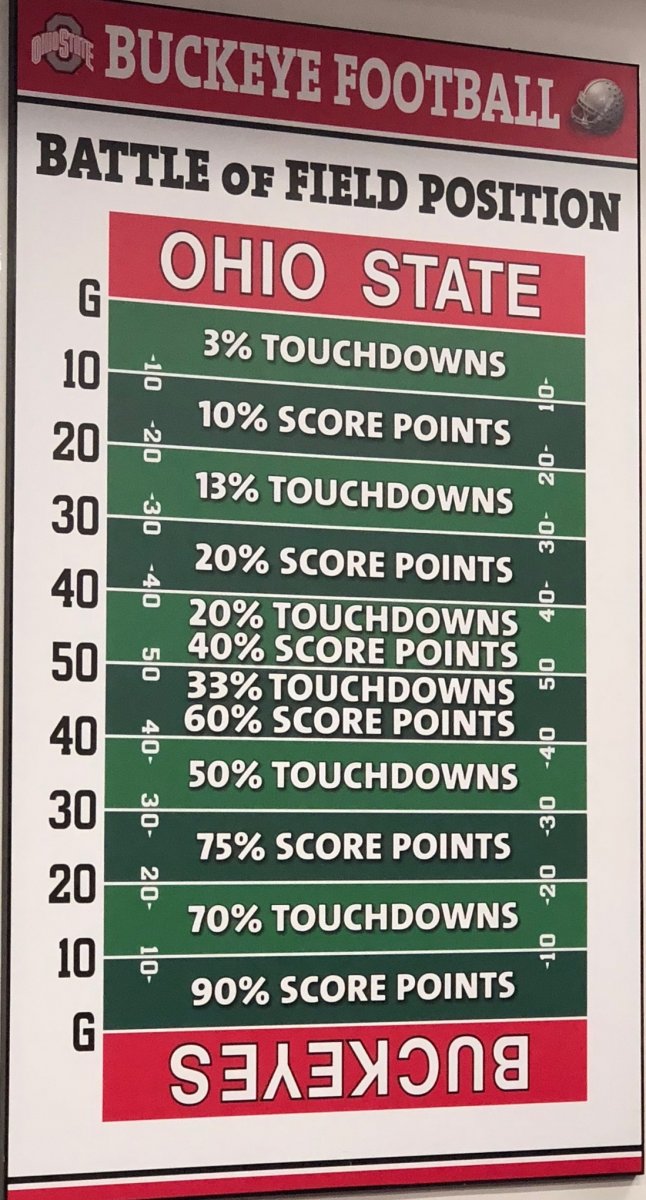 There's a chart inside the team room at the Woody Hayes Athletic Center, labeled "Battle of Field Position," that says that offenses should score touchdowns 70 percent of the time inside the opponent's 20-yard line, and score points 90 percent of the time inside the 10.
So far this season, however, Ohio State has scored touchdowns only 56.8 percent of the time it has reached the red zone – which ranks the Buckeyes just 98th in the FBS – and scored points on only 75.7 percent of trips to the red zone, which ranks 117th.
The Buckeyes' red-zone woes were particularly profound in their loss to Purdue, in which they scored just two field goals on five trips to the red zone (though the last one ended with the game clock running out and the outcome already well in hand), including three trips inside Purdue's 10-yard line. The Buckeyes have now gone two full games without scoring a touchdown in the red zone, after scoring just two field goals in three trips inside the 20-yard line in their previous game against Minnesota.
What coaches are saying
In Meyer's first six seasons at Ohio State, the Buckeyes always scored points on at least 82.5 percent of their trips to the red zone and scored touchdowns on at least 64.9 percent of their trips to the red zone (with the lowest numbers both coming in 2015), so the head coach is concerned about his team's sudden inability to finish drives deep in opposing territory.
"We've never had this issue," Meyer said of his team's struggles in the red zone. "When you drive the ball the length of the field and we had four red-zone opportunities and score two field goals (at Purdue), that's a different ballgame when you get in the end zone. That's always been a strength here, and we've got to get that fixed."
The Buckeyes' issues with finishing drives in the red zone go hand in hand with their aforementioned issues in the running game, as that's typically the preferred option for finishing off drives close to the end zone, where there's less space to complete passes. That said, Haskins missed multiple opportunities to complete touchdown passes in the red zone at Purdue, so Day said they need to be able to make those plays as well.
"We've got to execute," Day said. "We missed a couple passes that we've hit. And we went and watched the film with the guys and showed them during the season pass plays that were similar that we threw and caught, those were touchdowns. And when you do that, maybe you're not in the situation you're at. But also being able to, when we need to pound and make three yards, we've got to be able to make three yards down there."
Can they fix it?
Considering that Ohio State's offense ranks second in the country in yards per game (555.5), it really should be able to finish out drives with touchdowns when it gets into prime scoring position. With Haskins throwing the ball, a talented group of running backs and receivers around him and offensive linemen with plenty of physical ability, it's not an issue of talent.
Because Ohio State's red zone issues are tied in with its issues to move the ball in the running game, though, the Buckeyes have to be able to come up with some different plays inside the 20-yard line in order to score touchdowns in the red zone at the percentage at which they should.
That could mean using different personnel alignments in the red zone, too, such as inserting Martell at quarterback, putting both Weber and Dobbins in the backfield simultaneously or using more multi-tight ends or even a sixth offensive linemen to give run defenses more to deal with. One way or another, though, the Buckeyes have to do something differently inside the opponent's 20-yard line, because what they've been doing all season isn't working right now.
Problem 4: Committing Penalties
What's the problem?
Ohio State has committed 8.3 penalties per game for 75.9 penalty yards per game, ranking the Buckeyes 119th out of 130 FBS teams in both categories.
Those issues were particularly profound in their last game at Purdue, not only because of the number of penalties they committed (10 for 86 yards) but the situations in which they committed them. Most costly, Davon Hamilton was penalized for roughing the kicker on a fourth-down punt and Dre'Mont Jones was penalized for roughing the passer on a third-down incomplete pass, and both of those drive-extending penalties led to Purdue ultimately scoring touchdowns.
Ohio State has committed at least nine penalties in five of its eight games this season.
What coaches are saying
Meyer has expressed disgust with the amount of penalties his team has committed after multiple games this season, including Saturday's game, after which he described the aforementioned penalties as "just ridiculous."
Schiano also lamented the number of penalties Ohio State has incurred this week, describing those mistakes as "really critical."
"That's a turnover if you really think about it: you're off the field, you're getting the ball back; oh no, we're not, we're back out," Schiano said of the drive-extending penalties. "Now we start 15 yards ahead, but they got the ball again, and we never got the ball back. To me, that's a turnover."
Can they fix it?
Hypothetically, this should be the easiest problem to fix. While some penalties, such as pass interference and holding, can result from poor technique and even sometimes questionable calls, penalties like roughing the passer or kicker, false starts and illegal formations are simply poor discipline, and mistakes that should be correctable for a team as talented as the Buckeyes.
Once again, however, this is a problem that hasn't gotten better as the season has progressed. It's expected that a team will commit some undisciplined penalties in the first two or three games of the year, especially when breaking in young players and particularly, in Ohio State's case, when its head coach was suspended for the first three games of the year.
When those mistakes are still being made eight weeks into the season, however, there's reason to wonder whether they will ever be eliminated. If the Buckeyes are still extending opponents' drives or stalling their own with undisciplined penalties after the off week, that will be a bad sign.