Dwayne Haskins might look like C3PO in the run game but the man is silky smooth in the passing game. 
For a second-straight week, Haskins threw for over 400 yards and tied the school record for completions in a single game with 33 as Ohio State used three touchdown passes from its signal-caller, a mammoth afternoon from wide receiver K.J. Hill and a second-half surge from a frustrating defense in a 30-14 victory over Minnesota in the Shoe. 
With Haskins at the controls, the Buckeyes racked up 504 total yards despite another anemic effort from the running game. 
The win improved Ohio State to 7-0 on the season while four other teams in the Top-8 fell victim to upsets. So yeah, yesterday was kinda janky at times but having anxiety after a win is far better than being enraged after a loss. 
Next up for the Buckeyes is a prime time date with Purdue in West Lafayette but before we shift our focus to the resurgent Boilers and their lethal freshman receiver Rondale Moore, here are Five Things from yesterday's win over P.J. Fleck's Gophers. 
---
NOWHERE TO RUN
As hot as the passing has been, the running game has been hot.. doodoo. 
The trend continued yesterday as the Buckeyes were held below 100 yards rushing for the first time this season and just the third time since Urban Meyer arrived in Columbus.
Yesterday's stinker saw the trio of Mike Weber, J.K. Dobbins and Haskins average a season-low 2.9 yards per carry and for the first time this year, the Buckeyes failed to record a rushing touchdown. 
OHIO STATE RUSHING STATS THROUGH SEVEN GAMES
OPPONENT
RUSH ATT
RUSH YARDS
YARDS PER CARRY
TOUCHDOWNS
OREGON STATE
53
375
7.1
5
RUTGERS
40
225
5.6
2
TCU
42
182
4.3
1
TULANE
38
151
4.0
2

 

PENN STATE
37
119
3.2
1
INDIANA
48
154
3.2
1
MINNESOTA
32
92
2.9
0
Behind an offensive line featuring subpar showings from Demetrius Knox, Michael Jordan and Isaiah Prince in particular, the combo of Dobbins and Weber saw 39% of their rushing attempts (9 of 23) go for two yards or less. That's even worse than last week when 31% of their attempts (12 of 39) failed to generate more than two yards.
Dobbins in particular has been bottled up averaging 4.6 yards per carry this year after nearly setting the school's single-season mark last season with 7.2 yards per tote. Dobbins has lost 10 yards this year amid his 109 attempts. Last season, Dobbins lost nine yards on 194 attempts. 
Similarly, Weber lost only 14 total yards last year on 101 attempts but through seven games this season, he's already lost 25 yards on only 87 attempts. 
The reality is Ohio State's rushing attack looks lost without the option of leaning on the quarterback run and the offensive line hasn't generated a consistent push in over a month.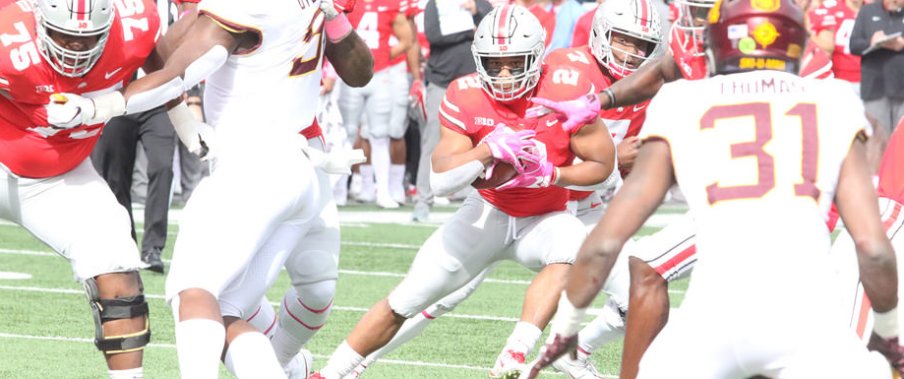 TALE OF TWO HALVES
If your glass is half-full, you're thrilled Greg Schiano and company have consistently made adjustments at halftime that have proved fruitful in the second half. If your glass is half empty, you're puzzled at how Ohio State's defense continues to give up a high volume of chunk plays both on the ground and through the air. 
The Jekyll and Hyde defense was on full display yesterday as it surrendered 14 points, 238 total yards, 128 rushing yards on 6.4 per carry and a 67% completion rate while failing to register a sack with just two tackles-for-loss in the opening half. But after regrouping at intermission, the Buckeyes came out and held the Gophers to zero points, 150 total yards, 50 rushing on 3.8 per carry and a 45% completion rate while tallying two sacks, three tackles-for-loss and four pass breakups over the final two quarters. 
You'll recall the same thing happened last week as Indiana put up 20 points and 317 total yards including 7.8 yards per carry in first half only to muster just six points, 89 total yards and 0.5 yards per carry in the second. 
Look, there are a ton of things wrong with this defense but if you're searching for a positive, it rests on the unit's ability to tighten the screws in the second half. And of course that its poor first half showings haven't cost the team a game yet. 
K.J. THRILL
Another week, another career-day from a Buckeye receiver as K.J. Hill took his turn with a spectacular nine-catch, 187-yard day on 10 targets featuring two touchdowns including a highlight reel one-hander for six. 
The 187 yards set a new personal best for the redshirt junior and tied him for the seventh-best single-game receiving performance in school history while the nine receptions were the second-most of his career (12 vs. PSU last year). 
Hill's ridiculous one-handed stab was incredible but he made plays all day including a 42-yard reception leading to an OSU field goal on its opening possession, a 4th-and-3 catch extending a drive, a 20-yard catch to convert a third down and a 27-yard touchdown providing the game's final score. 
Through seven games, Hill is second on the squad with 40 receptions and 551 yards. Both stats compare quite favorably to his strong 2017 season in which he hauled in 56 balls for 549 yards. 
What's maybe most impressive about Hill's 2018 season is that his yards per catch is up to 13.8 which is a full four yards better than last season's 9.8 mark. He is also averaging twice as many receiving yards per game this year (78.7) compared to last (39.2) and his four touchdowns just past the midway point of the 2018 regular season are one better than his tally over 14 games a year ago. 
TIGHT, TIGHT, TIGHT, YEAH!
As someone who manually tracks individual penalties because they infuriate me, I'm here to tell you Ohio State's tight ends – Rashod Berry and Luke Farrell – committed zero penalties for the first time since the Rutgers game. 
Not only that, the duo combined for four catches on four targets for 57 yards. 
Farrell recorded both of his catches in the fourth quarter hauling in a 24-yarder on a key drive that ended in a field goal pushing Ohio State's lead to 23-14 before recording a 13-yard grab on a 3rd-and-2 snap, paving the way for Hill's 27-yard touchdown two plays later to cap the scoring. 
Berry's two catches were his first since the season opener, one of which extended a drive on a 3rd-and-2. 
The pair hasn't been all that great run blocking this season and Berry's five penalties are tied for the team lead with Malcolm Pridgeon but it was nice to see some signs of life on Saturday. 
INVALID IP
Ohio State has more than one problem within the back seven and the linebackers were obviously not great yesterday which wasn't helped by Malik Harrison's medical DNP but this might also be the worst safety situation Meyer has had since he's been here. 
First-year starter and true sophomore Isaiah Pryor has taken lumps pretty consistently this season and yesterday was another tough outing despite a gift interception late when he stepped in front of a duck from Gophers true freshman walk-on quarterback Zack Annexstad who stared down his receiver, refusing to look off Pryor, before underthrowing and directing a ball towards converging traffic.
Pryor dropped an interception on Minnesota's second possession of the game which led to a touchdown run where Pryor was bowled over at the goal line giving the Gophers a 7-3 lead late in the first quarter. 
After the Buckeye offense answered with a touchdown of its own, Pryor had another tough series giving up a sideline catch to Tyler Johnson for about 10 yards before whiffing badly on a tackle attempt, springing what became a 29-yard gash. Four plays later, he got beat again by Johnson, this time on a slant for 13 yards and a first down at the Buckeye 18 yard line. Five plays later, Minnesota found the end zone for a 14-10 lead. 
I'm really not trying to pile on the kid but I do wonder how much improvement is realistic to expect this season if the issues with poor run pursuit angles and coverage skills are still so prevalent through seven games. There just isn't a ton of time in-season to attack fundamentals amid prepping for the next opponent. 
I'll also can't help but wonder how much of Jordan Fuller's drop off in effectiveness so far this season can be attributed to being forced to play both safety spots at times, in conjunction with concerns over not having a dependable sidekick anchoring the last line of defense. 
Pryor came in as a four-star, Top-100 player and he's a cerebral kid taboot so hopefully there's more in-season maturation to come but for now, it would be unreasonable to not be extremely worried about the back line of the Buckeye defense.