It's not that Dwayne Haskins doesn't see or hear the Heisman Trophy conversations. He can't go on Twitter – he's very active on the social media platform – without seeing the campaign to put him among the frontrunners. At this point, it's unavoidable.
Heck, even the quarterback he beat out for the Ohio State starting job, LSU's Joe Burrow, tweeted his Heisman vote for Haskins, just like dozens of of his teammates. Still, he said he doesn't participate in the speculation.
"I don't think I'm paying attention to it," Haskins said. "I'm aware of it, moreso. It's not my main focus right now. My main focus is every day getting better so I can be in that conversation for the rest of the season."
He doesn't need to pay attention to the ever-growing hype around him for it to exist.
At the midway point of the season, his first as a collegiate starting quarterback, Haskins has put himself among the top four contenders for the Heisman Trophy. Alabama's Tua Tagovailoa, with an 18-to-0 touchdown-to-interception ratio, is the clear leader through six weeks. But Haskins, Oklahoma's Kyler Murray and West Virginia's Will Grier sit a manageable distance back from him.
After a 455-yard, six-touchdown game against Indiana during which he tied two school records and came three yards from another, Haskins moved to first in the nation with 25 passing touchdowns, compared to four interceptions. He has completed 142-of-198 passes (71.2 percent) for 1,919 yards, the most in the Big Ten.
"Got hot in this game most recently, but all that's for naught if you don't keep performing every week," offensive coordinator Ryan Day said.
Haskins has an opportunity to make his Heisman case against a mix of remaining opponents fighting to become bowl eligible – Maryland, Nebraska, Minnesota and Purdue – and a pair of teams that will threaten to hand the Buckeyes their first loss of the season – Michigan and Michigan State – as well as their Big Ten championship opponent, if they make the title game.
When, for about a week last year around this point in the season, it appeared J.T. Barrett would be in the mix for the Heisman Trophy, Barrett said he never talked about the award with Urban Meyer, who has taken a similar tact this season.
After Ohio State's win against Tulane, Meyer called Haskins on the drive home to reiterate the importance of staying focused. Since then, and since Haskins' name has emerged among the leaders for the award, Meyer hasn't altered his actions. Just like he did with Barrett a year ago, he remains mum on the award.
"We don't really talk about Heisman stuff like that because everything is so far-fetched, so far away," Haskins said. "With him, it's just like he just wants me to be the leader that I am, keep inspiring the guys, keep coming to practice with my hard-working mentality and we're going to get there, to that point. I appreciate coach for keeping me grounded."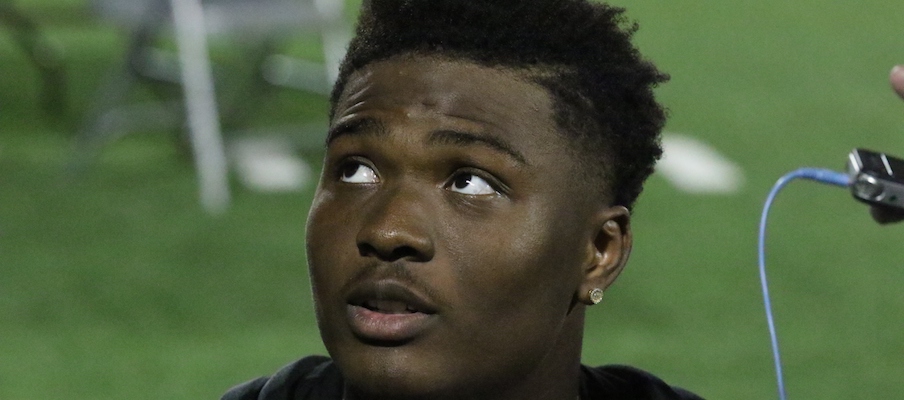 After Ohio State's 49-26 win against Indiana, when asked about Haskins' Heisman chances, Meyer said he doesn't want to "hold him back." However, he didn't endorse him and said he's focused on the next week's game against the Golden Gophers.
"Everyone wants to get into the hype of what can happen, what can be, and you've got to get there first. If you lose versus Minnesota, that doesn't matter. That's what we're focused on is winning every game to stay in this conversation."
Haskins says the right things, but it's hard to believe that deep down, the eternally confident quarterback nicknamed Simba doesn't see the stakes and want the Heisman Trophy more than he lets on. He has only started six games, yet people debate whether he's the best quarterback to ever play for Ohio State.
"It's just a credit to the hard work we do together as a team and that I do in the offseason," Haskins said. "It's just a blessing to be considered with those guys."
No individual award is more well-regarded in college football than the Heisman Trophy, but Haskins has already begun knocking off other records while winning weekly awards. He's one Big Ten offensive player of the week honor from tying for the most ever in a single season, and he's only halfway through the season.
He's on pace to crush Ohio State single-season records for passing yards, completions, passing touchdowns and completion percentage.
"I know they're all attainable, so just the opportunity for me was just every game going out there and having fun, and it'll all come to me. All happen," Haskins said. "We're attacking these records, we're attacking these goals for this season. The end goal is to be in the playoff."