Looking hungover from last weekend's big win on the road in Happy Valley, Ohio State still had more than enough to handle Indiana, 49-26, thanks to the right arm of Dwayne Haskins, another big day from Parris Campbell and an improved second half effort from the Buckeye defense after a shaky start.
Haskins damn near set Ohio State's single-game passing record with 455 yards (three shy of Art Schlichter's mark) and threw for six touchdowns amid his career-high 33 completions becoming the first quarterback in Big Ten history to throw for at least five touchdowns three different times in a single-season. Through six games, Haskins has 25 touchdown tosses against just four interceptions and he's completing a ridiculous 75.5% of his throws. (Oh, and I see you, Ben Victor.)
The victory improved Urban Meyer's squad to 6-0 on the season and 3-0 in the Big Ten East, tied for first place with Michigan. 
Ohio State gets back at it next Saturday in the Shoe with a noon kick against Minnesota but before we turn the page to all things Gophers, here are Five Things from yesterday's defeat of the Hoosiers. 
---
GROUNDED
With the Buckeye rushing attack struggling to get much going over at least the last three weeks, the belief was that Meyer would come out looking to establish the run and while the effort was indeed made, the results were once again decidedly meh. 
The ground game fell short of 200 yards for the fourth-straight week with 154 and the yards per carry mark of 3.2 tied last week's season low. 
J.K. Dobbins again found tough sledding with 82 yards on 26 carries (3.4 ypc) including a long of nine yards while Mike Weber was again noticeably better posting 70 yards on 13 attempts, or 5.4 per pop with a long of 21 yards. 
OHIO STATE RUSHING STATS THROUGH SIX GAMES
OPPONENT
RUSH ATT
RUSH YARDS
YARDS PER CARRY
TOUCHDOWNS
OREGON STATE
53
375
7.1
5
RUTGERS
40
225
5.6
2
TCU
42
182
4.3
1
TULANE
38
151
4.0
2

 

PENN STATE
37
119
3.2
1
INDIANA
48
154
3.2
1
The reality is the guys in the middle of Ohio State's offensive line – left guard Malcolm Pridgeon, center Michael Jordan and right guard Demetrius Knox – aren't getting much of a surge which isn't helped by blitz-happy defenses often bringing a safety near the box to crowd the line. 
Getting to the second-level clean with any consistency has been almost impossible for Dobbins and Weber. Yesterday, the duo combined for 39 carries with 12 of those (31%) resulting in two yards or less. 
Watching Haskins sling it all over the field is fun but if the Buckeyes can't mount an improved ground attack, I don't see how they can be a legit national title contender.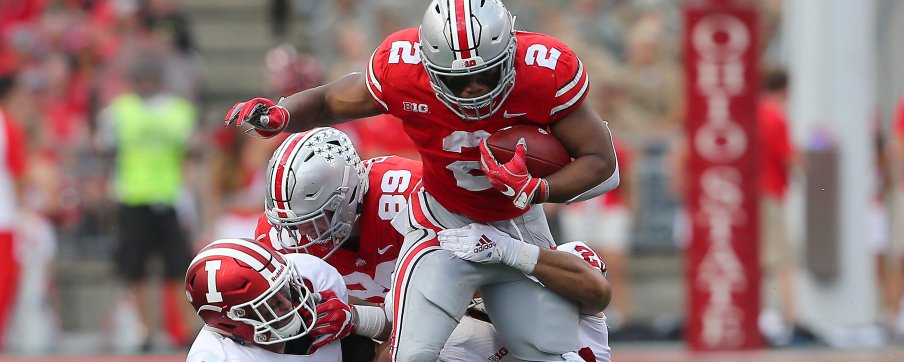 BUSTED COVERAGE
A trend continued as the Buckeye defense yielded eight pass plays of at least 15 yards including four of 30+ yards. 
The first half was made particularly painful by Indiana quarterback Peyton Ramsey who carved up the Buckeyes completing 17-of-29 passes for 239 yards and two touchdowns. 
Ohio State's top cornerback, Damon Arnette, fell asleep allowing Peyton Hendershot to slip past him for a 32-yard touchdown before Nick Westbrook beat Jeffrey Okudah for a 19-yard score in the second quarter. 
Even the anchor of the Buckeye secondary, Jordan Fuller, took a turn giving up a 30-yard reception, as did Kendall Sheffield as part of his up-and-down day. 
Linebacker Malik Harrison nearly gave up a 70-yard touchdown as he allowed Reese Taylor to get five yards past him but Ramsey overshot his wide open target on Indiana's third possession of the day. 
All of these shenanigans occurred in the first half as the defensive line failed to generate much pressure tallying only one hurry and zero tackles, sacks and TFLs. 
The second half was a much different story. The defensive line turned it on posting three TFL, a sack and a hurry which helped the back seven hold Ramsey to 9-of-20 passing for 83 yards over the final two quarters. 
Sheffield gave up a 38-yarder and it looked like Isaiah Pryor got lost when he was supposed to give Sheffield inside help on a short slant for six but other than that, the back seven was much improved down the stretch. Linebacker Pete Werner was particularly solid in coverage with three PBUs while Sheffield and Arnette each had a pair. 
The secondary remains a huge concern after Ramsey threw for 322 yards and three touchdowns though it took him 49 attempts to register those numbers. 
SETTING THE PACE
Parris Campbell is on fire. 
After setting a career-high with 147 receiving yards against Tulane, Campbell set a personal best with nine receptions against Indiana for 142 yards and two scores including a 71-yarder giving Ohio State a 35-20 lead early in the third quarter. 
With two 100-yard receiving games in the last three weeks, Campbell now has four in his Buckeye career. 
Through six games in 2018, Campbell leads the team in receptions (35), yards (501) and receiving touchdowns (7) which compares quite favorably to his entire 2017 season when he tallied 40 grabs for 584 yards and three touchdowns in 13 games. 
Over his last three games alone, Parris has 24 catches for 349 yards and four touchdowns. 
Averaging 83.5 receiving yards per game, Campbell is on pace to finish the 12-game regular season with 1,002 yards which would put him in rarefied air. Just four Buckeyes have posted 1,000+ yard receiving seasons in Columbus and while its far from a lock that Campbell will accomplish the feat, its been fun to watch him blow up this year especially knowing he's such a quality dude.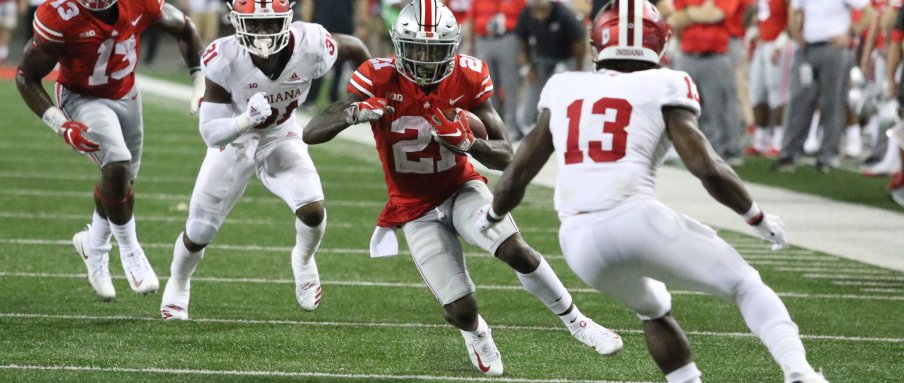 3RD-AND-STRONG
For all the shortcomings within the Ohio State defense, it has done a hell of a job stopping opponents on third down the last few weeks. 
Penn State converted just 3-of-17 opportunities (18%), facing an average of 9.6 yards to go and Trace McSorley connected on just 3-of-9 tosses on third down. 
This week, the Buckeyes were almost as good stopping the Hoosiers on 3-of-14 third down tries (21%) with average of 8.8 yards to go. 
The Buckeyes did keep two Hoosier drives alive with penalties and gave up a touchdown on 3rd-and-Goal via a short slant pass but mostly had solid moments on the key down highlighted by Pete Werner's efforts. 
The linebacker made plays on three different third downs while Damon Arnette and Malik Harrison posted PBUs and Dre'Mont Jones notched a sack and forced fumble forcing Indiana into fourth down situations. 
Over the last two weeks the Buckeye defense is 25-of-31 in stopping opponents on third down and now sit 17th-nationally holding opposing offenses to a 30.3% conversion rate.
SAFETY NET
As Ohio State continues its struggles in finding a dependable safety opposite Jordan Fuller, all Fuller is doing is leading the team in tackles through six games while seeing time at both the boundary and field spots. 
This shouldn't be much of a surprise considering Fuller finished No. 2 on the squad in tackles a season ago with 70, just two stops behind Jerome Baker, despite missing a full game and parts of others down the stretch. 
This year, at the midway point of the regular season, Fuller leads the team with 27 tackles (and is tied for the team-lead with 18 solo stops) while Harrison, who left the game on a cart, sits just two behind with 25. 
I'm not sure Fuller has been quite as good in pass coverage this year compared to last but I applaud his ability to, at times, be a one-man band anchoring the back line for an Ohio State defense that had endured its share of struggles and he remains a sure-tackler in space which is something we've seen very little of from the other names trotted out alongside him. 
Which reminds me, while we're all crushing Bill Davis over the linebackers – which have far outperformed one safety spot and been at least on par with the play from the corners – at one point do we start questioning what Alex Grinch and Taver Johnson are getting out of their position groups? 
Eleven Warriors is committed to smart, timely and exhaustive coverage of Ohio State athletics. Unlike other outlets, we choose not to put up a paywall. We want to keep our journalism as open as we can.
As an independent media organization, we count on the generosity of our readers to help us achieve this mission. If you enjoy our coverage, please consider becoming a 12th Warrior or supporting us in other ways.
Thank you for your continued support.