Last season's loss to Iowa is the elephant in the room that can't be ignored.
After an emotional, thrilling fourth-quarter comeback to earn a 39-38 win over Penn State in 2017, Ohio State laid an egg the very next week, suffering a stunning 55-24 loss at Iowa.
So after another fourth-quarterback comeback win over Penn State last weekend, scoring two touchdowns in the final seven minutes to earn a 27-26 victory over the largest crowd in the history of Penn State's Beaver Stadium, is Ohio State primed for another letdown this Saturday against Indiana?
Playing the Hoosiers at home this weekend isn't exactly the same as playing the Hawkeyes on the road after last year's win over the Nittany Lions. While Iowa has a track record of scoring upset wins in its home stadium, Ohio State hasn't lost to Indiana since 1988, and has beaten the Hoosiers 24 times since then. The Buckeyes will also be playing in front of a homecoming crowd at Ohio Stadium on Saturday, and with a 5-0 record and ranked No. 3 in both major polls, they might very well a better team than they were last year.
Unless you ignore history, it's impossible not to wonder if the Buckeyes might not have some Penn State hangover on Saturday, and even though the Hoosiers haven't beaten Ohio State in three decades, they still might be good enough to give the Buckeyes a challenge this year – currently holding a 4-1 record through their first five games.
Ohio State's players, however, believe they have learned their lesson from last year's debacle in Iowa City and believe they have prepared with the necessary focus and intensity this week to take care of business in their first game after Penn State this time around.
"That's obviously something that's going to stick with us," Ohio State linebacker Pete Werner said of last year's loss at Iowa. "So I wouldn't necessarily say that we're still thinking about Penn State, or congratulating ourselves about that; we're definitely moving on very well, just because of what happened in the past. And we've definitely had a tough week this week as far as Tuesday and Wednesday practices, so I think we'll definitely be ready, and I wouldn't say there's any lack of emotion going into this game. I think we're all pretty ready to go."
Buckeye Breakdown
While Ohio State remains unbeaten, and is now the clear frontrunner in the Big Ten East after defeating Penn State, its win over the Nittany Lions certainly didn't come easy.
The Buckeyes trailed 13-0 in the first half, after failing to score on each of their first eight offensive possessions and giving up a 93-yard touchdown pass. They came back to take a 14-13 lead in the third quarter, only to fall into a 12-point fourth-quarter deficit.
Ultimately, though, they did what great teams do and proved their resiliency, coming up with the back-to-back touchdown drives and back-to-back defensive stops they needed at the end of the game to escape Happy Valley with a victory.
After scoring at least 40 points and gaining at least 500 yards in each of its first four games of the season, Ohio State's offense faced far more resistance at Penn State, gaining just 389 yards and scoring 27 points. Ohio State quarterback Dwayne Haskins also struggled more than he did in his first four starts, completing a season-low 56.4 percent of his passing attempts for a season-low 6.9 yards per attempt.
When the game was on the line, though, Ohio State's offense made the plays it needed to make, capping the game with an eight-play, 96-yard game-winning touchdown drive, capped by a 24-yard touchdown by K.J. Hill (with blocking help by Austin Mack and Terry McLaurin) on a swing pass from Haskins.
Haskins and the Buckeyes had to battle more than they had in any of their previous games this season, but for the quarterback who still has less than half a season of starting experience under his belt, it was a great learning experience that he should benefit from going forward.
"I do feel like I learned a lot from that game," Haskins said. "I learn a lot from every game. I'm only in my fifth start. Every game means a lot to me, every opportunity I get to go play."
Even though Ohio State's offense wasn't able to roll over Penn State like it had most of its other September opponents, the Buckeyes still rank fourth in the Football Bowl Subdivision in yards gained per game (557) and sixth in the nation in points scored per game (49). And Haskins remains very much in the early Heisman Trophy conversation with a spectacular stat line, having completed 109 of 154 passing attempts for 1,464 yards and 19 touchdowns with only two interceptions.
With his team now tasked with being the next team to try to slow down the Dwayne Train and the Ohio State offense, Indiana head coach and defensive coordinator Tom Allen knows his defense will be in for a test.
"He's not experienced by any means in terms of multiple years, but he sure plays like he is," Allen said of Haskins. "He's got a lot of poise and confidence, and he's got a lot of weapons around him.
"He came up big for them this last week, and they got a couple games where they've really been tested, the TCU game and then that Penn State game, and he's done a great job," Allen continued. "He's proven he's a big-time player and is a guy we have to have some answers for. It will be a tremendous challenge to keep him from being as effective as he's been, but that's what we've got to do."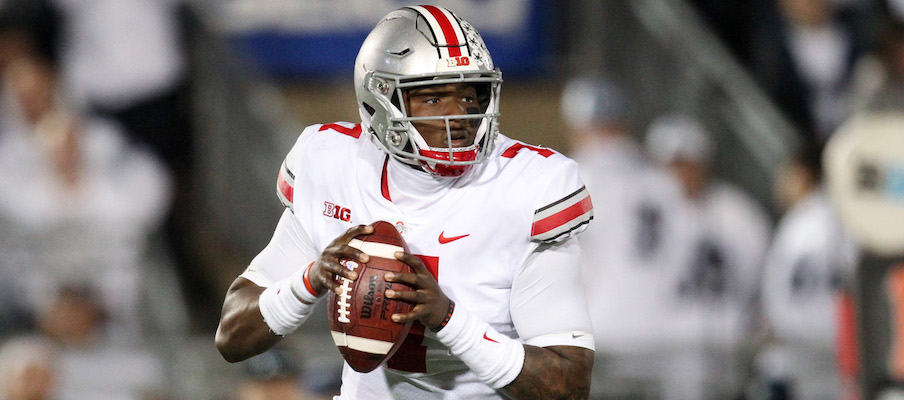 For Ohio State's defense, the big concern continues to be big plays after Penn State hit eight plays of 20-plus yards against the Buckeyes last Saturday, including the aforementioned 93-yard touchdown scored by KJ Hamler – the second 93-yard touchdown allowed by Ohio State's defense this season, tying the longest play from scrimmage ever allowed by an Ohio State defense.
Ohio State is the only team in the FBS that has allowed three plays of 80-plus yards this season. The Buckeyes defense has allowed 15 plays of 30-plus yards this season; only 11 FBS defenses have allowed more.
Beyond the big plays allowed, Ohio State's defense has otherwise shown some strength. The Buckeyes rank second in the FBS in sacks (19) and eighth in tackles for loss (44), and are tied for 26th nationally in points allowed per game (18.8).
To some extent, the big plays allowed are a product of the aggressive style of defense that the Buckeyes play – in which they try to create big plays themselves, but can leave them susceptible to giving up big plays if any defender makes a mistake – and Ohio State coach Urban Meyer acknowledged that this week.
"Bend-but-don't-break, we don't do that," Meyer said. "And with that comes some risk. And we want to challenge every throw. And that's what we do."
Those big plays can make a big difference in a game, though, and Indiana will look to exploit that on Saturday.
"They make it so hard on you (to move the ball), so if you can find a way to create a big play, that's a huge positive," Allen said. "Every big play we can make, we're going to do what we can to create that and try to find a game matchup we can take advantage of. And they're hard. The chinks in the armor are hard to find against what they do."
"We've definitely had a tough week this week as far as Tuesday and Wednesday practices, so I think we'll definitely be ready, and I wouldn't say there's any lack of emotion going into this game. I think we're all pretty ready to go."– Pete Werner on Ohio State's preparation to play Indiana
Indiana Breakdown
While the Hoosiers won four of their first five games, they haven't beaten anyone close to Ohio State's caliber, with their four victories coming against Florida International (38-28), Virginia (20-16), Ball State (38-10) and Rutgers (24-17). Against their tougher competition of the season to date, they suffered a 35-21 loss at home to Michigan State.
2018 Statistical Comparison
 
OFFENSE
49.0
6th
POINTS FOR
28.2
80th
210.4
33rd
RUSHING OFFENSE
179.4
63rd
346.6
8th
PASSING OFFENSE
232.8
67th
557.0
4th
TOTAL OFFENSE
412.2
65th
.500
13th
3rd DOWNS
.468
24th
.833
69th
RED ZONE
.773
107th
DEFENSE
18.8
27th
POINTS ALLOWED
21.2
41st
154.8
63rd
RUSH DEFENSE
158.2
67th
202.2
47th
PASS DEFENSE
163.6
14th
118.6
37th
PASS EFFICIENCY DEFENSE
108.8
28th
357.0
52nd
TOTAL DEFENSE
321.8
25th
.320
31st
3rd DOWNS
.328
36th
.889
93rd
RED ZONE
.923
107th
SPECIAL TEAMS
7.1
86th
PUNT RETURN
14.4
30th
21.3
61st
KICKOFF RETURN
18.2
99th
44.3
4th
NET PUNTING
36.2
86th
MISCELLANEOUS
+1.0
15th
TURNOVER MARGIN
+0.6
32nd
8.4
112th
PENALTIES
6.0
51st
13
EDGE
5
Nonetheless, the Hoosiers appear to be well on their way to a better record than last season, when they went just 5-7, and Ohio State – which actually trailed at halftime in its season opener at Indiana in 2017 before pulling away for a 49-21 win – expects the Hoosiers to bring quality competition to the Shoe on Saturday.
"Well-coached. Really talented group. Played a lot of ball together," Haskins said of Indiana. "We had a tough time with them last year, first game of the season, so we're getting stuff ready for them."
Offensively, Indiana is led by redshirt sophomore quarterback Peyton Ramsey, who has drawn comparisons from both Meyer and Ohio State defensive end Chase Young to Penn State quarterback Trace McSorley – who threw for 286 yards and two touchdowns and ran for 175 yards against the Buckeyes – with his ability to make plays as both a passer and a runner.
"Very good player," Meyer said of Ramsey. "He drives the offense, and we all know about dual-threat quarterbacks around here, and the difficulty that presents."
The other player who has specifically caught Meyer's eye on Indiana's offense is Whop Philyor, an explosive H-back-type receiver who leads the Hoosiers with 18 receptions for 194 yards this season.
"He is a really good player at tailback, running back, receiver, they can move him all over the place," Meyer said of Philyor. "He's just a really good athlete."
Philyor missed last week's game against Rutgers with an undisclosed injury, however, and it is unclear whether he will play this week. Indiana's leading returning receiver from last season, Luke Timian, has also missed the last two games due to injury.
Still, the Hoosiers have plenty of talent at wide receiver, with six players at the position who have already caught at least 13 passes for more than 100 yards this year. J-Shun Harris is also a dangerous punt returner, having taken three punts back for touchdowns in the past two seasons.
True freshman Stevie Scott gives the Hoosiers a big running back, at 6-foot-2 and 236 pounds, who has rushed for 464 yards and four touchdowns on 98 carries this season. And the Hoosiers have one of the nation's most experienced offensive lines, as all five starters already have at least one season of starting experience under their belts.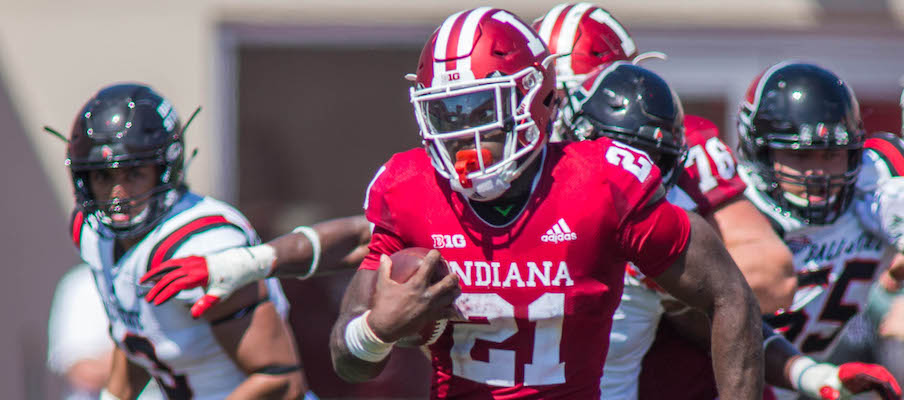 Unlike many recent seasons, though, the strength of the Hoosiers so far this season has been their defense, which ranks 25th in the nation in yards allowed per game (321.8) and 41st in points allowed per game (21.2). And Meyer believes that defense is capable of putting Ohio State's offense to the test once again.
"They play very well," Meyer said of Indiana's defense. "Their scheme is outstanding. I think they're very well-coached. And they got answers for everything."
Both Meyer and Ohio State offensive coordinator Kevin Wilson – who knows Indiana's defensive scheme well, having hired Allen as defensive coordinator while he was still the head coach of the Hoosiers – said that Indiana's defensive scheme is comparable to the 4-2-5 defense of TCU, which the Buckeyes faced three weeks ago. The star of Indiana's defense is Marcelino Ball, a hybrid linebacker/safety who plays what the Hoosiers call the "Husky" position, and is a playmaker for the Hoosiers both around the line of scrimmage and in coverage.
"He's one of their best players," Meyer said of Ball. "He's also a very strong player. He sets the edge of the defense. He's a little bit like their quarterback on offense, he makes that whole defense go. Coach Wilson coached him, and he's a very good player."
The other star of Indiana's defense is strong safety Jonathan Crawford, who leads the Hoosiers with 26 total tackles this season and also had a 33-yard interception return for a touchdown in their season opener against FIU.
"One of their best NFL prospects," Meyer said of Crawford. "They put him in the high draft pick category, we checked on him and we watched him play, and he's also one of those big, physical guys in man coverage."
No one inside the Woody Hayes Athletic Center knows the Hoosiers better than Wilson, who said Thursday that "about 34 of the 44" players on Indiana's two-deep are players who either coached at Indiana or committed to become Hoosiers while he was still their coach. And knowing the culture that he helped create and that Allen has continued to build in Bloomington, he expects the Hoosiers to come to Columbus ready to compete and give the Buckeyes a game on Saturday.
"We created a culture to get those kids to learn how to play hard and buy in," Wilson said. "We used to love to compete against the Buckeyes. We were disappointed we could never get over the hump, but we would look them in the eye and get after them, and that's what Tom Allen's going to do. He's going to bring a great group of kids in here. They're 4-1, they're going to play really hard, it's going to be a tough challenge, and they're a heck of a football team."
How It Plays Out
If the Buckeyes truly have learned their lesson from their loss to Iowa last season, they'll know that they can't take this weekend's game against Indiana lightly.
The Hoosiers aren't as talented as Penn State or TCU, teams that Ohio State already found ways to beat, but they're also better than Oregon State, Rutgers and Tulane – the three teams who the Buckeyes blew out.
Ohio State's Last Six Games Against Indiana

| Year | Location | Result |
| --- | --- | --- |
| 2017 | Bloomington | Ohio State 49, Indiana 21 |
| 2016 | Columbus | Ohio State 38, Indiana 17 |
| 2015 | Bloomington | Ohio State 34, Indiana 27 |
| 2014 | Columbus | Ohio State 42, Indiana 27 |
| 2013 | Columbus | Ohio State 42, Indiana 14 |
| 2012 | Bloomington | Ohio State 52, Indiana 49 |
If Ohio State sleepwalks into the Shoe on Saturday, that could open the door for the Hoosiers to get off to a hot start against the Buckeyes like they did last year. If Indiana can hit some big plays on offense, and continue to hold up solidly on defense, it will have a chance to give the Buckeyes a competitive game.
But as long as the Buckeyes are adequately prepared for Saturday's game, and don't have the post-Penn State letdown that they had last year, they should come away with a win and improve to 6-0 – and they could potentially turn Saturday's game into their fourth blowout in as many games.
While Indiana's defense has improved, it's still likely to be overmatched by Haskins, the deep group of pass-catchers he has around him and Ohio State's strong rushing attack led by J.K. Dobbins, Mike Weber and its massive offensive line. And while Ramsey has some similar qualities to McSorley, he and the Indiana offense aren't nearly as explosive as McSorley and Penn State – either in the passing game or the running game – and the Buckeyes should be able to clamp down on them for the most part.
Saturday's game will be a tricky one to bet on, as the point spread – 26 points as of Thursday evening, according to Vegas Insider – leaves plenty of room for the Buckeyes to win convincingly and still not cover. Their chances of covering will decrease considerably if they get out to a sluggish start. Yet even last year when Indiana led at halftime, Ohio State still won by 28 points, and in midseason form with home-field advantage, the Buckeyes could certainly achieve an even more lopsided result this weekend.
---
ELEVEN WARRIORS STAFF PREDICTION: Ohio State 47, Indiana 17