Before each week's Ohio State game, Eleven Warriors catches up with a media member who covers the opposing team to get his or her perspective on the Buckeyes' upcoming opponent.
As Ohio State prepares to host Indiana in its sixth game of the season this week, we caught up with Zach Osterman, who covers the Hoosiers for the Indianapolis Star, to get his insight on how the Hoosiers have performed this season and how they have changed since they have hosted the Buckeyes in their season opener last season.
The Hoosiers are off to a strong start this year, winning four of their first five games after going just 5-7 last season, but they haven't faced the toughest competition. Their four wins have come against Florida International, Virginia, Ball State and Rutgers, while they suffered a 35-21 loss in their Big Ten opener against Michigan State.
Have the Hoosiers made actual strides this season, or have they simply beaten up on inferior competition so far? How have second-year coach Tom Allen and the Hoosiers grown since their 49-21 loss to Ohio State last September? Which Indiana players and areas of their team could challenge the Buckeyes, and what will they have to do well to keep things competitive at Ohio Stadium on Saturday?
Osterman answers those questions and more in this week's edition of Across The Field.
Q: Indiana is 4-1 this season after going just 5-7 last season, but the Hoosiers haven't faced much top competition yet. Have there been clear areas of improvement for the Hoosiers this year, or is their record mostly a product of who they've played?
Osterman: Probably a bit of both, to be honest with you. Indiana has certainly had a more manageable start, not having to deal with both Ohio State and Penn State inside the first four games of the season, like last year. That said, up until a couple of weeks ago, the Hoosiers had been more reliable on the ground this season, Peyton Ramsey has taken a step forward in the passing game and they've navigated a couple of weird tests, like a random opener at FIU in south Florida, or Virginia in a driving rainstorm. IU's undoubtedly still a work in progress in some key areas, but they're fair value for their 4-1 start. The road steepens considerably from here. 
Q: Tom Allen was in his first game as Indiana's head coach when the Hoosiers hosted Ohio State last year. What are the biggest imprints he has made on the program from then to now?
Osterman: The defensive standard he's set is probably the biggest change. Indiana was a top-30 team on that side of the ball last season nationally, for the first time in who knows how long. The Hoosiers were expected to take a step back on that side of the ball this year because of attrition, yet they're 25th in the country in yards allowed per game through five games, and top-15 against the pass. The offense is more efficient than it was a year ago, if not more explosive. But the idea of a defensive standard or baseline being established defensively, for a program that has struggled so much on that side of the ball in the last 20 years or so, is probably the biggest change.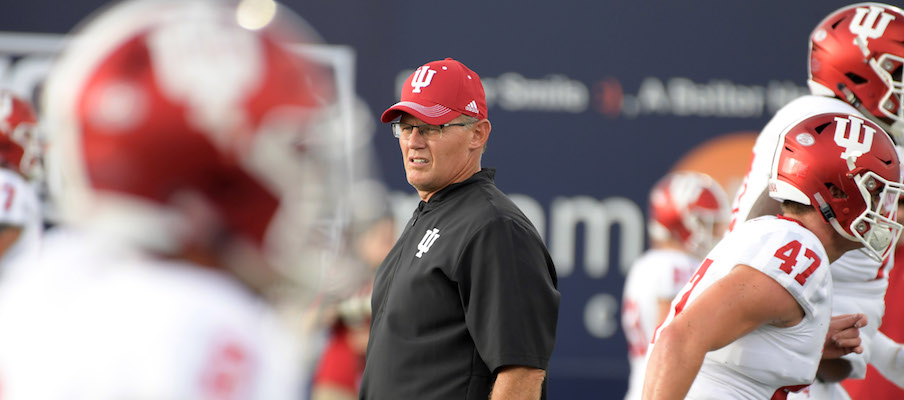 Q: What would you consider to be the strengths and weaknesses of this year's Hoosiers?
Osterman: Strengths start with that defense. They're taking the ball away a little more often this year, the pass-rush is maturing by committee again and broadly speaking, they have limited big plays. That's obviously going to get a serious test this weekend. The offense is again, more about efficiency than explosiveness.
Weaknesses? The run game needs to get going again, after a couple of quiet weeks. If Indiana can establish the run, Peyton Ramsey is a really accurate quarterback who could probably stand to open the air attack up downfield a little bit more. Indiana has some good receivers one-on-one, but hasn't really tried to exploit those match-ups yet this season. If IU can't run the ball, it's asking a lot of its offensive line to block for anything other than quick passes and timing routes. But without being flippant, Indiana's strengths are going to be pushed as much as its weaknesses this weekend.
Q: Who are some of the potentially overlooked players that Ohio State and its fans need to be aware of entering Saturday's game?
Osterman: Whop Philyor, if he plays, is an explosive, electric receiver. Tore off a 65-yard touchdown catch against Michigan State two weeks ago. Marcelino Ball is IU's hybrid safety/linebacker (they call the position the husky), and probably one of its most dynamic defenders. Reakwon Jones replaced Tegray Scales at linebacker and has quietly started the season very well. J-Shun Harris has come back from three ACL tears, including one last season, but also returned three punts for touchdowns in the last two seasons. And Stevie Scott is already near 500 yards rushing, despite the fact that Indiana wasn't even sure it would keep him at running back until fall camp. Those are a few that immediately come to mind.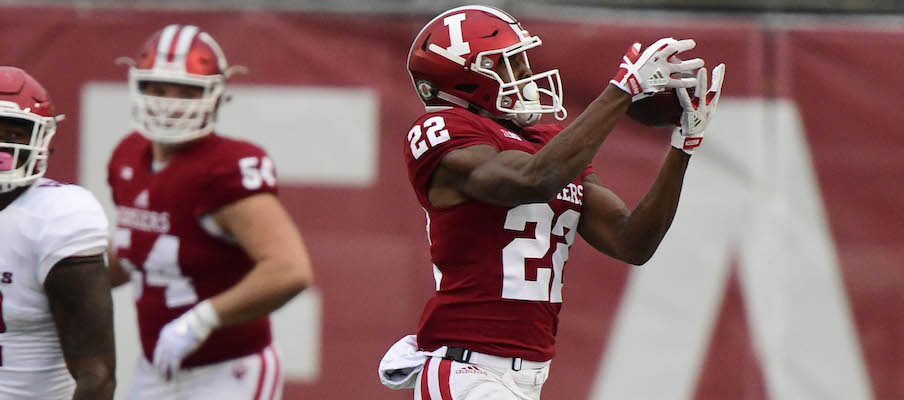 Q: What does Indiana need to do well to have a chance to win this game, or at least keep it competitive, and how do you see it playing out?
Osterman: Indiana's success (or otherwise) Saturday will in my mind come down to defensive performance, and turnovers. IU has to limit Ohio State's capacity for big plays. That's something Allen has improved significantly in the last 2 1/2 years, but it's also difficult to do with the Buckeyes.
Do that, and get some pressure on Dwayne Haskins, and I think Indiana can at least keep things manageable. Produce a handful of turnovers without committing them, and establish the run enough to open up the offense, and the Hoosiers could even score enough to keep things close. But I don't see any realistic path to a win without a serious letdown performance from Ohio State. I just don't think IU is experienced enough for that right now. It's hard to put a final score on it, but I could see a respectable enough performance that still ends with a comfortable Buckeye victory, maybe 17-21 points.