If last season's 55-24 loss at Iowa was any indication, there's reason to be on high alert for an Ohio State letdown this week after the Buckeyes came from behind to steal a victory from the brink of defeat against Penn State for the second year in a row.
Whether Indiana is good enough to take advantage or even keep things close if Ohio State doesn't play at its best, though, will be a tough question to answer going into Saturday's game at Ohio Stadium (4 p.m., FOX).
The Hoosiers have won four of their first five games this season, but they haven't faced stiff competition, with their victories coming against Florida International, Virginia, Ball State and Rutgers. In their only game against a team with semi-comparable talent to Ohio State, Michigan State, the Hoosiers suffered a 35-21 loss, though they put a solid fight against the Spartans.
Statistically, the Hoosiers have been a middle-of-the-pack Big Ten team so far this year, ranking fifth in the conference in total offense (412.2 yards per game), eighth in scoring offense (28.2 points per game), sixth in total defense (321.8 yards allowed per game) and seventh in scoring defense (21.2 points allowed per game).
Traveling to Ohio State, however, will be easily the strongest test that Tom Allen's squad faced yet this year, especially considering the Hoosiers played Michigan State at home. How does their talent stack up against the Buckeyes?
We take a closer look at the Hoosiers' roster now to get a better idea of which players could pose a threat to Ohio State, and what their strengths and weaknesses are this season.
Quarterback
12 Peyton Ramsey – 6-2, 210, Redshirt Sophomore
After playing in Indiana's first eight games and starting the last four of those games before an injury cut his 2017 season short, Ramsey beat out Brandon Dawkins (who has since left the team) and Michael Penix to regain the starting job for this season. He's off to a solid start through the Hoosiers' first five games, completing 71 percent of his passes for 1,039 yards and eight touchdowns while also running for 170 yards and two touchdowns.
Ramsey doesn't have a big arm, so he isn't a big threat in the deep passing game, and he'll make questionable decisions at times, having thrown five interceptions already this year. That said, he's a typically accurate passer in the short-to-intermediate range, and he's a solid runner who will force the Buckeyes to prepare once again for a quarterback who can make plays with his feet.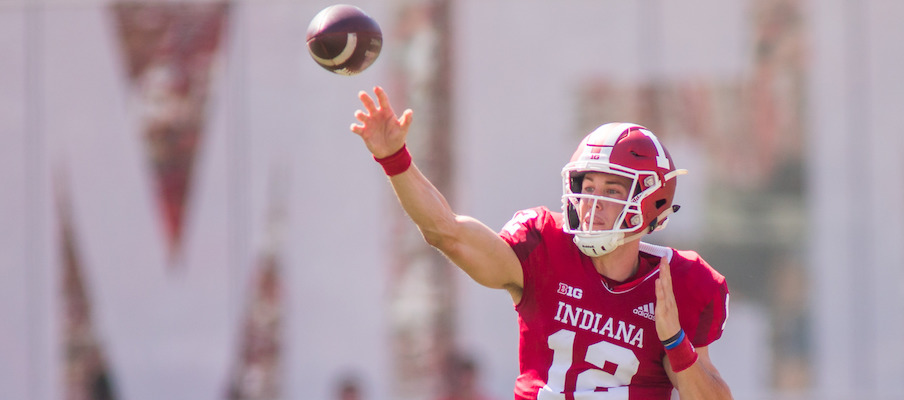 Running Back
21 Stevie Scott – 6-2, 236, Freshman
Ohio natives Morgan Ellison and Cole Gest were expected to be Indiana's top two running backs this season, but Ellison has been suspended for undisclosed reasons since before the season while Gest tore his ACL in the Hoosiers' season opener, forcing them to turn to true freshmen at the position.
Scott has taken the lion's share of the workload, carrying the ball 98 times for 464 yards and four touchdowns while also catching six passes for 30 yards and a score. Although he's a big, powerful running back, he's shown good athleticism for his size as well.
Two other smaller, shiftier true freshmen have also seen playing time at running back for the Hoosiers. Ronnie Walker Jr. has 17 carries for 76 yards and a touchdown, while Reese Taylor – a versatile athlete who is also Indiana's kickoff returner and can play quarterback and cornerback – has 13 carries for 68 yards as well as 11 catches for 66 yards.
Wide Receivers
15 Nick Westbrook – 6-3, 215, Redshirt Junior
25 Luke Timian – 6-0, 195, Redshirt Senior OR 22 Whop Philyor – 5-11, 180, Sophomore OR 5 J-Shun Harris – 5-8, 172, Redshirt Senior
3 Ty Fryfogle – 6-2, 212, Sophomore OR 6 Donovan Hale – 6-4, 229, Redshirt Junior
Indiana has six wide receivers who have each started at least one game and caught at least 13 passes for more than 100 yards this season, but none of them have caught more than 18 passes or reached the 200-yard mark. None of them are standout superstars, but like Ohio State, the Hoosiers go two-deep at the position with receivers who play regularly and who bring a wide variety of skill sets to the table.
Westbrook, the only receiver who has started every game this season, was the Big Ten's second-leading receiver in 2016 – gaining 995 yards and scoring six touchdowns on 54 catches – but hasn't yet returned to full form after suffering a torn ACL on the opening kickoff of Indiana's season opener against Ohio State last year.
Timian, a former walk-on, is the Hoosiers' leading returning receiver from last season (68 catches for 589 yards) and arguably their most reliable pass-catcher, but he has missed their last two games due to injury; Philyor had a big game in his place against Michigan State (13 catches for 148 yards and a touchdown), and currently leads the team in catches and receiving yards as a result, but he also missed last week's game against Rutgers due to injury.
If Timian and Philyor are both out again Saturday, Harris – who's also the Hoosiers' punt returner, and a good one, taking a punt 86 yards for a touchdown against Ball State – will likely start for a second straight week in the slot.
Hale is the top big-play receiver of the group – with 176 yards and three touchdowns on just 14 catches this year – while Fryfogle has also emerged as a reliable pass-catching option, leading the Hoosiers with five receptions for 70 yards against the Scarlet Knights.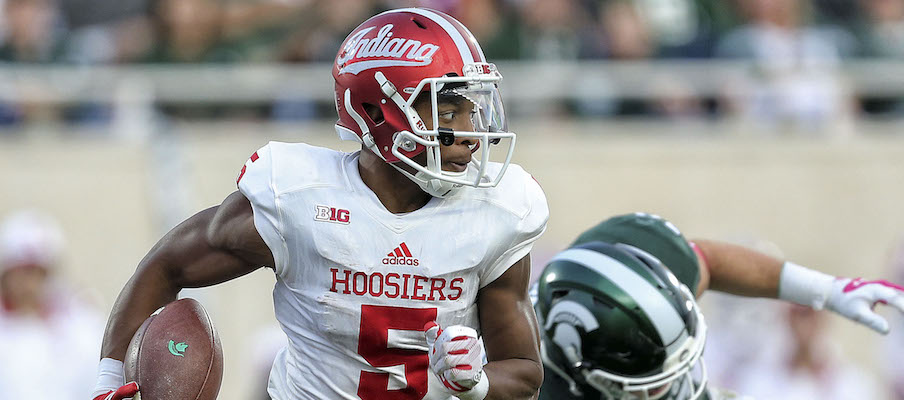 Tight Ends
86 Peyton Hendershot – 6-4, 245, Redshirt Freshman
Throwing to the tight end isn't a regular priority in the Hoosiers' spread offense, but Hendershot has shown some playmaking ability as a pass-catcher, hauling in eight passes for 80 yards and a touchdown. 6-foot-3, 237-pound true freshman Matt Bjorson has also seen playing time early this season, catching four passes for 50 yards.
Offensive Line
54 Coy Cronk – 6-5, 309, Junior
76 Wes Martin – 6-3, 316, Redshirt Senior
50 Nick Linder – 6-3, 306, Redshirt Senior OR 68 Hunter Littlejohn – 6-3, 304, Redshirt Junior
72 Simon Stepaniak – 6-4, 311, Redshirt Junior
62 Brandon Knight – 6-5, 307, Senior
Cronk, Martin, Littlejohn, Stepaniak and Knight are all returning starters from 2017, giving Indiana tremendous experience on its offensive line. Linder, who was previously a two-year starting center at Miami (Fla.), made his first start for the Hoosiers against Rutgers and looks as though he could be an upgrade over Littlejohn.
Martin, an honorable mention All-Big Ten lineman in 2017, is the leader of the group, but all of them bring a veteran presence to the unit. Cronk and Martin have each started every game dating back to the start of the 2016 season.
The Hoosiers' offensive line isn't the most athletic or powerful unit, and could be somewhat overmatched physically by Ohio State's talented defensive line. They've only allowed six sacks through five games, though, and their experience will give them a fighting chance to keep the Buckeyes at bay.
Defensive Ends
35 Nile Sykes – 6-2, 252, Redshirt Senior
69 Gavin Everett – 6-3, 262, Redshirt Junior OR 99 Allen Stallings IV – 6-2, 247, Junior
Sykes is Indiana's best speed rusher off the edge, while Everett is the Hoosiers' strongest run stopper. Their most productive defensive end so far this season, though, has been Stallings, who has recorded 10 tackles, forced a fumble and is tied for the team lead with four tackles for loss. Sykes and Everett have been the primary starters this season, but each of the top three defensive ends play regularly.
None of them started more than one game before this season, so they're a largely unproven group, and none of them are dominant players. Together, though, they form a solid trio who can put some pressure on opposing backfields and make some plays off the edge.
Defensive Tackles
98 Jerome Johnson – 6-3, 295, Redshirt Sophomore OR 91 Jacob Robinson – 6-4, 295, Senior
54 Ja'merez Bowen – 6-4, 311, Redshirt Senior
Robinson is the Hoosiers' lone returning starter on their defensive line from last season, but he's missed their last two games due to injury. Johnson, who has started in Robinson's place, has shown good quickness and ability to be disruptive on the interior defensive line, but he'll also get pushed around at times and could be overmatched by Ohio State's massive interior offensive line.
Bowen has started every game this season for the Hoosiers at nose tackle and recorded eight total tackles and two pass breakups.
Linebackers
43 Dameon Willis Jr. – 6-1, 225, Redshirt Senior
7 Reakwon Jones – 6-2, 235, Redshirt Junior
42 Marcelino Ball – 6-0, 222, Redshirt Sophomore (Husky)
Ball, a hybrid linebacker/safety who plays the "Husky" position for Indiana's defense, is the Hoosiers' most active defender. With the ability to line up all over the formation, and make plays both attacking downhill and dropping back into coverage, he's a player who is regularly around the football and who Ohio State will need to account for more than anyone else on Indiana's defense. Ball has recorded 16 total tackles and four tackles for loss and leads the team with two sacks this season, while he has also recorded a forced fumble and a pass breakup.
Willis and Jones, meanwhile, start at the traditional linebacker spots, and both have also been solid playmakers for Indiana's defense this year. Willis has recorded 22 total tackles with two tackles for loss, while Jones has 17 total tackles with 3.5 tackles for loss (one sack) and two pass breakups.
Georgia Tech transfer T.D. Roof, a 5-foot-11, 224-pound sophomore, has also played regularly off the bench and been productive, recording 15 total tackles with two tackles for loss.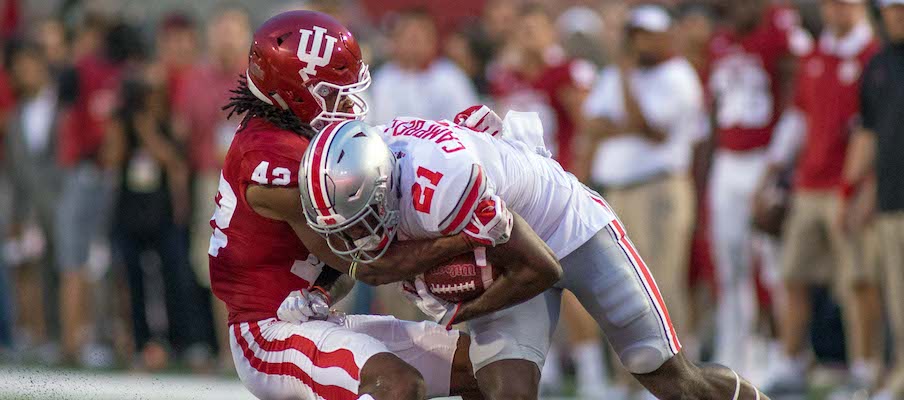 Cornerbacks
14 Andre Brown Jr. – 6-0, 200, Redshirt Junior
28 A'Shon Riggins – 6-0, 188, Junior OR 17 Raheem Layne – 6-1, 195, Sophomore
A third-year starter, Brown is Indiana's top cornerback. A well-built corner who has good physicality for the position and is steady in coverage, Brown leads the Hoosiers with three pass breakups this year.
Riggins started two of the Hoosiers' first four games at cornerback, but missed the last game due to injury; Layne has started their other three games. Regardless of who has been in the lineup, though, the Hoosiers' cornerbacks have been solid, leading the way for a pass defense that currently ranks second in the Big Ten (and 14th in the Football Bowl Subdivision) with only 163.6 passing yards allowed per game.
Safeties
29 Khalil Bryant – 5-10, 202, Junior (Free Safety)
9 Jonathan Crawford – 6-2, 196, Senior (Strong Safety)
Crawford, a fourth-year starter at strong safety, is the leader and most proven player on the Hoosiers' defense. He recorded 209 total tackles, eight interceptions and 16 pass breakups in his first three seasons at Indiana, and has a team-high 26 total tackles this season. He also returned an interception 33 yards for a touchdown in the Hoosiers' season opener against FIU.
Bryant is a far less proven player as a first-year starter, but he's also been solid on the back end of the Hoosiers' defense and shown some ability to come up closer to the line of scrimmage and make plays. Bryant has recorded 14 total tackles and snagged his first career interception against Michigan State.
Specialists
82 Logan Justus – 5-11, 180, Redshirt Junior (Kicker)
94 Haydon Whitehead – 6-2, 205, Redshirt Junior (Punter)
90 Jared Smolar – 5-11, 209, Redshirt Sophomore (Kickoffs)
The Hoosiers' kicking specialists aren't spectacular, but they've been steady so far this season. First-year placekicker Justus has made five of six field goal attempts and 16 of 17 extra points, while Whitehead has averaged 40.1 yards per punt.
Overall Outlook
With a quarterback who can make plays as both a passer and runner, a deep group of wide receivers and one of the most experienced offensive lines in the country, Indiana has solid balance on offense, but there aren't any particular playmakers who should scare Ohio State considerably.
Hale, Harris and Philyor (if healthy) are among the threats to make big plays if the Buckeyes don't clean up the issues they've had with allowing big plays on defense, but the Hoosiers aren't a big-play offense, with only 18 plays of 20-plus yards and six plays of 30-plus yards this season.
Defensively, the Hoosiers' back seven is their strength, and they've been solid this year against the pass. But they haven't faced a quarterback like Dwayne Haskins or a receiving group as talented as Ohio State's yet, and their defensive front could be overmatched by the Buckeyes' offensive line, leaving the Hoosiers vulnerable to the Buckeyes' 1-2 running back punch of J.K. Dobbins and Mike Weber.
If Ohio State has another letdown game like it had following its big win against Penn State last year, Indiana is a good enough team to keep things competitive. If the Buckeyes play up to their ability, though, they'll have the advantage on both sides of the ball and should be able to improve to 6-0 without much trouble.