Darius Anderson needed just eight steps, which took fewer than three seconds, to bolt past Ohio State's defensive line and linebackers, leaving just one player between the TCU running back and a record-breaking touchdown.
Isaiah Pryor, the Buckeyes' last line of defense on the play early in the second quarter of their win against TCU on Saturday, could not react quickly enough to change directions and came up short on his diving tackle attempt. Anderson slipped through the arms of the first-year starting safety and raced down the home sidelines to score on a 93-yard rush.
No player had ever gained that many yards against Ohio State on a single play from scrimmage. That should have come as a surprise — 93-yard gains don't happen every Saturday.
But, after giving up seemingly countless long gains in the season opener, it made sense that the issue reappeared.
Though he was not able to coach the first three games of the season and had to watch them from back home in Columbus, Urban Meyer diagnosed Ohio State's propensity to give up long gains, similar to Anderson's, as the defense's most necessary fix.
"On defense, too many big plays, and that's just obvious," Meyer said. "Get aligned and get the guy down. If he makes it to the second level, get him down. That's the biggest issue on defense is eliminate the big plays."
Oregon State gashed the Buckeye defense for seven plays — four passes and three rushes — that went for at least 25 yards. Running back Artavis Pierce got loose for rushes of 78 and 80 yards.
"We've got to find a way to fix those little issues because eventually those little issues become bigger and we end up losing. We've got to find a way."– Dre'Mont Jones
Some chalked up the long plays in the first week of the season to the absence of safety Jordan Fuller who missed the opener due to a hamstring injury. For one week it seemed like those who believed Fuller's return would eliminate major-yardage plays would be vindicated. Rutgers, Ohio State's Week 2 opponent, did not not run a play on offense that gained more than 15 yards.
But, Fuller can only do so much. TCU's Shawn Robinson connected on four passes that went for at least 25 yards and Anderson had his 93-yard dash.
"I'll say that's definitely not our standard," Fuller said. "So, we're doing everything we can to erase those. I know we have a really aggressive defense, so sometimes we're going to mess up and a ball will pop. But, we've got to get those runs on the ground, obviously."
To Fuller, the fix is not easy. He said there is a "combination of things" that has led to Oregon State's and TCU's big gains. Fuller does not want to pin the entirety of the blame on Pryor and Jahsen Wint, the two who have played the majority of snaps at the safety spot opposite him who have received a large portion of the criticism.
"I mean this might be biased, but I definitely don't like seeing that, people saying, like, 'Oh Isaiah should have got him right there. Jahsen should have got him right there,'" Fuller said. "It's still 11 guys on defense, too."
On Anderson's run, three players — one at each level — had chances to stop the run. Defensive tackle Robert Landers fought through a block to get a hand on the running back, but could not slow him down. Malik Harrison took a step to the left, which allowed a blocker to wall him off from Anderson, then Pryor could not cut the running back off from dashing down the sideline to the end zone.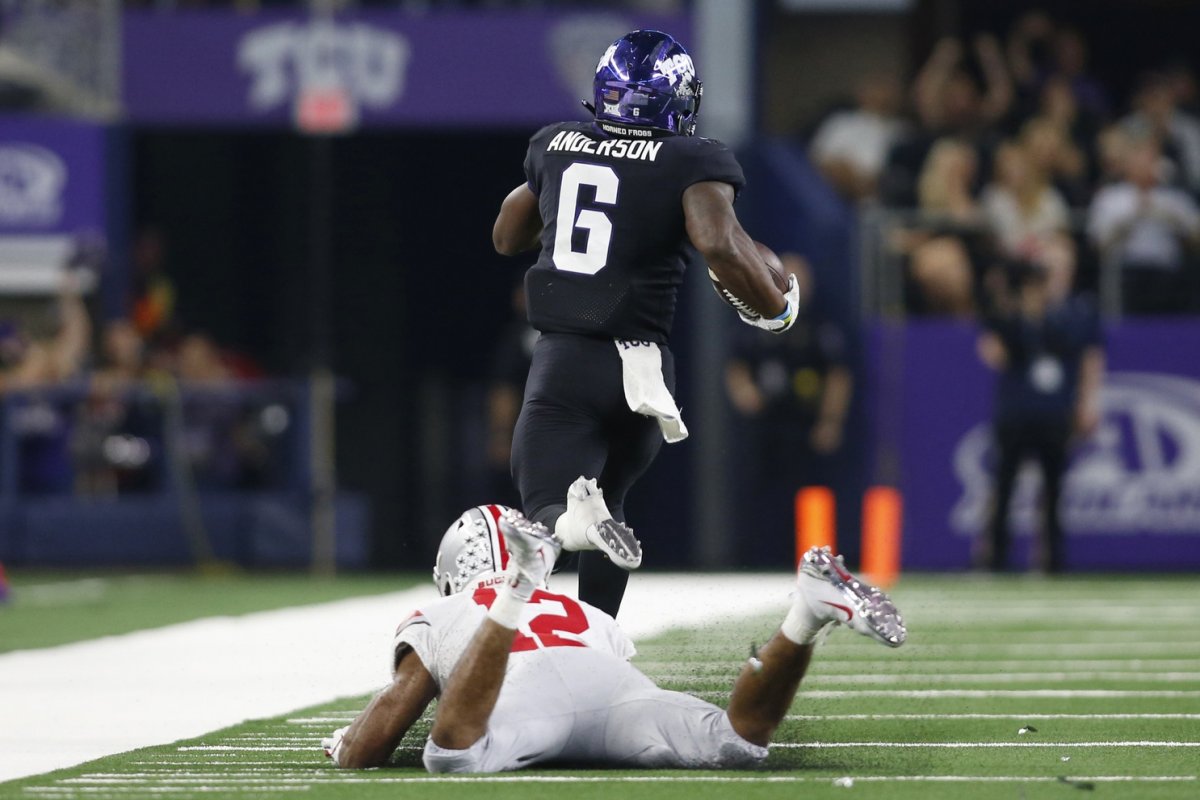 Without the big-yardage plays, the final scores of the Buckeyes' games versus Oregon State and Rutgers would likely have looked significantly different.
Of Oregon State's 392 total yards against Ohio State, 316 came on the seven plays that went for at least 25 yards. The Beavers averaged just 1.4 yards per play on their 56 other rushing or passing plays in the opener. Nearly half of TCU's 511 total yards came on its five 25-plus-yard plays.
It's no excuse, though. Those plays can't just be taken away. They happened.
What can change is how Ohio State, in its upcoming games, can prevent offenses from extending what should be a 10-to-15-yard gains into a 50-plus-yard plays.
"We've just got to work. We've got to find a way to fix those little issues because eventually those little issues become bigger and we end up losing," Dre'Mont Jones said. "We've got to find a way. I don't know exactly the point of emphasis to change that, but we've all got to just work together as a unit."
Photo of Darius Anderson: Tim Heitman-USA TODAY Sports