Before each week's Ohio State game, Eleven Warriors catches up with a media member who covers the opposing team to get his or her perspective on the Buckeyes' upcoming opponent.
Ahead of Ohio State's much-anticipated clash with TCU, we caught up with Drew Davison, the TCU beat writer for the Fort Worth Star-Telegram, for his thoughts on how the Horned Frogs have performed so far this season and what he expects to see when they meet the Buckeyes at AT&T Stadium in Arlington, Texas on Saturday night (8 p.m., ABC). 
Like Ohio State, TCU has started off the season by winning its first two games. Also like the No. 4-ranked Buckeyes, the No. 15-ranked Horned Frogs haven't faced tough competition yet, but won by significant margins in their first two games, defeating Southern 55-7 in its season opener before defeating SMU 42-12 last Friday.
What have been the Horned Frogs' keys to success so far, and what are the biggest areas of concern going into Saturday? What will they need to do better to have a chance to beat the Buckeyes? Does TCU consider Saturday's game to be a home game – considering that Arlington is just a short drive for Fort Worth – and if you're making the trip to the Greater Dallas area for Saturday's game, where else should you visit?
Davison gives us his answers to all of those questions and more in this week's edition of Across the Field.
Q: TCU has played two games so far this season, winning them both against Southern and SMU. What are your biggest takeaways from those two games in regards to what kind of team the Horned Frogs are going to be this year?
Davison: Well, I think No. 1 is, I think Shawn Robinson has some signs of potentially being a really good college quarterback. He's got it done on the ground, scoring three rushing touchdowns, and he has flashed some arm strength. He's missed a few deep throws, but you can kind of see the pieces are there for him to be a pretty good quarterback. And I think the biggest thing is, for a sophomore, he doesn't really get rattled. He threw an interception last week against SMU. Next offensive possession, he rushed in a touchdown. To me, Robinson looks like he's gotten off to a pretty solid start, even though his numbers might not be eye-popping.
And then defensively, I think the defense has a chance to be the top team in the Big 12, like they were last year. They've got some good rush guys to get pressure on the quarterback, and kind of a surprise player, I would say, is Corey Bethley, the 3-technique defensive tackle. In the 4-2-5 defense, you really need the under tackle to get that interior pressure, so it's a promising sign that he already has three sacks so far.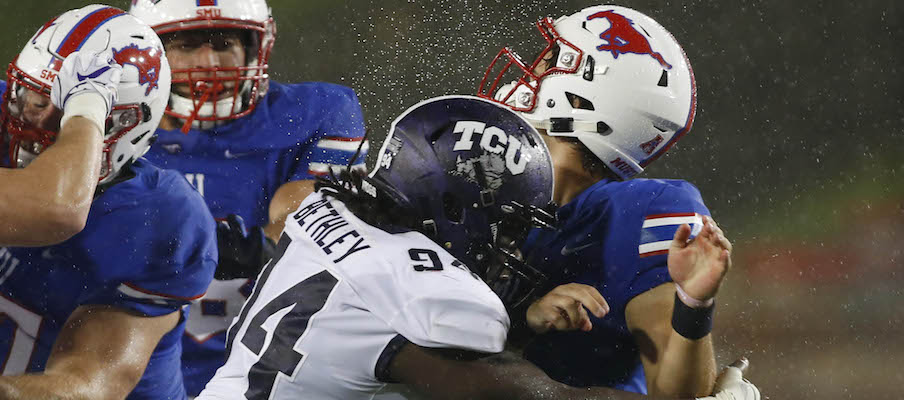 Q: You mentioned Robinson and Bethley. Who are some of the other players that Ohio State and its fans should be aware of for Saturday's game?
Davison: Running back Darius Anderson has not gotten a ton of snaps yet, he's still kind of on the mend – I don't know if he's been at 100 percent, he missed a little bit of fall camp – but he's a guy who's on NFL radars. He's a home-run threat every time touches the ball.
Another home-run threat, KaVontae Turpin, he returned a punt for a touchdown last week against SMU, and he's really got a chance to be a difference-maker on offense. And Robinson's No. 1 target so far, Jalen Reagor, he's a good player and again brings some speed.
Defensively, Ben Banogu is an NFL-type pass-rusher. Probably could have gotten drafted last spring, but wanted to come back as a senior, and he had a strip last week that led to a defensive touchdown. So he's a pretty good player. And they've got some guys in the secondary. Jeff Gladney is probably going to be playing on Sundays at cornerback. And Niko Small's a veteran safety.
Q: What would you say are the biggest strengths of this TCU team?
Davison: I think the biggest strength is probably defensive line. They lost a sophomore named Ross Blacklock, who had a really nice year last year, to an Achilles injury, but they've still got some decent depth there. And they're getting L.J. Collier, a senior defensive end who hasn't played the first two games, back this week. So the front six – they play a 4-2-5 – are really pretty stout. They've got talent there.
And then I would say their receiving corps is pretty good. With Turpin and Reagor and Jaelan Austin, they've got some weapons there that if they get the ball in their hands, they can be difference-makers.
Q: What are TCU's biggest areas of concern entering this game?
Davison: Offensive line. TCU put four of their regulars from last season in NFL camps. Certainly the offensive line is, to me, the biggest question mark, just given how good Ohio State is on the defensive line. So I think that's going to be the biggest test, making sure Robinson has time to make plays and make throws and also trying to open up some running lanes for the running backs.
Q: With this game being played at AT&T Stadium, does TCU still view this as a home game, and do you think the Horned Frogs will have a home-field advantage?
Davison: Yes and no. It is in the sense that the stadium's only 25-30 minutes away, and they should have a pretty good contingent of fans, but with that being said, I still think more than half the stadium will be Ohio State, just because their fan base is so much bigger in terms of numbers of alumni.
I think Ohio State will definitely have the edge in the number of fans there, but I do think they feel it's essentially a home game because they'll be pretty much going through their same routines like they would for a home game. Don't have to have to hop on a plane or anything like that, just have to drive an extra 15-20 minutes.
Q: For Ohio State fans who are making the trip to Dallas, are there any restaurants or other attractions that you would recommend visiting that they might not already know about?
Davison: I'm a Fort Worth guy, so I always tell people Dallas is fine, not knocking it, but if you're in town, make sure you hit Fort Worth. The Stockyards is a good place; it's got a lot of restaurants and bars, and you can carry drinks from bar to bar on the street – they have a permit that allows you to. For Mexican food, Joe T. Garcia's is a staple that's really a good spot. For barbecue, Cooper's is good. Heim BBQ, in what we call the Hospital District in Fort Worth. Hard Eight BBQ, there's three or four locations, is also a solid option.
Q: What do you think the Horned Frogs need to do to have a chance to win this game?
Davison: Well, I would say the two biggest things: No. 1, limit the big plays. TCU's given up a 51-yard touchdown run last week against SMU, gave up a long touchdown to Southern and another big play of 40-plus yards, so they've been beat. The defense, for as well as they've played, they have been prone to give up the big play so far this season, so they of course have to limit those.
And then No. 2, I think Shawn Robinson needs to connect on the deep ball. He's been a little inaccurate on those throws, had a couple potential touchdowns, and Gary Patterson said he really needs to get more air under the ball, let the receivers make plays. So I think those two things have to go TCU's way.
Q: What's your prediction for how the game plays out?
Davison: I saw the spread was 13 ½ for Ohio State, I think it'll be closer than that. I think TCU has some weapons, and the talent to hang in there, but I do think Ohio State wins it in the end. Off the top of my head, I'll say 31-23.