During the first two Monday press conferences of Ohio State's season, there wasn't much talk about the actual opponents the Buckeyes would be facing those weeks, as it was widely (and correctly) predicted that they would make easy work of Oregon State and Rutgers.
This Monday, however, many of the questions fielded by Ohio State acting head coach and offensive coordinator Ryan Day and associate head coach and defensive coordinator Greg Schiano were about the No. 4-ranked Buckeyes' upcoming opponent, as they're expected to face their first real test of the year against No. 15 TCU at AT&T Stadium in Arlington, Texas on Saturday (8 p.m., ABC).
While the Buckeyes are double-digit favorites to win Saturday's game, both Day and Schiano expect the units they oversee to be in for a real challenge this week.
TCU's offense, which ranks 14th in the nation through two games with 48.5 points scored per game, is led by quarterback Shawn Robinson, who Schiano described as "a really good player who is multi-dimensional."
"He can run, he can throw, he's a strong-arm guy," Schiano said of Robinson.
Robinson is the first real running threat the Buckeyes have faced from the quarterback position this year, which is an added variable that puts extra stress on Schiano and Ohio State's defense in their preparation for this week.
"It changes all the math," Schiano said. "When the quarterback carries the ball, and can do it well, then the defensive math changes. And really, playing good defense is getting people to the point of attack and then making the tackle. So when the quarterback runs it, you need to get another guy to the point of attack.
"And then on the passing downs, if he has the ability to scramble, you have to account for that," Schiano continued. "And what I've noticed … he scrambles, but he scrambles first to throw it down the field. Then, when he decides to go, he's a really good runner. Very good runner. But it's not where he just tucks it to run right away. So we're going to have to hold coverage when he does start to move out of the pocket, and then be ready once he crosses the line of scrimmage to come up and try to get him down, which is easier said than done. He's a 230-pound man who runs very well."
Robinson has plenty of weapons around him who could also put the Buckeyes to the test. Schiano mentioned TCU receivers KaVontae Turpin, Jalen Reagor and Jaelan Austin and running backs Sewo Onilula and Darius Anderson as all being players who have caught his eye.
"It's a very fast football team," Schiano said. "You look at their receivers, it's (Turpin), it's (Reagor), it's (Austin), and these are really athletic kids in the backfield. (Onilula) and (Anderson) are really good running backs."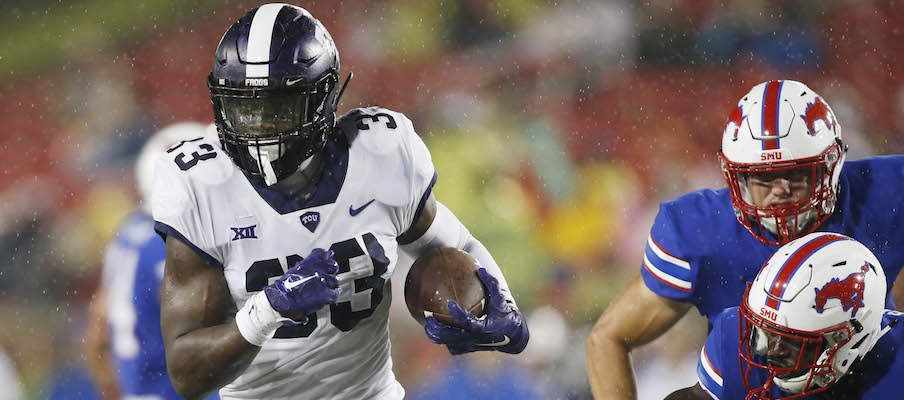 Schiano said Turpin, Reagor and Austin all present different challenges, "but the common denominator is they all can run, and that's usually not a good thing."
"We've really got to be on top of our game," Schiano said.
The Horned Frogs' offensive line entered the season as perhaps the biggest question mark on their entire roster, with only two returning starters from last year. Yet when he was asked about TCU's offense on Monday, the offensive linemen – and how he impressed he is with them – were the first group Schiano mentioned.
"I believe, as in all of football, it starts with the offensive and defensive lines," Schiano said. "Their offensive line is as good as any in the Big Ten. It is that kind of offensive line. Very, very good."
"We've really got to be on top of our game." – Greg Schiano on facing TCU's defense
TCU's defense, meanwhile, ranks sixth in the nation in total defense (213.5 yards allowed per game) and tied for 13th in scoring defense (9.5 points allowed per game) after leading the Big 12 in both categories last year.
In their first two games against Southern and SMU, the Horned Frogs didn't face nearly the caliber of offense that they'll face Saturday in Ohio State, which ranks second in the Football Bowl Subdivision with 64.5 points per game and 650 yards per game. But they are anchored by an experienced defensive coaching staff – all five defensive assistant coaches are in at least their fifth season at TCU – and veteran players both up front and on the back end, including defensive ends Ben Banogu and Ty Summers, cornerback Jeff Gladney and safety Ridwan Issahaku.
Day believes that experience will force Ohio State's offense to raise its game despite its spectacular early performance.
"They make quick adjustments," Day said. "They know exactly how you're trying to attack them. Very, very talented group, as well. A lot of veteran guys back there. They've been together such a long time, that you're not going to get anything free. You're going to have to earn everything that you get.
"These guys (were a) top-20 defense in the country last year," Day continued. "They play against some high-octane offenses, so they've been up against it. They're battle tested."
That experience, of course, begins at the top with Gary Patterson, who is in his 18th season as TCU's head coach after previously serving as the Horned Frogs' defensive coordinator. So while the Buckeyes will be the strongest opponent that the Horned Frogs have faced this season, Day fully expects Patterson – who has won nearly 74 percent of the time (162-57) over the course of his head coaching tenure at TCU – to have his team ready to play on Saturday night.
"Their coach is obviously battle-tested, and one of the best coaches in the last 20 years of college football, especially on defense, in terms of what they've done," Day said.
Day also said TCU's "team speed is excellent," and that the Horned Frogs are "constantly running to the ball fast" and "play with an edge." All of those traits should help TCU challenge Ohio State to an extent that Oregon State and Rutgers simply could not.
But while Ohio State has to adjust its preparation to the specific challenges the Horned Frogs could present, Day says the way the Buckeyes go about their preparation won't be any different this week than it was the past two weeks, because they already weren't taking any opponent lightly.
"If you don't think it's a big game, try losing it," Day said. "So they're all big, and you've got to play hard every game. You've got to be ready, you've got to be prepared, you've got to do a great job. And that's just one of the things when you come to Ohio State or you play at the highest level of college football, you got to bring your A-game every week. So that's not any different this week."