Before each week's Ohio State game, Eleven Warriors catches up with a media member who covers the opposing team to get his or her perspective on the Buckeyes' upcoming opponent.
This week, we caught up with James Kratch, who covers Rutgers for NJ Advance Media (NJ.com), to get his perspective on the Scarlet Knights in advance of their trip to Columbus for Saturday's game against the Buckeyes at Ohio Stadium (3:40 p.m., BTN).
Rutgers hasn't had much success in its first four games against Ohio State since joining the Big Ten, suffering a 56-17 loss in 2014, 49-7 loss in 2015, 58-0 loss in 2016 and a 56-0 loss last season. The Scarlet Knights are coming off a season-opening, 35-7 win over Texas State, though, and are expected to be better this season, former Ohio State assistant Chris Ash's third season as head coach.
How much progress have the Scarlet Knights made since Ash took over the program, who are Rutgers' players to watch and are they capable of making Saturday's game more competitive than years past? We asked Kratch for answers to those questions and more in this week's edition of Across The Field.
Q: What were your biggest takeaways from the Scarlet Knights' season-opening win against Texas State? Did anything stand out that's different about this team from years past?
Kratch: The roster is clearly more talented, but it's young. There were a lot of silly penalties on defense and special teams that Rutgers can get away with against Texas State, but won't be able to survive in Big Ten play.
The offense has much more big-play capability than a year ago, and Raheem Blackshear, Jonathan Hilliman and Isaih Pacheco give them a strong three-man running back group than could control games if the blocking is there up front.
The defense had a strong day and didn't allow a score. There was more of a pass-rush, which is promising, but several takeaway opportunities slipped through Rutgers' fingers. That's been an issue in recent seasons, and can't continue if the Scarlet Knights want to make a bowl game.
All that said, Texas State is not a good team. Obviously Ohio State is. Rutgers is going from zero to 100 this week, and is then at Kansas next week. So I'm not sure we will really know anything solid about this team until it comes back home later this month to play a good Buffalo team before fully stepping into Big Ten play.
Q: Chris Ash is now entering his third season as Rutgers' head coach. How would you assess his tenure thus far, and do you think the former Ohio State assistant coach has things moving in the right direction?
Kratch: Ash does have the program moving in the right direction, and he's not going anywhere, despite his inclusion on some preseason hot seat lists. Ash had two years added on to his contract after last season, and he has the full support of athletics director Pat Hobbs, the administration and the boosters.
Ash has done a lot to clean up the off-field mess he inherited. On the field, Rutgers was 2-10 and winless in the Big Ten in his first year. The Scarlet Knights were 4-8 with three conference wins last year. That's clear progress. Perhaps not as much progress as some fans want to see, but I think anyone who thought Rutgers was a two- or three-year turnaround was kidding themselves.
Rutgers has a realistic path to six wins and a bowl game this fall, but there's little margin for error. Ash has made it clear a bowl game is the goal, and I think that would go a long way toward the program taking that next step forward. But I can also see 5-7 (or even 4-8) given the difficulties the schedule presents. If that happens, I think Ash will need to do a strong selling job to keep momentum going. It would also help if Rutgers can at least hang with some of the Big Ten's top teams this fall. No one expects them to have much success this weekend, but I do think competitive games at home with Michigan, Northwestern and Penn State is a reasonable-enough lift.
I think there are several reasons for Rutgers fans to be optimistic about Ash and the program entering Year 3. He's put together his best coaching staff yet, he's shown he can adapt when things don't work out, there's a lot of promising young talent on the roster, recruiting is steadily improving and now there's a shot at getting to postseason play. Ash just has to make sure things don't get bogged down and milestones stop being reached.
Q: Artur Sitkowski is one of Rutgers' most highly touted recruits in years, and now he's starting at quarterback as a true freshman. How high are expectations for Sitkowski right now, and what has he already brought to the Scarlet Knights offense?
Kratch: The expectations for Sitkowski are certainly high, but not dangerously high. There is definitely a sense Sitkowski will be the quarterback Rutgers has waited years for and that top recruits will want to play with, and he can accomplish something special in the three – some in the program believe his potential path could mean going to the NFL early – or four years he is here. No one is really talking about Heisman Trophies or Big Ten titles at this point, though.
Another factor that is important: Sitkowski embodies the vision Rutgers has had for decades: He's a New Jersey kid – his hometown of Old Bridge is a few minutes from campus – that grew up coming to the games and rooting for the Scarlet Knights. He was committed to Miami and he spent his senior year at IMG Academy, but he wanted to come home and build something at Rutgers while playing in front of his family and friends every week.
The dream has always been that if Rutgers can convince New Jersey's best recruits to stay home, and do it together, the sleeping giant can finally rise from his 149-year slumber. The Scarlet Knights got a taste of it with Greg Schiano, but for myriad reasons it wasn't sustained. The hope is being in the Big Ten can be the catalyst for a more lasting run once Ash can get the program back to where it was.
It's only been one game, but Sitkowski has already transformed the Rutgers offense in many ways. New offensive coordinator John McNulty's pro-style scheme was a big enough change itself, but Sitkowski has the arm to make throws Rutgers just couldn't make in recent seasons, particularly when it comes to pushing the ball downfield. Rutgers is placing an emphasis on big plays. The Scarlet Knights didn't get any against Texas State, but their best hope to hang around Saturday is likely to replicate the success Oregon State had in that department.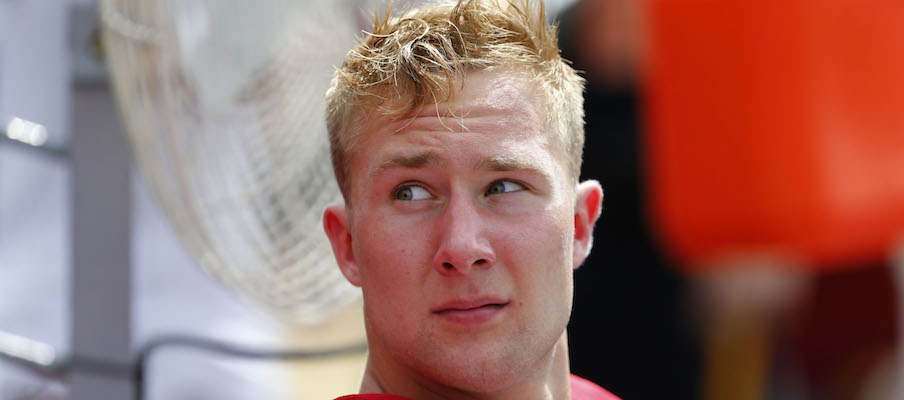 Q: Who are some of the other players that Ohio State and its fans should be aware of entering this game?
Kratch: Pacheco has been the talk of the town, and it feels like a matter of time before he becomes the lead running back. He was a dual-threat quarterback in high school, but he's packed on at least 20 pounds of muscle since enrolling in January and moving to running back. He is still raw when it comes to footwork, but when he gets going, you see flashes of brilliance. He didn't get a carry until the fourth quarter against Texas State and ended up leading the team in rushing on the day, including a hellacious 28-yard run where he broke tackles, ran at least one guy over and managed to keep his feet to pick up extra yardage after contact.
Star cornerback Blessuan Austin and safety Kiy Hester were both banged up against Texas State, and they may end up being game-time decisions. Rutgers has some depth in the secondary, but it really can't afford to be without them.
Blackshear is the focal point on offense. Expect him to get 15-25 touches if Rutgers can run its offense as it wants. Also, defensive end Elorm Lumor is coming off a big game (sack, blocked field goal, fumble recovery) and could be the pass-rusher off the edge Rutgers has missed.
Q: Rutgers hasn't even come close to keeping any of its first four games against Ohio State competitive, losing each of them by at least 39 points and failing to score a single point in each of the last two. What can the Scarlet Knights do to change that this year, and do you think they will?
Kratch: I think Rutgers' biggest advantage this weekend is the fact the bar is so low. The last two games against the Buckeyes have been 58-0 and 56-0. There are a lot of fans who would be happy if the Scarlet Knights just score points.
Entering this game, I would imagine what stands out to Rutgers most is the big plays Oregon State was able to spring on Ohio State last week. You have a fascinating game inside the game with McNulty going up against Schiano, his old boss. Sitkowski's arm and some of the speed Rutgers has on offense will give McNulty a chance to try for a home run or two. If he can get them, I go back to recent history – scoring two touchdowns would be a significant accomplishment. If the defense can hold the Buckeyes under 50 points, even better.
If Rutgers beats the 33-point spread, that would be a moral victory. I'll predict a 49-10 Ohio State win, but that is a bit optimistic for Rutgers' defense – it will need to clean up some sloppy tackling against Texas State in order to prevent too many gashing runs.