The offseason is full of fun hypotheticals. We've already tackled the games Urban Meyer would like to replay, if he had the chance.
Here's another one: if Meyer could add any of his previous Ohio State players to this year's roster, who would it be?
Meyer would obviously take Ezekiel Elliott, Joey Bosa or Michael Thomas back with open arms, but they might not be the most helpful, given the current positional needs. Ohio State has two 1,000-yard rushers on the roster, Bosa's little brother and returned six of its top receivers from last season.
So if not them, then who? Here are my top-five picks.
5. Jeff Heuerman – TE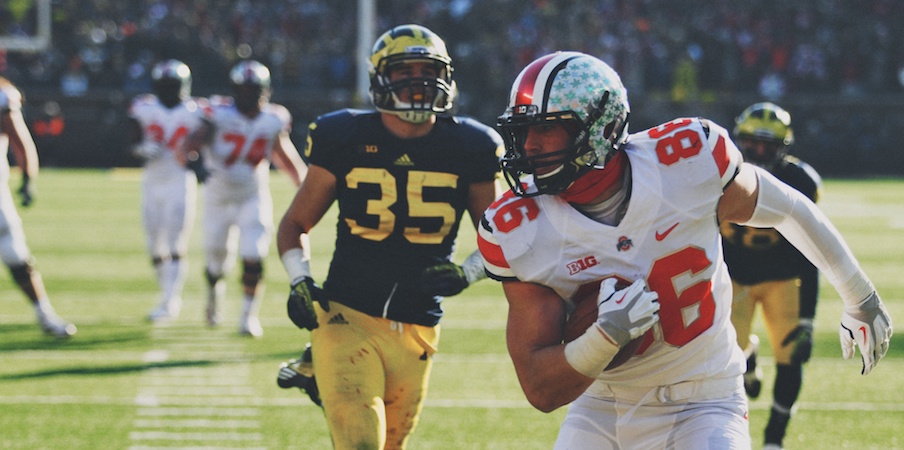 This might not be the flashiest choice, but adding Jeff Heuerman to the roster would do two things: it addresses a positional need after the departure of Marcus Baugh, and it would add leadership to a young, inexperienced team.
Heuerman was Ohio State's most consistent tight end under Urban Meyer, particularly as a receiving threat. His last two years in Columbus, he caught 41 passes for 674 yards and six touchdowns, which is by far the best two-year stretch of any of Meyer's tight ends at Ohio State.
Though Heuerman was perhaps most valuable for his leadership in the locker room, and on such a young team that has just 10 scholarship seniors, that leadership would be an invaluable addition to a young team.
4. Taylor Decker – OL


Replacing a starting left tackle is never easy, and it's especially concerning when you're also replacing a four-year starter at quarterback with a less mobile and less experienced player.
Though this is arguably the deepest the Buckeye offensive line has been since Urban Meyer's arrival in Columbus, and Thayer Munford has stepped up and emerged as the likely starter at left tackle, experience and reps are invaluable.
Bringing back Taylor Decker would anchor the offensive line and give Dwayne Haskins a sense of security as he takes control of the offense for the first time.
3. Marshon Lattimore – CB


Ohio State has a ton of talent at the cornerback position, but not a lot of experience.
Outside of Kendall Sheffield – who's only been in Columbus a year – and Damon Arnette, every other cornerback on the roster has either sophomore or freshman eligibility with only Jeffrey Okudah seeing meaningful game action.
Those young corners will be talented – the group features three five-star corners that were ranked in the top two at their respective positions coming out of high school. Still, there will almost surely be growing pains.
Adding Marshon Lattimore would help that unit tremendously. After just one year at Ohio State, Lattimore took his talents to the NFL where he had one of the most impressive rookie seasons ever, winning the AP and PFWA rookie of the year awards.
2. Darron Lee – LB


The Buckeyes have to find three starters at linebacker by fall, and it would sure be helpful if one of them was arguably the best, most exciting linebackers Urban Meyer has ever had at Ohio State.
Darron Lee was so good at Ohio State that fans and coaches have been searching for the next player to fill his role ever since his departure, almost like the famed Percy Harvin role when Meyer first came to Columbus. His rare combination of physicality and speed made him a tackle-for-loss and forced-turnover machine.
In his two years as a starter, Lee racked up 89 total tackles, 27 tackles for a loss, 11 sacks and forced six turnovers – three picks and three forced fumbles.
Ohio State has a number of talented players competing for the three linebacker spots this fall, but it would be difficult to replicate what Lee did.
1. Malik Hooker – S


This one is pretty simple: one of the most electric players Urban Meyer has ever coached at the position of most need.
Malik Hooker only played one season at Ohio State, Urban Meyer would kill to have him for one more season, especially when safety is a particular positional need this offseason.
After spring practices and the spring game, the coaching staff had a decent idea of who the frontrunners were at each open position, but the safety spot opposite of Jordan Fuller remains wide open.
"The field safety is probably our No. 1 concern on our team right now," Meyer said after the spring game. "We're just not quite sure who that is."
Hooker was almost inarguably the best safety Meyer has ever coached. In just one season, Hooker intercepted seven passes and returned three for a touchdown – four if you count the one that was called back for an illegal block away from the play.
Adding Hooker to the roster would shift the safety position from an area of concern to one of the stronger units on the team with Hooker and Fuller manning the deep part of the field.